Dress up your holiday side dishes with Caramelized Shallot and Cheddar Mashed Potatoes. Elegant and indulgent!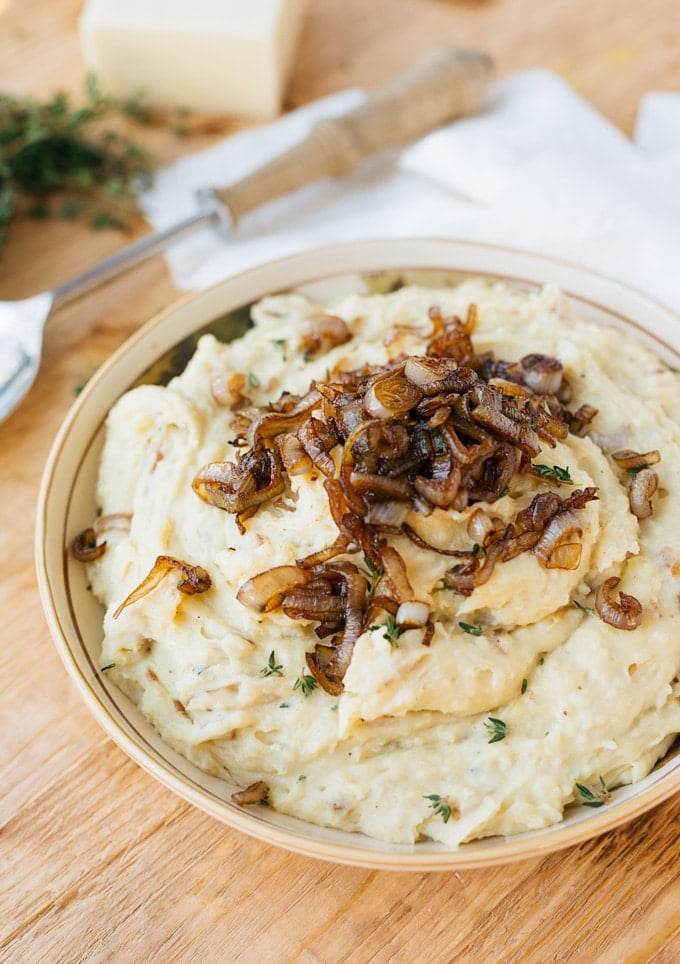 I could make an entire meal out of mashed potatoes. Is there any side dish more warming during the winter months?
The mere sight of buttery potatoes on the table instantly comforts; rich gravy pooling into the valleys of each pillowy scoop. They're the dinner equivalent of a hot fudge sundae.
We make mashed potatoes so often that when the time comes for a holiday dinner, I like to dress them up a bit for something extra-special.
Caramelized Shallot and Cheddar Mashed Potatoes are one of my favorite ways to do this. The contrast of sweet, caramelized shallots against sharp Vermont white cheddar, and a hint of fresh thyme brings a traditional mashed Yukon gold potato base to the next level.
These potatoes are elegant, flavorful, and totally holiday-worthy. In other words: break out your stretchy pants, folks! The season of indulgent treats is upon us.
Most of the time, Yukon Gold is my potato of choice for mashing or whipping. Their starch content gives them a fluffy texture, with the added benefit of an innately buttery flavor.
I like to use a potato ricer to achieve a smooth and uniform texture. (Check out this post from Fine Cooking for a review of ricers versus mashers.)
A hand mixer, or stand mixer fitted with the paddle attachment (medium speed, no higher) are also good options for smooth and creamy potatoes. Don't use mixers at aggressive speeds, or a food processor, or you'll risk ending up with a gluey potato paste.
If you prefer a more rustic texture, a traditional masher is easily used to mash the potatoes to your desired consistency.
I like the delicate flavor of caramelized shallots here, but onions can be easily substituted. The shallots can be caramelized a few days in advance, stored in the refrigerator, and re-warmed before folding into the mashed potatoes.
Lastly, I recommend going for an extra-sharp white cheddar so the flavor of the cheese can best shine through in the background….