Go behind the scenes of the natural lighting food photography shoot I did to enter the John Boos and CuttingBoard.com "Cut The Cheese" Food Photography Contest!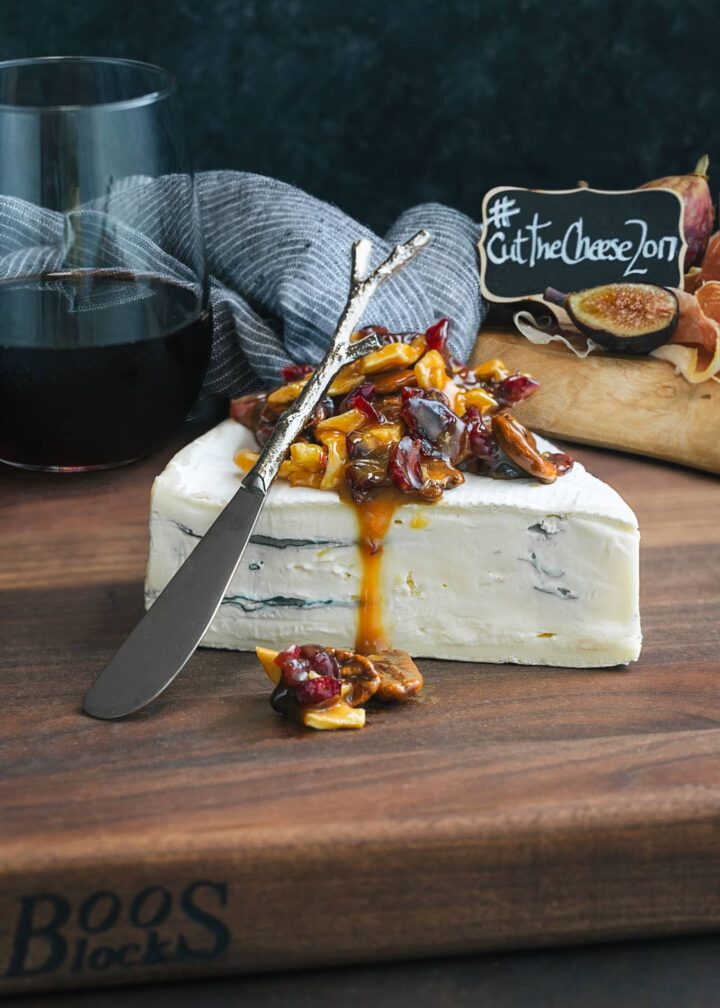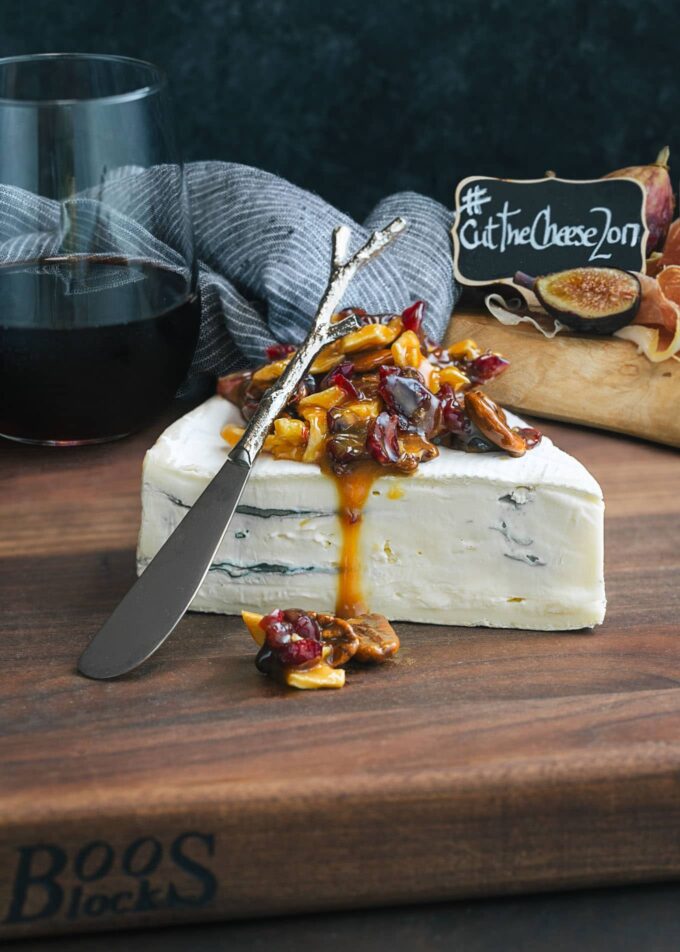 My Food Photography Story
Before I started blogging in 2013, I had almost no photography experience. Terms like "aperture" and "ISO" were an unknown language to me, and the thought of buying a camera where the lenses were separate from the body was nothing short of daunting!
The past four years have been an incredible journey. Along the way, I've had triumphs and epic failures; sometimes, all in the same day!
Like, for instance, the afternoon I was carrying a delicate tart crust to my set, tripped on a dog toy, and sent the tart flying into the air. It was one of those slow-mo movie scenes where you know what's coming and you watch, cringing, with no way to stop it.
Good news! Pastry cream, while utterly delicious, is also a really good tart crust "glue." I was able to piece most of the crust back together and photograph it with no one (until now) the wiser. (Curious? It's the top-left tart in this photo. Lemonade from lemons!)
Each victory, "ah-ha" moment, and broken tart has been a learning experience. As I've studied photography terms, explored the nuances of light, and practiced the art of food styling, I've unearthed a deep love of food photography that I never knew I had.
I wouldn't trade any of it for the world.
I'm happy to take you behind-the-scenes of my latest shoot and share my home studio setup. Let's get started!
The Basics: Camera Equipment and Settings
Camera Body: Canon EOS 5D Mark III
Lens: Canon EF 100mm f/2.8L Macro IS USM
Settings: ISO 400, f/5.6, ⅛th sec, AWB; composited from 2 shots taken in succession with manually-set focus points to accommodate both the main cheese subject and the handwritten note in the back right.
Post-processing: Adobe Lightroom and Photoshop
The Set: Lighting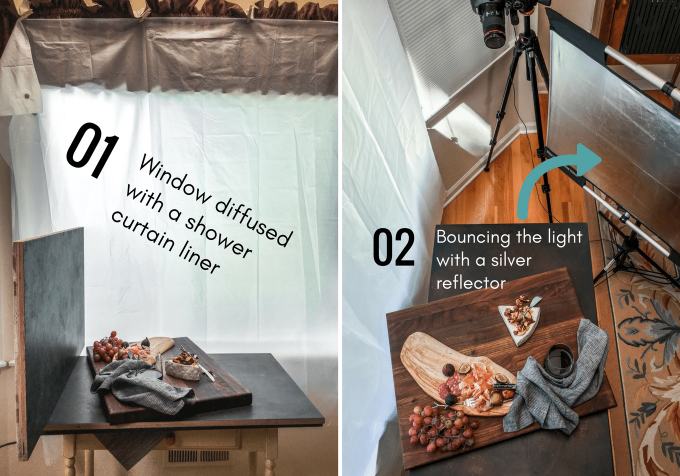 Filtered Natural Light (Photo 01)
I shoot all of my still photos in natural light, in front of a large picture window adjacent to my kitchen.
It might sound counterintuitive, but there's nothing I love more than shooting on overcast days. The light streaming through the window when it's cloudy tends to wrap the set in a soft glow that creates beautiful highlights and shadows.
On very sunny days, as was the case for this shoot, the window light can be too harsh. I soften by hanging diffusion material from the drapery with clothespins.
"Diffusion material" sounds fancy, doesn't it?
It's a $5 translucent (matte) shower curtain liner.
I remember laughing when I was chatting with a group of magazine photographers and they told me to go buy a cheap shower curtain. I thought they were pulling my leg! But, really, it works well without breaking the bank.
Depending on the shoot, I sometimes use white drapery sheers we had leftover after a bedroom redecoration. My sheers diffuse the light about a half a stop less than the shower curtain.
Light Direction and Bounce (Photo 02)
I lit this photo from the right of the set so the light would stream onto the glossy topping on the cheese. Many of my photos are shot this way, with the set aligned parallel to the window, or turned at a slight angle if I want to pull in a touch of backlight.
To illuminate the front of the set (especially the face of the cheese wedge), I bounced the window light with a silver reflector from the front left corner. I most often use a solid white reflector in my photos, but the silver gave me the little bit of extra punch I needed to highlight the caramel drip.
Pictured: California Sunbounce Micro Mini. On other shoots, I've also used a 5-in-1 reflector or white foam core to bounce light.
Tethering
I shot this photo with the camera on a tripod and tethered to my computer. Canon's (free) EOS Utility software lets me shoot while viewing the set in a remote live view window on my computer screen.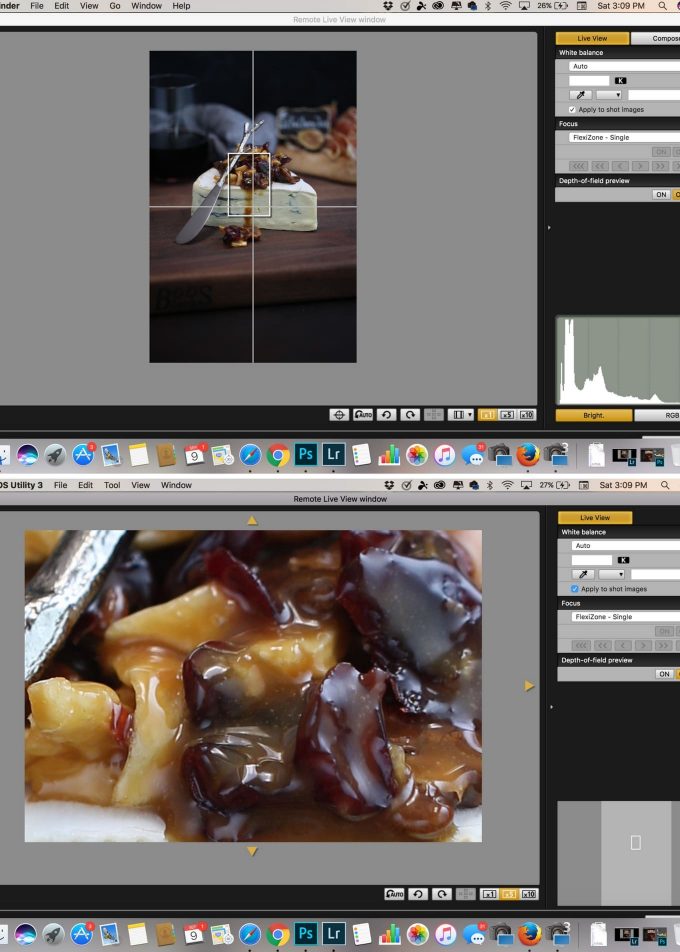 I'm able to control all of my camera settings (ISO, aperture, shutter speed) from the computer, and can zoom in on any part of the set to 5x and 10x to manually set focus with precision (pictured above). This functionality is especially useful when I'm shooting overhead and my camera is up on a C-stand.
Photography Surfaces
I used two photography boards for this shoot: Erickson Woodworks' "Dark Concrete," and "Molten." I also love the surfaces from Eclectic Lab Designs.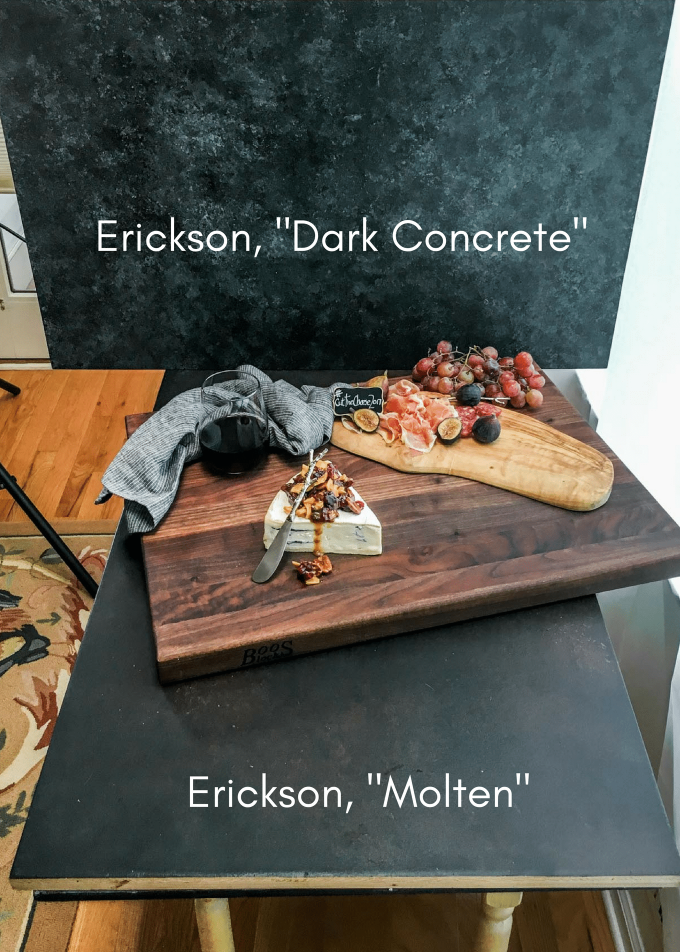 Backgrounds are a great opportunity to get creative! I often shoot against old cookie sheets with interesting patinas, marble pastry boards, textiles, and spare floor tiles.
In fact, the walnut cutting board I used to display the cheese in this shoot was one of my primary backgrounds for at least a year before I bought the larger photography boards.
Practice, Practice, Practice
Before I was a food blogger, I taught classical piano. "Practice" is a word pretty much engrained in my psyche. I've found that hands-on practice is just as central to learning food photography as it is to a Mozart sonata.
Photographing food outside of blog posts has been the most helpful thing I've done for myself. There's no pressure to get the photos right for a post; if they don't turn out, just scrap them!
Some of my favorite photos I've ever shot have come out of these impromptu practice sessions, and the skills I've refined, invaluable.
That head of romaine you bought for your lunch salad? Try photographing it from different angles. Your morning cup o' joe? Use it to practice capturing steam wisps.
Above all, enjoy what you're doing. What a cool and unique platform we have as bloggers to share our creativity with the world.
Questions about the setup? Comments? Leave 'em below!