These crispy Fried Wonton Strips are just like the ones served in American Chinese restaurants and with your takeout order. Don't forget the duck sauce and hot mustard for dipping. Air fryer instructions included in the recipe notes.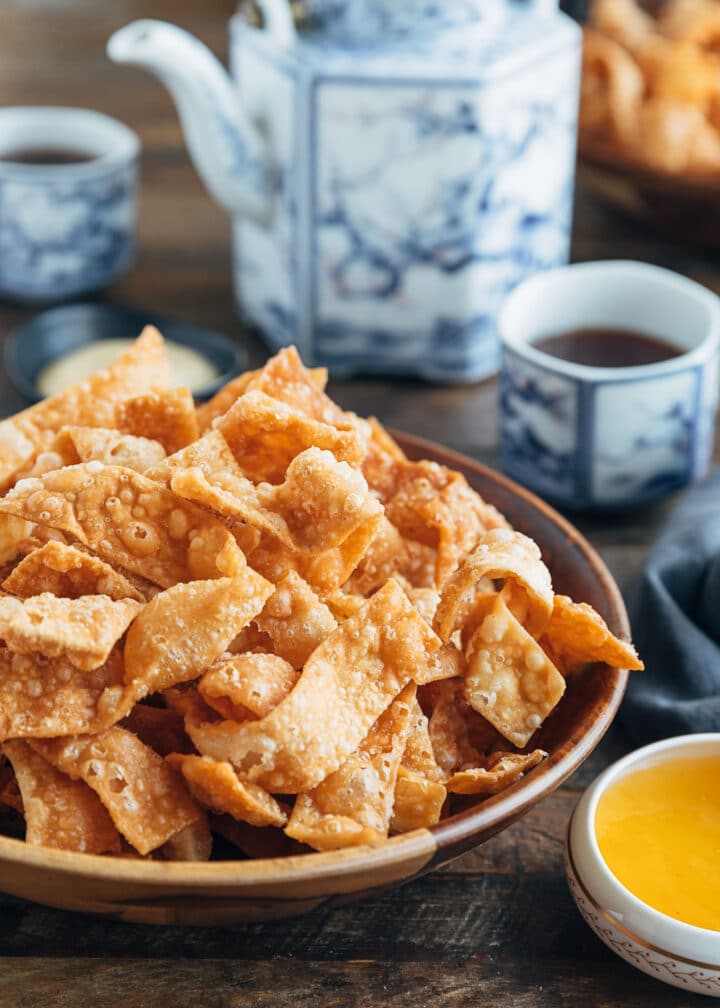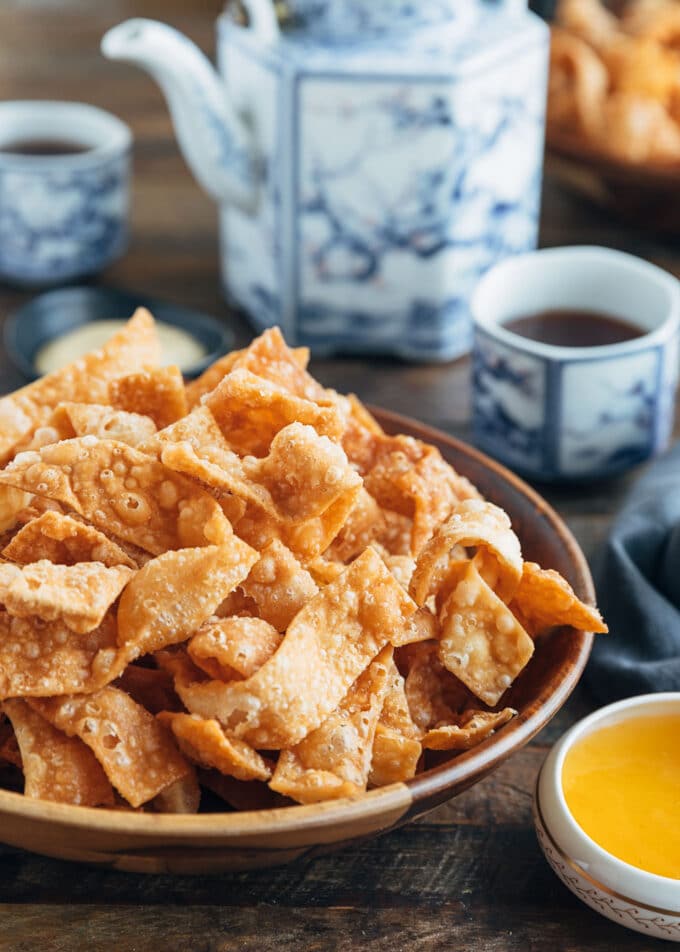 When we go out for American Chinese food, I tend to know in the first five minutes if it's a place I'm going to love, based on the type of fried wonton strips that arrive at the table.
If they're fresh, crisp, and light-textured, I have good feelings about the dinner to follow. (Bonus points if they're still warm from the fryer!) If they're stale, heavy, or taste of the oil they were fried in, I can't help but approach the menu with a twinge of skepticism.
Granted, it might not be totally fair to judge a whole meal by the menu-perusing snack. But, in my experience, a great bowl of fried wonton strips has always led to a satisfying meal.
Recreating the best fried wonton strips at home from your favorite restaurants is incredibly easy! So, whether you're planning a whole Asian-inspired "takeout fakeout" dinner, or you're just craving a crispy snack, you can cozy up to a bowl of wonton strips in 40 minutes or less from prep to finish.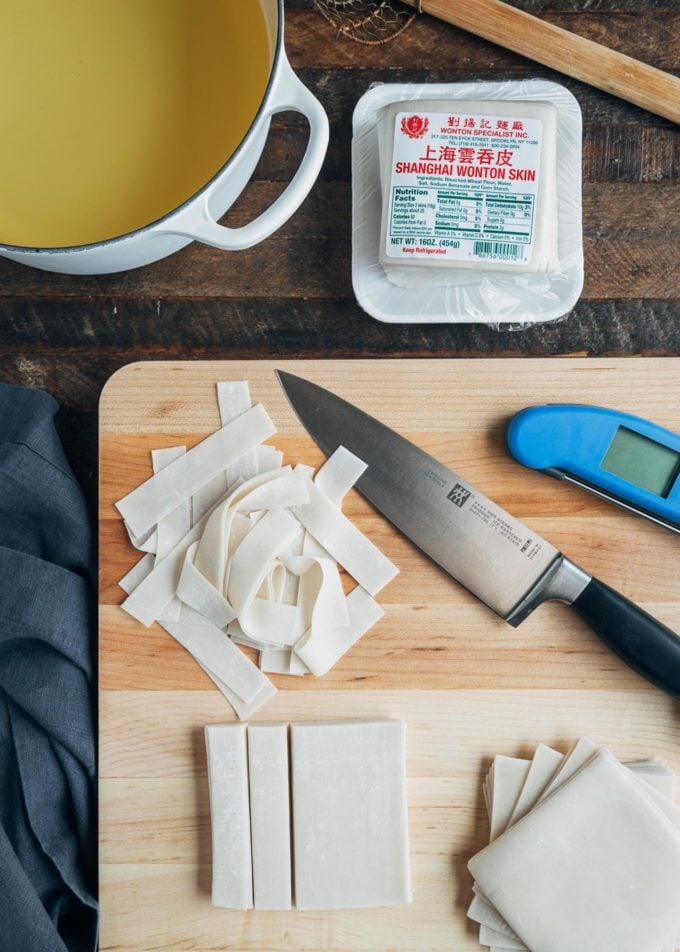 What Kind of Wonton Wrappers Should I Buy?
You can buy wonton wrappers (skins) at most regular grocery stores and Asian specialty markets. You'll find them in the refrigerated case in both places.
I like to shop for the wrappers at the Asian market whenever I can. The selection is usually more varied and the turnover rate higher. First and foremost, to make restaurant-style strips, you'll want to look for wrappers that are square in shape rather than the round gyoza used for potstickers.
In examining the wonton wrappers available, you might have a choice of thickness. I tend to buy wonton skins that are of thin or medium thickness. I find that the thicker wrappers are a bit heavy when fried.
Particularly at the Asian market, you'll find wonton skins that are yellow and white. The yellow wrappers contain egg, and the white (Shanghai style) do not. You can make fried wonton strips with either variety. I personally like the lighter feel of the Shanghai-style wonton wrappers when they're fried.
Fun cooking project: Want to make these totally from scratch? Try making homemade wonton wrappers!


Frying Crispy Wonton Strips
What Equipment Do I Need?
You only need a few items to make restaurant-style fried wonton strips at home, a few of which are common kitchen tools:
A heavy, deep pot that can safely accommodate the oil bubbling up a bit when the wontons are added.
A candy or frying thermometer that clips to the side of the pot to keep an accurate read on the oil temperature as you're frying. You can also use some probe thermometers with a pot clip. The important part is that you're able to monitor the oil temperature throughout the frying process, and between batches.
A spider strainer or a slotted spoon to both move the wonton strips around in the pot and remove them when they're finished frying. The spider is basically a little mesh basket attached to a bamboo handle. The design is excellent for safely moving foods when deep frying.
A plate, baking sheet, or cooling rack lined with paper towels to drain the fried wonton strips.
What Kind of Oil Should I Use?
I like to use either peanut oil or vegetable oil for deep frying. Both are neutral flavored and have a high smoke point. They can handle the amount of heat needed to make sure that your wonton strips fry up crispy without absorbing too much oil.

Serving Fried Wonton Strips
I love to serve the wontons while they're still a bit warm. Just like at my favorite Chinese restaurants, small bowls of duck sauce and hot mustard on the side are great for dipping. Both of these items are typically available in the International section at the grocery store, or at the Asian market.
While they're a great appetizer, crispy wonton strips are a nice addition to other courses, too. They bring a delicious crunch to Mandarin Orange Chicken Salad and we love them served alongside steamy Hot and Sour Soup.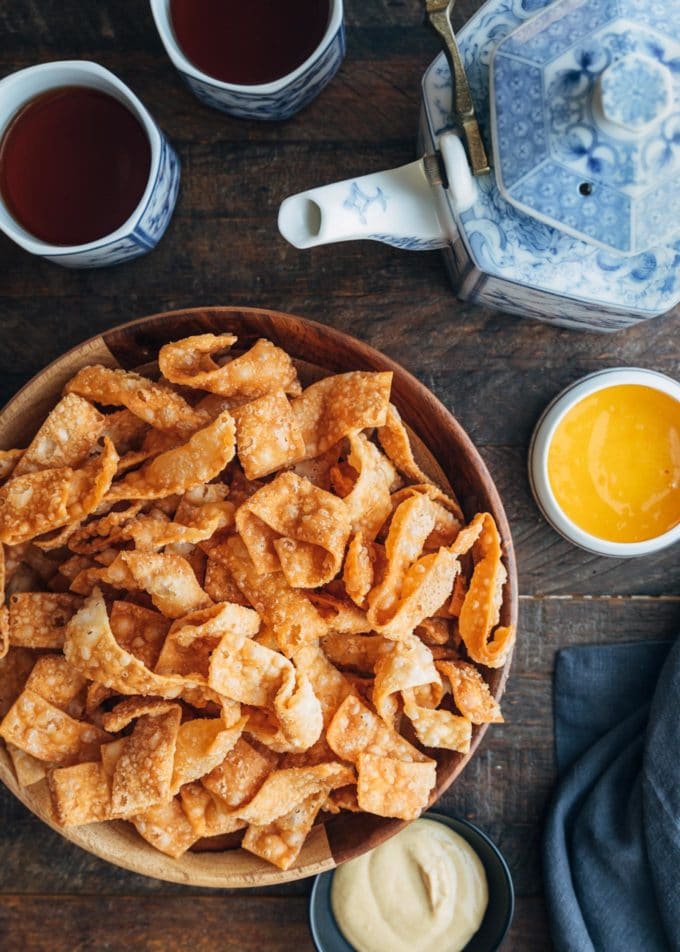 A bowlful of fried wonton strips is also a great snack for Game Day parties as an alternative to chips. You could even go for an entire Asian themed finger food menu with Sticky Wings, Egg Rolls, and Coconut Shrimp.
For easy entertaining, you can make these strips a day or two in advance and store them, tightly covered at room temperature. If you want to serve them warm, just spread them into a single layer on a baking sheet, and bake for 1-2 minutes at 350 degrees F.
Video Recap:
📖 Recipe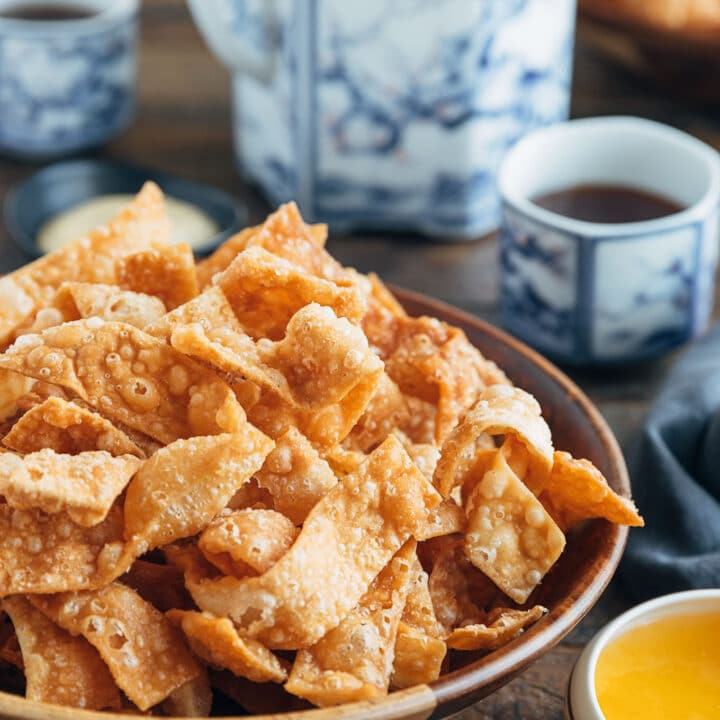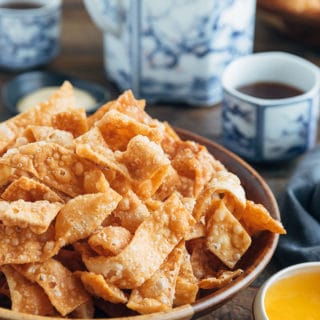 Fried Wonton Strips
Takeout Fakeout! These crispy fried wonton strips are an easy way to bring a taste of your favorite Chinese-American restaurants home.
Print
Pin
Rate
Save
Saved!
Servings:
8
to 10 servings
Estimated Calories:
258
kcal
Ingredients
1

package

large wonton wrappers

vegetable oil or peanut oil

, for frying

duck sauce and Chinese style hot mustard

, for serving
Instructions
Pour about 1-½ to 2 inches of oil into a deep, heavy-bottomed pot. Heat to 360 degrees F, clipping a candy thermometer to the side of the pot to regulate the temperature.

While the oil is heating, cut as many wonton wrappers as you would like to serve into ¾-inch wide strips. Keep wontons covered with a towel while you finish heating the oil.

Line a baking sheet or cooling rack with a double layer of paper towels. Set aside.

When the oil reaches temperature, carefully add a handful of wonton strips to the pot. They will immediately puff up. Fry for 1-2 minutes, using a spider strainer or slotted spoon to move them around in the pot. When they're golden brown on all sides, drain them with the spider or slotted spoon and transfer them to the paper towel-lined baking sheet to cool.

Let the oil return to 360 degrees F between each batch of wonton strips. (The temperature will drop about 10 degrees to 350 when the wontons are added.)

Serve crispy wonton strips with duck sauce and/or Chinese mustard for dipping. Or, enjoy them with your favorite soups and salads.
---
Notes
A note about peanut oil and allergies: While the FDA doesn't label highly-refined peanut oil as an allergen, I always tell my guests when I use any kind of peanut oil. That way, they're aware and can decide for themselves whether it's something they're able to eat.
To make ahead and store:
Let the wonton strips cool completely before transferring to an airtight container (I like to use a large cookie tin). They will keep well at room temperature for 1-2 days.
Air fryer Instructions:
You can make wonton strips in the air fryer, but the wontons won't puff up as they do with the hot oil in deep frying. They do come crispy, but it's a different chip in terms of texture. I like them for a lighter snack.
To make them, cut wontons into strips and spray them with cooking spray. Lay them by the handful in a single layer in the air fryer basket. Air fry at 350 degrees F for 8-10 minutes, shaking the basket occasionally.
Air fryers can vary by model in terms of times and temperatures. Watch your first batch closely to gauge how much time they need.
Nutrition Estimate
Calories:
258
kcal
|
Carbohydrates:
32
g
|
Protein:
5
g
|
Fat:
11
g
|
Saturated Fat:
9
g
|
Cholesterol:
5
mg
|
Sodium:
324
mg
|
Potassium:
46
mg
|
Fiber:
1
g
|
Vitamin A:
10
IU
|
Calcium:
27
mg
|
Iron:
1.9
mg
Keyword:
crispy Chinese noodles, crispy wonton strips, fried wonton strips
---
About our Recipes:
Please note that our recipes have been developed using the US Customary measurement system and have not been tested for high altitude/elevation cooking and baking.
Have you made this recipe?
Don't forget to leave a comment and rate the recipe below! Take a picture? Tag @stripedspatula and #stripedspatula on Instagram!