Mulled Wine Cranberry Sauce combines the best flavors of Vin Chaud with fresh cranberries. It's a rich, sweet-tangy sauce that's perfect for the adults at your holiday table.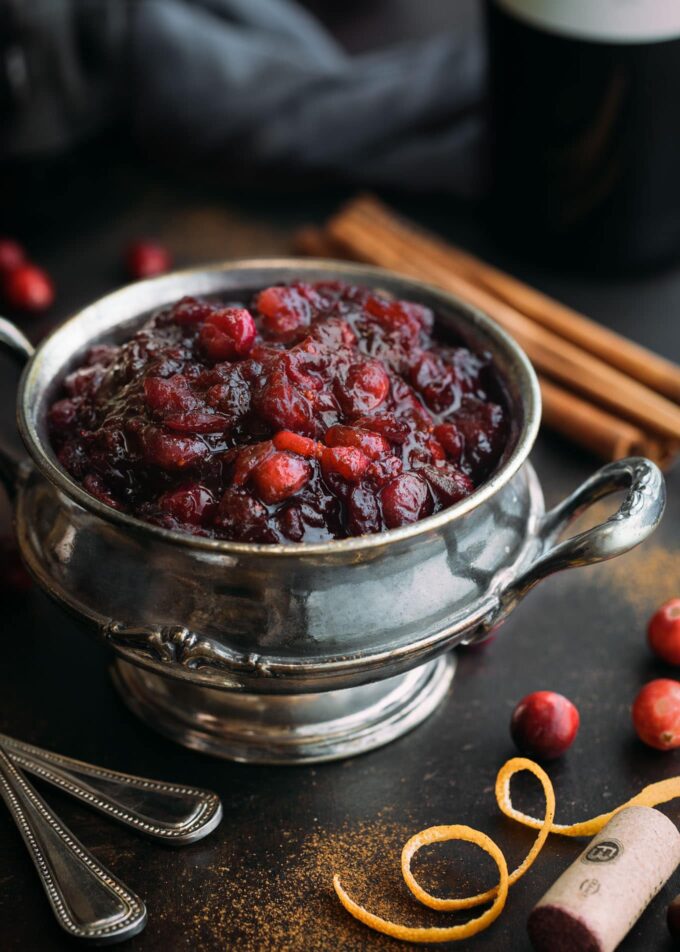 Is there anything cozier on a chilly night than a cup of something mulled? Warm mulled cider is a "given" in our house in October and November. When I was younger, I used to drink a mug of it alongside a cinnamon sugar-coated apple cider doughnut, often trying to use the cinnamon stick garnish as a straw. As an adult, I've also developed an appreciation for mulled red wine, or "Vin Chaud."
Mulled wine is as simple as it sounds: red wine, simmered with mulling spices and honey or sugar until aromatic. Some recipes (my favorite recipes), add brandy after mulling, for a warm sip that begs to be served during the holiday season.
So, what does this have to do with Cranberry Sauce? As I see it, Cranberry Sauce and Mulled Wine are a match made in heaven. Simmer fresh cranberries with red wine (Cabernet Sauvignon is my favorite), a touch of cider, orange zest, brown sugar, and fragrant spices for a rich, sweet-tart sauce that's perfect for a holiday celebration….