One of my favorite things to make in the summer months is this versatile Cherry Tomato Confit. These deeply-flavored, luscious tomatoes are easy to make and are the perfect finishing touch for a number of dishes from breakfast to dinner.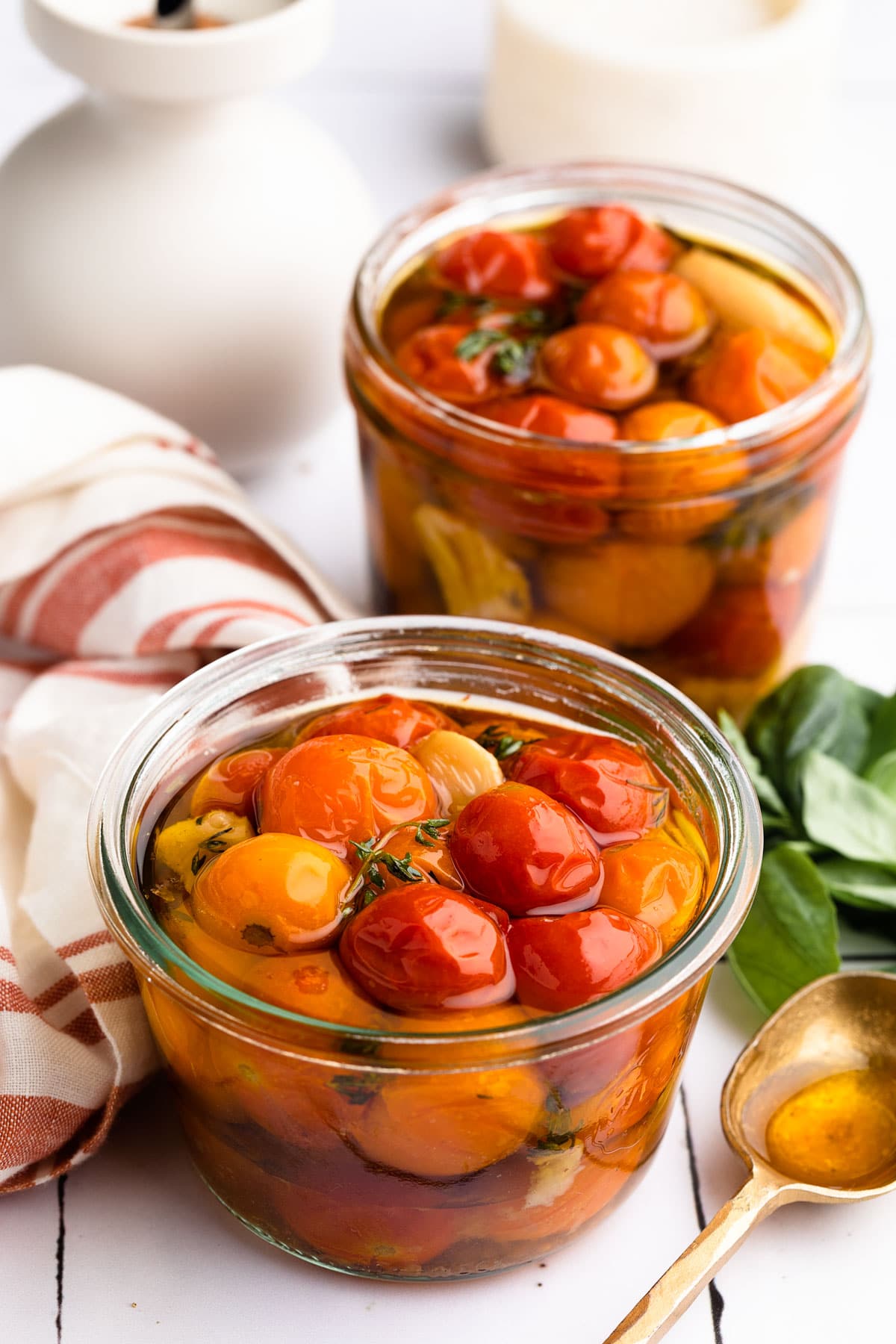 This post contains affiliate links. As an Amazon Associate, I earn a commission (at no additional cost to you) from qualifying purchases made by clicking these links. As always, all recommendations and opinions expressed are my own.
It's no secret that my summer hangouts are farm markets. The peak season for local produce like tomatoes and corn is so short compared to the rest of the year in the North East, I can't help but get my fill as much as possible when I can.
When I saw these beautiful cherry tomatoes at the historic, family-owned Bridgepoint Run Farm in New Jersey over the weekend, I knew they had to come home with me for a batch of Cherry Tomato Confit.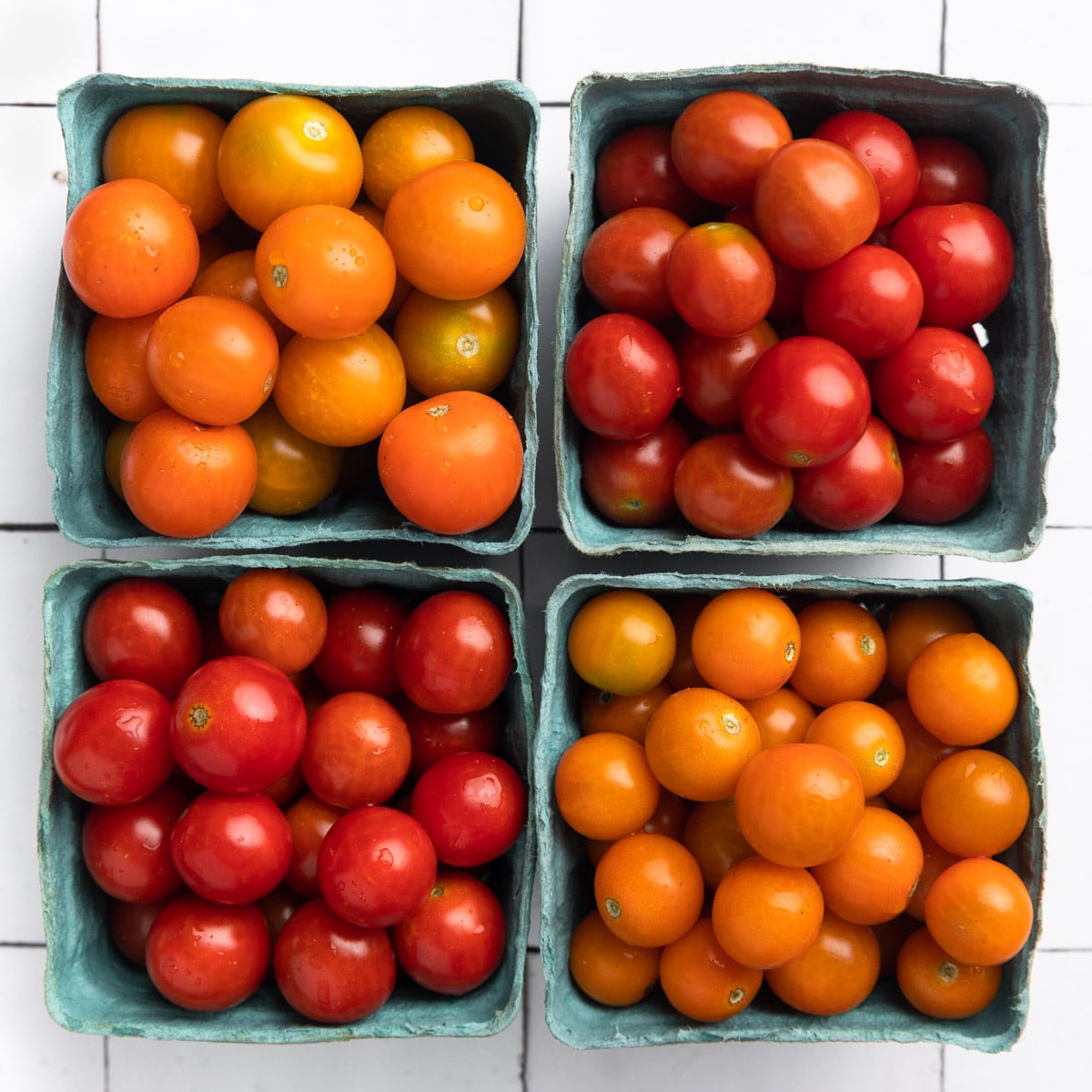 What is Tomato Confit?
Confit (kon-FEE) is a classic slow-cooking and preservation method that dates back centuries. (Read more about the technique and history in my French Cooking Terms Glossary.)
While we commonly think of confit as a French preparation for meat (such as duck confit), fruits and vegetables can also be preserved using a similar approach.
Tomato confit involves slowly-cooking tomatoes in olive oil with aromatics. As the tomatoes cook over a few hours, they slowly release some of their juices into the oil, their flavor intensifies, and their centers become soft and jammy in texture.
Like duck confit, once cooled, the tomatoes are stored submerged in their cooking oil. They're utterly luscious!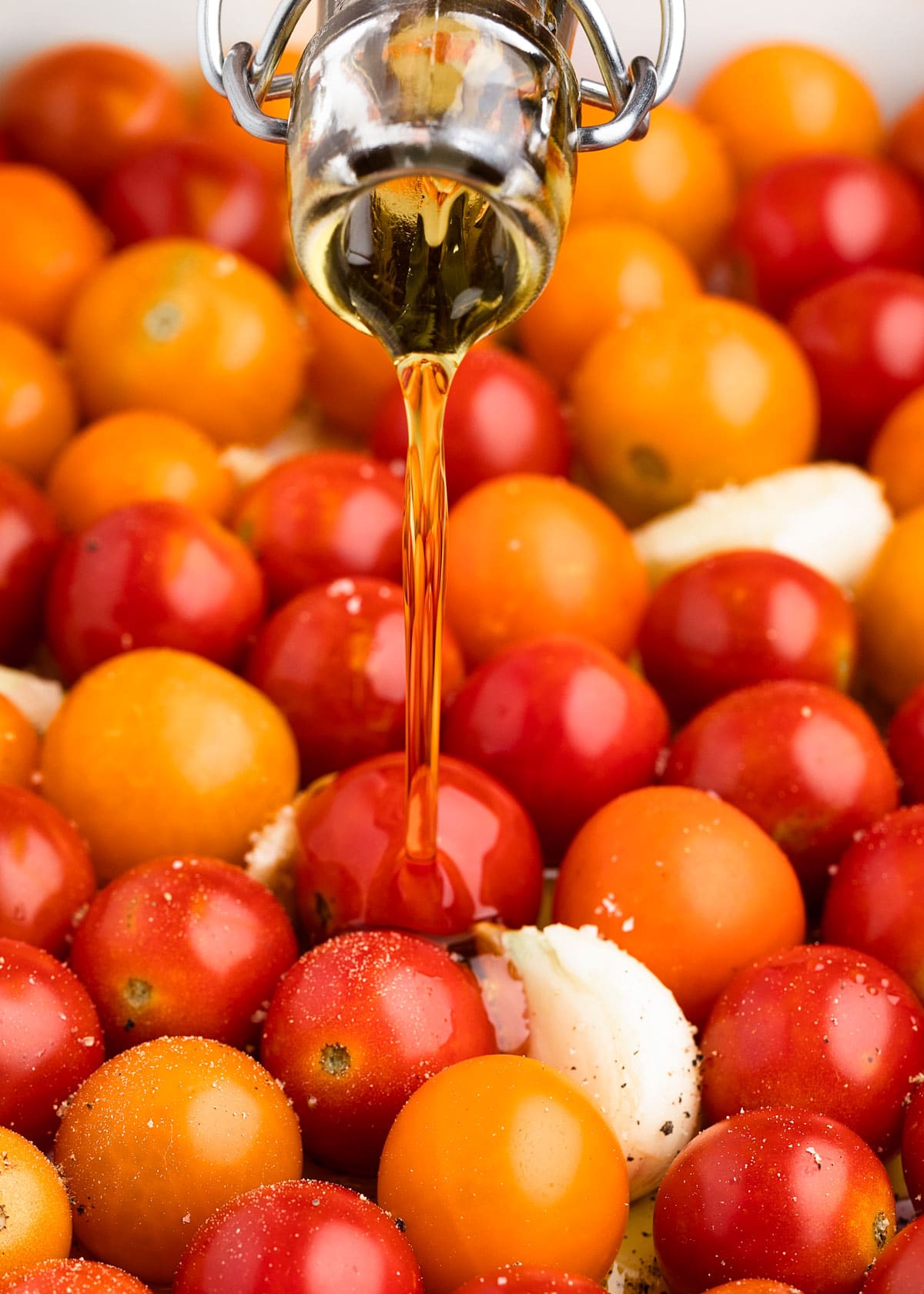 What You'll Need
The ingredient list for this recipe is simple, but there's some room for customization to the flavors you like best and what's fresh and beautiful at your market.
Cherry Tomatoes
I like to use a mix of red, yellow, and orange tomatoes for flavor and appearance, but this recipe will work with any variety.
I prefer to use cherry tomatoes that are on the plumper side, about 1-inch in diameter. If you're using smaller cherry tomatoes, they'll cook faster, so you'll need to adjust the cooking time accordingly.
Peak-season tomatoes should have a balanced sweetness on their own. If you're using early-season cherry tomatoes, or those that are a little tart when you taste them raw, you can add a little sugar to the recipe to help them along.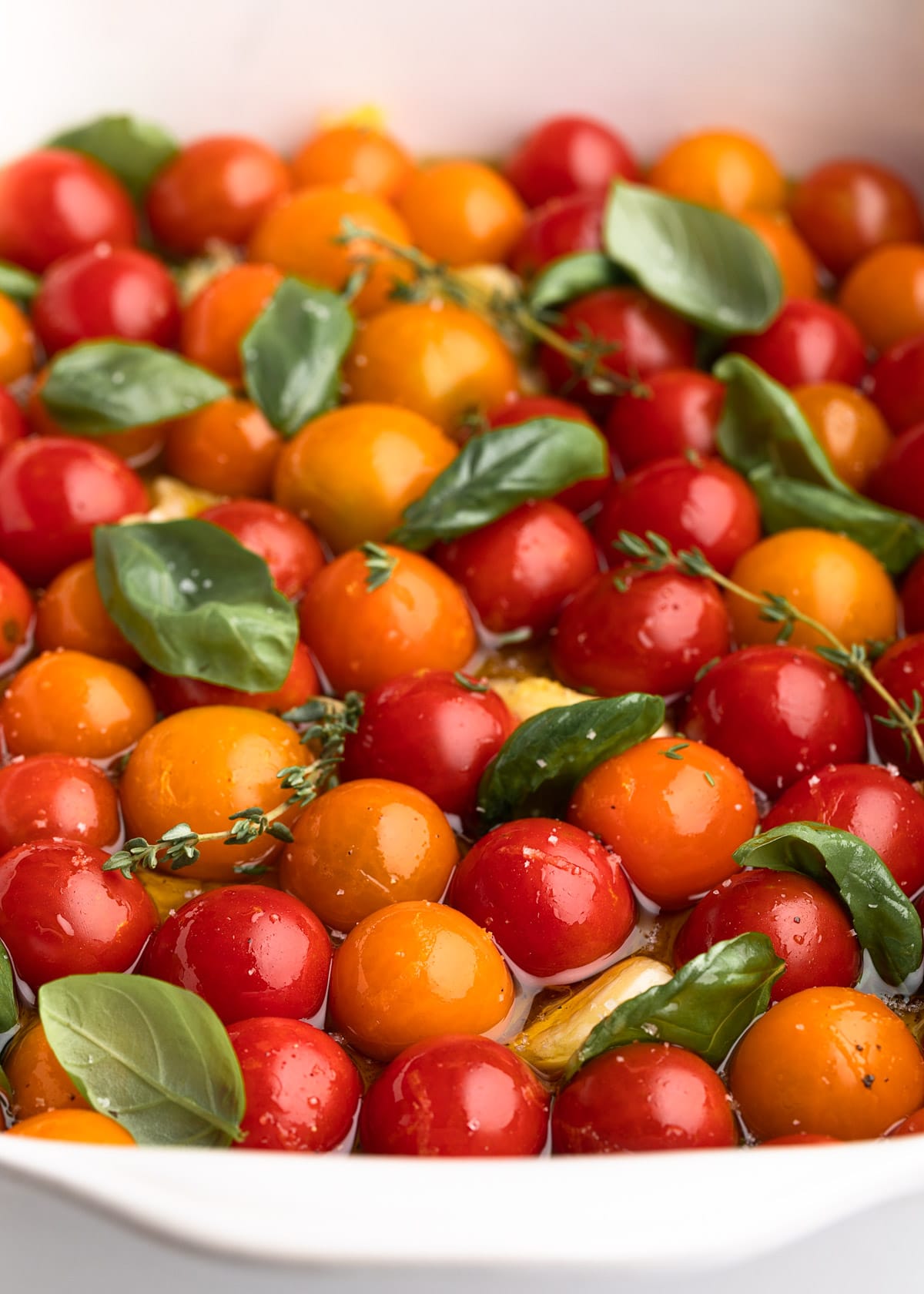 Garlic
I like use whole, peeled garlic cloves, smashed. For 2-1/2 pounds of tomatoes, I generally use 4 garlic cloves. This quantity is easily adjusted up or down to your garlic-loving preferences.
Extra-virgin Olive Oil
You'll need about a cup's worth of oil for this recipe. Use a nice quality oil, but you don't have to use the most expensive bottle on your shelf for this.

This might look like a lot of oil, particularly after cooking, but remember that the tomatoes will need to be completely submerged in the oil for storage.
Seasonings, Fresh Herbs, and Lemon Zest
The tomatoes are the star of the show here, so the seasoning is simple. You'll need kosher salt or finely-flaked sea salt and freshly-cracked black pepper. If you like a little heat in the background, a sprinkling of crushed red pepper flakes works well.
For the batch of confit photographed, I used fresh basil leaves and thyme from my garden. You can substitute just about any herb you like. A sprig of fresh rosemary is lovely, as are fresh oregano leaves.
We love the brightness that a little lemon zest brings to the deeper flavors in Cherry Tomato Confit. It's a nice counterbalance, but if you prefer your confit without, it's easily omitted.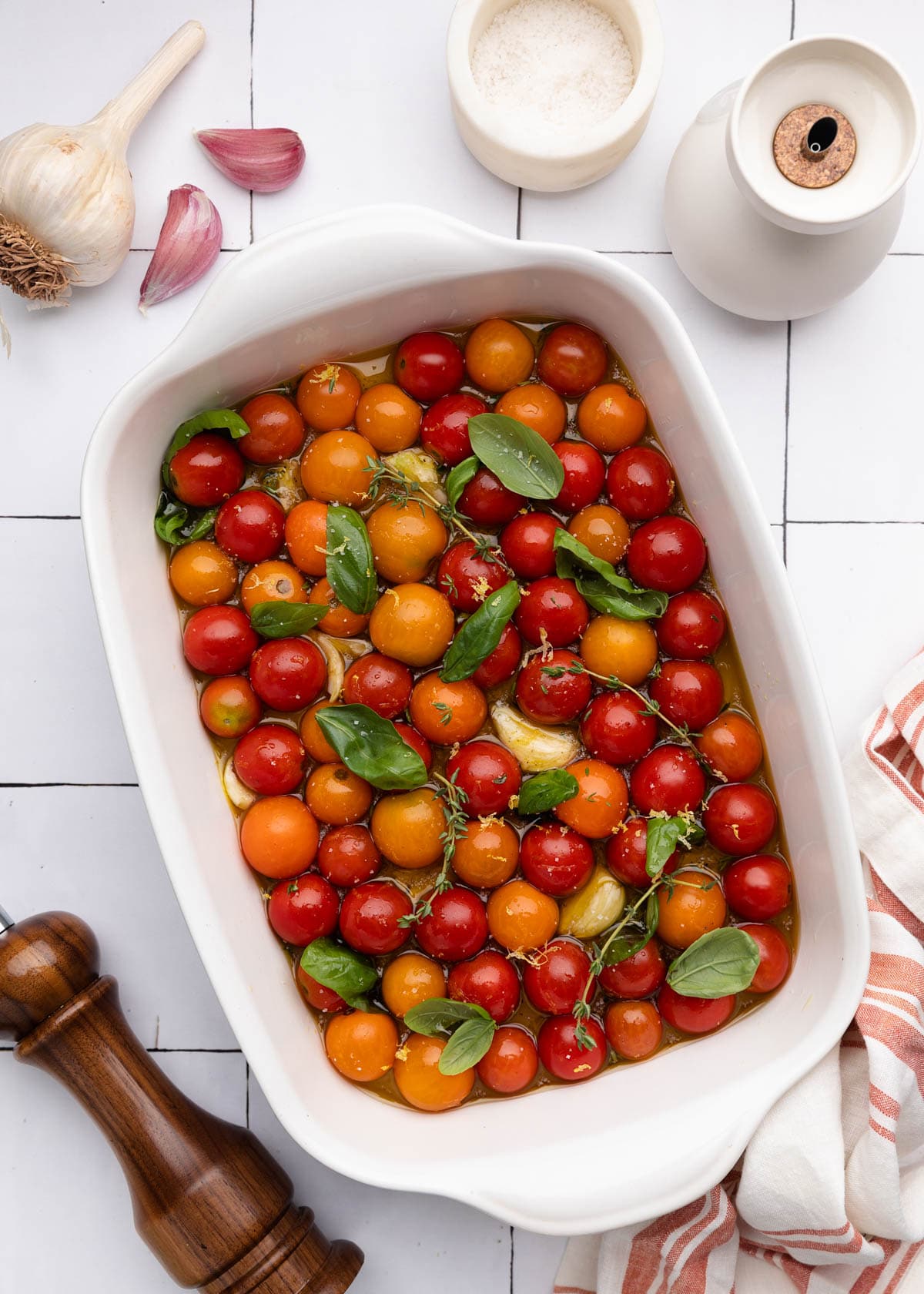 How to Make Cherry Tomato Confit
In terms of technique, this recipe is as about as easy as it gets. It's almost entirely hands-off!
Place the whole cherry tomatoes and garlic cloves in a baking dish and sprinkle with the lemon zest. The tomatoes should be in a single layer, so you'll need a pan with enough surface area to accommodate them. I like to use a 13×9 baking dish or a 3 quart gratin.
Pour enough olive oil into the dish to come halfway up the sides of the tomatoes. Nestle the herbs into the tomatoes, and season everything with salt and pepper.
At this point, your leg of the work is done. Pop the dish into a low (250 degrees F) oven for 1-1/2 to 2 hours (depending on the size of the tomatoes) and begin the waiting game while the confit works its magic.
The only thing I really should caution you about here is the amazing aroma that will waft out of your kitchen. It's both heavenly and tantalizing. The temptation to open the oven and dive in with a piece of crusty bread before the confit is ready will be real. Resist it!
The confit is ready when the tomatoes are soft, the skins are wrinkly, and just beginning to burst in areas. For the best confit, it's important not to cook the cherry tomatoes so much that they're completely bursted and falling apart. As much as possible, you want to be able to bite into a whole, luscious tomato, with that jammy center I mentioned earlier.
Once they're cooked, let them cool completely in the oil at room temperature before storing or serving.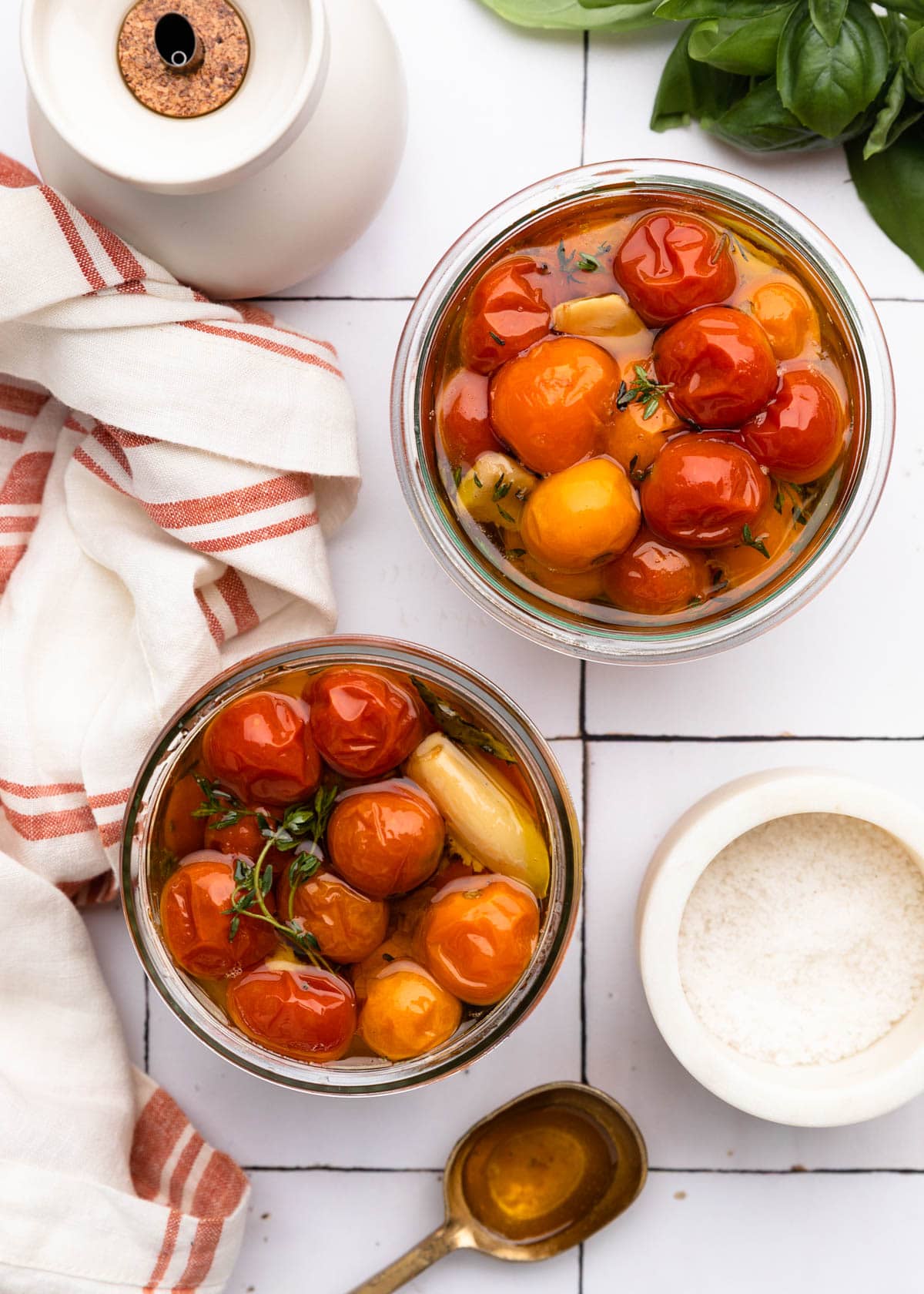 Serving and Storage
I like to store my confit in a couple of clip-top glass jars, like those from Weck or Kliner.
When filling the jars with the tomatoes, be sure to leave enough space at the top for the confit cooking oil. You'll want to make sure they're completely covered by about 1/4- to 1/2-inch of oil.
Cherry tomato confit keeps well for about 5 days, tightly-covered in the refrigerator. This recipe is not suitable for canning and does not freeze well.
How to Use Cherry Tomato Confit
There are so many delicious ways to use a jar of tomato confit. Here are some of our favorites:
Toss the tomatoes and oil with pasta for an easy dinner. (Chop up a clove or two of the garlic and add it to the pasta.)
Spoon the confit over creamy polenta.
Dollop it onto pan-fried risotto cakes.
Make bruschetta or a tartine with grilled artisan bread, whipped ricotta, burrata, or goat cheese, and top them with the confit. (Add a slice of Proscuitto di Parma if you have it on hand!)
Use it as an easy topping for chicken, fish, or pork chops.
Serve it on a mezze platter or with a summer cheese and charcuterie board. (Check out my tips for making the Ultimate Cheese Board!)
Serve them alongside soft scrambled eggs or use them to top an egg sandwich for breakfast or brunch.
Simply eat straight from the jar with a spoon (I won't tell!)
Don't forget about the confit oil! Infused with garlic, herbs, and tomato juices, it makes a fantastic base for vinaigrette.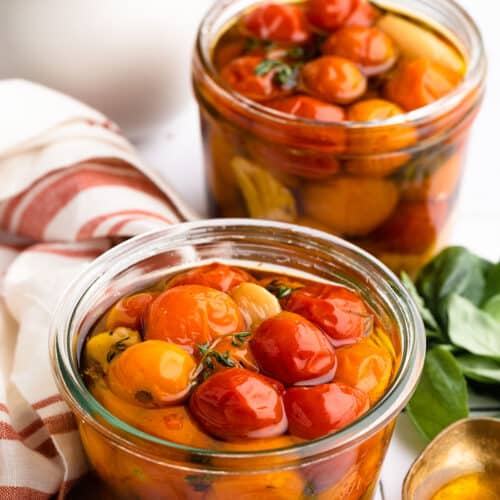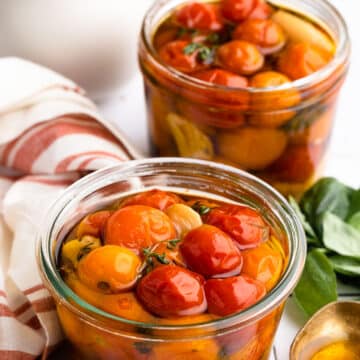 Cherry Tomato Confit
Tomato Confit is an easy and delicious way to bring fresh summer cherry tomatoes to a variety of dishes. Don't let the cooking time deter you; most of the process is hands off. Makes about 3 cups of confit.
Print
Pin
Rate
Save
Saved!
Servings:
12
servings (1/4 cup)
Estimated Calories Per Serving:
178
kcal
Ingredients
2-1/2

pounds

cherry tomatoes

(a mix of red, yellow, and orange, if desired)

4

large

garlic cloves

, smashed and peeled

1-1/2

teaspoons

finely grated lemon zest

1

cup

extra virgin olive oil

(plus additional, if needed)

1

teaspoon

kosher or fine-flaked sea salt

1/4

teaspoon

freshly-ground black pepper

10-12

fresh basil leaves

3

sprigs

thyme
Instructions
Preheat oven to 250 degrees F. Place cherry tomatoes and garlic cloves in a single layer in a 3-quart baking dish (13 x 9) or gratin. Sprinkle with lemon zest.

Pour olive oil into the dish, coming about halfway up the sides of the tomatoes. Season the tomatoes with salt and pepper, and add the herbs to the baking dish. (I like to nestle them between the tomatoes.)

Bake, uncovered, for 1-1/2 to 2 hours (cooking time will depend on the size of the cherry tomatoes). When the tomatoes are ready, the tomatoes will be soft, the skins will look wrinkled and will just be starting to burst in areas. Don't cook the tomatoes until they've fully bursted; they should be soft, but not falling apart.

Cool tomatoes in the pan at room temperature, then place in airtight jars. Pour enough of the cooking oil over the tomatoes to submerge by 1/4 to 1/2 inch. Store, refrigerated for up to 5 days. This recipe is not suitable for freezing or canning.
---
Notes
For serving ideas, see the "
How to Use Cherry Tomato Confit
" section in the article above.
Variations and Substitutions
If your tomatoes are very tart, you can add about 1/2 to 1 teaspoon of sugar to the dish when you season with salt and pepper to help them along.
-For a little heat in the background, sprinkle the tomatoes with a few pinches of crushed red pepper flakes when seasoning.
-Just about any of your favorite herbs can be substituted, such as a sprig of fresh rosemary or oregano.
Nutrition Estimate
Serving:
0.25
cup
|
Calories:
178
kcal
|
Carbohydrates:
4
g
|
Protein:
1
g
|
Fat:
18
g
|
Saturated Fat:
3
g
|
Sodium:
205
mg
|
Potassium:
210
mg
|
Fiber:
1
g
|
Sugar:
2
g
|
Vitamin A:
492
IU
|
Vitamin C:
22
mg
|
Calcium:
13
mg
|
Iron:
1
mg
---
About our Recipes:
Please note that our recipes have been developed using the US Customary measurement system and have not been tested for high altitude/elevation cooking and baking.
Keywords:
cherry tomato confit, cherry tomato recipes, tomato confit
Have you made this recipe?
Don't forget to leave a comment and rate the recipe below! Take a picture and tag @stripedspatula and #stripedspatula on Instagram for a chance to be featured in our Insta Stories and newsletter!