This homemade Russian dressing recipe is a cinch to make and tastes so much better than store-bought! Great for salads, sandwiches, and dipping.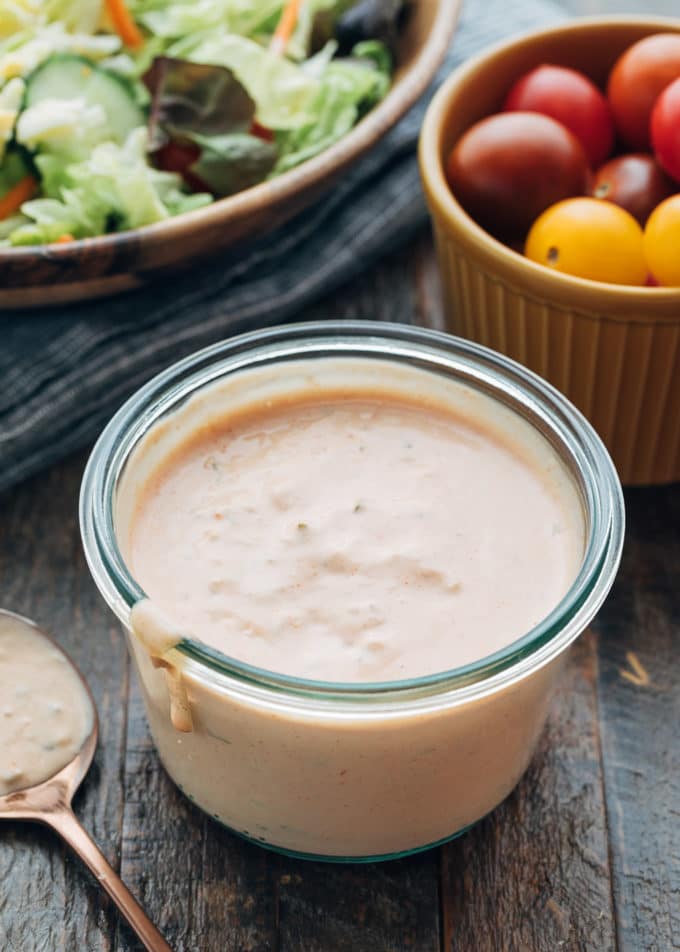 Growing up in New Jersey, diners and "deli" are practically in my genes. By association, I'm pretty sure at least a little Russian dressing runs through my veins.
Whether I'm digging into a big chef's salad in the well-worn booth of a Jersey diner, or rolling up my sleeves for a piled-high deli sandwich, Russian dressing is a staple.
It's a simple, unpretentious condiment. Even so, there's a clear line that differentiates "meh" Russian dressing poured onto a salad out of obligation, to an excellent one that you want to slather onto a slice of rye bread with a heavy hand.
This is a big part of why I like making it at home. My Russian dressing recipe has everything I love: light sweetness, a kick of spice, and a little tang. Not too much of anything. It's my Goldilocks Russian dressing: just right.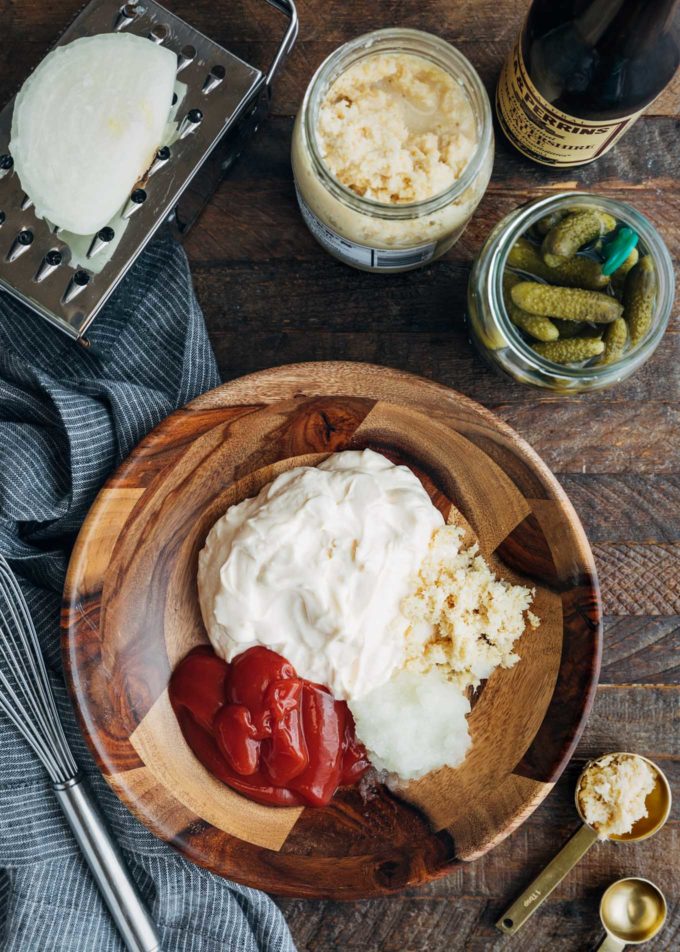 The Basics: What is Russian Dressing?
Russian dressing starts with a base of mayonnaise and ketchup (or ketchup-based chili sauce), lending its characteristic pastel color. Despite its name, Russian dressing is an American creation, dating to the early twentieth century.
Traditionally, Russian dressing has a bit of spice to it, owed to horseradish (or the chili sauce I mentioned before) and a dash of hot sauce. Minced cornichons give the dressing tang, grated onion brings a little sweetness, and Worcestershire sauce adds umami. Some recipes, including mine, add paprika for a hint of smokiness in the background.
This Russian dressing recipe is pourable and spreadable. It isn't as thick as blue cheese dressing, but not as thin as vinaigrette. It's smooth and velvety, with little pops of the crunchy cornichons interspersed throughout.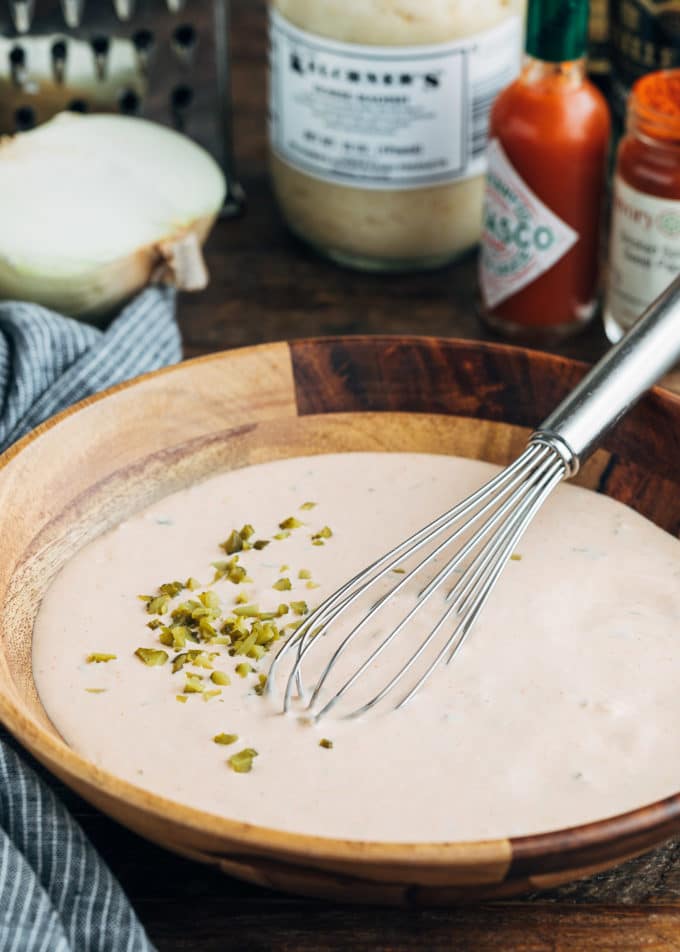 Russian vs. Thousand Island
Quite a few "Russian dressing" recipes call for sweet pickle relish instead of cornichons, but this is actually characteristic of Thousand Island dressing. Since the two dressings look so similar and are made from a mayonnaise-ketchup base, they're often mistaken for each other (and, in some cases, just swapped interchangeably).
The main difference between Russian and Thousand Island is the sweetness. Thousand Island dressing has a sweeter quality, while traditional Russian is more robust. Thousand Island also contains hard cooked egg and citrus, like orange or lemon.
Want to read more about the distinction and history of these two classic American dressings? Check out "America was sweet on its spicy Russian dressing–until Thousand Island, that is", from the Washington Post.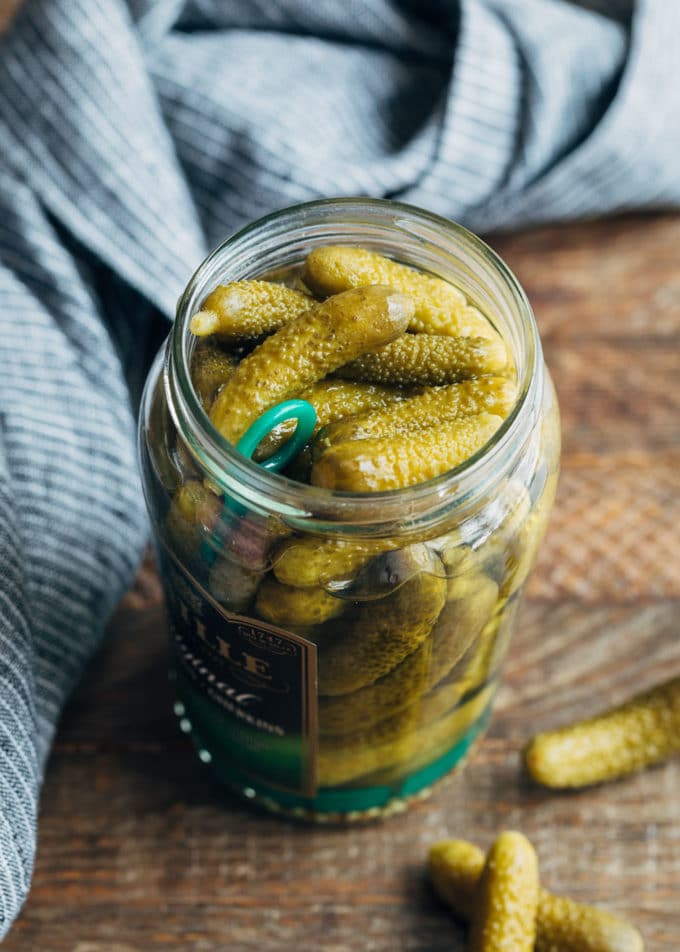 What Are Cornichons and Where Can I Buy Them?
Cornichons are adorable little French pickles. They're about the size of half of your finger, made with mini gherkin cucumbers that have been harvested young. They're usually pickled with cocktail onions, dill, garlic, and spices, like mustard seeds.
Compared to a larger dill pickle, cornichons have more of a wake-up-your-tastebuds flavor. They're tart–I'd go so far as to say sour–with a crisp texture, and bumpy-looking exterior. They're great in tartar sauce, on cheese and charcuterie boards, and served with fondue.
Minced and added to a Russian dressing recipe, cornichons bring the acidity you need to balance the creamy, sweet, and spicy flavors, without adding vinegar. Since these tiny pickles pack a decent flavor punch, you don't need a lot of them. Just 2 tablespoons will do the trick.
The brands of cornichons I find the most in the regular grocery stores in my area are Maille and Three Little Pigs (Les Trois Petits Cochons). Both are excellent. I usually find them on the higher shelves in the pickle aisle.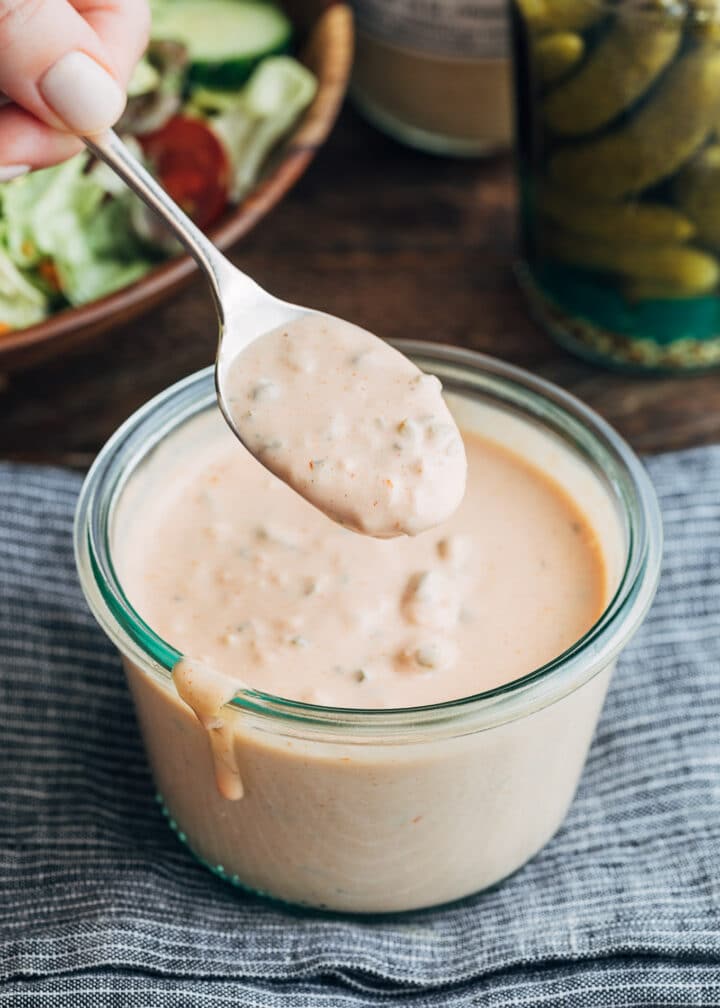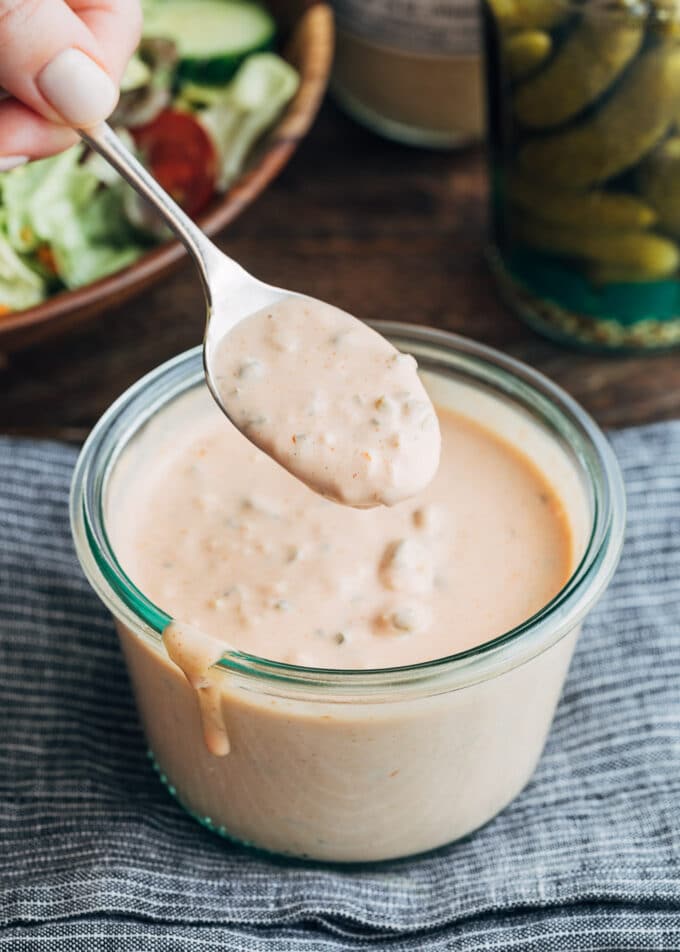 Ways to Use Your Homemade Dressing
Although I love Russian dressing on a good chef's, house salad, or on a variation of a classic wedge salad, I use it on sandwiches far more often than salads. It's a great way to recreate a classic NY/NJ deli experience at home, especially on a Reuben.
A now-closed delicatessen in my hometown always used Russian dressing on a sandwich they called the "Rocky Hill" (named after a small NJ borough): sliced turkey, crisp bacon, melted Swiss, coleslaw, and Russian on marble rye. So good.
Russian dressing is also fantastic on an All-American Burger (it has the air of those famous "secret sauces"), and makes a great dip for crudités.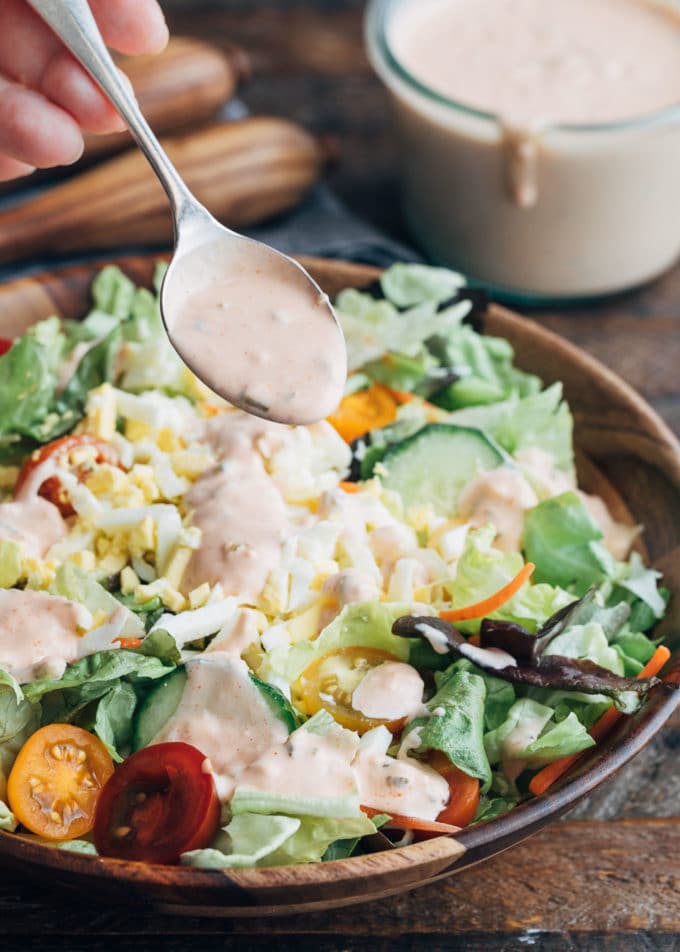 Making and Storing Homemade Russian Dressing
Like most salad dressings, Russian dressing only takes a few minutes to whip up. For the best flavor and texture, use grated onion (as opposed to chopped), as it brings out the onion juices better. I grate my onion on the shredding side of a box grater.
To bring a little sweetness to the dressing, I most often use a variety like Vidalia. If you prefer a more tart dressing, a regular yellow onion will do. I find red onions a little too sharp for this dressing.
Since the recipe utilizes prepared horseradish, remember that the full flavor won't be developed when you first mix everything together. You'll want to let the dressing sit for at least an hour for the flavors to meld, and even better, 24 hours. (Read more about buying prepared horseradish HERE.)
Homemade Russian dressing can be stored in an airtight container in the refrigerator for up to a week.
📖 Recipe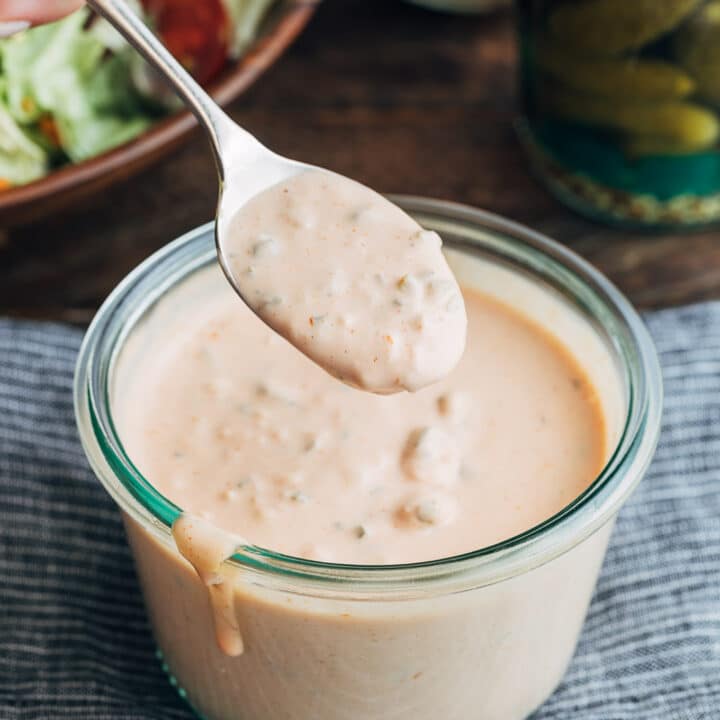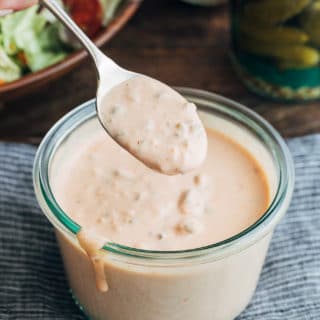 Russian Dressing Recipe
This creamy, tangy, lightly-spicy Russian dressing is easy to make at home. Serve it with your favorite salads and sandwiches!
Print
Pin
Rate
Save
Saved!
Servings:
12
servings (2 tablespoons)
Estimated Calories:
135
kcal
Ingredients
1

cup

mayonnaise

⅓

cup

ketchup

1

tablespoon

refrigerated prepared horseradish

, or additional, to taste

2

tablespoons

grated onion*

1

teaspoon

Worcestershire sauce

2

tablespoons

finely-minced cornichons

¼

teaspoon

smoked paprika

a few dashes of hot sauce

, to taste
Instructions
Whisk together all ingredients in a bowl. Cover and refrigerate for at least an hour for the flavors to develop. If you like your Russian dressing spicier, season to taste with additional horseradish and hot sauce. (Remember that the horseradish flavor will continue to blossom over 24 hours.)

Store, tightly-covered in the refrigerator for up to a week.
---
Notes
*To easily grate onion, use the large shredding holes on a box grater.
Nutrition Estimate
Calories:
135
kcal
|
Carbohydrates:
2
g
|
Fat:
13
g
|
Saturated Fat:
2
g
|
Cholesterol:
7
mg
|
Sodium:
213
mg
|
Potassium:
28
mg
|
Sugar:
1
g
|
Vitamin A:
70
IU
|
Vitamin C:
0.4
mg
|
Calcium:
3
mg
|
Iron:
0.1
mg
Keyword:
homemade russian dressing, salad dressing recipe
---
About our Recipes:
Please note that our recipes have been developed using the US Customary measurement system and have not been tested for high altitude/elevation cooking and baking.
Have you made this recipe?
Don't forget to leave a comment and rate the recipe below! Take a picture? Tag @stripedspatula and #stripedspatula on Instagram!