Get cheesy! From some of our favorite artisan cheese collections, to a fondue pot that's perfect for entertaining, cheese board styling inspiration, and more, you'll find great gifts for the cheese lover in your life with this handpicked shopping guide.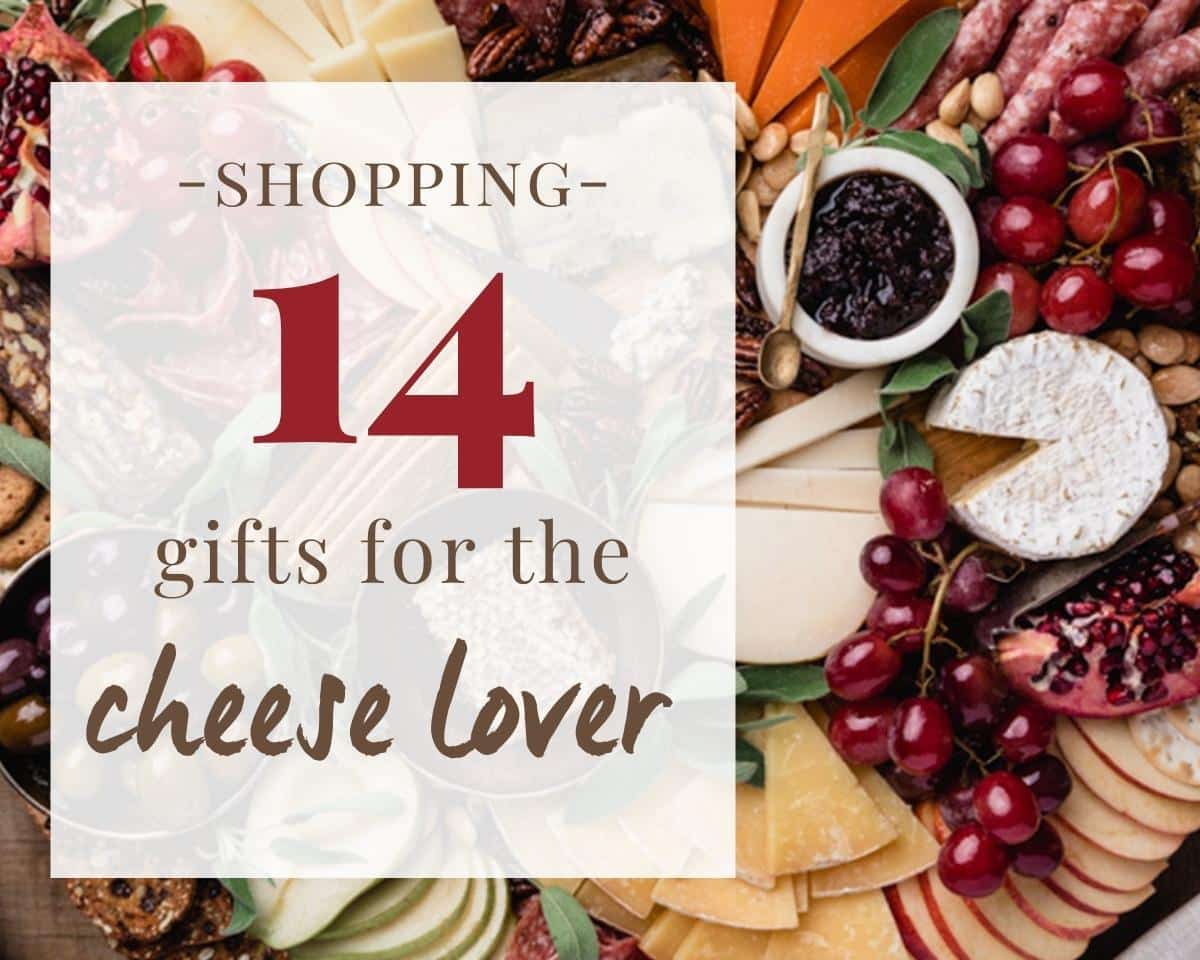 This post contains affiliate links. As an Amazon Associate, I earn a commission (at no additional cost to you) from qualifying purchases made by clicking these links. As always, all recommendations and opinions expressed are my own.
Photo Credit: Amazon
This beautiful fondue set from Swissmar is a timeless gift for any cheese lover. With an enameled cast iron pot, wrought iron rechaud (stand), burner, and 6 forks, this set is ready for a party! (Also great for chocolate and meat fondue.)
Photo Credit: Amazon
For the cheese lover who enjoys making a presentation! The Cheese Board Deck from food stylist, Meg Quinn, provides 50 different savory and sweet boards for year-round entertaining. Simply pick a board, follow the shopping list, and assemble as pictured. Or, use the designs to inspire new creations of your own.
Oregon's Rogue Creamery is celebrated worldwide for its artisan cheeses. (They're a longtime personal favorite at Striped Spatula!) Their "Brilliant Blue" Sampler features a sampler of their award-winning blue cheese varieties, plus "Blue Heaven" powder (great for popcorn!), and accompaniments.
Photo Credit: Amazon
Proper storage is essential for maintaining a cheese's flavor, texture, and aroma. Formaticum's professional-grade storage bags are breathable and humidity-regulating to keep cheeses at their freshest, longer. Made in France.
Photo Credit: Amazon
The ultimate entertaining board for the cheese and charcuterie lover! Made of durable acacia wood, this expandable cheese board includes two slide out drawers, four cheese knives, two ceramic bowls for accoutrements, and a double sided marble slab for display.
Photo Credit: Amazon
We love a good jigsaw puzzle, especially when it features 20 European cheeses! This vintage artwork puzzle from New York Puzzle Company is a unique gift that cheese lovers can have fun putting together on their own, or gather to assemble with friends and family.
Photo Credit: Amazon
BOSKA's Cheese Curler (Girolle) is a great gift for the cheese lover who has everything. The blade thinly-slices wheels of semi-hard cheese (such as Edam or Tête de Moine) and chocolate into delicate, frilled petals. A beautiful addition to cheese boards, or to make a show-stopping salad, pasta, or risotto presentation.
Photo Credit: Jasper Hill Farm
Jasper Hill Farm is a working dairy farm, creamery, and artisan cheesemaker located in the Northeast Kingdom of Vermont. Their award-winning cheeses are produced in a 22,000 square-foot underground cave-aging cellar, with the highest attention to quality and dedication to terroir. "The Cheese Baller" is a thoughtfully-curated sampler of five styles that serves as a brilliant introduction to Jasper Hill's collection for the cheese connoisseur.
Disclosure: I received a complimentary sample of Jasper Hill's cheeses prior to the publication of this article.
Photo Credit: Amazon
In The Book of Cheese, Liz Thorpe guides readers to expand their cheese repertoire by building off of what she calls 9 familiar "gateway" styles. This accessible approach to exploring the world of cheese allows the reader to identify his or her cheese preferences, branching out to new and adventurous discoveries. A great addition to any cheese lover's bookshelf.
Photo Credit: Amazon
This 8-pan raclette set from BOSKA is a wonderful gift for the cheese lover who enjoys entertaining. Powered by tea lights, the nonstick pans melt an array of cheeses quickly and evenly for the perfect pouring or dipping consistency.
Photo Credit: Amazon
Every cheese lover needs good cheese knives for entertaining. This elegant set of 6 stainless steel knives pairs with soft, semi-firm, hard, and crumbled cheeses for serving the ultimate cheese board.
Photo Credit: Amazon
This set of 6 reusable slate cheese labels with soapstone chalk markers make it easy to identify cheeses on a charcuterie board. Great for a hostess or housewarming gift!
Photo Credit: Amazon
Add a little fromage flair to the cheese lover's Christmas tree with this old world style glass blown ornament.
Photo Credit: Amazon
This fresh cheesemaking kit from Urban Cheesecraft includes supplies to make four batches of Ricotta and Farmer's Cheese. A fun introduction to cheesemaking for beginners and cheese-loving families.
*Product info is accurate at the time of the writing of this post and may change. We cannot guarantee product availability. Visit the shopping links for the most up-to-date information.
More Gift Guides