This tender Slow Roasted Prime Rib is the perfect centerpiece for a holiday dinner. Using a reverse-sear method creates a juicy and tender roast with a crisp outer crust.

There are few entrees more impressive than Slow Roasted Prime Rib for a holiday dinner. A perfectly-cooked standing rib roast, carved into juicy, rosy slices, makes a gorgeous presentation on a carving board or platter. Prime rib has become a luxurious yearly Christmas tradition for many families.
Given that prime rib can be costly, there can be a lot of pressure to get the cooking process "right." Today, I'm sharing my shopping tips and preferred method for making an unforgettable slow roasted prime rib that will leave your guests coming back for seconds every. single. time.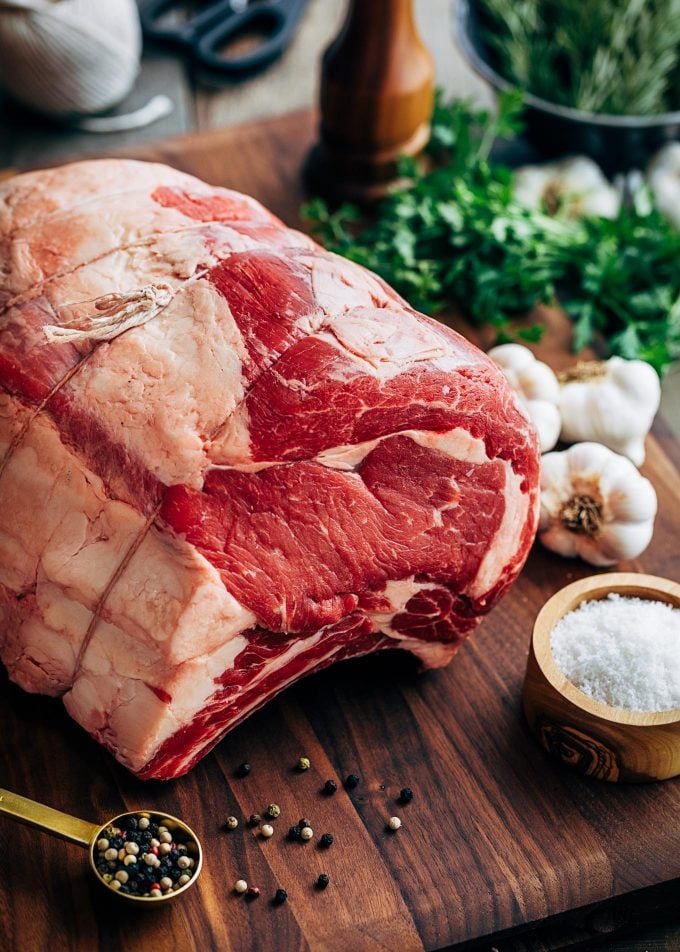 What exactly is Prime Rib?
Prime rib (also known as "standing rib roast" when sold on the bone) is beef cut from the rib section; more specifically, ribs 6 to 10. This is the area where ribeye steaks originate. It's meaty, well-marbled, and utterly delicious.
You can buy boneless prime rib, but I much prefer roasting on the bone for the best flavor, juiciness, and texture. Want to delve further into prime rib cuts? I love The Food Lab's Definitive Guide to Prime Rib over at Serious Eats.
Shopping for Prime Rib
Is all Prime Rib Prime-Grade Meat?
Despite being known as "Prime" rib, this cut does not necessarily carry the USDA Prime grading. You can buy Prime Rib as USDA Prime or Choice. Marketed at a higher price point, a Prime-grade rib roast will be more marbled than Choice, improving flavor and texture.
(I love Prime-grade roasts, and even better, those that have been dry-aged. That said, I've also had many Choice-grade cuts that have been absolutely delicious. Especially when utilizing the reverse sear method described below.)
How should I ask for the prime rib to be cut?
When I buy prime rib, I like to ask the butcher to cut the roast from the loin end of the rib section (also known as the "first cut"), as opposed to the chuck end (the "second cut"). This is a personal preference; the loin end is typically a bit less fatty (though, still well-marbled) and more tender.
To make serving easier, I also ask the butcher to cut the meat off of the bones and tie it back on for roasting, as has been done here. When ready to serve, just snip away the twine, lift the meat from the bones, and carve.
How Much Prime Rib Should I Buy?
As a general rule, I plan on 1 pound per person when buying prime rib on the bone. You can expect to serve 2 adults per rib.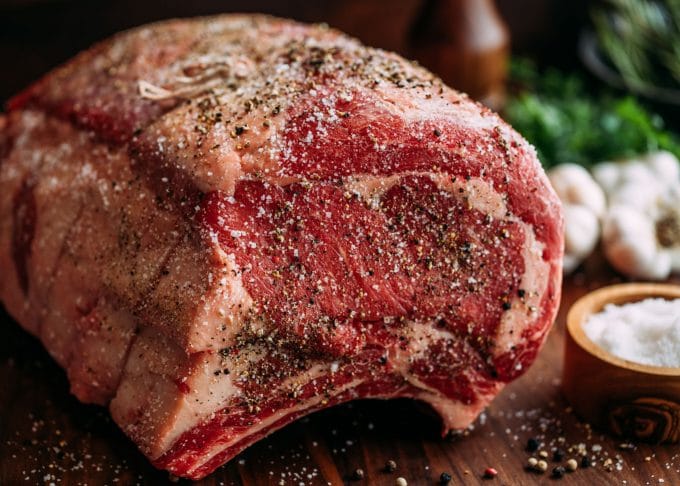 What is the Reverse Sear Method?
Many traditional prime rib recipes call for searing the meat either on the stove or in an ultra-hot oven to create an outer crust before slow roasting. The "Reverse Sear" method flips the process, first slow roasting the meat at 250 degrees F to your desired internal temperature. The meat is then rested and seared at 500 degrees F just for a few minutes before serving.
What's the benefit to utilizing a reverse sear? The meat is incomparably tender and evenly cooked from end-to-end with a minimal area of overcooked "gray ring" on the interior.
Slow roasting the raw meat in a 250-degree F oven also results in less moisture loss. All of the drippings that are usually released into the pan with a high initial (or prolonged) cooking temperature remain in the roast. Slices of prime rib cooked with the reverse sear process are so juicy.
Beautifully crusted, rosy, juicy meat throughout the roast? Talk about the perfect prime rib!
Want to read more about reverse searing? Check out two of my favorite articles from Serious Eats and Bon Appétit.
How Should I Season Prime Rib?
I like to keep it simple with a generous coating of sea salt and freshly-cracked black pepper. To encourage a great crust, I season the meat the night before roasting, and let it stand uncovered in the refrigerator to dry a bit.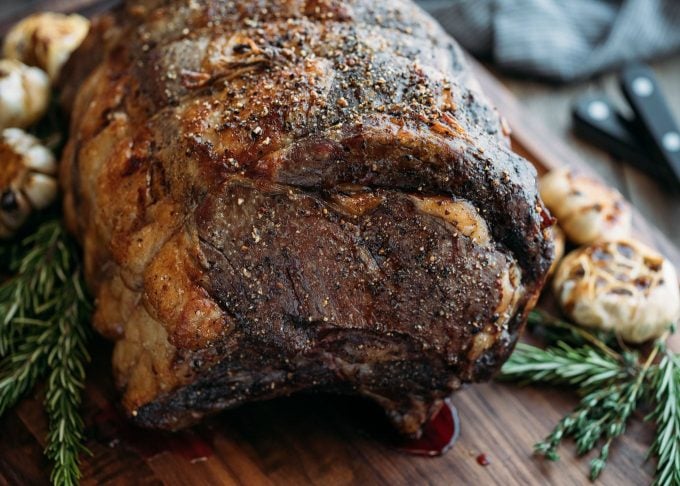 How Should I Serve Slow Roasted Prime Rib?
I love a good sauce, a potato side dish, and a green vegetable with a slice of prime rib.
If there's any potential drawback to cooking a prime rib with a reverse sear, it's the lack of drippings to make a pan sauce. Since all of those juices remain in the meat as it cooks, there isn't much to work with in the pan afterwards.
By the same token, reverse-seared meat is so juicy, you don't really need a pan sauce or jus.
I like to serve this prime rib with a complementary condiment, such as my Roasted Garlic and Horseradish Cream Sauce, and Duchess Potatoes. Creamy horseradish sauces are a classic pairing with prime rib, and go especially well with the tender meat.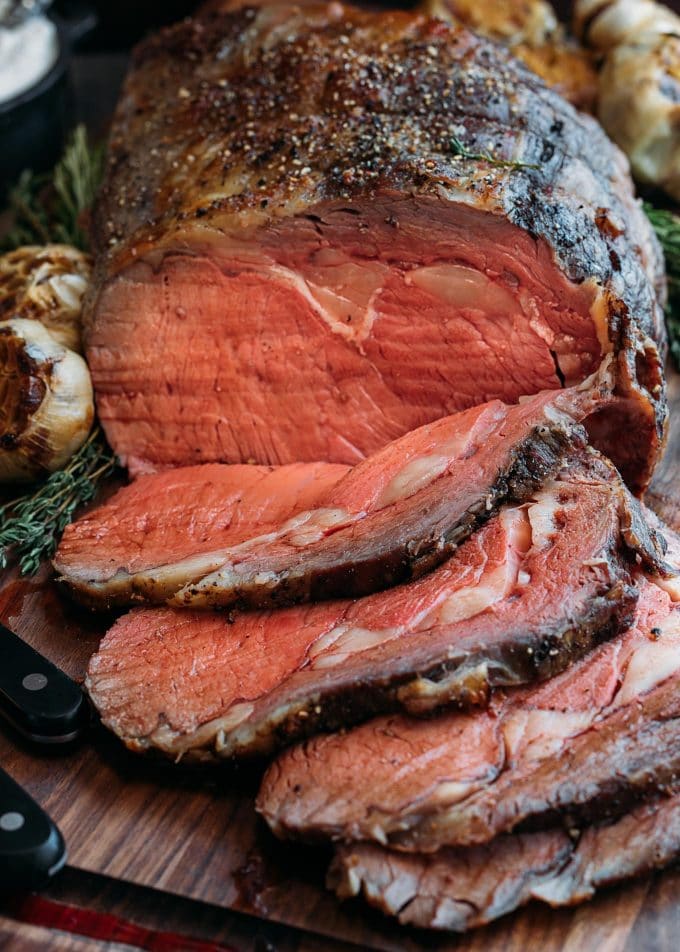 Don't forget the leftovers!
If you're lucky enough to have leftover prime rib after a holiday dinner, it makes fantastic roast beef sandwiches, breakfast hash, or even Pho. This is a roast that you'll want to make the absolute most of after the holiday!
Video Recap:
📖 Recipe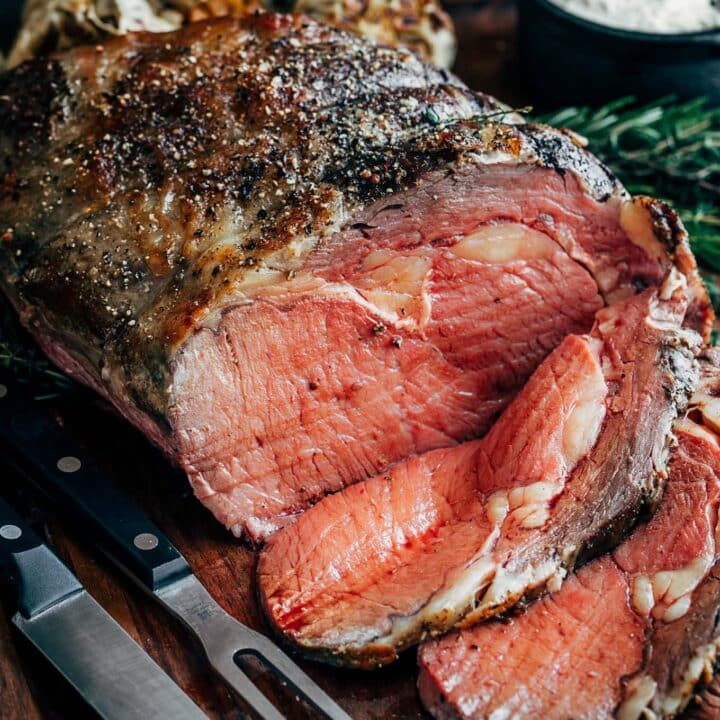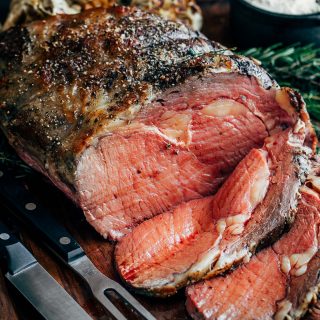 Slow Roasted Prime Rib
This tender Slow Roasted Prime Rib is the perfect centerpiece for a holiday dinner. Using a reverse-sear method creates a juicy and tender roast with a crisp outer crust.
Print
Pin
Rate
Save
Saved!
Estimated Calories:
541
kcal
Instructions
For ease in carving, ask your butcher to cut the meat off of the ribs and chine (backbone) and tie it back on.

The day before you plan to roast your prime rib, season it liberally on all sides with salt and pepper. Place the roast on a heavy baking sheet with the fat cap side up and refrigerate, uncovered, overnight (or up to 24 hours).

Remove the prime rib from the refrigerator and let stand at room temperature for 2 hours before roasting.

Preheat oven to 250°F with the rack in the lower third of the oven. Place prime rib on a v-rack in a roasting pan with the fat-cap side up.

Roast until an instant-read thermometer inserted into the thickest part of the meat (away from the bone) reads 120-125°F for rare, 128-130°F for medium-rare, or 132-135°F for medium and medium-well. This will take 3-4 hours.

Remove the prime rib from the oven, tent with foil, and let rest for 30 minutes.

Increase oven temperature to 500°F. Uncover the roast and sear it in the oven for 5-10 minutes, until the exterior is brown with a crisp crust.

---
Notes
*The prime rib photographed in this post was a 4-rib roast weighing 11 pounds. It was cooked to an internal temperature of 120°F in about 3 hours and 20 minutes.
Oven Calibration
Especially when slow roasting at a low temperature, it's important to confirm that your oven is running true to temperature with a reliable oven thermometer before you get started. Read how to test it with this article from Fine Cooking.
Nutrition Estimate
Calories:
541
kcal
|
Protein:
24
g
|
Fat:
48
g
|
Saturated Fat:
20
g
|
Cholesterol:
109
mg
|
Sodium:
80
mg
|
Potassium:
400
mg
|
Calcium:
14
mg
|
Iron:
2.6
mg
Keyword:
christmas dinner recipes, reverse sear prime rib, slow roasted prime rib, standing rib roast
---
About our Recipes:
Please note that our recipes have been developed using the US Customary measurement system and have not been tested for high altitude/elevation cooking and baking.
Have you made this recipe?
Don't forget to leave a comment and rate the recipe below! Take a picture? Tag @stripedspatula and #stripedspatula on Instagram!