A simple Powdered Sugar Glaze is an essential recipe to have in your baking repertoire. With just 3 ingredients and 10 minutes, you can elevate any baked good with a beautiful, sweet drizzle. Plus, it's versatile! You can switch up the basic recipe with a number of flavor add-ins to make it your own.
There's nothing like a drizzle of glaze on freshly-baked confections. One sight of the little pools of glaze dripped down the sides of a cake and onto the platter evokes all of the feelings of coziness that come with baked goods.
This recipe is essential for any baker's collection. It's simple to make and customizable to a nearly endless degree. You'll find yourself coming back to it again and again, whenever your dessert needs that little hint of something for a finishing touch.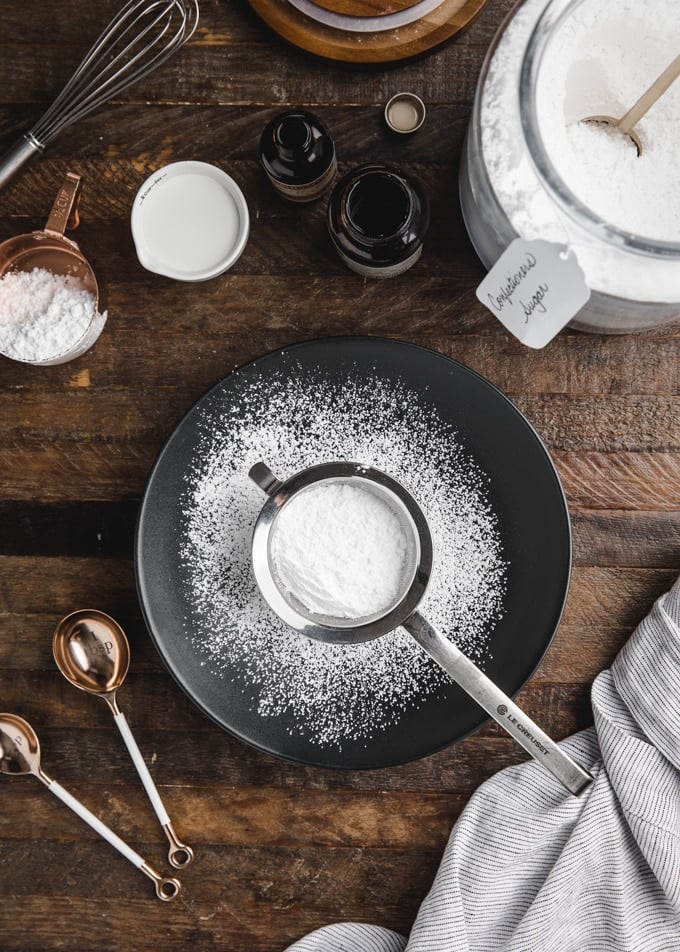 What You'll Need From the Pantry
This basic glaze recipe uses only 3 ingredients. You'll need:
Powdered Sugar (confectioner's sugar or icing sugar)
A liquid of your choosing to thin the glaze (such as water, milk, or liqueur – see the Flavors section for ideas)
Vanilla extract
That's all!
How to Make Powdered Sugar Glaze in 4 Easy Steps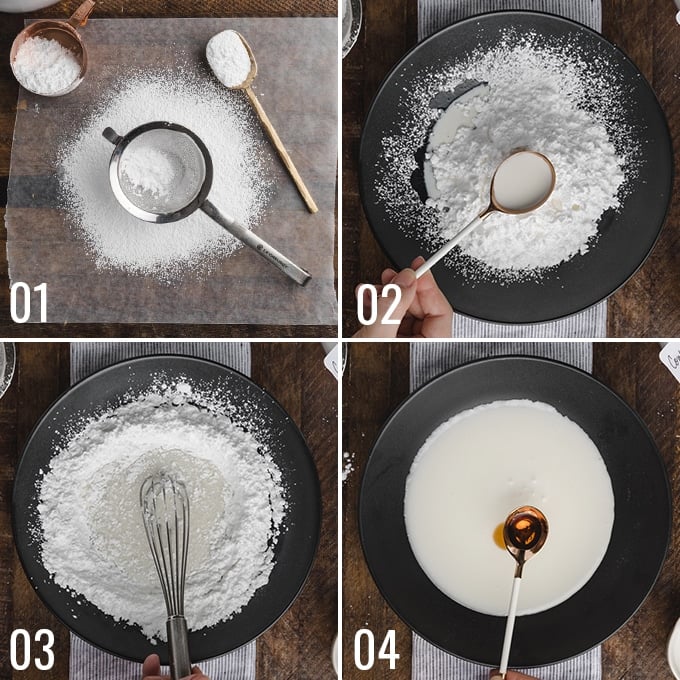 Start by sifting your powdered sugar to remove any clumps and measuring out 2 cups worth. I like to use a "spoon and level" method for measuring sugar and flour instead of "dip and sweep." I find that it's most accurate when compared to weighed measurements. (Photo 01)
Place the sugar in a bowl and start adding your liquid of choice by the tablespoonful. I used half and half in these photos.
Gradually whisk the liquid into the sugar until a smooth icing forms. Add liquid by the tablespoonful until you reach your desired glaze consistency for drizzling or pouring. (Photos 02 and 03)
For a classic vanilla glaze, whisk in vanilla extract. This will slightly tint the glaze to an ivory color instead of pure white. If you need your glaze to be whiter, clear vanilla flavoring can be substituted. (Photo 04)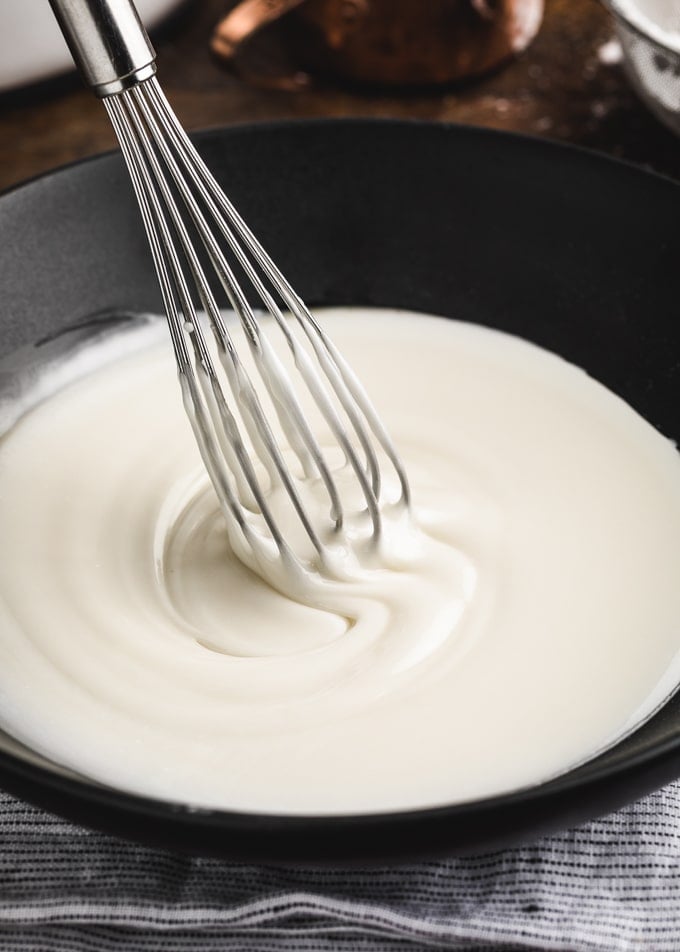 Ways to Flavor Your Glaze
Like most glaze recipes, powdered sugar glaze is easy to customize with different flavorings. The possibilities are nearly endless! Here are some of our favorite ways to switch up the basic vanilla recipe:
Citrus. Omit the vanilla extract and substitute fresh lemon, lime, or orange juice for some of the liquid. You can also add finely-grated citrus zest. Pure citrus extracts (such as those sold by Nielsen Massey and Rodelle) are also good choices in lieu of juice.
Coffee. Use cooled, strongly-brewed coffee or espresso for all or some of the liquid.
Spices. Ground cinnamon, nutmeg, ginger, or cardamom are delicious ways to give some warmth to the glaze.
Apple Juice or Cider. Great for finishing fall baked goods! Add a little ground cinnamon for a spiced cider glaze.
Maple. Use pure maple syrup (not pancake syrup) as the liquid. You can also add maple extract, for a more prominent maple flavor.
Extracts. Substitute pure almond, coconut, or peppermint extract for the vanilla.
Vanilla Bean. Use vanilla paste or scraped vanilla bean instead of vanilla extract.
Spike It. Swap your favorite liquor or liqueur for some of the liquid. Some of our favorites are Bourbon, Rum, Grand Marnier, Chambord, Kahlúa, Frangelico, and Limoncello.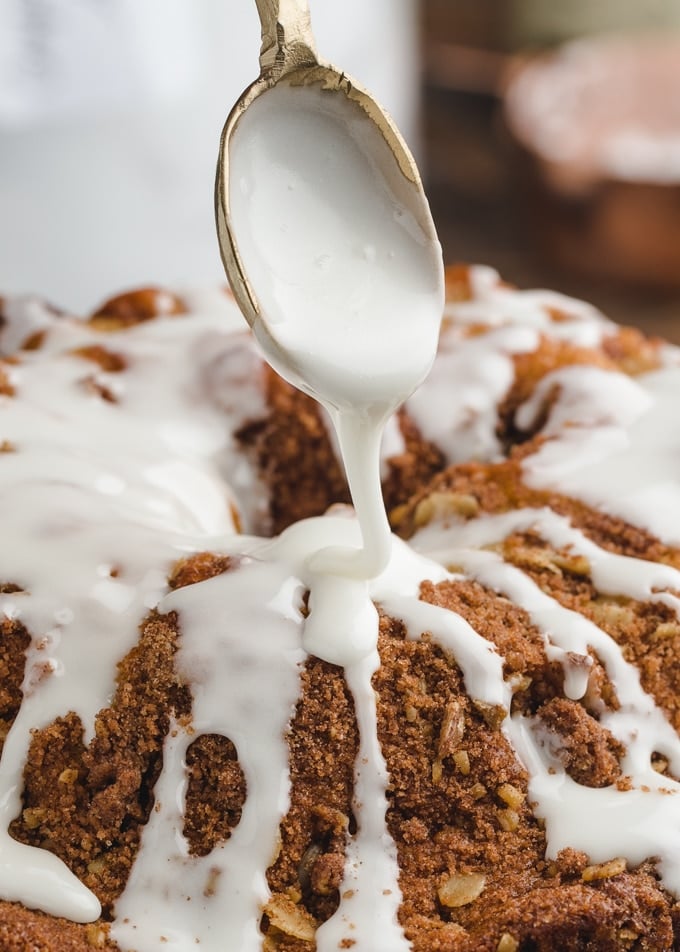 Glazing FAQ's
Q. Does powdered sugar glaze harden?
A. Yes. With the ratio of powdered sugar to liquid in this recipe, the glaze will dry/set up to a flat finish for clean slicing at room temperature. For optimal setting, make sure that your baked goods are completely cooled before glazing.
Q. Can I make it ahead?
A. Yes. You can make the glaze up to 5 days before you're going to use it. Store it in the refrigerator in an airtight container. Bring the glaze back to room temperature and whisk before using, adding a few drops of additional liquid if needed.
Q. How should I store baked goods with this glaze?
A. You can cover and store baked goods with basic powdered sugar glaze (even those that contain milk) at room temperature for up to 3 days. Since the ratio of sugar to dairy is high, it stabilizes the glaze and acts as a preservative against spoilage.
If your room temperature is higher than 71-72 degrees, the baked goods contain a perishable filling, or to simply err on the side of caution, cover and store in the refrigerator. For the best texture and flavor, let refrigerated confections stand at room temperature for 20-30 minutes before serving.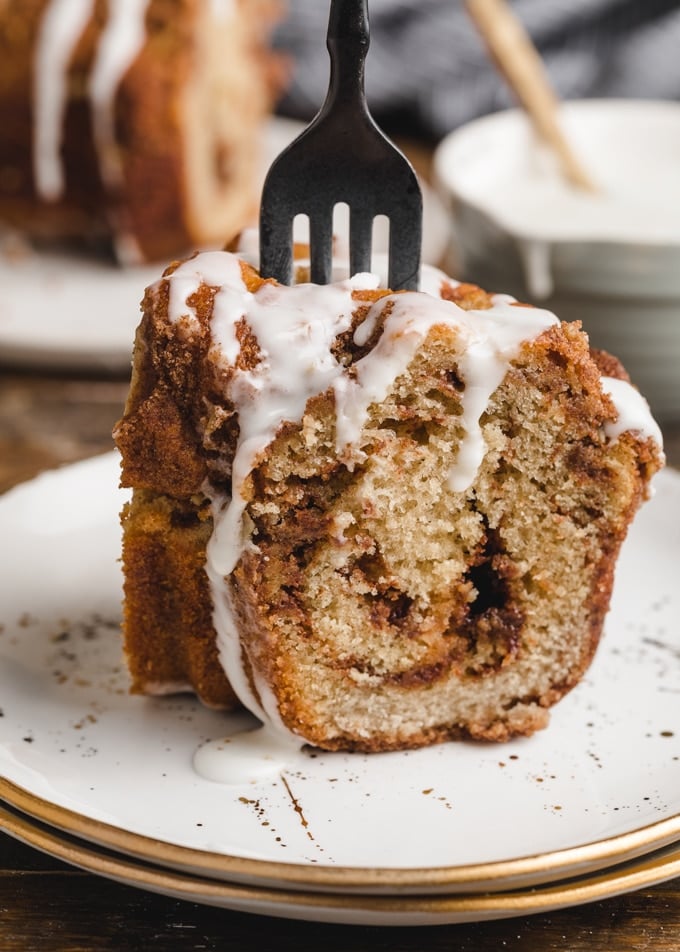 Ways to Use a Basic Confectioner's Sugar Glaze
This quick and easy icing works well with a variety of baked goods, whether you've made them yourself or are serving something you picked up at the grocery store.
Sometimes, store bought cakes and pastries, like the coffee cake pictured in this post, just need a little something special to give them a cozy, homey touch! A glaze is a great way to customize them for easy entertaining.
This glaze is particularly well-suited to:
Bundt and Tube Cakes (such as my Pumpkin Bundt Cake or Pear Cake)
Coffee Cake (great with maple!)
Quick Breads (such as Zucchini, Carrot, Banana Bread, or Pumpkin Bread)
Pound Cakes (particularly good with citrus glazes)
Muffins (try a lemon glaze on Blueberry Muffins)
Scones
Doughnuts
Cookies (drizzled, dipped, or spread)
What's your favorite way to use and flavor Powdered Sugar Glaze? Tell us in the comments below!
Other Easy Cake Glaze Recipes:
CRAVING MORE? Subscribe to my newsletter and join me on Facebook, Pinterest, and Instagram for the latest recipes and news.
Powdered Sugar Glaze
This basic, customizable confectioner's sugar glaze is an essential for any baker's recipe collection!
Print
Pin
Rate
Save
Saved!
Servings:
8
to 12 servings
Estimated Calories Per Serving:
120
kcal
Ingredients
2

cups

sifted confectioner's sugar

2-4

tablespoons

milk, half and half, water, or flavored liquid of choice

1/2 to 1

teaspoon

vanilla extract
Instructions
In a bowl, whisk together sifted powdered sugar, vanilla extract, and enough liquid to thin the glaze to your desired consistency for dipping, drizzling, or pouring over your favorite baked goods and pastries. Glaze will be smooth.

See the FAQ section above for make ahead and storage instructions and the notes below for flavor variations.
---
Notes
Flavor Variations:
Citrus. Omit the vanilla extract and use fresh lemon, lime, or orange juice for some or all of the liquid. Add finely-grated citrus zest (1/2 to 1 teaspoon). You can also use pure citrus extracts instead of juice and zest. Start with 1/4 teaspoon and build the flavor to taste.
Coffee. Use cooled, strongly-brewed coffee or espresso for all or some of the liquid.
Spices. Whisk in 1/4 to 1/2 teaspoon ground cinnamon, nutmeg, cardamom, or ginger, to taste.
Apple Juice or Cider. Use as a 1:1 substitute for the liquid.
Maple. Use pure maple syrup (not pancake syrup) as the liquid. For a stronger maple flavor, you can also add maple extract (start with 1/4 teaspoon, to taste).
Extracts. Use pure almond, coconut, or peppermint extract in lieu of vanilla. (The strength of extracts vary significantly by brand. Start with 1/4 teaspoon and add additional, to taste.)
Vanilla Bean. Add vanilla paste or scraped vanilla bean in place of extract.
Spike It. Swap 1/2 to 2 tablespoons (to taste) of your favorite liquor or liqueur for some of the liquid.
Nutrition Estimate
Calories:
120
kcal
|
Carbohydrates:
30
g
|
Protein:
1
g
|
Fat:
1
g
|
Saturated Fat:
1
g
|
Cholesterol:
1
mg
|
Sodium:
2
mg
|
Potassium:
5
mg
|
Sugar:
30
g
|
Calcium:
4
mg
---
About our Recipes:
Please note that our recipes have been developed using the US Customary measurement system and have not been tested for high altitude/elevation cooking and baking.
Keywords:
basic cake glaze, cake glaze recipe, confectioner's sugar glaze, powdered sugar glaze
Have you made this recipe?
Don't forget to leave a comment and rate the recipe below! Take a picture and tag @stripedspatula and #stripedspatula on Instagram for a chance to be featured in our Insta Stories and newsletter!