Split Pea Soup with Ham is a hearty and comforting soup that's perfect for making with leftover ham (and a ham bone) from a holiday dinner. No leftover ham? No worries! Substitute ham hocks instead.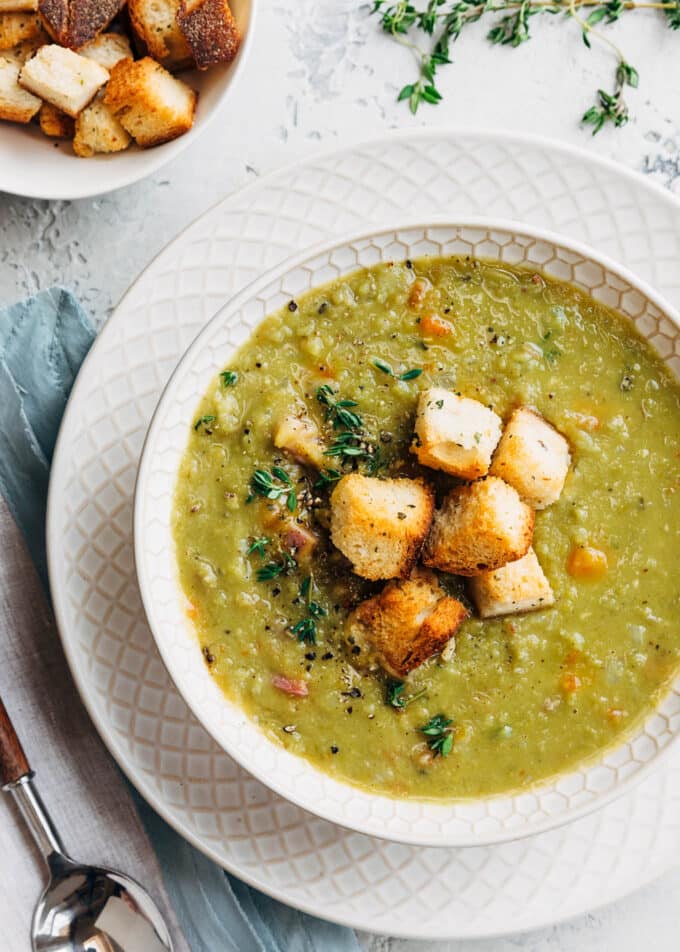 I have to confess: I approached the photo shoot for this post with some trepidation. Split Pea Soup with Ham is one of my favorite dishes to make after a holiday ham dinner. It also has something of a reputation for not being all that photogenic.
I don't know if it's the particular shade of green (split pea soup is much less vibrantly colored than fresh pea soup) or the pureed-but-not-really texture, but split pea is known as a bit of an ugly duckling in the world of soups.
It's a shame, because Split Pea and Ham Soup can be so delicious. Simmered until thick with a meaty ham bone or ham hocks and aromatics, this is a comforting bowl that's a little bit smoky, a little bit sweet, and completely satisfying.
(And, luckily, from a food styling point of view, bright bowls, fresh herbs, cracked pepper, and toasted, buttery croutons work wonders on the eyes!)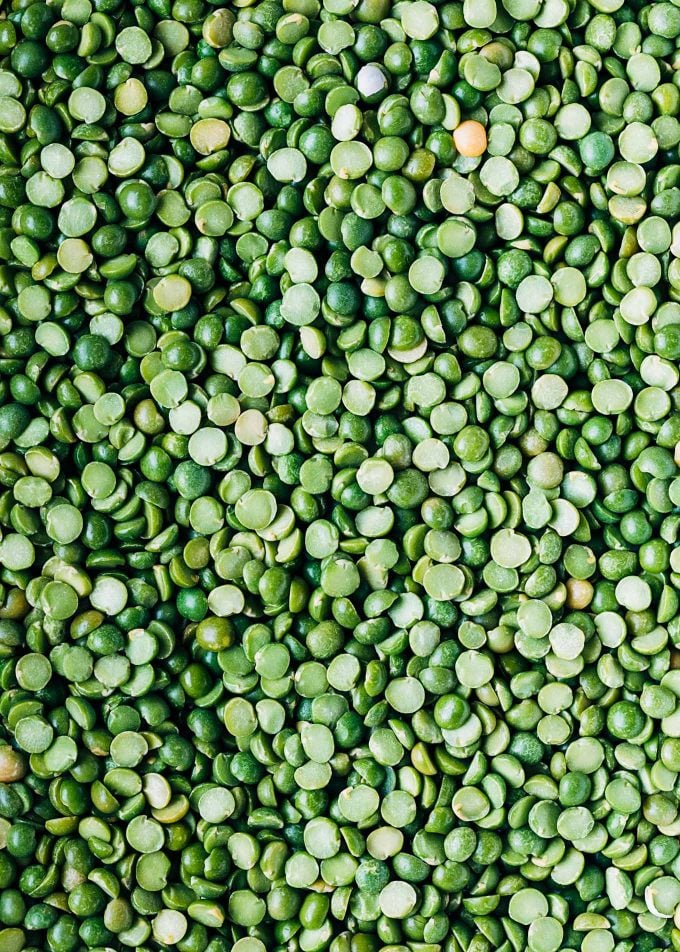 What are Split Peas?
Split peas are field peas that are dried, peeled, and split in half for cooking. They come in both yellow and green varieties. Yellow split peas tend to be the mildest in flavor, and green split peas, sweeter. You'll often see yellow split peas used in curries.
Like the lentils in my French Lentil Soup, split peas do not need to be soaked prior to cooking, but they should be rinsed and sorted to remove any stones that might have gotten mixed into the bag. Simmered with plenty of stock in a soup, they'll cook down and thicken into a textured puree (without having to break out the immersion blender).
Split peas also have great nutritional benefits. They're low in fat, packed with fiber and protein, and are a good source of several vitamins and minerals, including Vitamins A, B, and magnesium.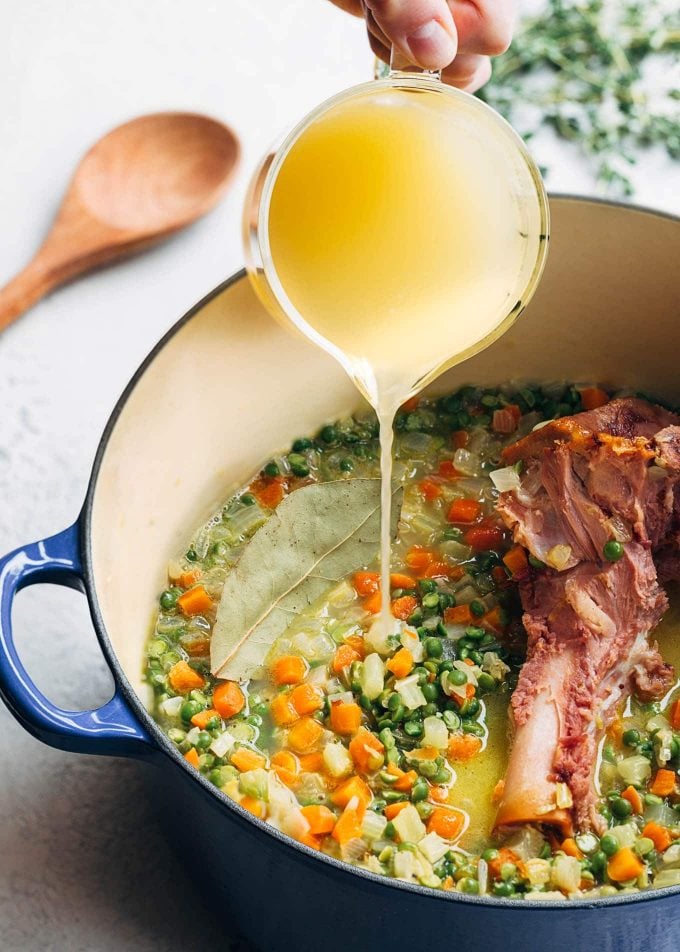 Making Split Pea Soup with Ham
I make this recipe whenever I have a leftover ham bone in the fridge, usually after Easter. The bone, and the meat attached to it, give the soup a nice depth of flavor as it simmers, with a subtle smoky flavor.
In addition to the ham bone, like to add some diced ham to the pot during the last 15 minutes of cooking for an even heartier texture.
If you want to make this recipe without holiday leftovers, you can also substitute ham hocks. This cut comes from the bottom of the leg, near the ankle, and lends great flavor to braises and slowly-simmered soups. When the soup is ready, just remove the meat from the bones and shred it into the soup.
Seasoning and Simmering the Soup
Given the mild flavor of split peas in general, soup made with them can be a little muted. The ham bone or hocks do a lot to rectify that, but aromatics, fresh herbs, and well-flavored stock are equally essential.
I start this soup with plenty of onions, carrots, and celery softened in butter and simmer it all with thyme leaves, dried bay leaves, and chicken stock.
Taste your ham before starting the recipe and adjust the salt quantity as needed. The listed quantity is what I use for the ingredients available to me, but the saltiness of ham can vary. If your ham is very salty, go light on the kosher salt when sautéing the veggies and add additional after simmering the soup, to taste.
The split peas will cook down over the course of about an hour. I don't puree the soup further, since I like it to have a bit of texture.
After the split peas are fully cooked, the thickness of the soup is entirely adjustable to your personal preferences. If you find that it's too thick after an hour, just add in some extra stock. For a very thick soup, simmer longer. Remember that this split pea soup with ham will continue to thicken as it stands.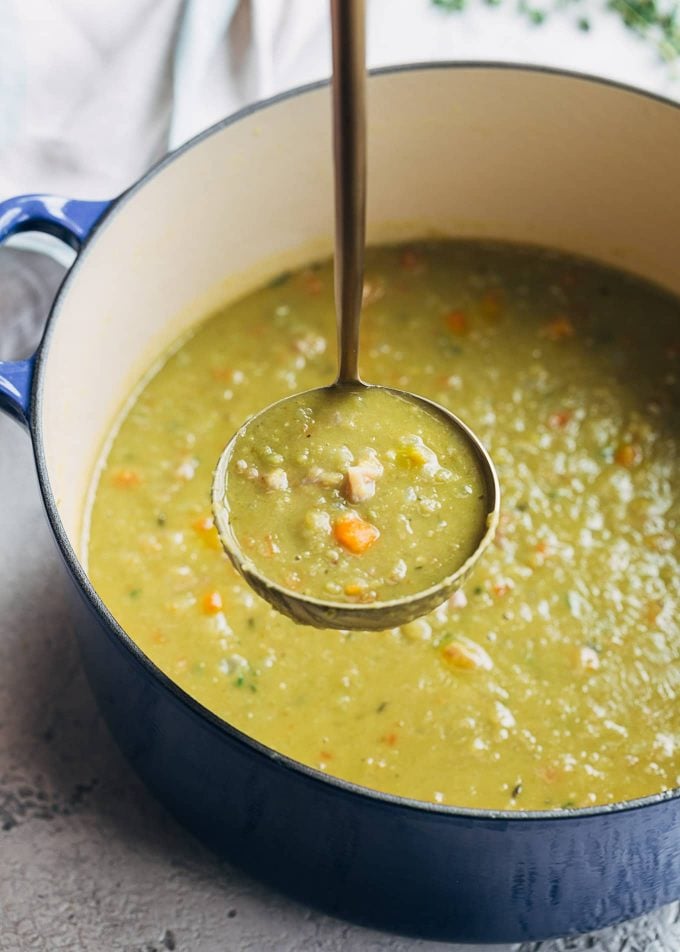 Serving and Storing Split Pea Soup
Split Pea Soup with Ham is very filling on its own, but I always find room for a few of my Buttery Garlic Croutons on top. The crisp croutons are a great contrast to the creamy soup and bring even more flavor to the bowl. They're a "must"!
I also like to top the soup with a few extra thyme leaves, and freshly-cracked black pepper for a pop of freshness and spice.
You can make this split pea soup recipe in advance and store it, tightly covered, in the refrigerator for 3 days. You may need to thin the texture with a bit of chicken stock when you reheat it. The soup also freezes well for 2-3 months.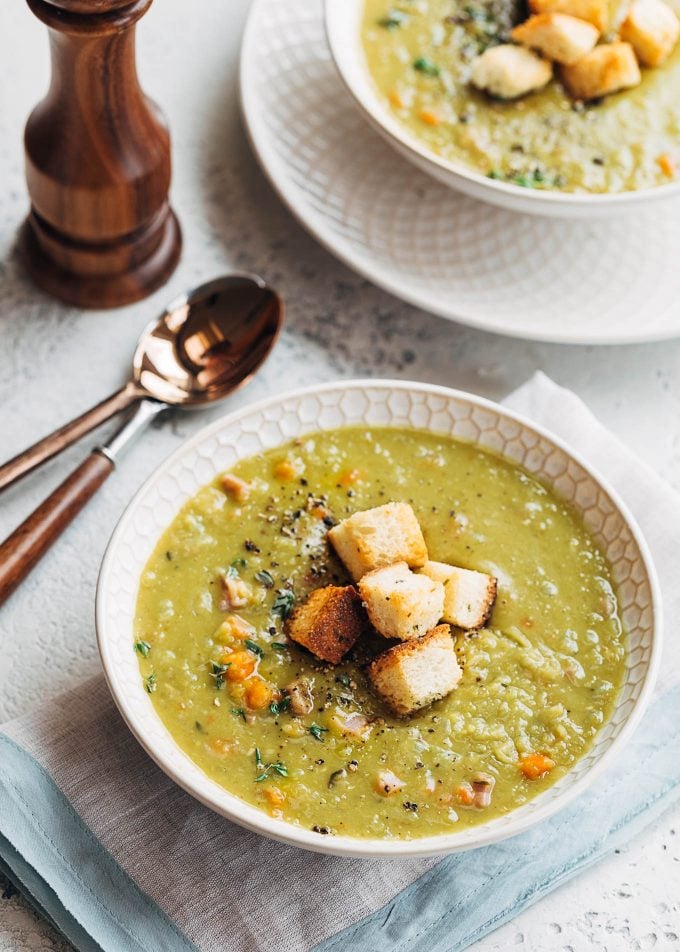 More Leftover Ham Recipes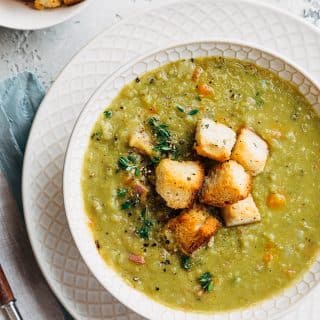 Split Pea Soup with Ham
This slowly-simmered split pea soup uses a ham bone (or ham hocks) for a rich, subtly smoky flavor. Don't forget the croutons on top!
Please note that this recipe was developed for standard elevation cooking. We cannot speak to cooking times/results for high elevations.
Print
Pin
Rate
Cook Time:
1
hour
15
minutes
Total Time:
1
hour
30
minutes
Ingredients
1/4

cup

unsalted butter

2

cups

chopped onion

1

cup

diced carrot

(1/4-inch dice)

1

cup

diced celery

(1/4-inch dice)

1/4 to 1

teaspoon

kosher salt

(see note)

1/2

teaspoon

freshly-ground black pepper

, plus additional to taste

2

cloves

garlic

, minced

1

pound

dried split peas

, rinsed and sorted

1

meaty ham bone

1

large

bay leaf

(or 2 small)

2

teaspoons

fresh thyme leaves

, chopped and quantity divided

6

cups

chicken stock

2

cups

water

1

cup

diced ham

(1/4-inch dice)

Buttery Garlic Croutons

, for serving
Instructions
In a large pot or Dutch oven, melt butter until foaming subsides. Add onion, carrot, celery, salt and pepper. Cook until vegetables are softened and just beginning to brown, 5-8 minutes. Add garlic and cook for 1 minute, until aromatic. Stir in split peas.

Add ham bone, bay leaf, and 1 teaspoon fresh thyme. Stir in chicken stock and water. Bring to a boil, reduce heat, and simmer uncovered for 60-90 minutes, stirring occasionally, until split peas are cooked down and soup is thickened to desired consistency. (Stir more frequently as the soup begins to thicken and add a little additional stock or water if it gets too thick for your tastes.)

Add diced ham during the last 15 minutes of cooking. When ready to serve, remove and discard ham bone and bay leaf, and stir in remaining 1 teaspoon fresh thyme. Serve hot with croutons and cracked black pepper.
---
Notes
*As written in the blog post, it's best to taste your ham and stock before starting the soup, as the salt content can vary significantly across brands. If you're using a particularly salty ham, go light on the salt when sautéing the vegetables and season to taste as the soup simmers. 
Ham Bone Substitution:
*If you don't have a leftover ham bone, two smoked ham hocks can be substituted (1-1/2 pounds). They are saltier than a ham bone, so reduce the added salt in your soup accordingly. When you remove the ham hocks from the pot, shred the meat off of the bones and return it to the pot before serving. Discard the bones.
Make-ahead:
The soup can be stored, tightly-covered, in the refrigerator for 3 days, or frozen for 2-3 months. When reheating (to 160 degrees F), add additional stock, if needed, to thin the soup to your desired consistency. 
Nutrition Estimate
Calories:
468
kcal
|
Carbohydrates:
62
g
|
Protein:
29
g
|
Fat:
12
g
|
Saturated Fat:
5
g
|
Cholesterol:
37
mg
|
Sodium:
1025
mg
|
Potassium:
1183
mg
|
Fiber:
21
g
|
Sugar:
13
g
|
Vitamin A:
4030
IU
|
Vitamin C:
8.9
mg
|
Calcium:
84
mg
|
Iron:
4.4
mg
---
About our Recipes:
Please note that our recipes have been developed using the US Customary measurement system and have not been tested for high altitude/elevation cooking and baking.
Keywords:
leftover ham recipe, split pea soup recipe
Have you made this recipe?
Don't forget to leave a comment and rate the recipe below! Take a picture and tag @stripedspatula and #stripedspatula on Instagram for a chance to be featured in our Insta Stories and newsletter!