This tomato tart, with an herbed pâte brisée crust, ricotta and mascarpone filling, and a touch of roasted garlic, is a beautiful addition to any summer table.
When I was a child, my grandfather grew the most amazing tomatoes every summer. I remember many an afternoon spent out on my grandparents' patio (just a short walk from the vegetable garden) where I could see the plants growing taller and fuller with each passing week.
When the tomatoes finally ripened from green to vibrant red, my grandfather would pluck one from the vine and slice it up for us—juicy and warm from the summer sun—to enjoy together. I still remember how much I looked forward to that first taste every year. It was as good as a scoop of ice cream.
My grandparents are no longer with us, but to this day, tomatoes are my favorite of summer's bounty, not only for their delicious flavor, but for the wonderful memories they evoke.
Good tomatoes don't need much to be enjoyed to their fullest. Most of the time, I'll eat them with nothing more than a sprinkling of salt, allowing their natural flavor to steal the show.
Tomato sandwiches (on toasted brioche with a touch of mayonnaise, salt, and pepper) and salads (with thinly-sliced Vidalia onions, torn basil leaves, and extra virgin olive oil; delicious!) are also summer staples at our house. For a dish that's a little more sophisticated, a tomato tart is a wonderful addition to any menu.
Most tomato tarts I've made in the past have been baked, giving the tomatoes an intensified, roasted flavor. Last month, my interest was piqued when the mid-summer catalog from the kitchen store in which I cannot be trusted arrived with an unbaked Heirloom Tomato Tart on its cover.
As someone who loves the taste and texture of raw heirlooms, my tastebuds went into overdrive. Having just picked up a basket of tomatoes at the farm market, I knew that I had to give the concept a try.
Truth be told, I ended up tweaking Williams-Sonoma's recipe quite a bit (hence, the "inspired by" tag on my recipe). Instead of a plain crust, I decided to make an herbed pâte brisée (a basic tart shell to which I added fresh chives, thyme, and basil). To the ricotta and parmesan filling, I added a scoop of mascarpone for a silkier texture. Before assembling the tart, I also spread a little bit of roasted garlic onto the cooled shell (because, who doesn't love the combination of sweet roasted garlic and tomatoes?!).
The finished tart, sprinkled with basil, sea salt, and a drizzle of extra virgin olive oil, is on a fast track to becoming a new favorite in our house. Each component complemented the tomatoes well, without overpowering their delicate flavor. We especially loved the texture of the juicy, ripe tomatoes against the creamy ricotta and mascarpone filling. It was a nice alternative to the more homogenous texture of a baked tomato tart.
I served the tart as a light lunch, but it would also be lovely cut into smaller wedges as a side dish, or as a part of a brunch buffet. Summer may be winding down, but there's still plenty of time to savor the best of this year's tomato crops! Enjoy!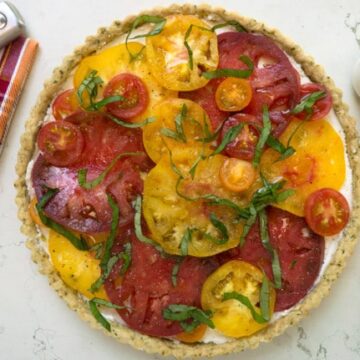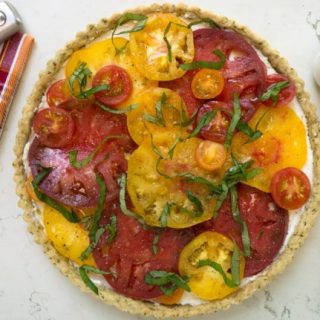 Heirloom Tomato Tart
This tomato tart, with an herbed pâte brisée crust, ricotta and mascarpone filling, and a touch of roasted garlic, is a beautiful addition to any summer table.
Inspired by Williams-Sonoma Test Kitchens
Print
Pin
Rate
Save
Saved!
Servings:
6
for a light lunch
Estimated Calories:
547
kcal
Ingredients
For the Herbed Pâte Brisée
1-½

cups

all-purpose flour

½

teaspoon

kosher salt

9

tablespoons

unsalted butter

, chilled and cut into ¼-inch cubes

½

tablespoon

fresh thyme

1

tablespoon

fresh chives

, snipped

2

tablespoons

fresh basil

, chopped

3-5

tablespoons

ice water
For the Ricotta-Mascarpone Filling
1-½

cups

ricotta

*whole or part-skim

½

cup

mascarpone cheese

¾

cup

grated Parmigiano Reggiano
For the Roasted Garlic
1

whole head

garlic

1

tablespoon

extra-virgin olive oil
To Assemble the Tart
1-½

pounds

assorted heirloom tomatoes

, cut into ¼-inch slices

Fresh basil for garnish

, cut into a chiffonade

extra virgin olive oil

, for drizzling

sea salt and freshly ground pepper

, to taste
Instructions
Make the Herbed Pâte Brisée
Place flour and salt in the bowl of a food processor and pulse 2-3 times to combine. Add chilled butter and pulse until the mixture is the consistency of a coarse meal, about 10 one-second pulses. Add the herbs and pulse 2-3 times.

Add ice water, one tablespoon at a time, pulsing until dough just begins to come together, but is not sticky. For a tender crust, do not over mix. Pinch a small amount of dough between your fingertips. If it feels crumbly, add additional ice water in 1-tablespoon increments. Transfer dough to a clean work surface and shape into a disk. Wrap tightly in plastic wrap and refrigerate for at least one hour.

On a lightly-floured surface, roll chilled dough to a 13-inch circle (about ⅛-inch thick). Roll dough onto rolling pin and gently transfer to a 10 ¼-inch tart pan. Gently ease dough into the pan, being careful not to stretch it. Fold excess dough into the pan to make a wall of double thickness. Refrigerate 30 minutes.

Preheat oven to 425 degrees F. Pierce the chilled crust all over with a fork ("docking the crust"), line with parchment or foil, and fill with dried beans or pie weights. Place on a baking sheet and bake for 25 minutes.

Remove parchment/foil and beans/weights. Reduce oven temperature to 350 degrees F and continue baking 10-15 minutes, until crust is a light golden brown. Remove from oven and cool completely.
Make the Ricotta-Mascarpone Filling
In the bowl of a food processor, combine ricotta, mascarpone, and Parmiggiano-Reggiano. Process until smooth. Refrigerate until ready to assemble tart.
Make the Roasted Garlic
Preheat oven to 425 degrees F. Cut the top off of the garlic head, about ¼-inch down, to expose cloves. Place on a square of foil. Drizzle with extra virgin olive oil. Wrap foil up around the garlic to make a purse. Place on a baking sheet and roast for 45 minutes to an hour, until garlic is golden, soft, and fragrant. Cool to room temperature.**
Assemble the Tart
Spread 2-3 cloves of roasted garlic on the bottom of the cooled tart shell. Fill with ricotta-mascarpone mixture. Layer heirloom tomatoes on top of the filling to cover. Sprinkle the tart with sea salt and freshly ground pepper, lightly drizzle with extra virgin olive oil, and garnish with the basil chiffonade.

Cut into slices, passing additional salt and pepper to taste.
---
Notes
*If your brand of ricotta is especially milky, it's best to strain it in cheesecloth for a few hours before making the filling so it isn't too loose.
**This makes more roasted garlic than you need. To store leftovers, place the cloves in a covered container with a bit of extra virgin olive oil. Sweet roasted garlic is delicious spread onto slices of lightly-toasted baguette, or mixed into mayonnaise for sandwiches.
Make ahead: All tart components can be prepared a day or two in advance. I prefer to slice the tomatoes and assemble the tart just before serving to preserve the crust's crispness.
Nutrition Estimate
Calories:
547
kcal
|
Carbohydrates:
31
g
|
Protein:
17
g
|
Fat:
39
g
|
Saturated Fat:
23
g
|
Cholesterol:
103
mg
|
Sodium:
465
mg
|
Potassium:
378
mg
|
Fiber:
2
g
|
Sugar:
3
g
|
Vitamin A:
2190
IU
|
Vitamin C:
16.9
mg
|
Calcium:
325
mg
|
Iron:
2.2
mg
---
About our Recipes:
Please note that our recipes have been developed using the US Customary measurement system and have not been tested for high altitude/elevation cooking and baking.
Have you made this recipe?
Don't forget to leave a comment and rate the recipe below! Take a picture? Tag @stripedspatula and #stripedspatula on Instagram!