This deli-style homemade coleslaw is creamy, a little bit sweet, and a little bit tangy. Great as a casual side dish or a crunchy addition to your favorite burgers and sandwiches.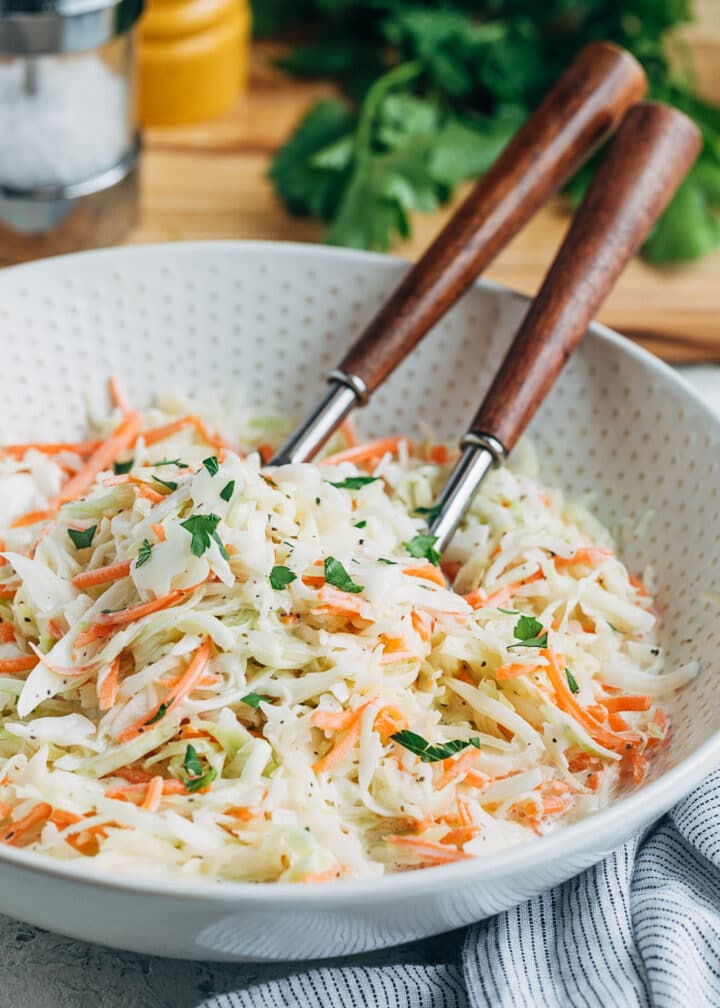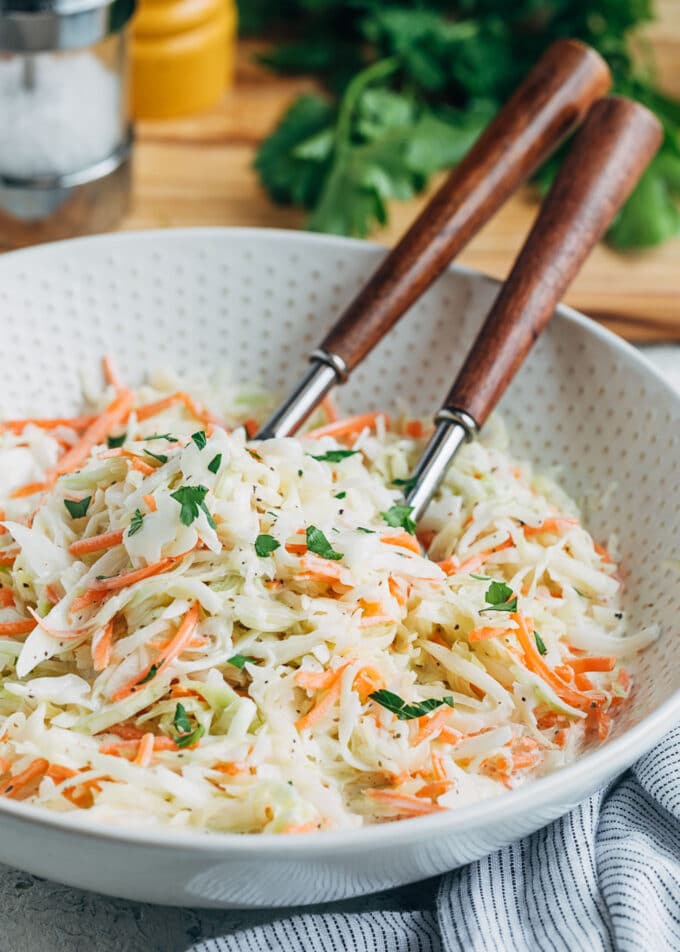 I can usually conclude how I feel about a diner or deli on the basis of its coleslaw. Perhaps it's a little narrow-sighted, but I've found that if the coleslaw isn't great, everything else on the plate is often lackluster
Too watery? Not a fan. Not crisp? No deal. Overly sweet or tart? I'll pass.
Yes, I'm hearing how judgmental that sounds as I type it. I'm just a girl who has specific feelings about her coleslaw!
Whether I'm serving it in a cup alongside burgers or Lobster Rolls, on top of a Corned Beef Sandwich, or a saucy pulled pork sammie, creamy coleslaw is a staple in my deli and diner repertoire. It's pretty easy to make at home, too, with a few tips for success.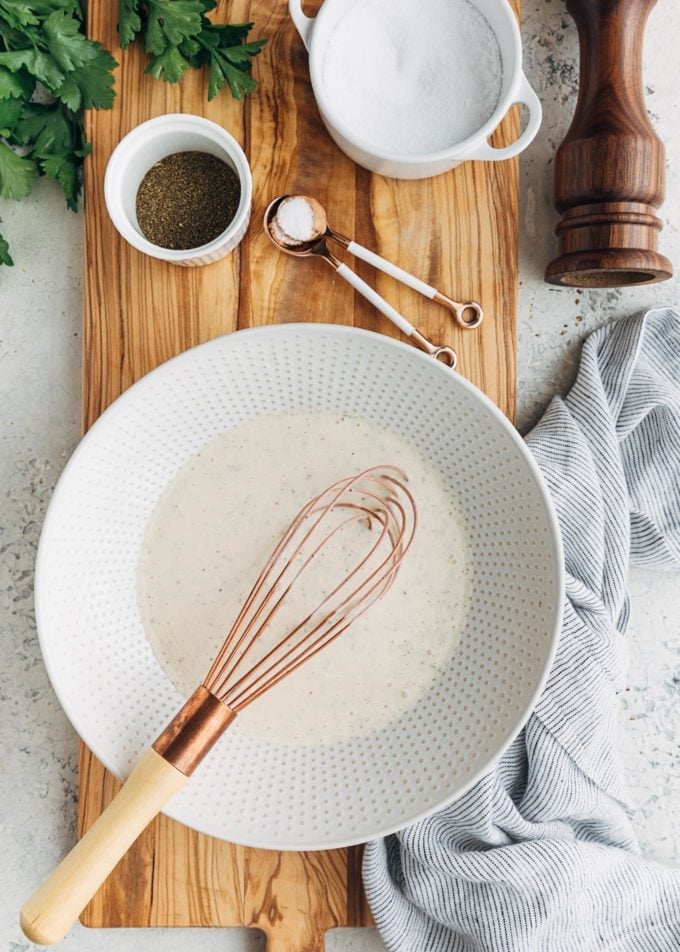 Making Homemade Coleslaw Dressing
The creamy dressing for homemade coleslaw is a cinch to whisk together. It takes 5 minutes, at most; just as quick as buying a jar at the store! The dressing is a simple mixture of mayonnaise, granulated sugar, apple cider vinegar, celery seed, and salt and pepper.
I like my homemade coleslaw the way the delis near me make it–a cross between sweet and tangy. For me, 3 tablespoons each of vinegar and sugar achieves the perfect balance in my dressing. Play around with it and increase or decrease each to find the combination that you and your family like best.
For me, celery seed is a must for a deli-style coleslaw. If you haven't cooked with it before, it tastes like concentrated celery, and a little bit goes a long way. It's a classic addition that really makes the dressing.
Having a picnic? You can also make the coleslaw dressing ahead of time and keep it in the refrigerator for a few days before tossing with the cabbage and carrots.
Once you've tossed the dressing with the cabbage, let the coleslaw chill in the refrigerator for at least an hour for the dressing's flavors to meld and develop.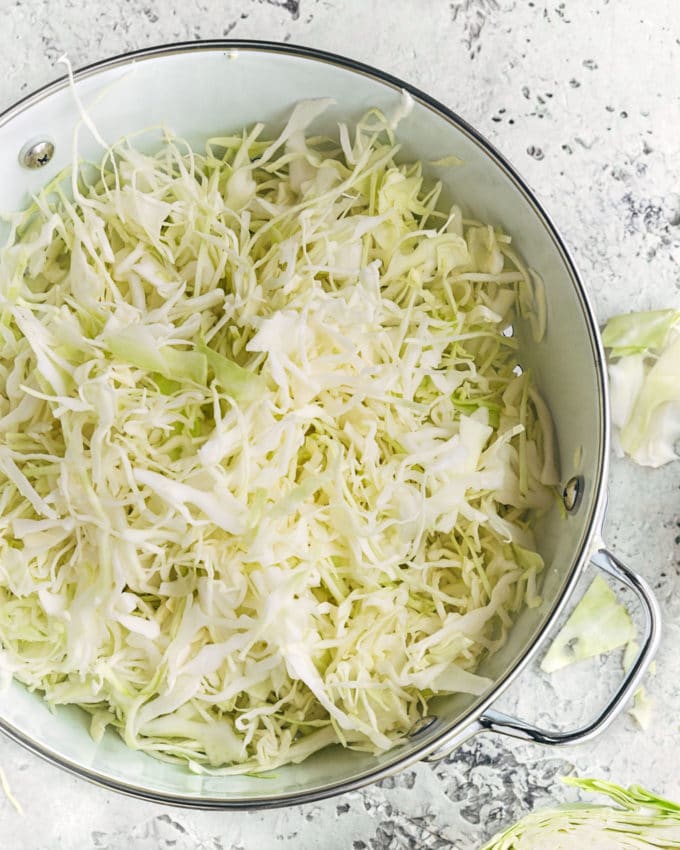 How to Shred Cabbage for Coleslaw
Whenever possible, I like to shred my own cabbage, rather than buy a bagged coleslaw mix. I find it fresher and crunchier. You can substitute a pre-shredded mix in this recipe, but for best results, make it within a day of buying.
I like to shred my cabbage using the slicing disk on my food processor. While you might naturally reach for the shredding disk for, well, shredding, I find that it creates more of a chipped texture than long shreds when working with cabbage.
My slicing disk has an adjustable blade, and I set it to between 1/16- and ⅛-inch thick. When ready to shred, core your head of cabbage, cut it into wedges, and feed them through the processor one at a time.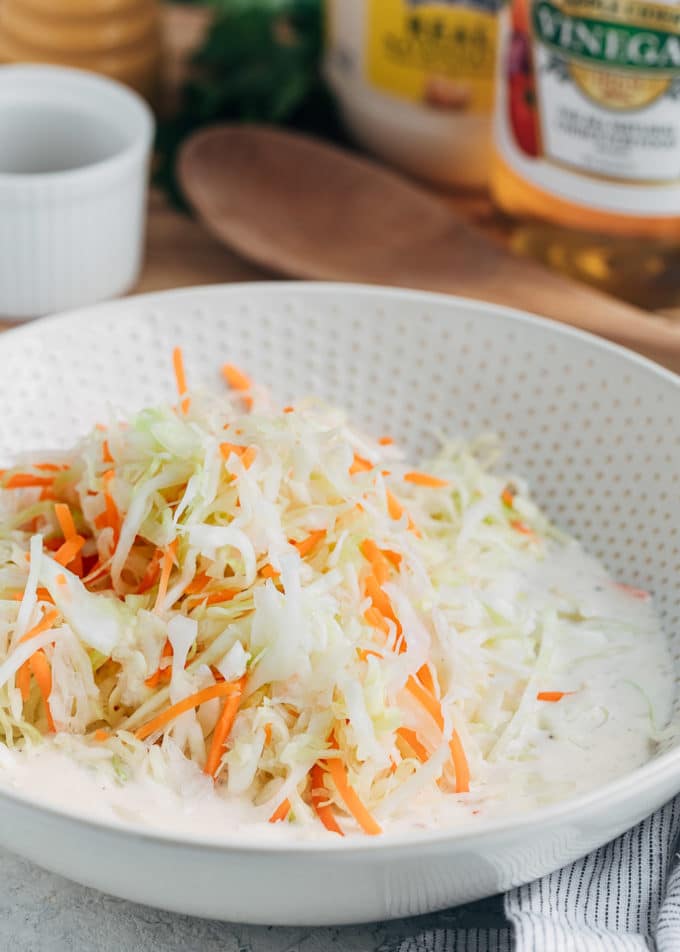 You can also use a mandolin set to the same thickness, shredding the cabbage wedges from the flat, cut sides to make long strands. Always be careful when using a mandolin and use a guard or a safety glove.
Lastly, cabbage can be shredded by hand with a sharp knife. Place the wedge with one the cut sides down on the cutting board, then shave the cabbage lengthwise from top to bottom for thin, long shreds.
Depending on the size of the cabbage, I usually use about half of a head for a batch of coleslaw. You'll need 1 pound of shredded cabbage, which comes out to around 6 cups.
What Kind of Cabbage is Best for Coleslaw?
I like to use plain old green cabbage for homemade coleslaw. It has a great crunch and a mild cabbage flavor. Savoy also works well, or a mixture of the two.
I tend to shy away from red cabbage in this recipe, as the color can sometimes bleed into the creamy dressing as it sits. I like red cabbage better in vinaigrette-based slaws.
Want to brush up on your cabbage varieties? Check out 4 Types of Cabbage You Need to Know About (Because Cabbage Rules) from Bon Appetit.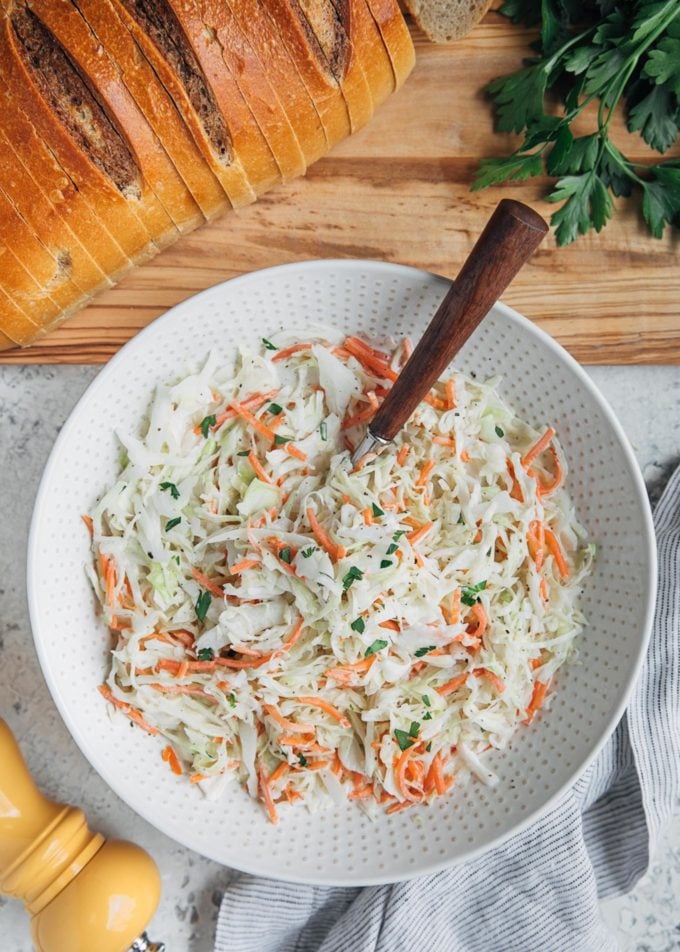 The Secret to Making Homemade Coleslaw That Isn't Watery
Cabbage has a high water content, so it's easy to fall into the pitfall of overly watery coleslaw. The solution? Toss the shredded cabbage (and carrots) with kosher salt and let it sit in a colander for an hour.
You'll be amazed by how much water is released into the bowl below! It's extra liquid that would've ended up in your coleslaw bowl, watering it down considerably.
You might be wondering if the salting process and moisture loss makes the cabbage limp. It does not. The cabbage will be nice and crunchy and ready to mingle with the creamy dressing.
After salting and sitting, rinse the cabbage and carrots to remove the extra salt, and then dry it well. I like to use a salad spinner. You can also dry it by hand between two layers of paper towels on a plate or baking sheet.
Even with this step, your cabbage and carrots will still release some liquid into the dressing as it sits. It's unavoidable, but you'll greatly reduce the moisture level with the salting process. Just stir the coleslaw well when you're ready to serve and it should have a manageable amount of liquid in it.
The texture is best on day 1, but homemade coleslaw can be stored, covered, in the refrigerator for up to 3 days.
📖 Recipe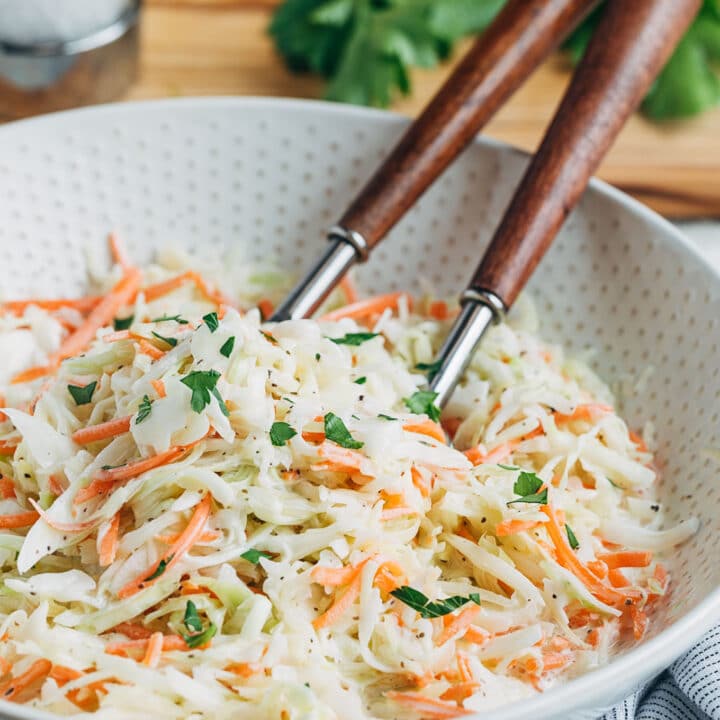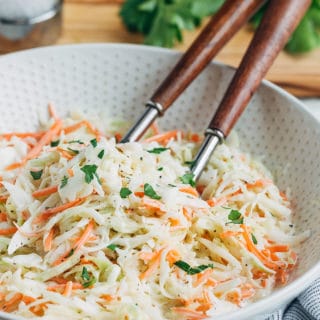 Homemade Coleslaw (Deli-Style)
Crisp, creamy, sweet-tangy homemade coleslaw is easy to make at home, just like from your favorite delicatessen!
Print
Pin
Rate
Save
Saved!
Estimated Calories:
306
kcal
Ingredients
1

pound

green cabbage

, shredded (about 6 cups)

1

cup

shredded carrots

3

tablespoons

apple cider vinegar

*

3

tablespoons

granulated sugar

1

cup

mayonnaise

½

teaspoon

celery seed

kosher salt and freshly-ground black pepper
Instructions
Toss shredded cabbage with carrots and 1 tablespoon of kosher salt in a mesh colander set in a large bowl. Let stand for 1 hour.

Discard the water that collects in the bowl and dry the bowl. Rinse the cabbage and carrots, and dry well in a salad spinner, or between layers of paper towels on a baking sheet. Place the dried cabbage mixture back in the large bowl.

In a bowl, combine vinegar and sugar, stirring until the sugar is dissolved. Whisk in mayonnaise, celery seed, ¼ teaspoon kosher salt, and ½ teaspoon freshly-ground black pepper.

Pour as much dressing over the cabbage and carrots as you like (you might not use it all depending on your personal preferences and how much moisture is left in your cabbage).** Season to taste with salt and pepper.

Cover and chill for at least 1 hour, stirring the coleslaw before serving. Coleslaw keeps, covered and refrigerated, for up to 3 days.
---
Notes
*As written, the dressing makes a lightly sweet and tart coleslaw. If you like your coleslaw a little less sweet, start by reducing both the sugar and vinegar to 2 tablespoons, adding additional, to taste.
**I tend to vary my dressing quantity based on how I'm serving the coleslaw. If it's a side dish, I make it creamier and use all the dressing. If I'm using it to top sandwiches, like pulled pork, I'll use a little less.
Nutrition Estimate
Calories:
306
kcal
|
Carbohydrates:
12
g
|
Protein:
1
g
|
Fat:
28
g
|
Saturated Fat:
4
g
|
Cholesterol:
15
mg
|
Sodium:
266
mg
|
Potassium:
204
mg
|
Fiber:
2
g
|
Sugar:
10
g
|
Vitamin A:
3660
IU
|
Vitamin C:
29
mg
|
Calcium:
43
mg
|
Iron:
0.6
mg
Keyword:
homemade coleslaw recipe, how to make creamy coleslaw
---
About our Recipes:
Please note that our recipes have been developed using the US Customary measurement system and have not been tested for high altitude/elevation cooking and baking.
Have you made this recipe?
Don't forget to leave a comment and rate the recipe below! Take a picture? Tag @stripedspatula and #stripedspatula on Instagram!