It's easy to make a showstopper pan of Linguine with Clams, just like your favorite Italian bistro. This classic white clam sauce is my grandmother's recipe, a family favorite for decades.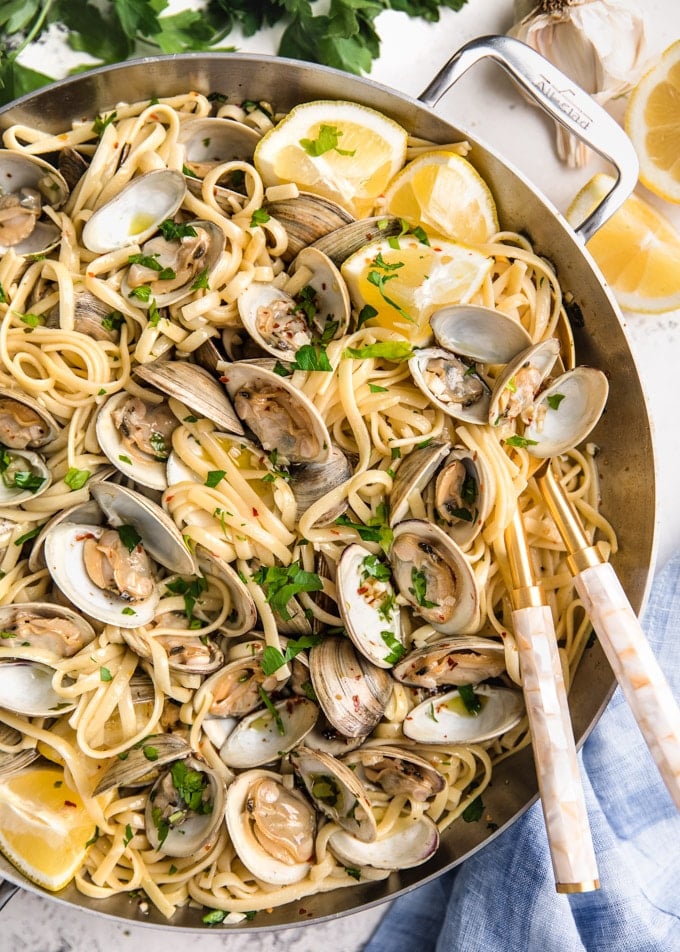 Of all of the recipes in my dinner repertoire, few things says "summer" more than a bowl of Linguine with Clams (Linguine alle Vongole).
This classic Neapolitan dish wraps encompasses all of the best feelings of the season. It's bright, fresh, light yet comforting, and beautiful yet casual. This is a dinner to enjoy on the patio with the people you love.
Linguine with Clams can be prepared either "in bianco" (white clam sauce) or "in rosso" (red clam sauce). My grandmother, Josephine ("Nanny"), made her recipe in bianco, with white wine, plenty of fresh garlic, lemon juice, and a hint (or more) of red pepper flakes.
It's been a summer staple in my Italian family for generations, one of my (non-Italian) late father's favorite dinners, and a recipe I find myself craving at least several times a season.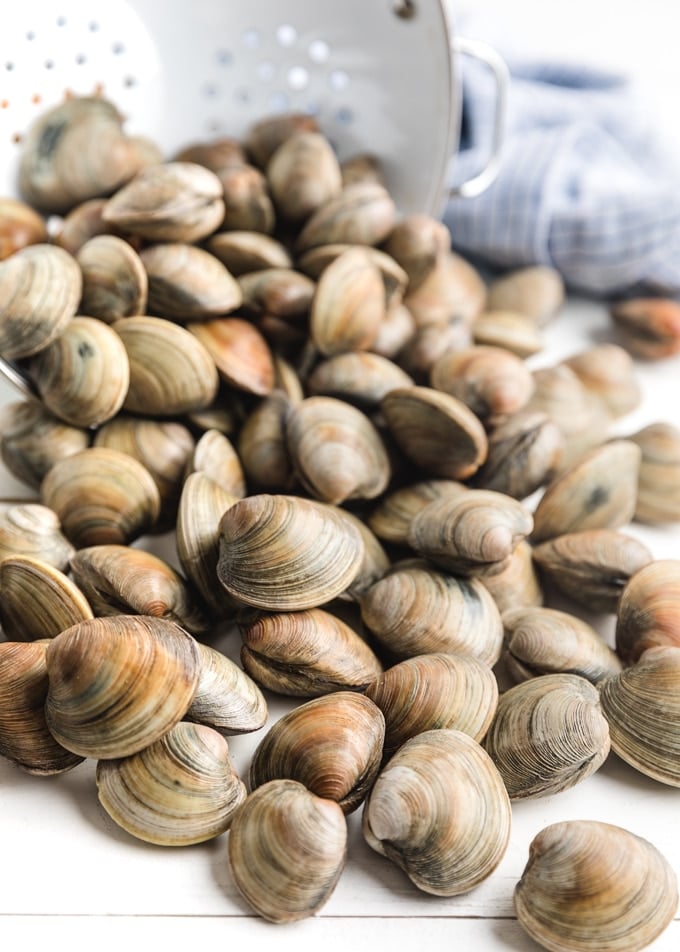 How to Make the Best Linguine with Clams
Since there are so few ingredients in this dish, you'll want them to be the best quality possible, from the clams to the wine and even the olive oil.
I like to use a nice Sauvignon Blanc or dry Pinot Grigio in this recipe. You don't have to go crazy on the price point, but choose a wine that you'd be happy to drink. (Both for the quality of the sauce and since you won't use the whole bottle in the recipe.)
What Kind of Clams Should I Use?
I like to use either fresh Littleneck or Manila clams to make Linguine with Clams. Both of these varieties are delicate, sweet, and just meaty enough to satisfy without having a chewy texture.
Before cooking, it's important to clean live clams thoroughly so that sand doesn't find its way into your pasta. (Been there, done that, and now I always do a preventative clam soak.) For detailed instructions on scrubbing and de-gritting clams, as well as what to look for at the market when shopping for clams, see my Fresh Clams Guide.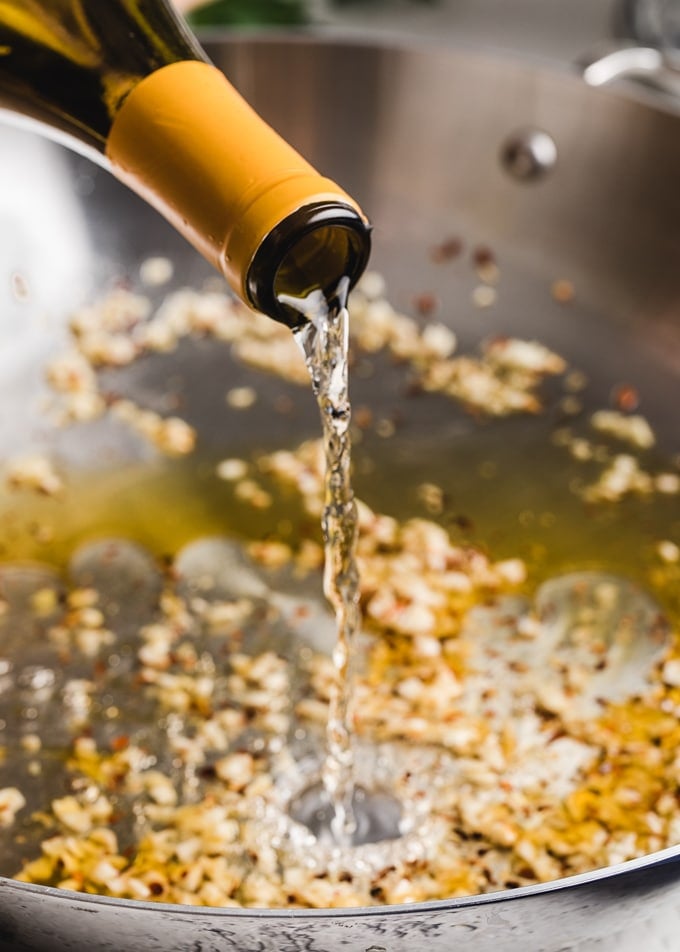 How to Cook Clams for Linguine with Clams
Once they're cleaned, the clams will only take a few minutes to steam with the white wine and aromatics. Littlenecks will take 5-8 minutes, and Manila clams just 3-5 minutes.
Instead of a deep pot, I like to use a wide bottomed pan, like a 12-inch skillet or the 13-inch braiser shown in the photos. This allows me to steam the clams in an even layer, and finish cooking the linguine in the clam juices.
For the best Linguine with Clams, keep an eye on the clams to make sure they don't overcook. Fresh clams are the the star of the show here, and they'll toughen quickly if cooked for too long. They're ready when their shells have opened.
Since clams tend to cook at varying rates, I start checking them a little early. Instead of waiting for the whole pan to steam through, I remove them individually, as each clam opens. You'll often hear little "pops" in the pan as they open–the sound of deliciousness!
That said, any clams that don't open with cooking should be discarded. Some of them are just a little stubborn and need a few extra minutes without the rest of the bunch.
Any clams that haven't opened after about 3-5 minutes past the cooking window perished before they got to the pan. They aren't safe to eat.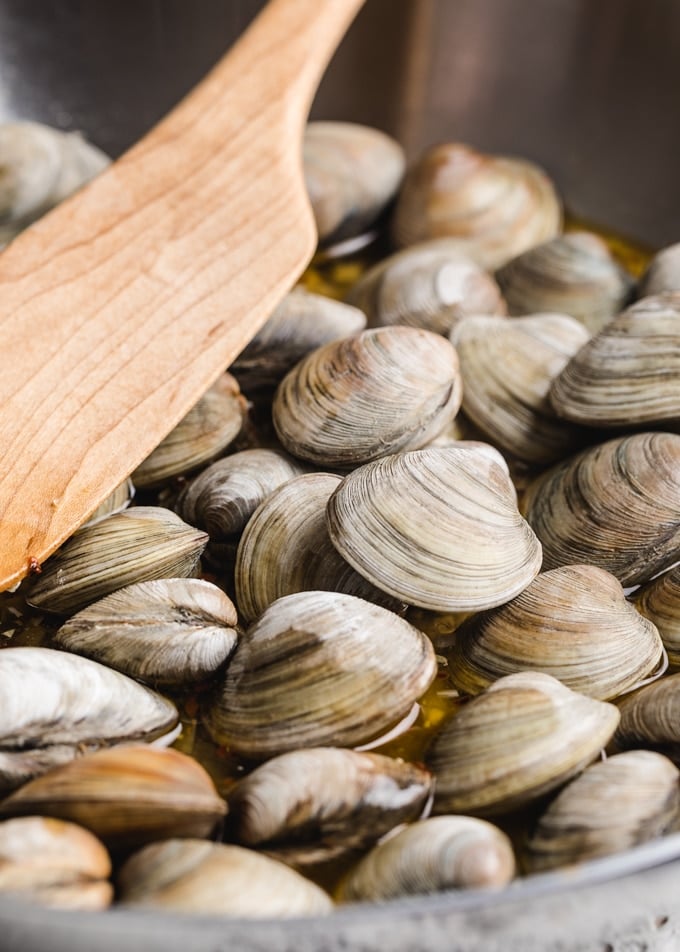 Cooking and Flavoring the Pasta for Alle Vongole
The best flavors in this dish come from the briny clam juices in the pan. When they mingle with the garlic, lemon juice, and wine, it's nothing short of heavenly. The key to a truly outstanding bowl of Linguine with Clams is getting that flavor into the pasta itself.
To do this, my family removes the linguine from its pot when it's just shy of al dente ("to the tooth"). We reserve about a cup of the pasta water in case we need it to loosen the sauce later, and toss the linguine into the steaming broth to finish cooking.
My grandmother always added butter to the pan just before the pasta for richness. Within a couple of minutes, the pasta absorbs some of the delicately-flavored liquid, creating a glossy sauce that just lightly clings.
What is the Difference Between Spaghetti and Linguine?
Spaghetti and Linguine are both long pastas. Spaghetti, which means "little twine," is round and thin in shape. Linguine, which means "little tongues," is flatter and a bit wider (but narrower than tagliatelle and fettuccine).
Can I use Spaghetti in This Dish?
Absolutely. Spaghetti or Spaghettini are common additions to Pasta alle Vongole. Spaghettini takes a minute or two less than linguine to cook.
While linguine is my favorite pasta for this dish (and a traditional choice for light seafood sauces), you can substitute just about any long pasta shape in this recipe, such as tagliolini or bucatini. Personally, I find capellini or angel hair a bit too delicate to stand up to the clams, and fettuccine too hearty.
Want to brush up on your pasta shapes? Check out this Visual Guide to Pasta from Epicurious.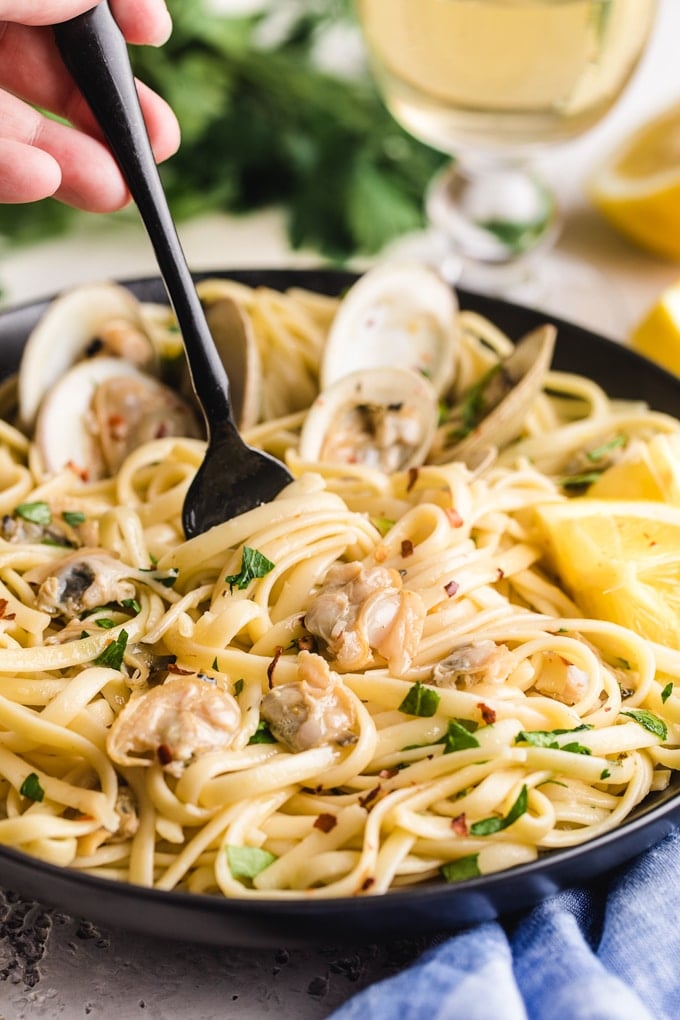 Serving Linguine with Clams
To enjoy the clams when they're the plumpest and most succulent, this is a dish that should be served immediately. I like to present Linguine alle Vongole to the table either in the steaming pan itself (I think the stainless steel braiser is so pretty!) or a large platter.
Fresh parsley, lemon wedges, and a drizzle of fruity olive oil are the perfect finishing touches. Like many Italian families, we never serve grated cheese with this dish (or most seafood pastas), as we feel it overpowers the clams' delicate flavor.
As with my Beer Steamed Clams and Pasta with Mussels we always enjoy Linguine alle Vongole with a side of crusty bread. The brothy sauce in this dish is particularly prime for dipping!
Should I Remove the Clams from Their Shells to Serve?
Many Linguine with Clams recipes instruct you to remove the clams from their shells entirely and toss the meat into the pasta before serving. Others serve the clams whole, allowing guests to scoop them from their shells individually in their own bowls.
My family goes "half and half," removing half of the clams from their shells and tossing them into the pasta, and leaving half whole. Serving style is truly a matter of personal preference here. This is a family dish, so go with the presentation that you and your family like best.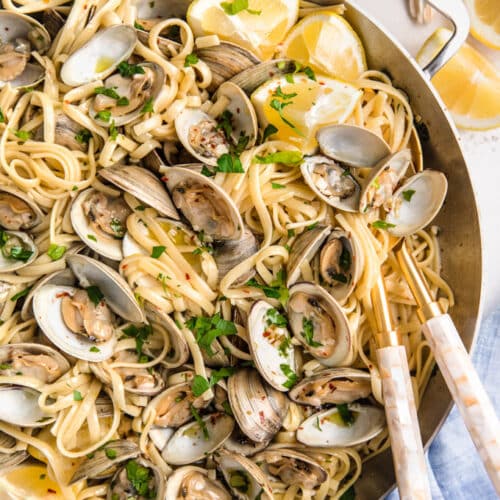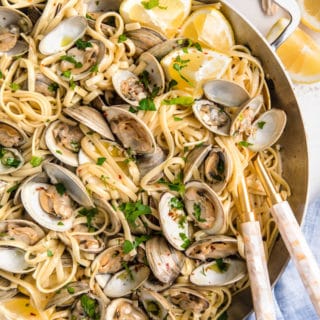 Linguine with Clams (Linguine alle Vongole)
This classic pasta dish in bianco, with fresh clams, garlic, and white wine is a family-favorite summer dinner that's easy to make.
Print
Pin
Rate
Save
Saved!
Estimated Calories:
723
kcal
Ingredients
3 to 4

pounds

littleneck clams

, cleaned

1

pound

linguine

¼

cup

olive oil

, plus additional for serving

5 to 8

cloves

garlic

, chopped (quantity depending on how garlicky you like the dish)

¼ to ½

teaspoon

crushed red pepper flakes

(more or less, to taste)

1

cup

dry white wine

(choose a bottle you'd drink)

¼

cup

fresh lemon juice

(increase or decrease, to taste)**

3

tablespoons

unsalted butter

⅓

cup

chopped fresh parsley

, plus 2 tablespoons for garnish

kosher salt
Instructions
Cook linguine in a large pot of salted boiling water until it's about a minute shy of al dente, about 8 minutes (pasta will finish cooking in the clam sauce and should have a little firmness to it).

While the pasta is cooking, heat ¼ cup of olive oil in a deep skillet, sauté pan, or braiser (12-14 inches wide). Add garlic and red pepper flakes and cook, stirring, until garlic is lightly-browned and fragrant, about 1-2 minutes.

Add white wine, lemon juice, and clams, cover pan, and steam over medium-high heat until clamshells have opened, about 5-8 minutes.

Gently shake the pan occasionally. I like to start checking the clams at the early end of the range, transferring them from the pan one at a time to a holding bowl as they cook. For tender clams, it's important not to overcook. Tent the bowl of cooked clams with foil. (A few clams might need a little extra time. Discard any clams that don't open after 10-13 minutes.)

Reserve ½ to 1 cup of pasta water before draining the linguine. When all of the clams are cooked and removed from the pan, whisk 3 tablespoons of butter into the simmering steaming liquid.

Add the drained linguine to the pan, tossing to coat. Cook for about 2 minutes, until linguine is al dente. The sauce should be brothy, but will lightly cling to the noodles. If the linguine looks dry at any point, stir in some of the reserved pasta water, as needed.

Stir the chopped parsley into the pasta. Season to taste with salt*, additional red pepper flakes, and lemon juice**, if needed.

At this point, you can either remove the clams from their shells and stir the meat into the pasta, or serve the pasta tossed or topped with the whole clams for guests to de-shell in their bowls. We like to remove the meat from about half of the clams and leave half whole.

Garnish the dish with a drizzle of fruity olive oil, fresh lemon wedges, and the remaining parsely. Serve immediately with crusty bread for dipping.
---
Notes
Manila clams can be substituted for littlenecks, but they will take less time to steam open, 3-4 minutes total.
*The amount of kosher you'll need depends entirely on your clams. There have been times I've added upwards of a full teaspoonful of salt to the pasta before serving, and times when I've only needed a pinch.
**We love the bright flavor that ¼ cup of lemon juice adds to the sauce. If you prefer less lemon, start with 2 tablespoons when steaming the clams, adding additional to the pasta in step 7, to taste.
Nutrition Estimate
Calories:
723
kcal
|
Carbohydrates:
91
g
|
Protein:
23
g
|
Fat:
24
g
|
Saturated Fat:
8
g
|
Cholesterol:
38
mg
|
Sodium:
324
mg
|
Potassium:
386
mg
|
Fiber:
4
g
|
Sugar:
4
g
|
Vitamin A:
875
IU
|
Vitamin C:
14.4
mg
|
Calcium:
69
mg
|
Iron:
3
mg
Keyword:
how to make fresh clam sauce, linguine with clams, pasta alle vongole, white clam sauce
---
About our Recipes:
Please note that our recipes have been developed using the US Customary measurement system and have not been tested for high altitude/elevation cooking and baking.
Have you made this recipe?
Don't forget to leave a comment and rate the recipe below! Take a picture? Tag @stripedspatula and #stripedspatula on Instagram!