This tender, beer-infused Instant Pot Corned Beef and Cabbage is the perfect way to celebrate St. Patrick's Day. Using the pressure cooker function makes it easy and convenient to cook a traditional corned beef dinner in less time. For a recipe without an Instant Pot, try my Beer-Braised Corned Beef.
This reader-favorite recipe was originally published on March 3, 2018. We've updated this post in 2022 with additional cooking tips and photos.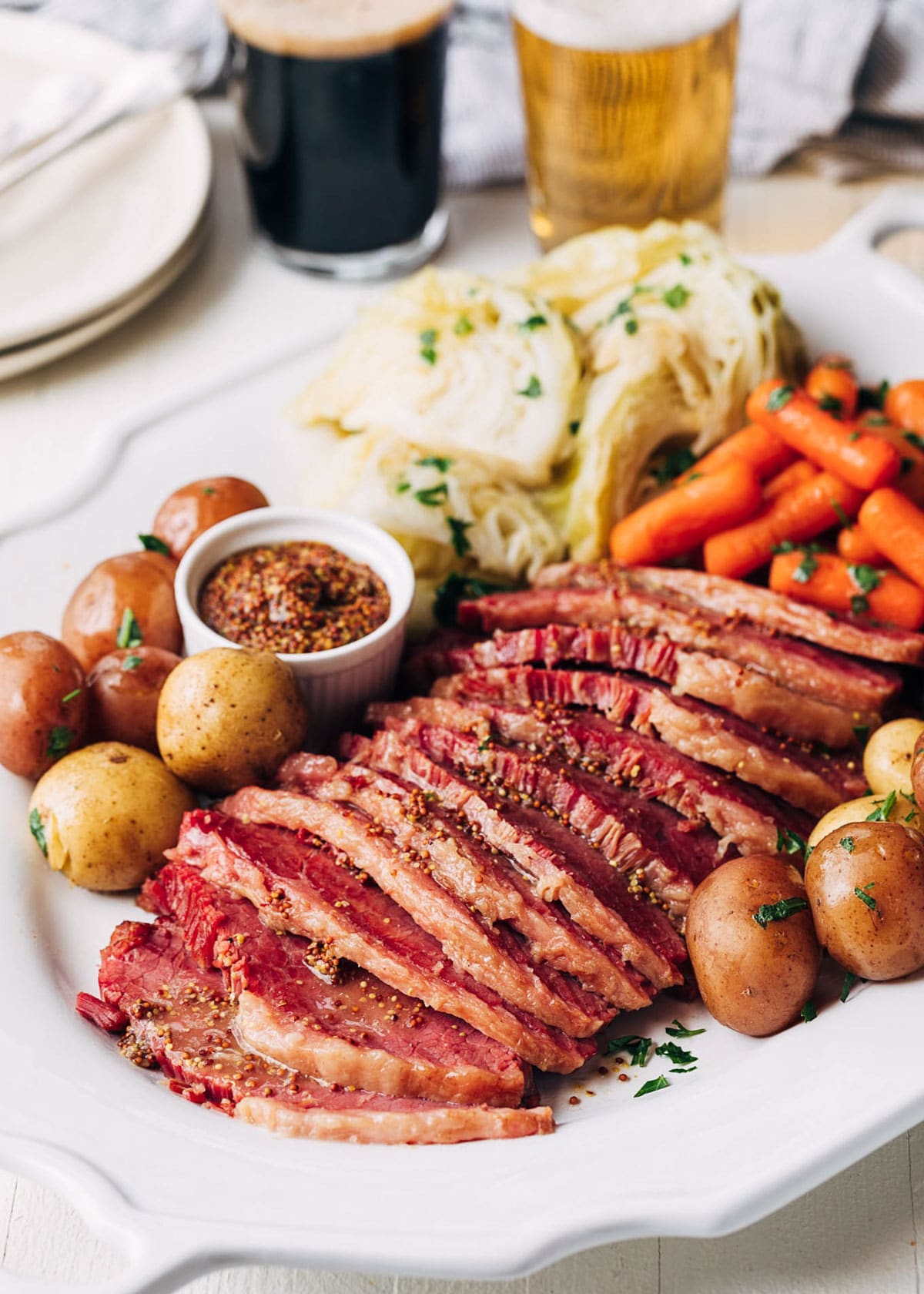 This post contains affiliate links. As an Amazon Associate, I earn a commission (at no additional cost to you) from qualifying purchases made by clicking these links. As always, all recommendations and opinions expressed are my own.
Why Make Corned Beef and Cabbage in the Instant Pot?
Adapting my Beer Braised Corned Beef for the Instant Pot was one of the first things I had in mind when I bought it. We were not disappointed! The pressure cooker corned beef, infused with aromatic pickling spices and lager, was tender, succulent, and full-flavored.
Instant Pot Corned Beef is a one-pot dinner that saves you about an hour of time from start to finish, as compared to braising in the Dutch oven. In comparison to crockpot corned beef recipes, which can take up to 8 hours, it's substantially quicker.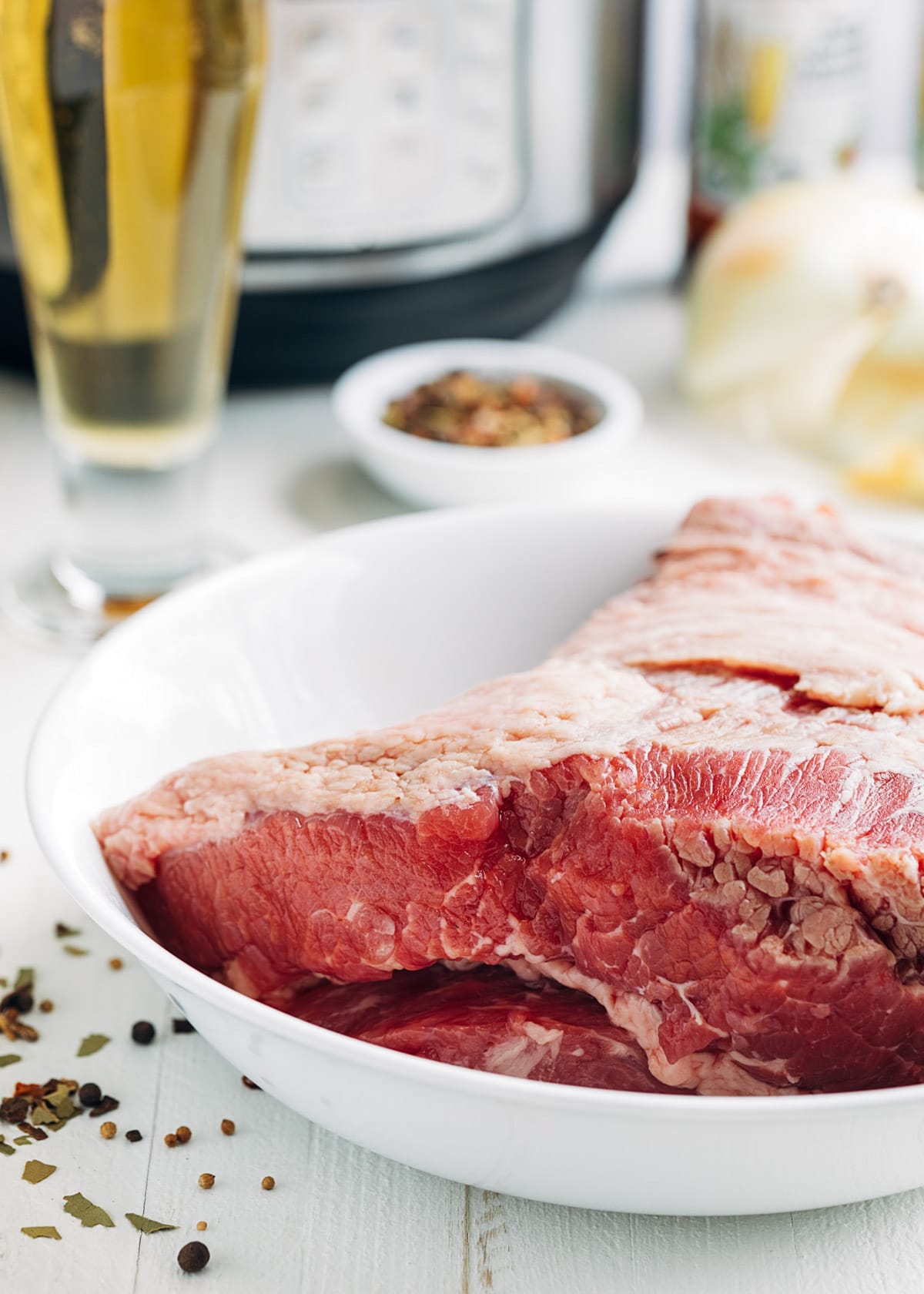 What You'll Need to Make Instant Pot Corned Beef
4-pound Corned Beef Brisket. You'll find Corned Beef (salt-cured brisket) in flat and point cuts at the market. You can use either for this recipe, but I most often buy flat cut. (To read about the difference between the cuts check out Brisket: Flat Cut vs. Point Cut from Cuisine at Home.)
Lager-style Beer. As with my Beer Braised Corned Beef, I prefer to use a lager that isn't too strong or hops forward. I most often use a bottle of Samuel Smith Pure Brewed Organic Lager or Sam Adams Boston Lager.
Water. To help pressurize the pot and draw salt out of the corned beef as it cooks.
Pickling Spice. A classic mixture of whole spices such as cinnamon, peppercorns, mustard seeds, cloves, bay leaves, ginger, and coriander. If your corned beef comes with a spice packet, you can substitute it for the pickling spice.
Yellow Onion and Garlic. Adds additional flavor the braising liquid. Peel and slice the onion, and peel the garlic cloves, leaving them whole.
Carrots, Potatoes, and Cabbage. Make this a one-pot corned beef and cabbage dinner! I like to use baby carrots and creamer potatoes (red and/or yellow, about the size of golf balls), in addition to a wedged head of green cabbage.
I developed this recipe using a 6-quart Instant Pot; specifically, the 6-quart Duo Plus. I find that using the included handled trivet makes it easier to remove the tender brisket from the insert after cooking.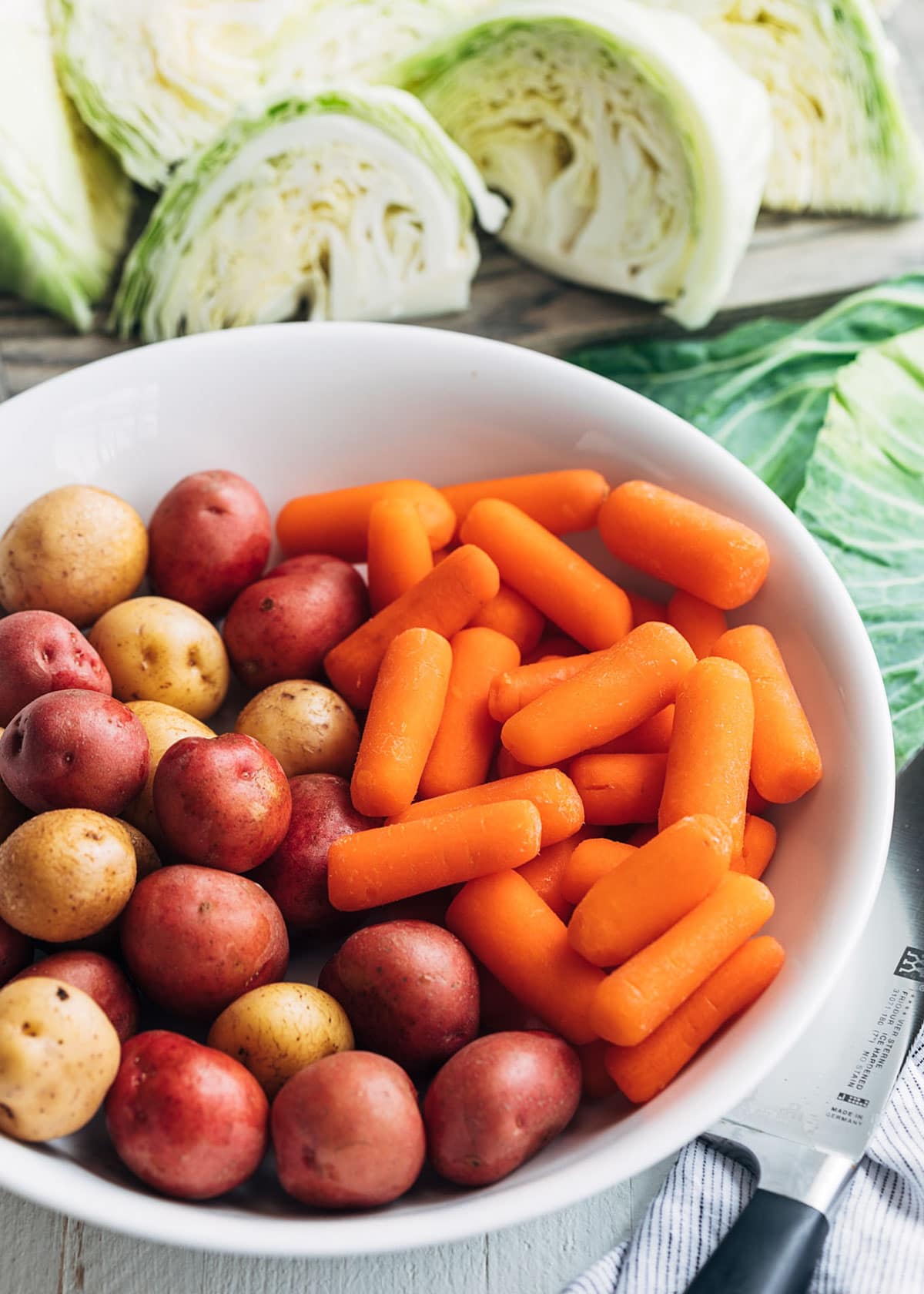 How to Make A Pressure Cooker Corned Beef and Cabbage Dinner
Prepping the Brisket
Before cooking, rinse the corned beef thoroughly with cool water (2-3 times) to remove excess salt from the surface. I don't recommend trimming the fat cap before cooking. The fat adds flavor and moisture to the meat, and can be trimmed before serving, if needed.
Add the sliced onions, garlic cloves, pickling spices, and water into your Instant Pot insert. Place the rinsed corned beef (fat side up) onto the trivet that came with your Instant Pot.
Nestle the trivet into the pot, and pour the beer over the brisket. Check the level of the liquid in the insert before sealing the pot; it should reach up the sides of the brisket.
Note: The amount of water you need may vary by your brisket's dimensions. While the Instant Pot might only need 1 to 1-½ cups of liquid to pressurize, this is not enough to draw the salt out of the meat. Adjust the quantity of water as needed, but don't exceed the insert's fill line.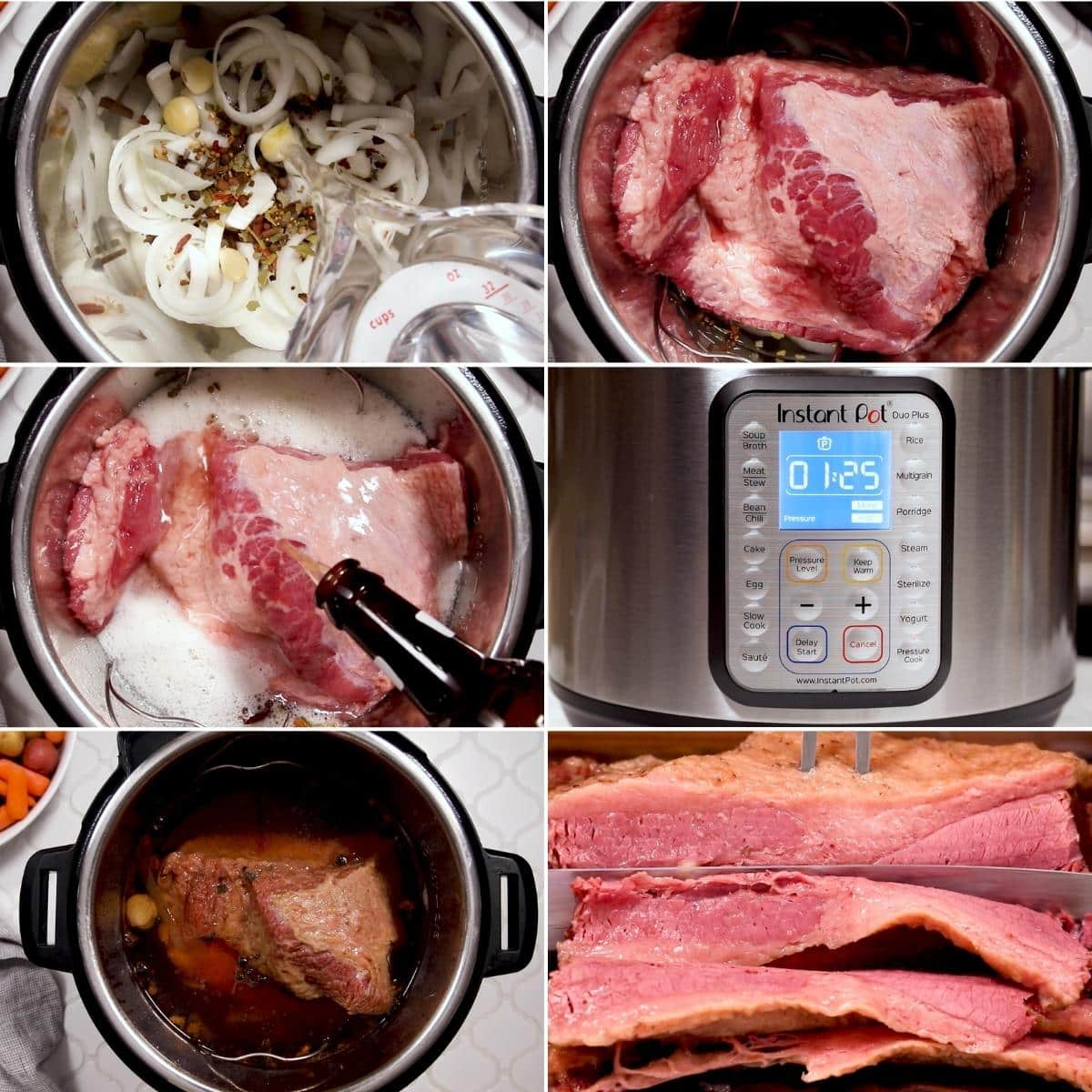 Pressure Cooking the Corned Beef
For a 4-pound corned beef, we like the texture of the meat best when cooked at high pressure for 85 minutes, with a 20-minute natural release. The meat comes out fork-tender, but still sliceable against the grain without falling apart.
Adding about 15 minutes to the cooking process for the Instant Pot to heat up to pressure, the corned beef itself takes about 2 hours total.
We always make a corned beef around 4 pounds to ensure leftovers for sandwiches and corned beef hash, but if you make a much smaller brisket, it will likely need a shorter cooking time. We've found 70 minutes at high pressure to be sufficient for 2 pound briskets, with a 15 minute natural release.
Remove the cooked corned beef from the Instant Pot, and strain the cooking liquid, discarding the pickling spices and solids. Place the corned beef in a dish with a bit of the strained cooking liquid and cover with foil to keep the meat warm and juicy.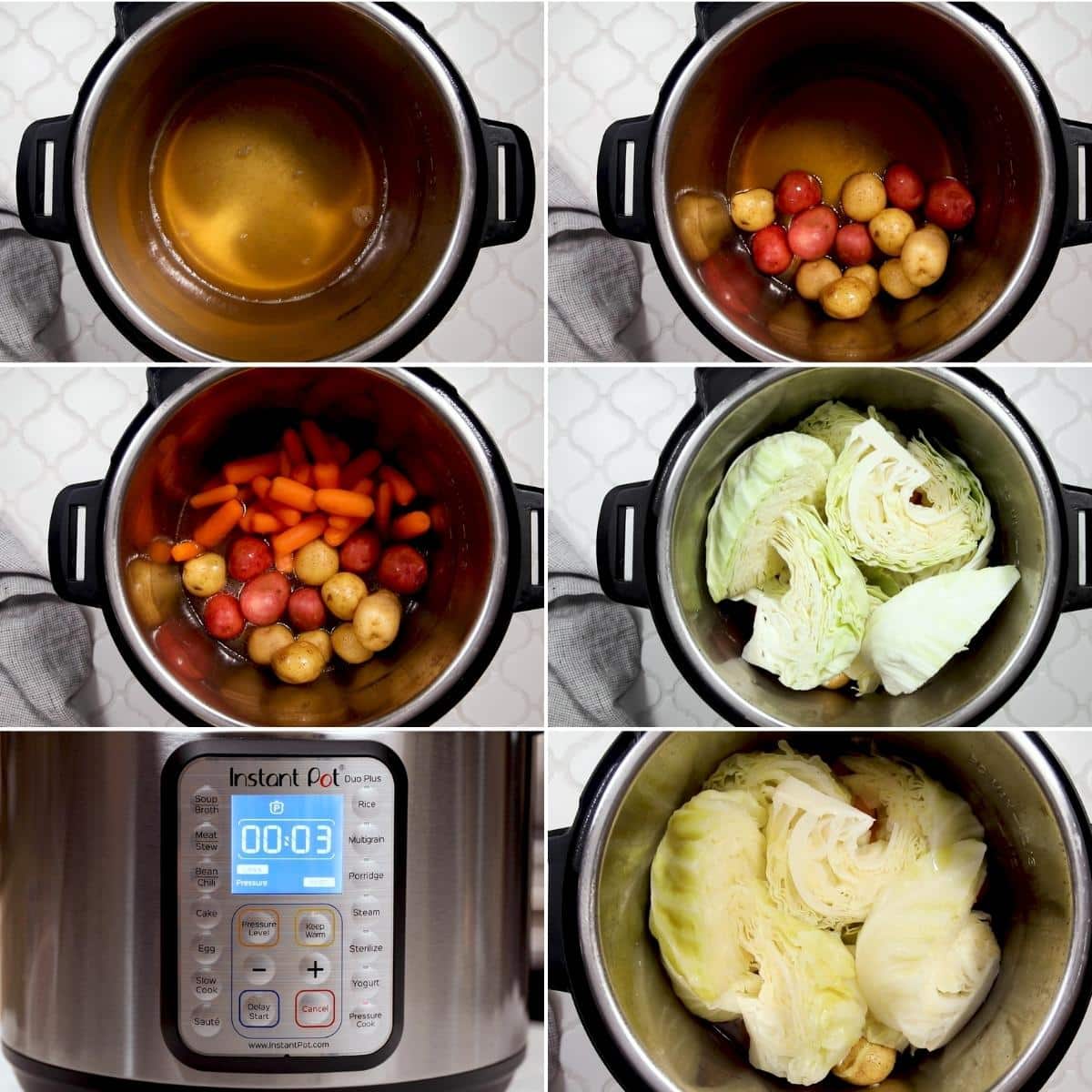 Cooking the Potatoes, Carrots, and Cabbage Wedges
Adding vegetables to an Instant Pot corned beef dinner is a breeze. I love the flavor that the pressure cooker infuses into the vegetables from the beer-based cooking liquid. I don't usually get that excited about boiled or steamed cabbage wedges, but I really enjoy the flavor of these.
Add 1-½ cups of the strained cooking liquid back into the Instant Pot insert, layering in the carrots, potatoes, and cabbage wedges. Cook the vegetables on high pressure for 3-4 minutes, with a manual (quick) release.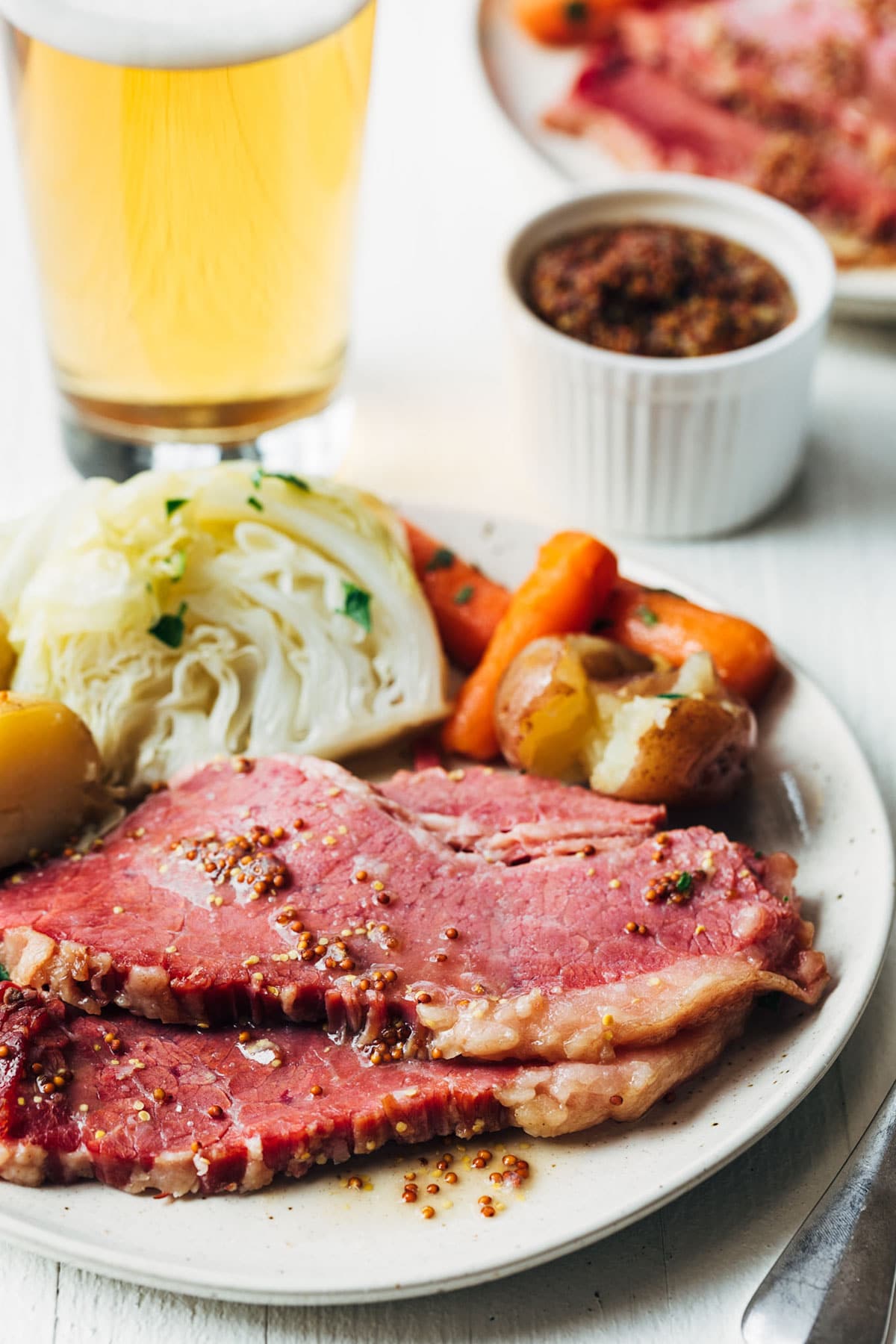 Serving Your Corned Beef Dinner
When ready to serve, slice the corned beef against the grain into ⅛ to ¼-inch slices. Check Out: Here's How (and Why) to Slice Meat Against the Grain from Kitchn.
If there is a substantial fat cap on the corned beef, you might want to trim it down or remove it entirely before slicing. This is entirely a matter of personal preference. We like to serve the brisket with some of the fat left on.
When serving, spoon a little bit of the strained cooking liquid over the sliced corned beef on the platter, and offer guests whole grain mustard on the side. I treat the vegetables to a light drizzling of melted butter and sprinkle them with chopped fresh parsley for a pop of color and freshness.
Have leftovers? Try making my Corned Beef Hash and Eggs for breakfast, Reuben Sandwiches, or Deli-Style Corned Beef Sandwiches for lunch!
More of our Favorite St. Patrick's Day Recipes
📖 Recipe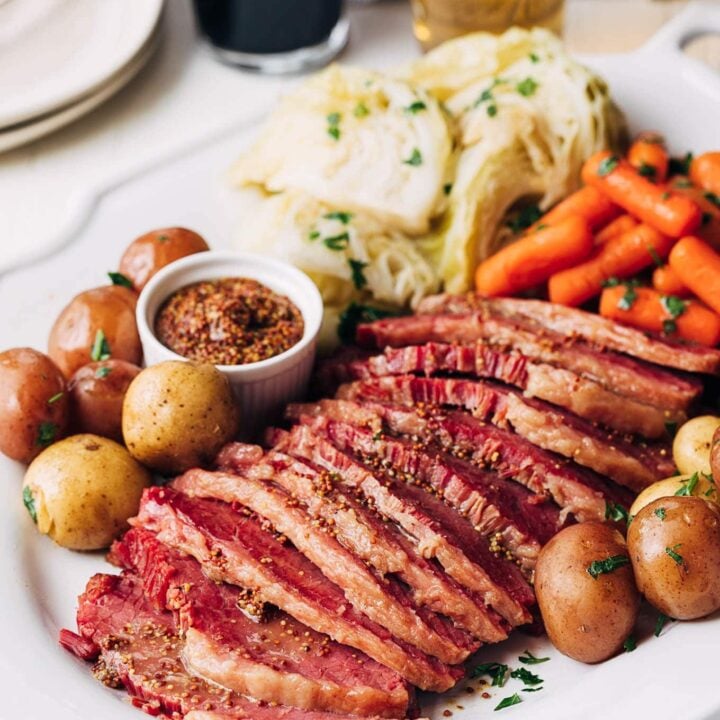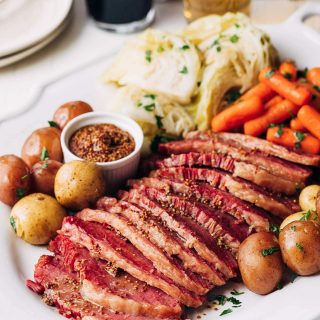 Instant Pot Corned Beef
It's a cinch to make a delicious corned beef and cabbage dinner using the pressure cooker function of the Instant Pot! Infused with lager-style beer and warm pickling spices, this reader-favorite recipe is written for a 4-pound corned beef using a 6-quart Instant Pot. Great for St. Patrick's Day and beyond!
Print
Pin
Rate
Save
Saved!
Servings:
4
to 5 servings
Estimated Calories:
706
kcal
Ingredients
1

small

yellow onion

, sliced (use ½ if large)

4

cloves

garlic

, peeled and lightly smashed with the back of a knife

2

tablespoons

pickling spice

2-½

cups

water

4

pound

corned beef brisket

, rinsed

12

ounces

lager-style beer

(nothing too bitter)

1

pound

tiny potatoes

(about 1-½ inches in diameter), or red-skinned potatoes cut into 1-½ inch wedges

1

head

cabbage

, cut into 8 wedges

1

pound

baby carrots

1

tablespoon

chopped fresh parsley

, for garnish

2

tablespoons

unsalted butter

, melted (optional)

grainy mustard

, for serving (optional)
Instructions
Combine onion, garlic, pickling spices, and water in the insert of a 6-quart Instant Pot. Place the corned beef brisket, fat side up, on a rack on top of the onions. Pour beer over the brisket.

Seal lid and set the unit to HIGH pressure for 85 minutes. Let pressure release naturally for 20 minutes, then manually release the remaining pressure.* Remove corned beef and place on a dish or a cutting board, spooning a bit of the cooking liquid over the top. Cover with foil to keep warm.

Strain cooking liquid and discard solids. Return 1-½ cups of liquid to the Instant Pot and add potatoes, carrots, and cabbage wedges. (Reserve remaining cooking liquid.) Seal lid and set the unit to HIGH pressure for 3-4 minutes, depending on how soft you like your vegetables. Quick release pressure.

Slice corned beef against the grain. Spoon a little bit of the reserved cooking liquid over the corned beef slices on your platter. Sprinkle parsley over the vegetables, and if desired, drizzle with melted butter. Serve corned beef with mustard.
---
Notes
*Since the beer foams up in the pressure cooker during the corned beef cooking process, you might find that the initial force of manually releasing the steam (after the 20 minute natural release) causes some liquid to spray out of the valve. Sometimes it's happened to me, other times, it hasn't.
A little bit of liquid is fine, but if you release the pressure and find that too much liquid is coming out, re-seal the valve, and try releasing the remaining pressure again in another 5 minutes. Or, release the steam more slowly by turning the valve just until you hear a hissing noise and carefully holding it in that position (be sure to wear a heat-proof glove).
Read more about gradually releasing the steam in this article, section #3.
Some have recommended covering the lid/valve with a towel while releasing the pressure. Do not do this, as obstructing the vent can damage your pressure cooker and cause a safety issue.
To Glaze The Corned Beef (Optional)
This corned beef is also delicious served with my Irish Whiskey-Mustard glaze. The ingredients and directions can be found in my recipe, Beer Braised Corned Beef with Whiskey Mustard Glaze. After fully cooking the corned beef in the Instant Pot (instead of Dutch oven braising), follow the directions to "Glaze and Serve".
Nutrition Estimate
Serving:
0.25
recipe
|
Calories:
706
kcal
|
Carbohydrates:
21
g
|
Protein:
47
g
|
Fat:
45
g
|
Saturated Fat:
14
g
|
Cholesterol:
163
mg
|
Sodium:
3777
mg
|
Potassium:
1422
mg
|
Fiber:
6
g
|
Sugar:
9
g
|
Vitamin A:
10695
IU
|
Vitamin C:
144
mg
|
Calcium:
136
mg
|
Iron:
6.8
mg
Keyword:
corned beef and cabbage, instant pot corned beef, pressure cooker corned beef
---
About our Recipes:
Please note that our recipes have been developed using the US Customary measurement system and have not been tested for high altitude/elevation cooking and baking.
Have you made this recipe?
Don't forget to leave a comment and rate the recipe below! Take a picture? Tag @stripedspatula and #stripedspatula on Instagram!