Served atop crisp, savory dill waffles, Smoked Salmon Eggs Benedict combine some of the best flavors of brunch into a single bite!
One of my favorite breakfasts is a sunny-side up farm egg with bakery rye toast and a slice of smoked salmon on the side. There's something so luxurious about the rich egg yolk against the silky lox.
You can imagine my excitement the first time I discovered Smoked Salmon Eggs Benedict at a brunch buffet. Served atop thick-sliced toasted brioche with lemony hollandaise, I was in heaven.
Not to mention, full.
Too full, in fact, to hit up the waffle station, which is a brunching "must" in my book.
So, when I made the dish at home for a spring gathering with friends, I decided to swap out the bread for a savory herb waffle to fill the void. Bright, fresh, and elegant, Smoked Salmon Eggs Benedict with Dill Waffles combines some of the best flavors of brunch into a single plate!



I've talked in the past about how much I love savory waffles, especially served with eggs. The waffles' crisp nooks (usually home to maple syrup) are the perfect vessel for catching drips of yolk. Plus, anything "waffled" is just plain fun!
To make this recipe, I adapted my Beer-Raised Waffles with Cheddar and Scallions, substituting dill to pair with the smoked salmon, and using carbonated water (seltzer) instead of beer to help leaven and lighten the batter.
The style of waffle iron you use for this recipe is totally up to you; these waffles are equally delicious cooked until golden in a thinner, "classic" maker as they are Belgian-style. Classic-style waffles will tend to be crispier throughout, while the Belgian will yield crisp exteriors with fluffier-textured centers.
I also enjoy these Dill Waffles (especially the thinner ones) topped with shrimp or chicken salad, or lightly-dressed spring greens for lunch. Delicious!
Egg poaching is a wonderful technique to master, whether serving breakfast for one or for your whole family. It's important to keep the poaching water at a gentle, but steady simmer. A rolling boil, such as you would use to cook pasta, is too rough for the delicate egg whites.
I like to crack the eggs into a dry measuring cup (with handle) to easily slide them into the water. I've never had consistent results with the popular "vortex" method of swirling the water with the handle of a wooden spoon before dropping in the eggs, but I do know cooks who swear by it, so it's worth experimenting to find what works best for you!
Freshness of the egg is also key. The freshest possible eggs coagulate the most easily and neatly, though, I always do help the process along a bit by adding a splash of white vinegar to the water. This is the perfect time for a trip to the farm market, if you have one available to you.
I like my eggs poached for about 3 minutes, so that the whites are set and tender, but the yolks are fluid.
Smoked Salmon Eggs Benedict would be a great addition to any spring brunch, especially for Easter or Mother's Day.
In terms of planning, make the waffles first and hold them in a low oven to keep warm and crisp as you prepare the eggs and hollandaise. (A helper in the kitchen is a bonus as you make the various components, but this recipe is definitely "doable" alone.) The sauce should be the last thing you prepare, just before plating and serving to your seated guests.
Happy brunching!
Did you know that I have a weekly newsletter? Subscribe to stay up to date on what's delicious on the blog!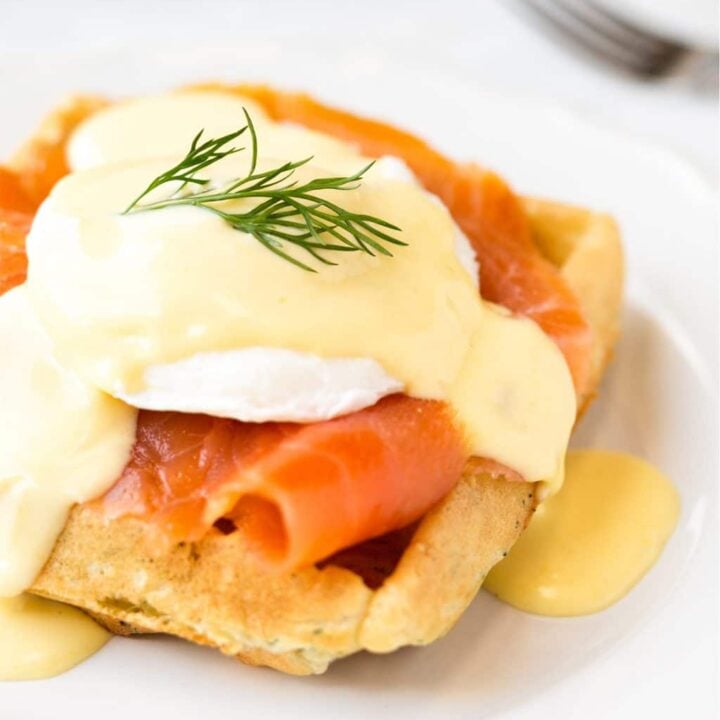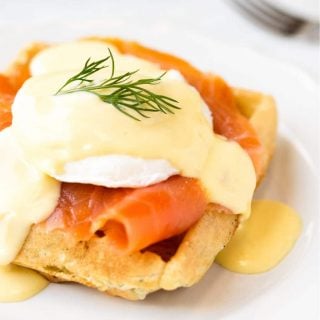 Smoked Salmon Eggs Benedict with Dill Waffles
Served atop savory dill waffles, Smoked Salmon Eggs Benedict combine some of the best flavors of brunch into a single bite!
Print
Pin
Rate
Save
Saved!
Course:
Breakfast, Brunch
Servings:
4
eggs benedict
Estimated Calories:
498
kcal
Ingredients
DILL WAFFLES
1

cup

all purpose flour

1

tablespoon

granulated sugar

½

tablespoon

baking powder

½

teaspoon

table salt

¾

teaspoon

freshly-ground black pepper

1

large egg

, separated

¼

cup

unsalted butter

, melted

2

tablespoons

milk

¾

cup

seltzer

2

tablespoons

chopped fresh dill
POACHED EGGS
4

jumbo

eggs

(chilled and very fresh)

2

teaspoons

white vinegar
TO SERVE
8

slices

smoked salmon

("lox", sliced thinly)

½

cup

Hollandaise Sauce

chopped fresh dill

, to garnish (optional)
Instructions
MAKE THE WAFFLES
In a large bowl, whisk together flour, sugar, baking powder, salt, and pepper. Whisk in egg yolk, seltzer, milk, melted butter, and dill. Batter will be lumpy.

In a medium bowl, beat egg whites with a whisk or hand mixer until they form stiff, but not dry, peaks. Fold egg whites into the waffle batter just until streaks disappear. Let batter stand while waffle iron is heating.

Preheat oven to 150-200 degrees F (or set to the "warming" setting).

Preheat and grease your waffle iron according to manufacturer's directions. Cook waffles until golden brown and crisp, adjusting settings to your unit's specifications.* Transfer waffles in a single layer to a wire rack-lined baking sheet and place in the pre-heated oven to keep warm.
POACH THE EGGS
Fill a large bowl with hot (not boiling) water and cover to keep warm. Set aside.

Fill a 10-12 inch diameter, straight-sided pan with about 2 inches of water. Stir in vinegar. Bring to a full boil, then reduce heat until the water is just barely simmering.

Crack an egg into a dry measuring cup and gently lower the egg into the water. Repeat with remaining eggs, leaving room between them in the pan and allowing each white to coagulate slightly before adding the next egg. Use a slotted spoon to gently move eggs in the pan a few times so they don't stick to the bottom.

Cook for 3-4 minutes, until your desired doneness is reached. Transfer eggs to the bowl of hot water while you make the hollandaise (see "Essentials" link in ingredients).
SERVE
Place 2 slices of smoked salmon on top of a warm waffle. Remove eggs from the warm water with a slotted spoon and drain on a paper towel. Top the salmon with an egg and a small ladleful of hollandaise. Garnish with dill. Serve immediately.
---
Notes
If doubling for a crowd, the restaurant trick of par-poaching eggs works well. The night before, poach the eggs to about 30 seconds less than your desired doneness and transfer them to a bowl of ice water. Cover with plastic wrap and refrigerate. When ready to serve, return the eggs to a pan of barely simmering water for 30-60 seconds, until warmed to your preferences.
*Number of waffles will vary by model; I get 4-5, 4-inch square Belgian-style waffles per batch.
Nutrition Estimate
Calories:
498
kcal
|
Carbohydrates:
31
g
|
Protein:
21
g
|
Fat:
31
g
|
Saturated Fat:
12
g
|
Cholesterol:
319
mg
|
Sodium:
956
mg
|
Potassium:
366
mg
|
Sugar:
3
g
|
Vitamin A:
805
IU
|
Calcium:
132
mg
|
Iron:
3.2
mg
---
About our Recipes:
Please note that our recipes have been developed using the US Customary measurement system and have not been tested for high altitude/elevation cooking and baking.
Have you made this recipe?
Don't forget to leave a comment and rate the recipe below! Take a picture? Tag @stripedspatula and #stripedspatula on Instagram!