Cornish hens are one of my favorite main dishes for fall and winter entertaining. Stuffed with a wild rice, cranberry, and apple stuffing and roasted with an apple cider glaze, these elegant hens are a gorgeous alternative to turkey. Don't miss the sommelier wine pairings to complete the meal!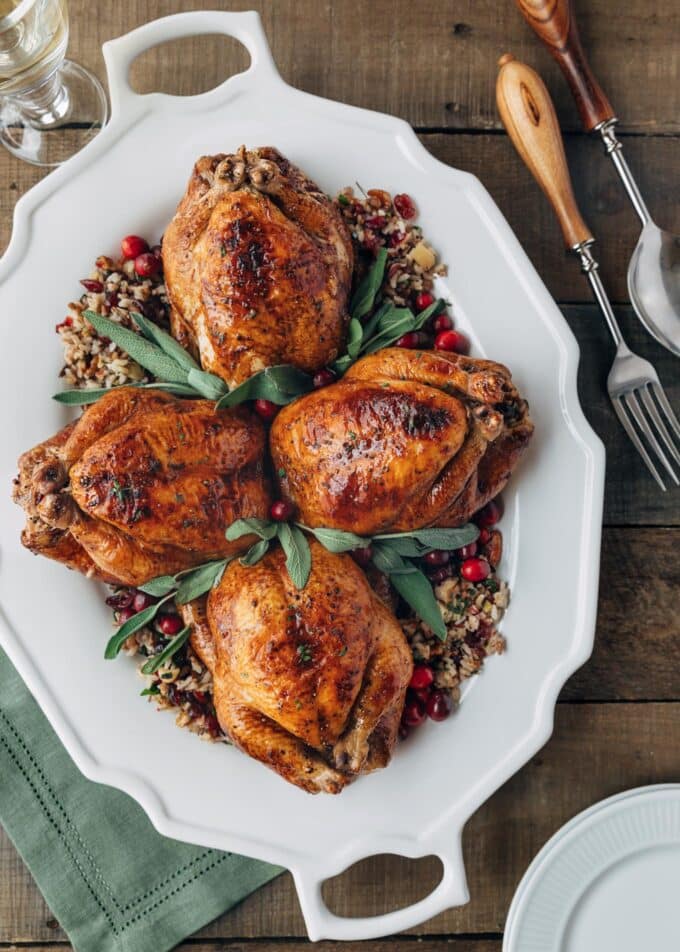 Back in the 80's, Cornish hens were all the rage for special occasions. My mother used to roast them by the panful for our family, their buttery aroma wafting throughout the house as we awaited dinner.
We had roasted chicken often, but this wasn't just any roasted chicken dinner. The elegant, diminutive hens, perched on our plates in their individual splendor, were the definition of "holiday".
Of course, the sophistication of it all was pretty much lost on my 5-year-old self. I was just tickled pink to have a tiny chicken on my plate for dinner.
I still love serving Cornish hens during the holidays. If I'm hosting a smaller Thanksgiving gathering, the hens are the perfect alternative to roasting a large turkey. They also make a beautiful presentation for Christmas dinner or New Year's Day.
I mean, just look at that platter!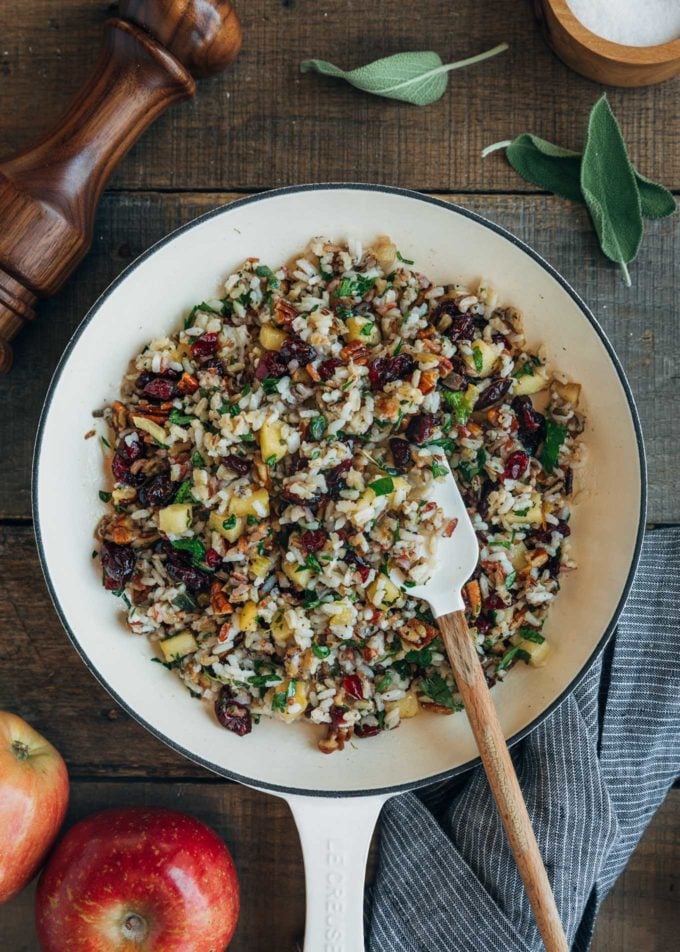 What is a Cornish Hen?
Here in the United States, commercial "Cornish Hens" are a hybrid of two chicken breeds: Cornish and Plymouth Rock. They are young and small birds, 4-6 weeks old, weighing no more than two pounds.
You'll often hear them referred to as "Cornish Game Hens" or "Rock Cornish Game Hens." Despite being called "game hens", these chickens are not game birds at all, and can be male or female.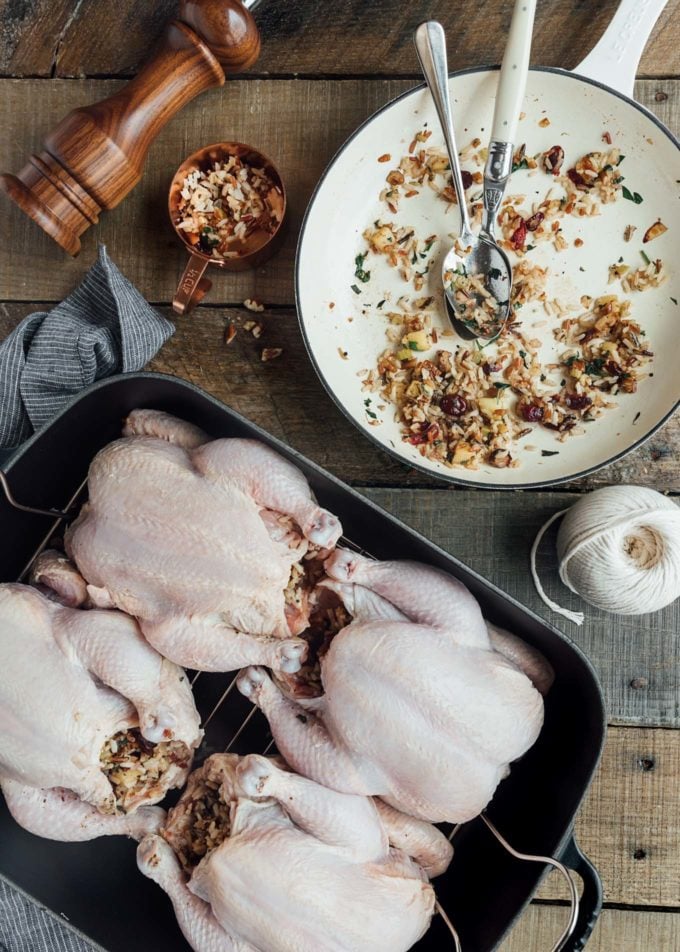 Cornish Hen vs. Poussin
Sometimes, you'll see Cornish hens marketed as "poussin," or "spring chickens," though there are some differences between them. Poussins can be any breed of immature, small chicken, not just the specific breeds above that define Cornish hens.
Poussin chickens are traditionally a bit leaner than Cornish hens, and tend toward the smaller end of the weight chart. Whenever I find poussins at poultry farms, they are right around one- to one and a quarter pounds.
Both Cornish hens and poussins have a delicate flavor and moist, tender texture. They can be used interchangeably in this recipe, though will roast at slightly different rates. At the grocery store, I like to buy natural, air-chilled poultry, and find the hens of this quality the most delectable.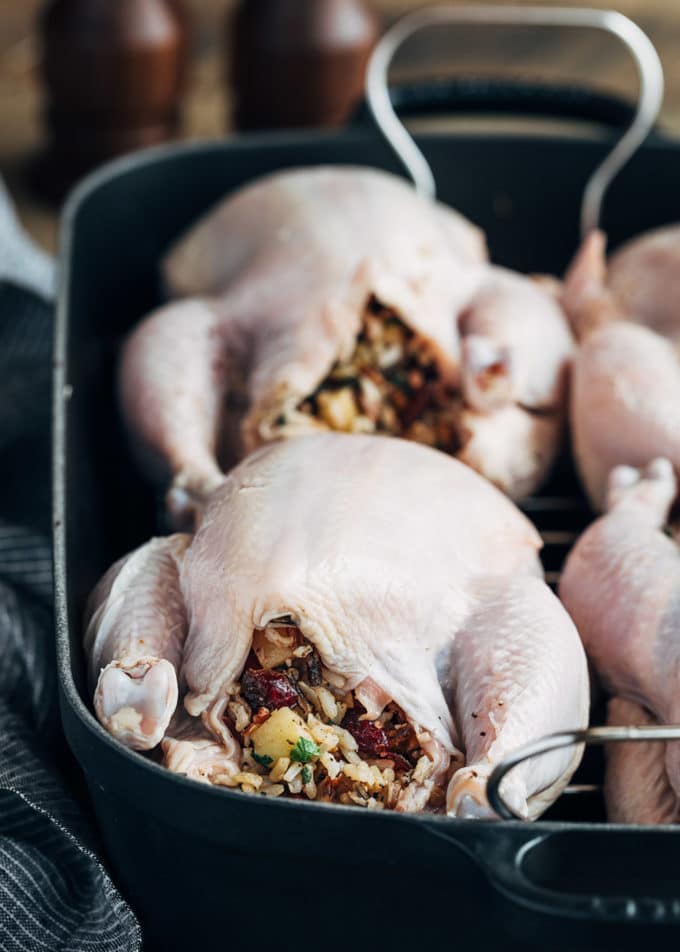 Making Stuffed Cornish Hens
Given the delicate nature of these birds, I prefer to stuff them with a loose rice stuffing instead of a more substantial bread stuffing.
Prepping the stuffing for the hens doesn't take long, and can be done ahead. All you need to do is sauté onions and celery in butter until softened, and stir in pecans, apples, and herbs until toasty and fragrant. Toss with cooked rice and sweetened dried cranberries, and you're ready to go.
Each Cornish hen will accommodate about 1/2 cup of loose stuffing, sometimes a spoonful or two more. For proper cooking, you don't want to pack the stuffing into the bird tightly.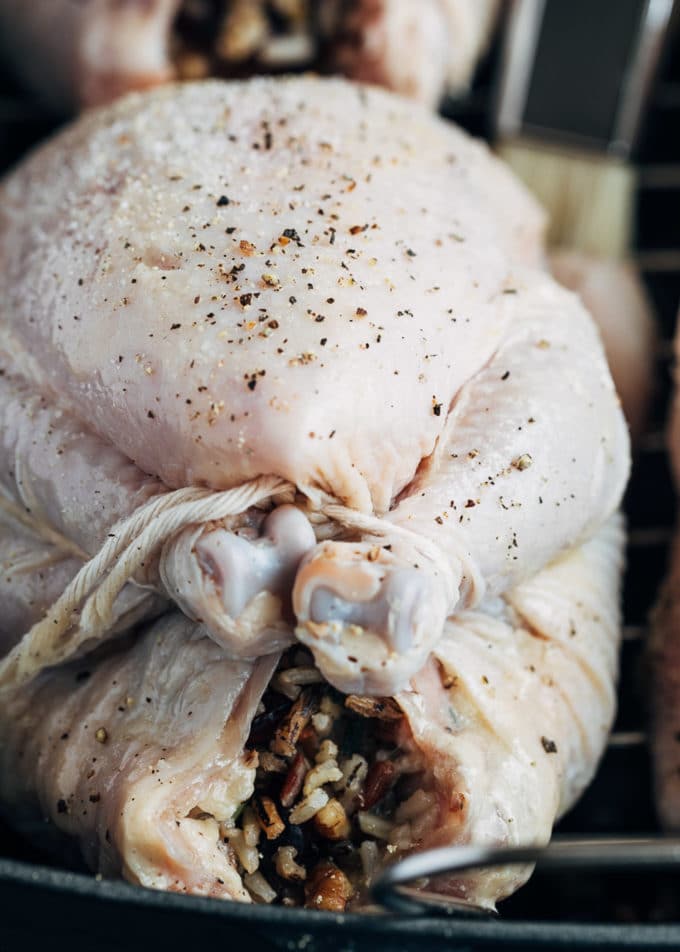 What Type of Rice Should I Use?
For the stuffing base, I use a blend of white, brown, wild, and red rice (called "Royal Blend" at my market). You can also use a standard long grain and wild rice blend.
For the best texture and flavor, I rinse the rice until the water runs clear and simmer it in chicken broth. It's important to cook the rice until it's tender, but don't overcook it. The stuffing should be soft, but not mushy.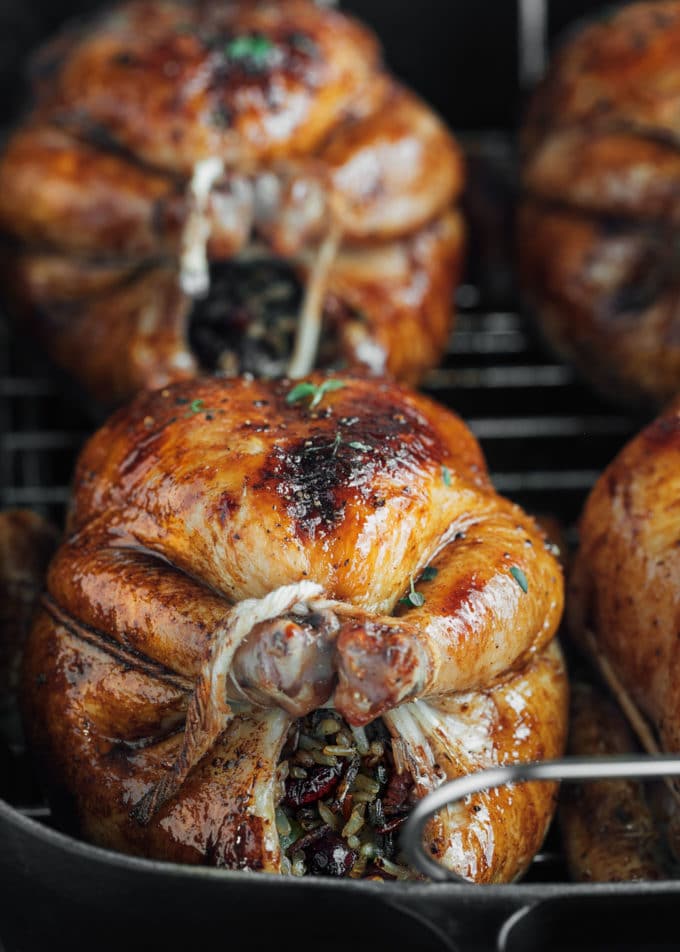 Tips for Roasting Glazed Cornish Hens
I typically don't fully truss a Cornish hen as I would a larger roasted chicken, but I do tuck the wing tips under the bird and tie the legs together with kitchen twine.
Roast the hens on a rack set in a roasting pan or on a rimmed baking sheet. You want the hens to have a little bit of space around them while roasting so the air will circulate and they'll cook evenly.
Before roasting, I brush the hens thoroughly with melted butter and season them with salt and freshly-cracked pepper. The butter will help the browning process and add flavor.
After the first 20 minutes of roasting, I start glazing the hens with a simple cider-Dijon-maple reduction. (Easy to make ahead on the stove!). The glaze gives the skin a sweet-tart finish and a gorgeous color.

Serving Cornish Game Hens
For most Cornish hens in the 1.25 to 1.5 pound range, one bird serves one person. Larger hens can be split in half to serve two guests.
If serving a full hen, there's no need to carve before plating. After resting the hens, snip away the kitchen twine from the legs and transfer to dinner plates or a serving platter.
While there is enough rice in each bird for a single serving, I like to make an extra batch and serve it alongside the hen. Sometimes, guests will want an extra scoop of rice and it makes a pretty presentation.
Place the extra rice stuffing in a buttered pan, cover, and warm at 325 degrees F for 20-30 minutes before serving.

Make this elegant meal even more special with a wine pairing! Certified Sommelier and Italian Wine Ambassador, Hugh Preece, suggests the following:
Traditional Pairing: St. Michael-Eppan Riesling 'Montiggl' Sudtirol, Alto Adige
"Clean yellow-green color, on the nose intense stone fruit and white flowers; on the palate, elegant grapefruit, sage, thyme, almond, balanced minerality, good acidity, with a touch of roundness and a persistent finish.
Daring Pairing: Tenuta San Giorgio Sangiovese 'Ciampoleto' Rosso di Montalcino DOC, Tuscany
"Nice bright, ruby red baby Brunello, on the nose, fruity with ripe berries as well as autumnal flowers. Smooth, supple and fresh on the palate with thyme, cherry, raspberry, sun dried tomato, clove, leather, clay, strawberry finish, delicate tannins that give it a very nice structure. Moderate in body and very accessible."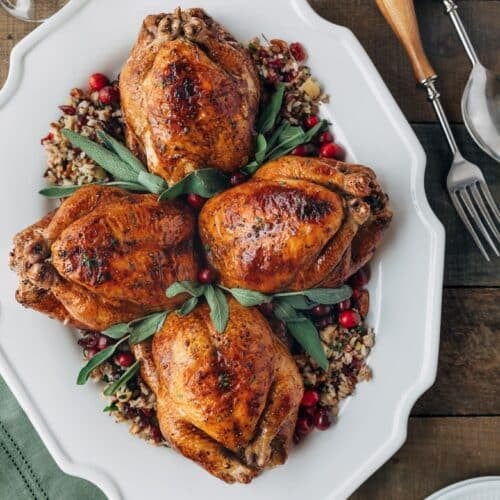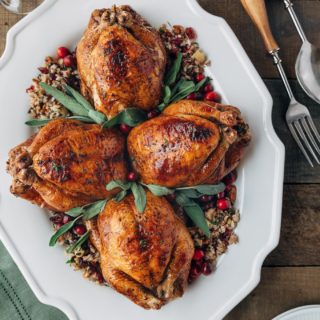 Cornish Hens with Apple-Cranberry Rice Stuffing
This glazed, rice-stuffed Cornish hen recipe is perfect for elegant entertaining during the fall and winter months.
Print
Pin
Rate
Save
Saved!
Estimated Calories Per Serving:
1181
kcal
Ingredients
Stuffing
2

tablespoons

unsalted butter

1/4

cup

chopped onion

1/4

cup

chopped celery

1/3

cup

coarsely chopped pecans

1

tablespoon

chopped fresh sage

2

teaspoons

chopped fresh thyme

1-1/2

cups

cooked rice

(long grain and wild, or "Royal/Wild Blend")*

1/2

cup

peeled, diced Fuji apples

(1/4-inch dice, about 1/2 large apple)

1/2

cup

sweetened dried cranberries

3

tablespoons

chopped fresh flat-leaf parsley

kosher salt and freshly-ground black pepper

splash

apple cider
Glaze
1

cup

apple cider

2

tablespoons

maple syrup

1

teaspoon

Dijon mustard

pinch

ground cinnamon
Hens
4

cornish hens

(1.25 to 1.5 pounds each)

2

tablespoons

unsalted butter

, melted

kosher salt and freshly-ground black pepper
Instructions
Make the Stuffing
Melt butter in a skillet until foaming subsides. Add onions and celery and cook until softened, about 5 minutes. Add pecans, sage, thyme, and 1/4 teaspoon each kosher salt and pepper. Cook for about 3 more minutes, until pecans are fragrant.

Deglaze the pan with a small splash of apple cider, and scrape any brown bits from the bottom.

Remove from heat and stir in cooked rice, apples, cranberries, and parsley. Season to taste with additional salt and pepper. Set aside.
Make the Glaze
Combine apple cider and maple syrup in a pot. Bring to a boil, reduce heat to maintain a steady bubble. Simmer until mixture is syrupy and reduced to about 1/3 to 1/2 cup, about 15 minutes.

Whisk in Dijon mustard and cinnamon until smooth. Set aside.
Stuff and Roast the Hens
Remove hens from the refrigerator about 30 minutes prior to roasting. Remove giblets, rinse hens, and pat dry with a paper towel.

Preheat oven to 425 degrees F with the rack in the lower third of the oven. Place a roasting rack inside of a foil-lined roasting pan or a rimmed baking sheet. Spray roasting rack with cooking spray.

Lightly season the cavities of the hens with salt and pepper. Loosely spoon about 1/2 cup of stuffing into each cavity. Tie the legs closed with kitchen twine and tuck the wings under the birds. Arrange the hens in the pan with enough space between them for air to circulate.

Brush the tops and sides of each hen with melted butter and season with salt and pepper. Roast for 20 minutes and reduce oven temperature to 375 degrees F.

Continue roasting for an additional 40-50 minutes. During the last 30 minutes, lightly brush the hens with the glaze every 10 minutes. If the hens start to brown too quickly, shield them with a piece of foil.

When finished, the hens should register 180 degrees F in the thickest part of the thigh, and the juices should run clear. Let hens rest for 10 minutes before serving.
---
Notes
*Cook the rice according to package directions until tender. I like to use chicken broth as the liquid for an extra flavor boost.
In my experience, you'll get the best color on the hens if you roast them on a rack set on a rimmed baking sheet, since the sides are so fully exposed to the heat and air circulation. Hens cooked in a roasting pan will still be utterly delicious, but might not get as deeply golden on the sides.
Nutrition Estimate
Calories:
1181
kcal
|
Carbohydrates:
31
g
|
Protein:
79
g
|
Fat:
80
g
|
Saturated Fat:
25
g
|
Cholesterol:
484
mg
|
Sodium:
299
mg
|
Potassium:
1202
mg
|
Fiber:
2
g
|
Sugar:
20
g
|
Vitamin A:
1165
IU
|
Vitamin C:
9.3
mg
|
Calcium:
77
mg
|
Iron:
4.2
mg
---
About our Recipes:
Please note that our recipes have been developed using the US Customary measurement system and have not been tested for high altitude/elevation cooking and baking.
Keywords:
cornish hen recipe, glazed cornish hens, holiday dinner recipes, stuffed cornish hens
Have you made this recipe?
Don't forget to leave a comment and rate the recipe below! Take a picture and tag @stripedspatula and #stripedspatula on Instagram for a chance to be featured in our Insta Stories and newsletter!