Thomas Keller's foolproof method for Roasted Chicken with Root Vegetables is an essential for any home cook. Juicy, tender, and only one-pan required.
As indifferent as I can be to turkey at Thanksgiving, I eat so much chicken during the year, I'm surprised I haven't grown a beak and wings. Grilled, sautéed, fried, braised, even ground, it's the "go-to" protein in my kitchen.
When the cold weather hits, there are few dishes more comforting than roasted chicken. For years, home-roasted birds and I had a love-hate relationship. As simple as it looks, the roasting process always gave me grief, and the resulting bird was nothing short of boring.
Sure, I ate it, but it always elicited a disappointed feeling of, "chicken…", rather than the exuberant, "Chicken!" it could have.
We've all eaten badly-roasted chicken. You know what I'm talking about: rubbery skin, tough legs, dry and flavorless breast meat. I've lost count of the number of times I followed a recipe to the letter and pulled what looked like a beautiful bird out of the oven, only to find pink juices pooling on the cutting board.
Skeptical of the accuracy of my thermometer, the chicken suffered the fate of a lengthy return to the oven. By the time the legs were cooked to the point where I was sure I wasn't going to poison anyone, the breast meat was a parched mess.  I'd always wind up drowning it in gravy in a last-ditch effort to save dinner.
It wasn't until I read Thomas Keller's Ad Hoc at Home a few years ago that I realized that my roasting techniques were all wrong. (I'll save my dissertation on how much I love Chef Keller and his cookbooks for another day, but I'm a big fan.)
Keller utilizes a simple, high-temperature roasting method that results in a bird that is not only evenly-cooked in a little over an hour, but juicy, crisp-skinned, and so tender, I wouldn't pour gravy within a 10-mile radius of it.
As with all of his recipes, Keller is very specific in his instructions. For the crispiest skin, the chicken should sit at room temperature for 1-1/2 to 2 hours before roasting. To promote even cooking, the bird should be trussed after the cavity is rubbed with garlic and fresh herbs. For a beautifully-bronzed appearance, the whole exterior is rubbed with canola oil, with a smattering of butter on the breast.
There is no basting. Just a blast in a 475-degree oven, followed by a 45 – 50 minute roast at 400. Other than that, you sit back and get hungrier by the minute from the aromas wafting out of your oven.
One of the best parts of this recipe is the bed of root vegetables. This is a great opportunity to visit your favorite farm market and utilize whatever roots look fresh and beautiful that day.
When the bird is ready, the vegetables are caramelized and almost sinfully flavorful from being self-basted in chicken drippings for an hour. Plus, their addition makes this a one-pan dinner. Economical, easy, delicious. Chicken! indeed.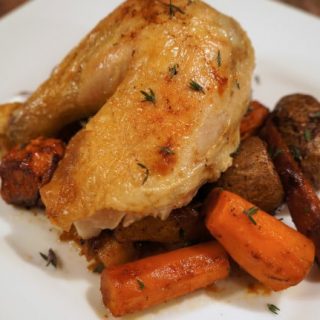 Roasted Chicken with Root Vegetables
Thomas Keller's foolproof method for Roasted Chicken with Root Vegetables is an essential for any home cook. Juicy, tender, and only one-pan required.
Adapted, slightly, from Thomas Keller (Ad Hoc at Home, 2009)
Print
Pin
Rate
Prep Time:
2
hours
20
minutes
Cook Time:
1
hour
10
minutes
Total Time:
3
hours
30
minutes
Ingredients
4

pound

whole chicken

kosher salt and freshly ground pepper

6

garlic cloves

, peeled

6

sprigs thyme

3

rutabagas

2

turnips

4

medium carrots

1

medium yellow onion

8

small red-skinned potatoes

1/3

cup

canola or vegetable oil

4

tablespoons

unsalted butter

, cut into 1-tablespoon pieces, at room temperature
Instructions
Prepare Chicken
Remove the neck and giblets from the chicken cavity, if included. Rinse and dry chicken and let it stand at room temperature for 1-1/2 to 2 hours.*
Prepare Vegetables
Carrots: Peel, trim, and cut into 2-inch lengths.

Onion: Peel, trim and cut into quarters (leave root end intact).

Rutabagas and Turnips: Peel and cut into 3/4-inch wedges.

Potatoes: Wash and cut into 1-1/2 to 2-inch wedges if large.

Toss vegetables with 3 garlic cloves, 1 sprig of thyme, and 1/4 cup canola oil in a large bowl. Season with salt and pepper. Transfer the vegetables to a large roasting pan.
Roast
Preheat oven to 475 degrees F. For a neat carving presentation, cut the wishbone out of the chicken by scraping your knife along the flesh surrounding the bone and twisting it out with your fingers.

Season the chicken's cavity with a liberal sprinkling of kosher salt and pepper. Add 3 garlic cloves and 5 sprigs of thyme, and rub them against the cavity walls. Truss the chicken, leaving garlic and thyme in the cavity.**

Rub the remaining canola oil over the chicken and sprinkle generously with salt and pepper. Distribute the butter over the breast.

Place the chicken on top of the root vegetables and roast for 25 minutes. Decrease the oven temperature to 400 degrees F and continue roasting for 45 minutes, until the thighs read 165 degrees F when probed with a thermometer.*** If undercooked, continue roasting until the chicken probes to temperature and the juices run clear (thoroughly wash probe between uses).

Place the chicken on a cutting board, loosely tent with foil, and let rest for 20 minutes to allow the juices to redistribute. Tent the vegetables to keep warm (if needed, gently reheat the vegetables on the stove before serving). Carve the chicken and serve.
---
Notes
*To further help with crisping, the recipe advocates leaving the chicken uncovered in the refrigerator for a few days before cooking, which, with all deference to Chef Keller, I've never had the time to do. Whenever I buy a chicken, I pretty much want it right now. As a result, I'm sure his chicken is even crispier than mine, but it still comes out delicious without the multi-day wait.
**I'd explain how to truss a chicken, but this video from Chef Brian Polcyn is easier and wittier than any tutorial I could provide.
***When checking temperature, be sure to probe into the meaty part of the leg, away from the bone.
---
About our Recipes:
Please note that our recipes have been developed using the US Customary measurement system and have not been tested for high altitude/elevation cooking and baking.
Have you made this recipe?
Don't forget to leave a comment and rate the recipe below! Take a picture and tag @stripedspatula and #stripedspatula on Instagram for a chance to be featured in our Insta Stories and newsletter!