Learn how to make juicy, flavorful, golden-skinned roasted chicken every time! Roasted on a bed of root vegetables, this recipe is a one-pan meal that's perfect for chilly weather. An essential for any home cook.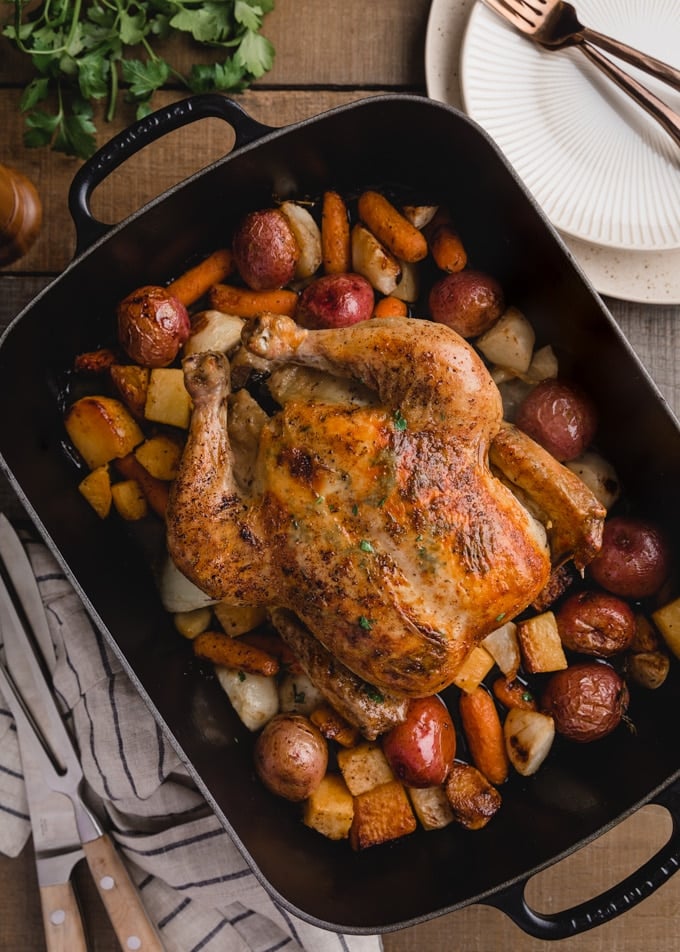 What You'll Find in this Post
(click headings to jump)
What Makes a Really Good Roast Chicken?
Ingredients You'll Need
Method: How to Roast a Juicy Chicken
How to Tell When Roasted Chicken is Ready
Ways to Use Leftover Chicken
Roasted Chicken with Root Vegetables: The Ultimate Cozy Dinner
There are few things cozier than the buttery aroma of a chicken roasting atop a bed of caramelized root vegetables. We probably have roasted chicken once a week in my house during the fall and winter months.
My relationship with roasted chicken wasn't always so solid. As simple as it sounds to pop a chicken in the oven, the process gave me grief when I first started cooking.
So many times, I'd follow a recipe to the letter and pull what looked like a beautiful bird out of the oven, only to find red juices pooling on the cutting board.
Skeptical of the accuracy of my thermometer, my partially-carved chicken suffered the fate of a too-long-but-at-least-I-wasn't-poisoning-anyone return trip to the oven. By the time I was certain the legs were cooked, the breast meat was a parched mess.
I'd usually end up drowning it in gravy, with a disappointed feeling of, "chicken…", rather than the exuberant, "Chicken!" those birds could've elicited. My early twenties were challenging chicken years, friends!
With age and experience, better and best chickens started emerging from my oven. Today, we're going to talk about how to make the exclamation point worthy, "Roasted Chicken!" that I keep on repeat when the weather gets cold.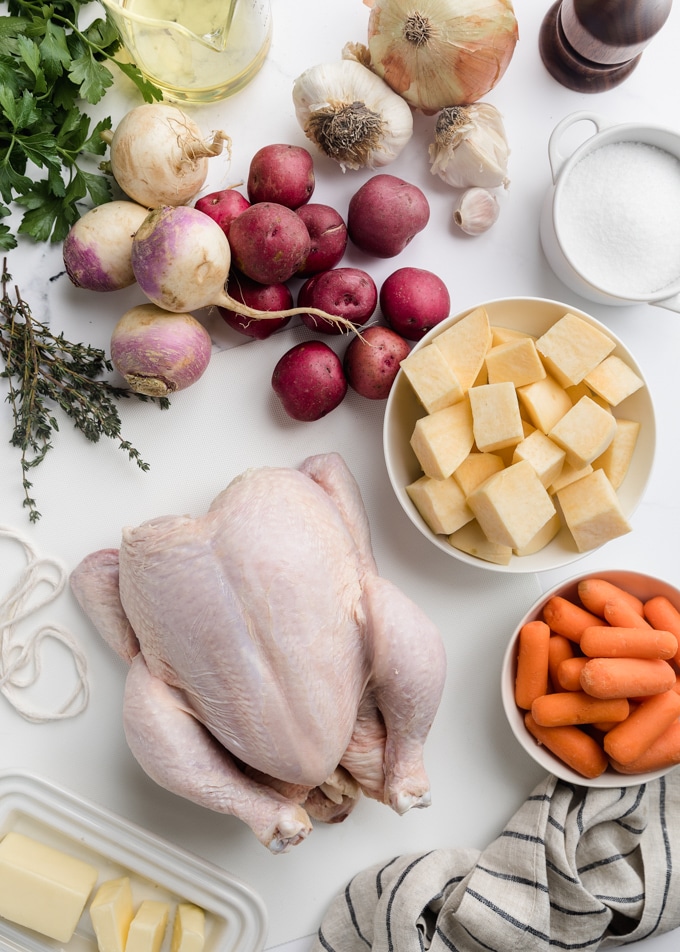 What Makes a Really Good Roast Chicken?
For me, three things are the hallmark of a well-roasted chicken dinner:
Juicy, flavorful, evenly-cooked meat in both breast and thigh.
Buttery, golden skin with considerable crisping.
A bed of caramelized root vegetables to catch all of the delicious pan drippings and create a one-pan meal.
Sounds simple enough, right? It wasn't until I read Thomas Keller's Ad Hoc at Home that I realized I was missing my marks because my roasting techniques were all wrong.
I learned that I wasn't prepping the bird correctly, and was roasting at a mid-range temperature, for too long, with far too much fussing over it.
Chef Keller utilizes a simple, high-temperature roasting method that results in a bird that's evenly-cooked in a little over an hour. It's also juicy, crisp-skinned, and so tender, I wouldn't pour gravy within a 10-mile radius of it.
Over the years, I've taken inspiration from Keller's techniques as a springboard for what has become my family's go-to chicken dinner.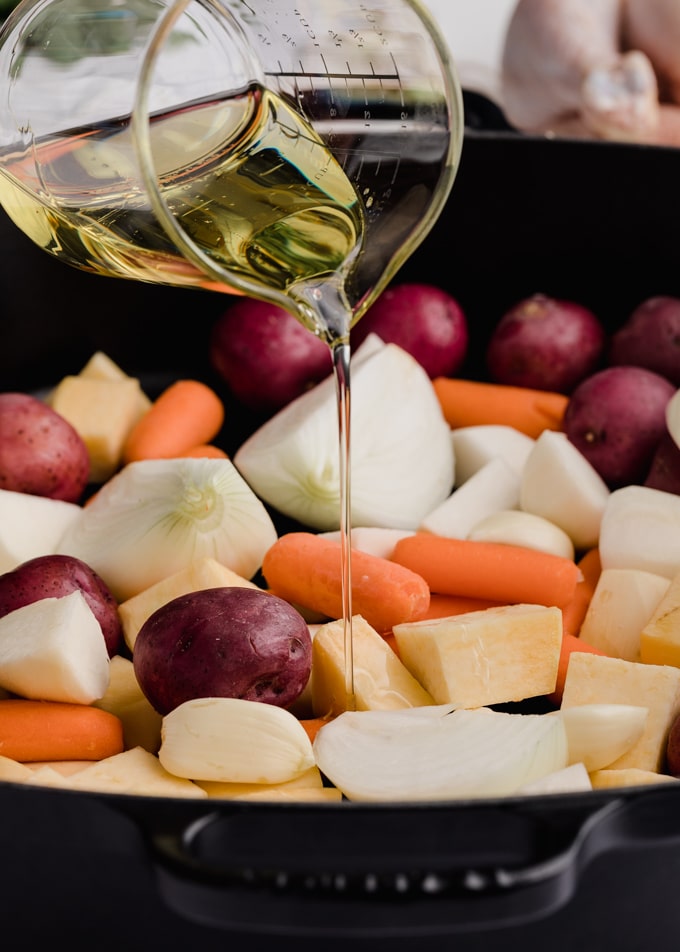 Ingredients You'll Need
Whole Chicken: The best roasted chicken starts with a quality bird. I like to buy my chickens from local farms whenever possible. At the regular grocery store, I look for organic, air-chilled birds. It's best to stay within the 4- to 4.5-pound range for this high heat method to ensure that the chicken cooks evenly without drying out.
Kosher salt and freshly-cracked black pepper
Unsalted butter
Fresh herbs: thyme and parsley
Garlic cloves
Mixed root vegetables: I use rutabagas, turnips, small red-skinned potatoes, yellow onion, and baby carrots. You could also substitute parsnips, rainbow carrots, sweet potatoes, or yams.
Vegetable oil
Equipment-wise, you'll need a roasting pan and a small piece of kitchen twine. I like to use a cast iron pan (pictured) for the best heat distribution and caramelization on the vegetables.
Since you're roasting a mid-sized bird with this recipe, you can also use a large cast iron skillet. When I do this, I like to use a 12-inch to accommodate all of the veggies.
Method: How to Make Flavorful and Juicy Roasted Chicken
Start by prepping the bird. You'll want to check the chicken's cavity to see if a packet of giblets has been included. Not all birds come with one, but if it has, remove it prior to roasting.
Wondering what to do with the bag of giblets? Check out What are Giblets and How are They Used? from The Spruce Eats.
You'll also want to inspect the outside of the chicken to see if there are any stray pinfeathers that need plucking. (I most often find them on birds I've gotten from my local farms.) Use a pair of kitchen tweezers to easily remove them.
For the crispiest skin and most even cooking, I follow Keller's lead and let the chicken sit at room temperature for 1-½ to 2 hours before roasting.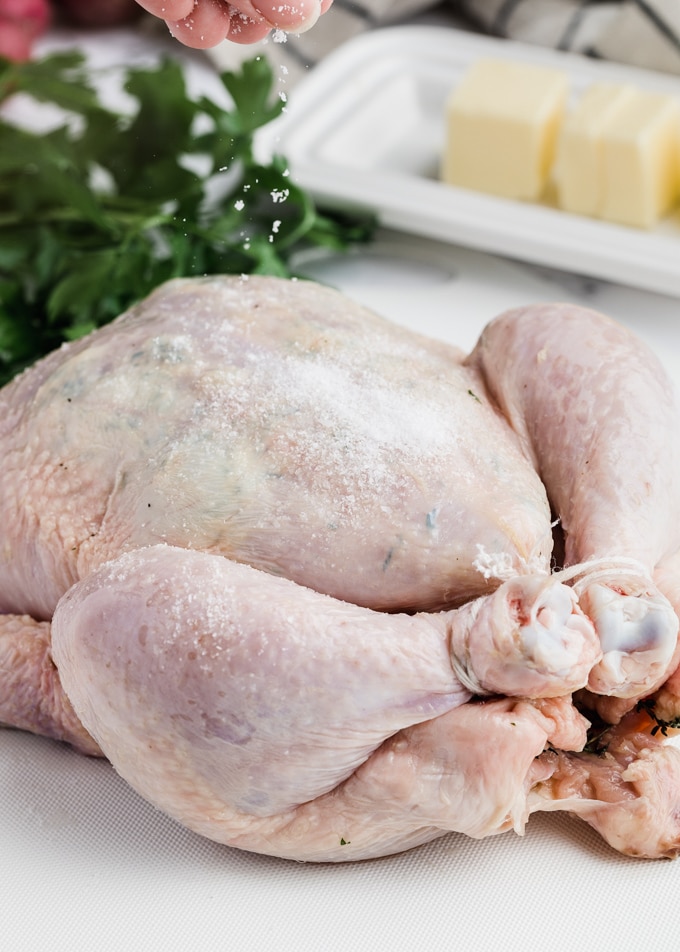 Flavoring the Bird
To infuse the chicken with flavor from the inside out, rub the cavity with whole garlic cloves and sprigs of fresh thyme. You could also add a few lemon, lime, or orange wedges here for a citrusy variation.
Instead of fully trussing the chicken, I simply tuck the wing tips under the body and loosely tie the legs together with kitchen twine.
Departing from the Ad Hoc recipe, I like to make a simple compound butter with fresh thyme and parsley and rub it directly onto the breast meat, under skin. This both gives the meat great flavor and helps to keep it juicy as it roasts.
This extra moisture does result in slightly less-crisp breast skin, but it's a tradeoff that we've found ourselves willing to make for juiciness and flavor.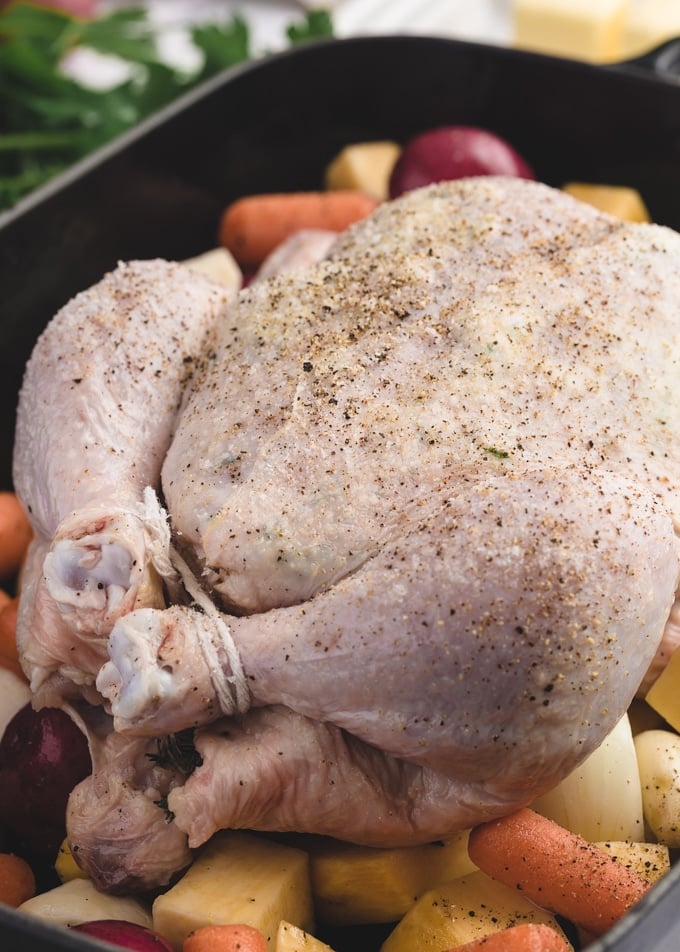 Picture-Perfect, Golden Chicken Skin
For a beautifully-bronzed appearance, I again take a cue from Keller and rub the entire exterior of the chicken with canola or vegetable oil, and generously season it with kosher salt and freshly-cracked pepper. Don't be shy with the seasonings here!
Alternate Recipe: Looking for a roasted chicken with shatteringly-crisp skin and no root veggies? Thomas Keller's Simple Roast Chicken is a recipe to keep!
An extra smattering of butter on top of breast makes basting during the roasting process unnecessary. Just a 25- minute blast in a 475-degree F oven, followed by 45 to 50 minutes at 400 degrees.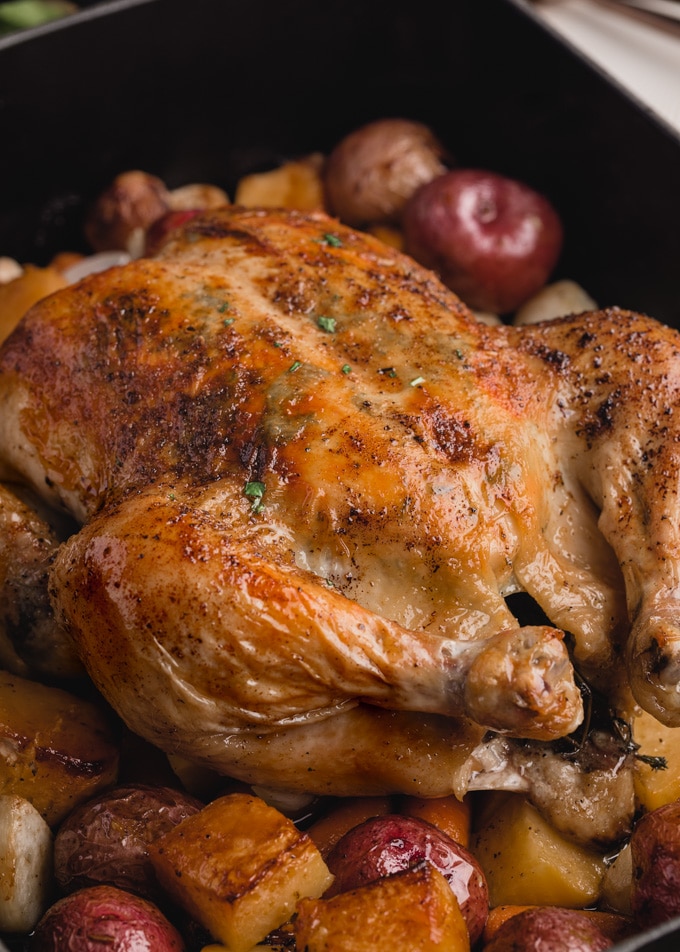 Double Duty: The Bed of Root Vegetables
One of the nicest parts of this recipe is that it's a complete one-pan meal. Not only does the bed of root vegetables help to curb any oven smoking during the high-heat roast, but it also makes for a fuss-free side.
When the bird is ready, the vegetables will have caramelized (particularly if you've used a cast iron roasting pan). They'll be almost sinfully flavorful from being self-basted in chicken drippings for an hour.
A little side note: sometimes, the veggies that have roasted directly under the chicken can be a little less "done" than those around the edges of the pan. Check them when you remove the chicken to the carving board. If needed, pop the veggies back in the oven to finish caramelizing while the chicken is resting.
How to Tell When Roasted Chicken is Ready
The best way to tell if a chicken is fully-roasted is to use an instant-read thermometer to probe the meat in the thickest part of the thigh, away from the bone. The temperature should read 165 degrees F.
There are mixed opinions on whether or not the age-old adage of the "juices running clear" is actually an accurate indicator of doneness, but it's still one that I fall back on. While red juices are something I look for when I roast beef, I don't like to see them with my chickens.
After roasting, the chicken should rest on a carving board for about 15 minutes so the juices can redistribute. This is key for a juicy bird, so as tempting as it is do dig right in, resist the urge and let it rest!
Economical, easy, delicious. Chicken! indeed.
Our Favorite Ways to Use Leftover Chicken
CRAVING MORE? Subscribe to my newsletter and join me on Facebook, Pinterest, and Instagram for the latest recipes and news.
📖 Recipe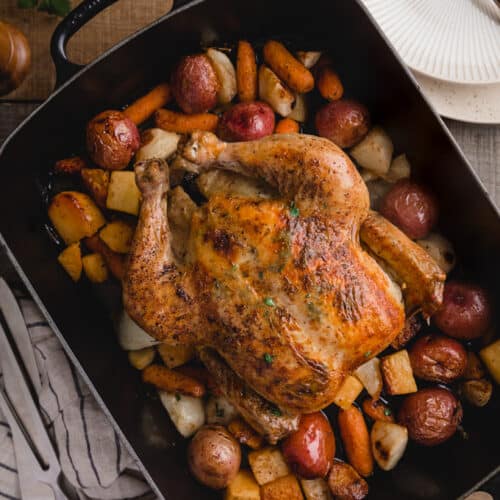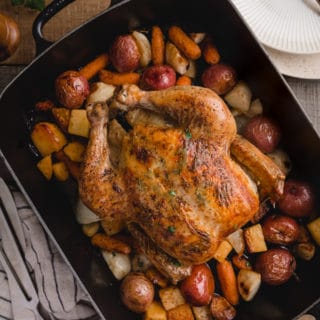 Roasted Chicken with Root Vegetables
A sipmle Roasted Chicken with Root Vegetables is an essential for any home cook. Juicy, tender, and only one-pan required.
Print
Pin
Rate
Save
Saved!
Estimated Calories:
897.5
kcal
Ingredients
4 to 4.5

pound

whole chicken

8

garlic cloves

, peeled

8

sprigs thyme

, plus 1 teaspoon fresh thyme leaves

1

tablespoon

chopped fresh parsley

1

pound

rutabagas

1

pound

turnips

¾

pound

baby carrots

1

medium yellow onion

1

pound

small red-skinned potatoes

(1-½ inch diameter)

6

tablespoons

canola or vegetable oil

4

tablespoons

unsalted butter

, softened and divided

kosher salt and freshly-ground black pepper
Instructions
Prepare Chicken
Remove the neck and giblets from the chicken cavity, if included. Remove any pinfeathers from the skin with a pair of kitchen tweezers. Let the chicken stand at room temperature for 1-½ hours before roasting.
Prepare Vegetables
Peel and trim the onion and cut into quarters (leave root end intact). Peel and cut rutabagas and turnips into ¾-inch wedges.

Toss all of the vegetables with 4 garlic cloves, 3 sprigs of thyme, and ¼ cup oil in a large roasting pan. Season with salt and pepper.
Roast
Preheat oven to 475 degrees F. For a neat carving presentation, cut the wishbone out of the chicken by scraping your knife along the flesh surrounding the bone and twisting it out with your fingers.

In a small bowl, combine 2 tablespoons of the softened butter with 1 teaspoon fresh thyme leaves and the parsley. Season with a pinch of salt and a few grinds of pepper. Using your fingertips or a spoon, gently loosen the space between the breast meat and skin. (Be careful not to tear the skin.) Evenly distribute the herb butter under the breast skin.

Season the chicken's cavity with a liberal sprinkling of kosher salt and pepper. Add 4 garlic cloves and 5 sprigs of thyme, and rub them against the cavity walls. Tuck the wings under the body and loosely tie the legs together with kitchen twine.

Rub the remaining canola oil over the chicken and sprinkle generously with salt and pepper. Distribute the remaining butter over the breast.

Place the chicken on top of the root vegetables and roast for 25 minutes. Decrease the oven temperature to 400 degrees F and continue roasting for 45 minutes, until the thickest part of the thigh (away from the bone) reads 165 degrees F when probed with a thermometer. If undercooked, continue roasting until the chicken reaches temperature and the juices run clear (thoroughly wash probe between uses).

Place the chicken on a cutting board, loosely tent with foil, and let rest for 15 minutes to allow the juices to redistribute. Check the vegetables for doneness and return them to the oven to crisp while the chicken is resting, if needed. Gently toss with the pan juices before serving. Carve the chicken and serve.
---
Nutrition Estimate
Calories:
897.5
kcal
|
Carbohydrates:
91.58
g
|
Protein:
51.43
g
|
Fat:
37.04
g
|
Saturated Fat:
10.49
g
|
Cholesterol:
166.3
mg
|
Sodium:
332.48
mg
|
Potassium:
3031.88
mg
|
Fiber:
13.74
g
|
Sugar:
16.99
g
|
Vitamin A:
12277.07
IU
|
Vitamin C:
85.53
mg
|
Calcium:
176.96
mg
|
Iron:
6.99
mg
Keyword:
how to roast a chicken, roast chicken dinner, roasted chicken with root vegetables
---
About our Recipes:
Please note that our recipes have been developed using the US Customary measurement system and have not been tested for high altitude/elevation cooking and baking.
Have you made this recipe?
Don't forget to leave a comment and rate the recipe below! Take a picture? Tag @stripedspatula and #stripedspatula on Instagram!
This post was originally published in 2013 and updated in 2019 with new photos and notes.