Basil Egg Salad combines hard boiled eggs with a creamy garlic-basil mayo for a unique twist on a classic. Dollop this egg salad onto your favorite bread for a delicious sandwich, or use it to make canapés for a spring or summer appetizer. Perfect for using leftover Easter eggs!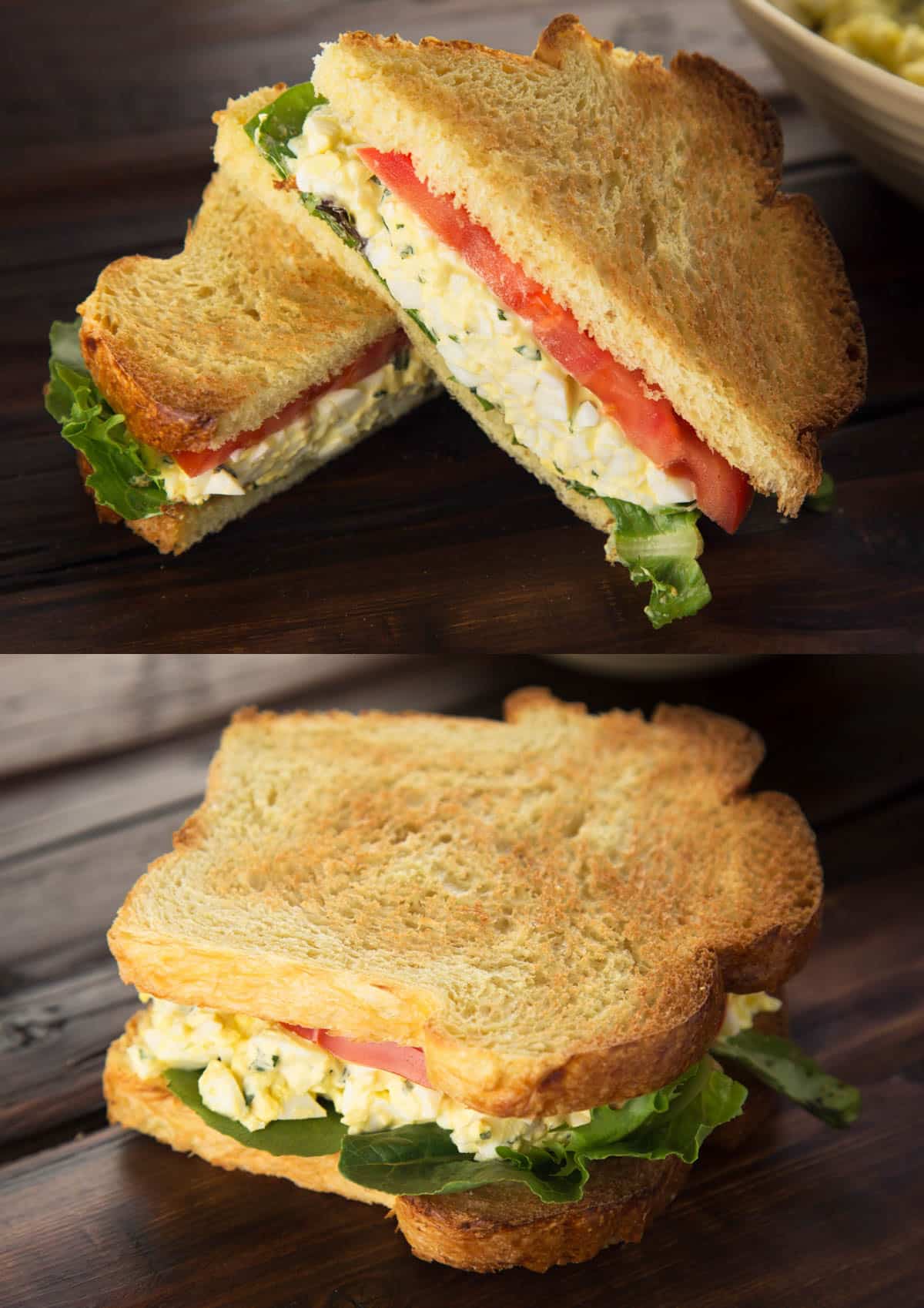 This post contains affiliate links. As an Amazon Associate, I earn a commission (at no additional cost to you) from qualifying purchases made by clicking these links. As always, all recommendations and opinions expressed are my own.
In the days after Easter, I'm usually recovering from chocolate bunny overload. By Tuesday, I'll find myself sitting with a cup of unsweetened anything, pondering one burning question: "What am I going to do with all of these hard-boiled eggs?"
The answer is almost always Egg Salad. It's about as sure a thing in my house as that pile of crumpled bunny wrappers.
Basil Egg Salad is one of my favorite twists on the classic recipe. It's creamy, bright, and fresh, with chopped basil, a pop of peppery garlic, and a touch of lemon juice. A scoop of this on a slab of brioche or artisan toast with a juicy slice of tomato, and I'm in heaven.
(A little background on how this recipe came about: I was watching an episode of Barefoot Contessa where Ina made a Tomato Sandwich with basil mayonnaise. I thought to myself how good basil mayo might taste as the base for egg salad. When I made it a few days later, my family devoured it.)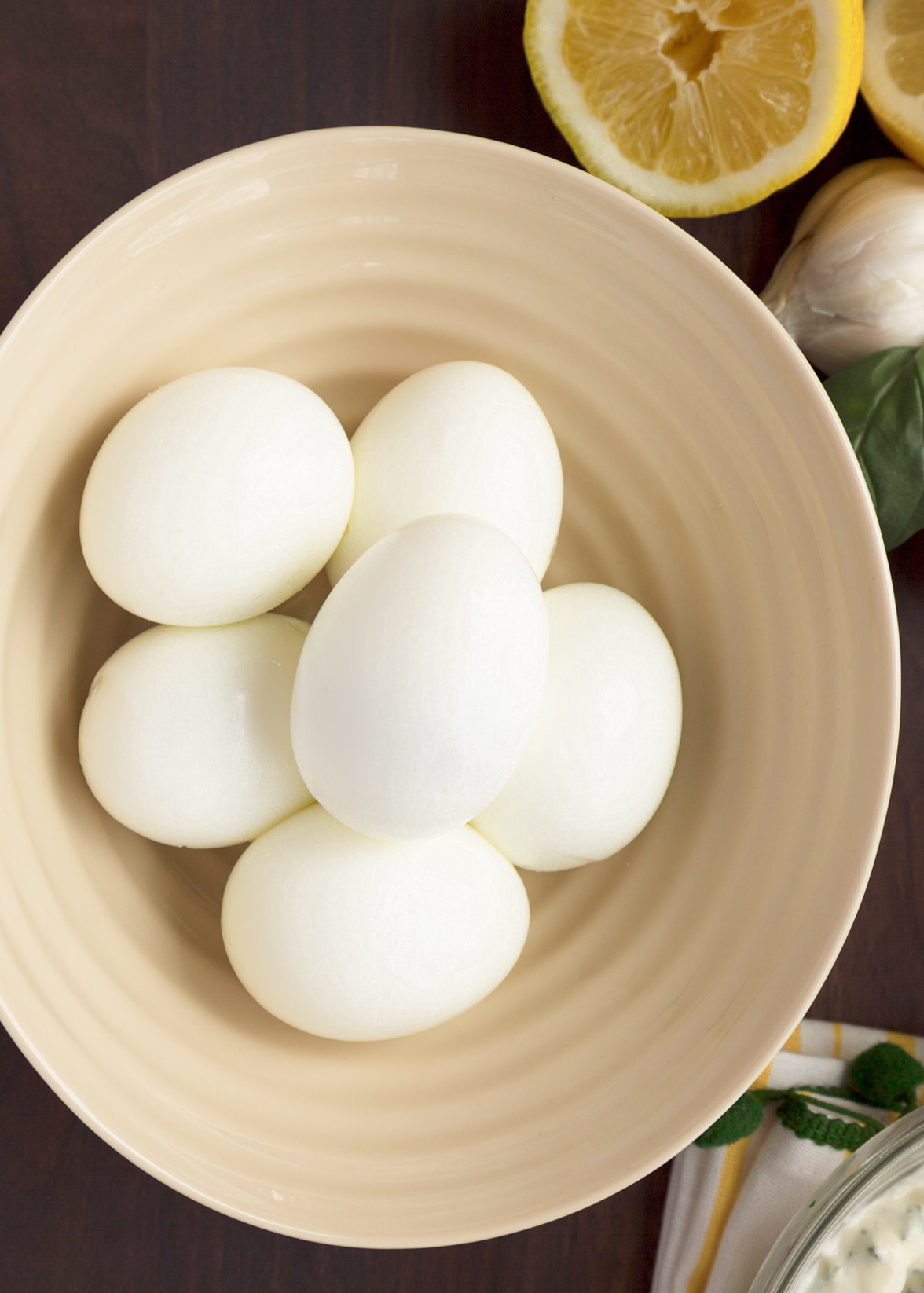 What You'll Need
Hard Boiled Eggs. Though this recipe is a great way to use your dyed Easter eggs, it's delicious any time of year. (We especially love it during the summer, when tomatoes are in season.) Cook and peel the hard boiled eggs using your favorite method, cooling them before making the salad. For the best texture be sure not to overcook them!
Mayonnaise. Use a good quality mayonnaise, such as Duke's or Hellmann's. If you have it on hand, homemade mayonnaise makes a wonderful base for this egg salad.
Extra Virgin Olive Oil. Adds a fruity, piquant flavor to the mayonnaise base.
Sweet Basil. (Such as Genovese or Napoletano varieties.) Adds a sweet, savory, lightly peppery flavor to the salad. Chop the leaves with a sharp knife just before adding them to the egg salad dressing.
Fresh Garlic. Just a touch of minced garlic will infuse the salad with flavor and aroma. If you're a garlic lover, feel free to up the amount, but be careful that it doesn't overpower the egg salad.
Lemon Juice. Adds brightness to the egg salad. Use freshly-squeezed juice for the best flavor.
Kosher Salt and Freshly-Ground Black Pepper. To season the salad to taste.
Want to grow herbs year-round at home? During the summer, I plant basil in my outdoor garden. In the fall, winter, and early spring, I grow it in my Aerogarden. I have the Bounty Elite model, and love it, especially for basil, parsley, and thyme, which I tend to use plentifully in my cooking.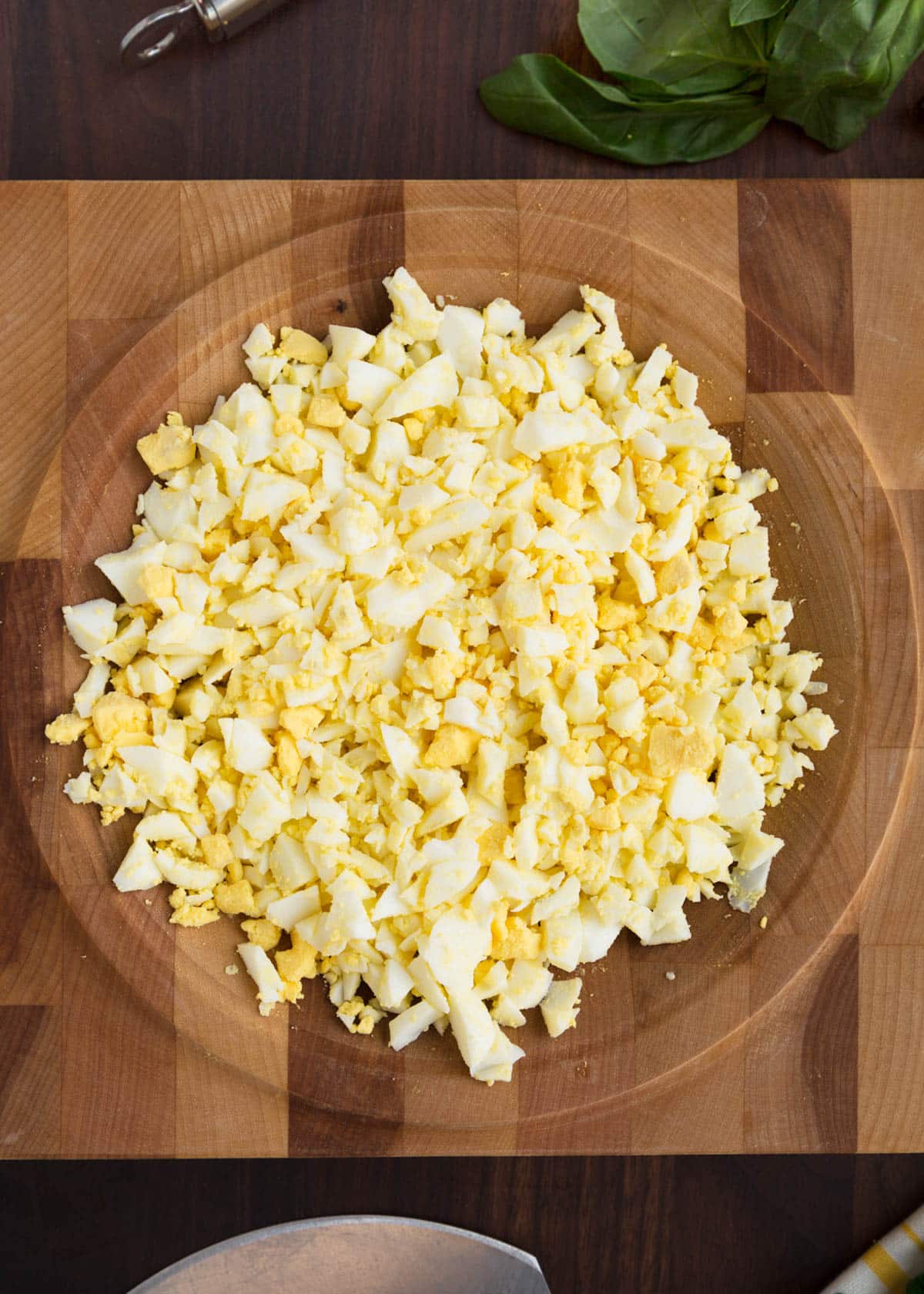 How to Make Basil Egg Salad
Like most egg salad recipes, this one is a cinch to prepare. Just chop, stir, and serve.
Step 1. Make the dressing by whisking together the mayonnaise, olive oil, lemon juice, basil, garlic, and salt.
Step 2. Chop the cooled, peeled hard boiled eggs. You can chop them up finely, or leave them with a coarser texture. (Read more about this in the "Customizing the Recipe" section, below).
Step 3. Combine the chopped eggs and dressing and season to taste with salt and pepper.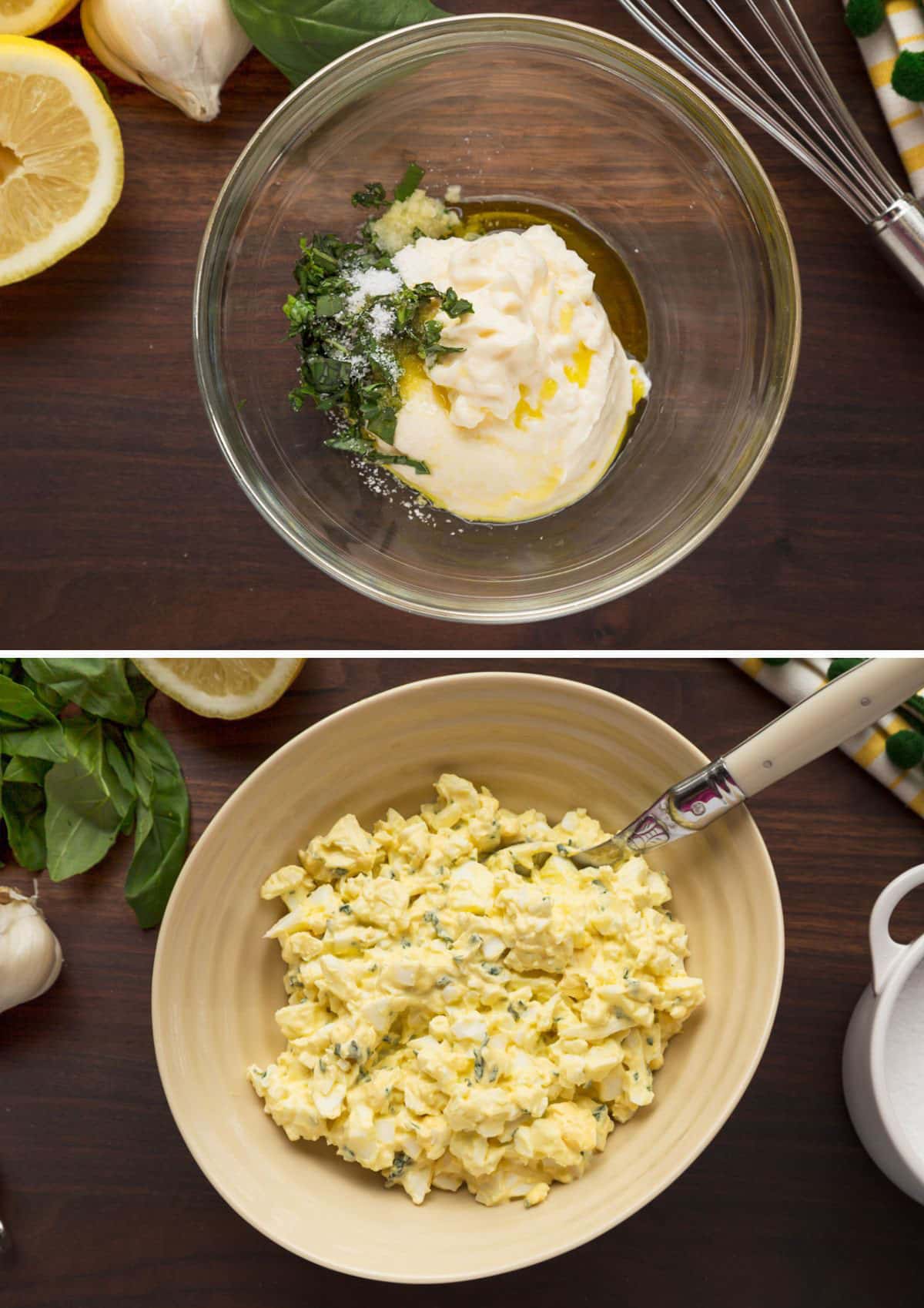 Customizing the Recipe
Basil Egg Salad is easy to customize to your texture preferences. Some people like their eggs chopped large for salad, others prefer them fine. Some like only a touch of mayonnaise, others like it super creamy.
I like my egg salad to be spreadable and cohesive, but not so loose where I need a bib while eating a sandwich. For me, the eggs should be well-chopped, but not obliterated.
I either cut the eggs using a mezzaluna on a concave mincing board (such as this Checkered Chef Mezzaluna Knife and Round Cutting Board), or using my egg slicer. I love using my OXO Good Grips Egg Slicer, because it allows you to easily turn the egg after slicing to cut it in a second direction.
To make this Basil Egg Salad to your preferred level of creaminess, I recommend mixing the dressing in a separate bowl and adding as much as you like to the chopped eggs.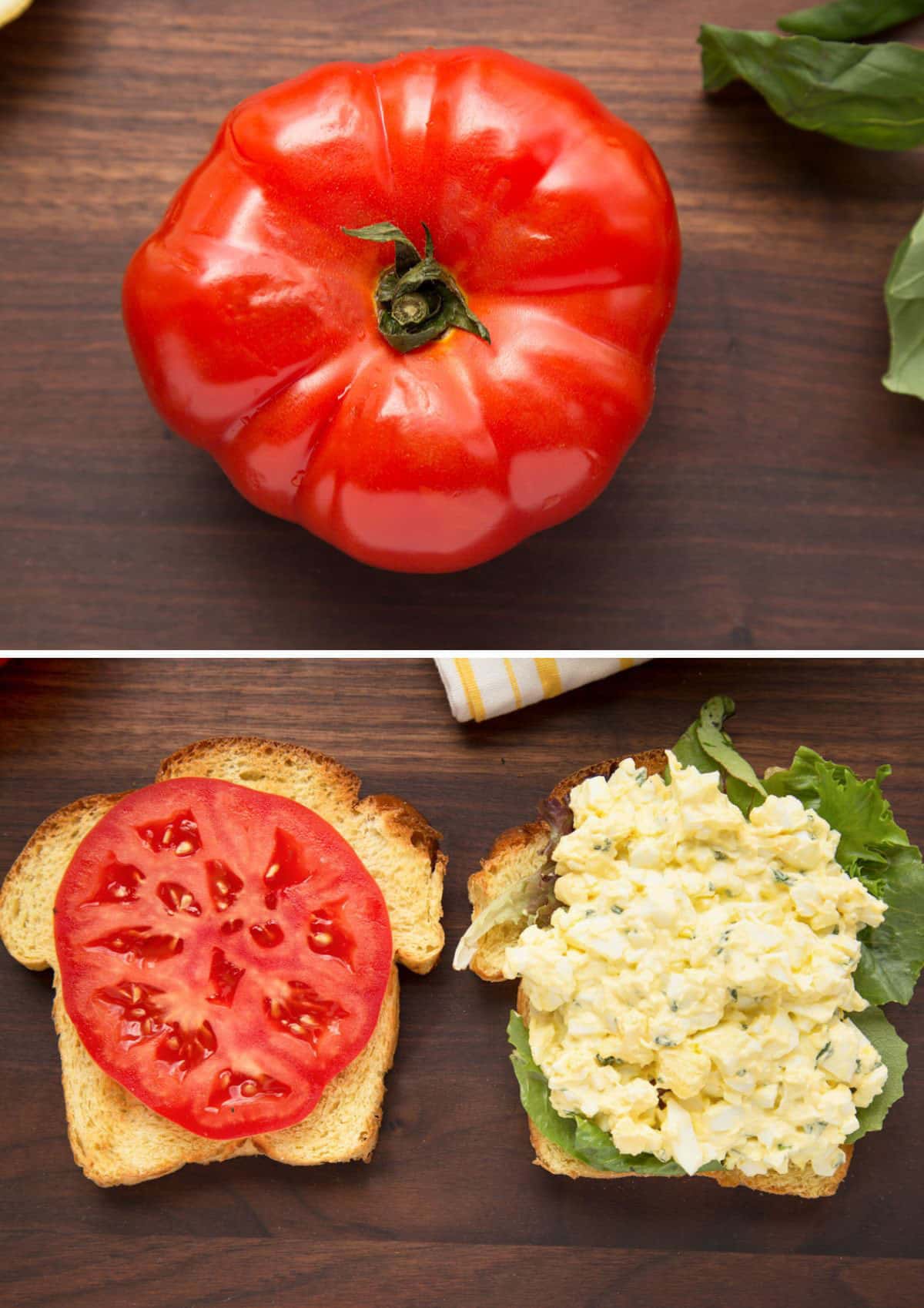 Serving Basil Egg Salad
As a sandwich, we love this egg salad on toasted white bread or brioche (pictured), croissants, ciabatta rolls, or Kaiser Rolls. (It's especially good on my Homemade White Bread recipe!)
Want to add this egg salad to a lunch or brunch buffet? Use little kaiser or brioche slider buns, or miniature croissants, to make a platter of two- to three-bite sandwiches.
A slice of juicy heirloom tomato is delicious on a Basil Egg Salad sandwich (perfect during the summer months). Cut the tomato about ¼ inch thick and sprinkle it with a little sea salt and a few grinds of black pepper when assembling the sandwich.
I also like to add a few pieces of tender butter lettuce, which keeps the toast from getting too soggy underneath the creamy egg salad.
If you don't want to go the sandwich route, Basil Egg Salad is also delicious spread onto your favorite crackers. To turn this into a cute canapé for appetizers, dollop the egg salad onto a cracker (we like Toasteds Buttercrisp), and top with a halved cherry tomato and a little extra chopped basil for garnish.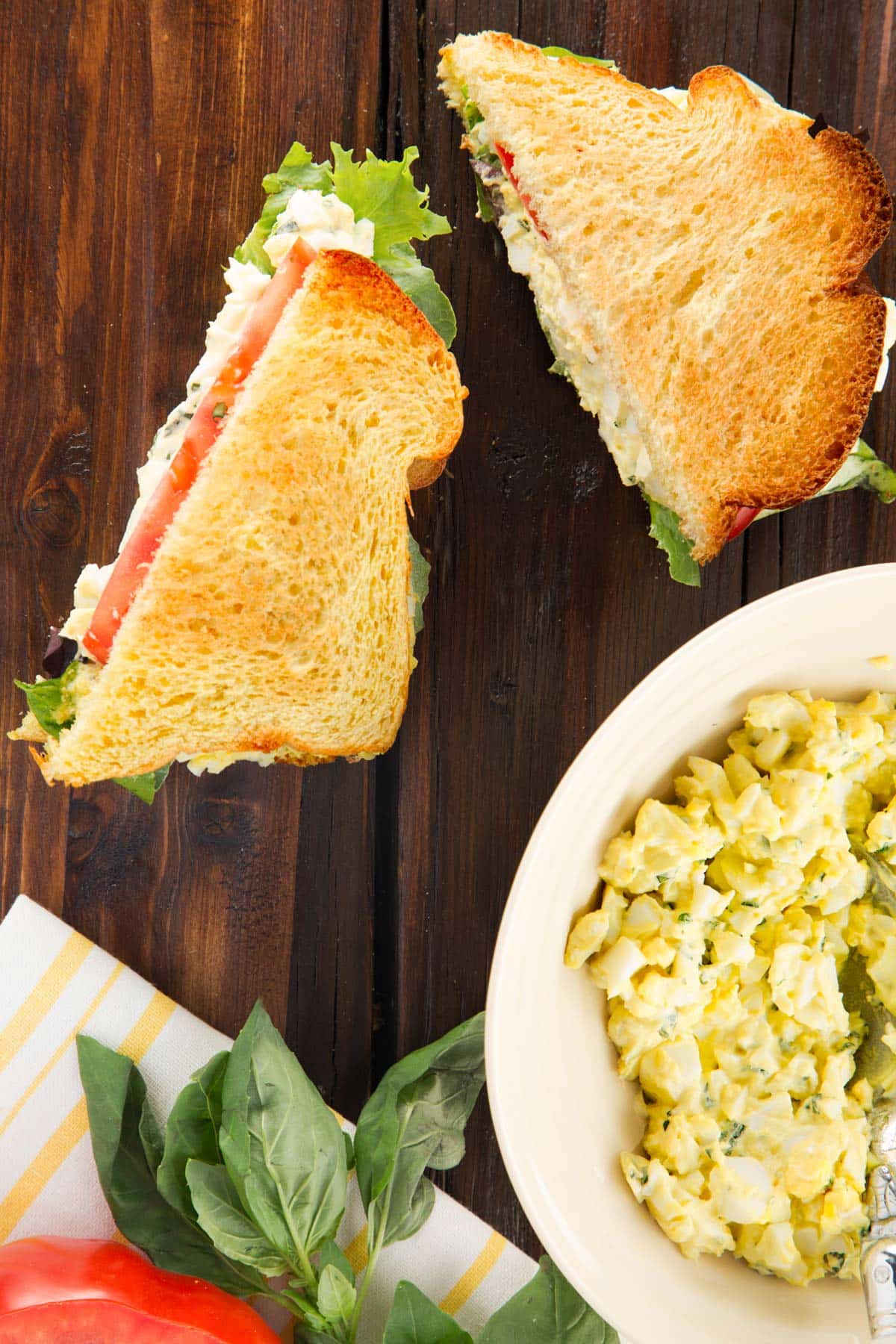 Recipe FAQ's
Q. Can I make Basil Egg Salad ahead of time?
A. I think this salad is best eaten soon after assembling, or within a couple of hours. (Cover it and store in the refrigerator until ready to serve.)
Personally, I don't love this egg salad quite as much when it's held overnight. I find that the flavor of the garlic continues to infuse into the eggs as it sits, and the dressing loses some of its creaminess.
If you're looking to save some prep time, you can cook the eggs, peel them, and store them (covered) in the refrigerator for up to 3 days before assembling the salad.
Q. What's the best way to make hard boiled eggs for this egg salad?
A. I most often use my electric pressure cooker to make hard boiled eggs. I use the 6 Quart Instant Pot Duo Plus.
To cook the eggs in the Instant Pot: Add 1 cup of cool water to the Instant Pot insert and place large, cold eggs on a rack (I use the OXO Good Grips Silicone Egg Rack). Seal the lid, and pressure cook the eggs on HIGH for 5 minutes. When the cooking time is up, let the pressure release naturally for 5 minutes, and then manually release the remaining pressure. Place the eggs in a bowl of ice water for at least 5 minutes before peeling.
To make hard boiled eggs on the stove: Place large eggs in a heavy-bottomed saucepan and add enough room temperature water to cover by 1-2 inches. Bring to a boil, and maintain a gentle bubble for 30 seconds. Remove from heat, cover, and let eggs stand in the hot water for 12 minutes. Use a slotted spoon to immediately transfer eggs to a bowl of ice water and let stand for 10-15 minutes before peeling.
📖 Recipe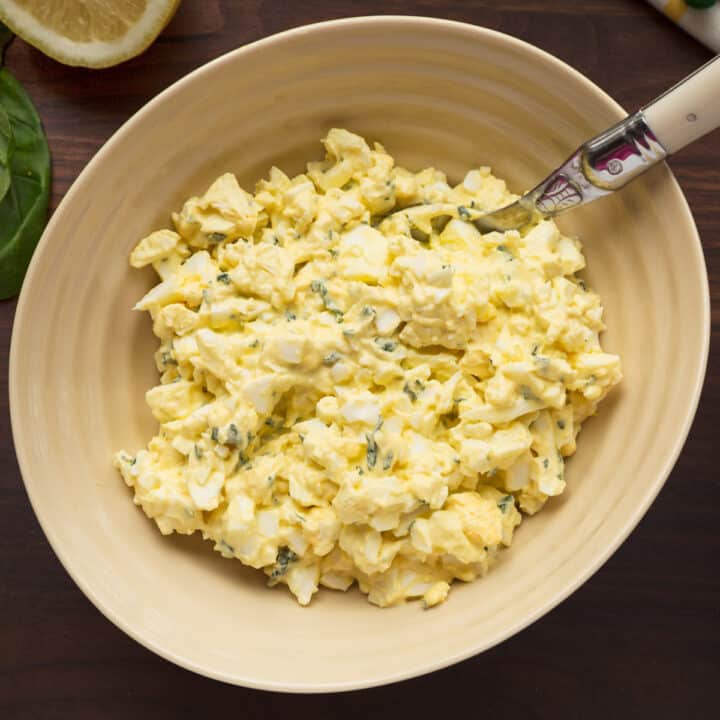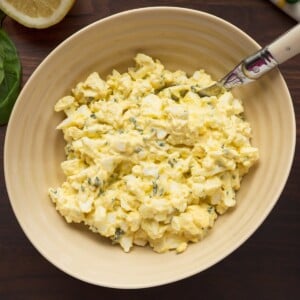 Basil Egg Salad
Basil Egg Salad is a delicious and unique twist on a classic. Hard boiled eggs are combined with a garlic, lemon, and basil-infused mayonnaise for a flavorful sandwich or appetizer.
Print
Pin
Rate
Save
Saved!
Servings:
3
generous sandwiches
Estimated Calories:
336
kcal
Ingredients
6

large

hard boiled eggs

, peeled and cooled*

⅓

cup

mayonnaise

2

tablespoons

chopped fresh basil

1

teaspoon

extra virgin olive oil

¼

teaspoon

fresh lemon juice

¼

teaspoon

minced garlic

¼

teaspoon

Diamond kosher salt

freshly ground black pepper
Instructions
In a small bowl, whisk together mayonnaise, basil, extra virgin olive oil, lemon juice, garlic, and salt. Set aside.

Chop eggs to desired size (I prefer mine on the finely-chopped side). In a medium bowl, fold together chopped eggs and enough basil mayonnaise to your liking.** Season the egg salad to taste with salt and pepper.

Serve on toasted bread, rolls, or croissants with sliced tomato and spring greens. The salad is also delicious spread onto crackers, or made into cracker canapés, topped with a halved cherry tomato and a sprinkling of fresh basil for garnish.
---
Notes
*Use your favorite method for hard boiling eggs for this recipe. See the Recipe FAQ's in the article above for Instant Pot and Stovetop instructions. I've provided an average cooking time at the top of the recipe card of 20 minutes (to account for pressurization, cooking, and pressure release if you're using the Instant Pot method), but times will vary by the method you choose.
**I prefer a creamy egg salad, so I use most of the basil mayonnaise, usually only having a tablespoon or two leftover. If you prefer your egg salad to be drier, add less. Leftover mayonnaise is delicious on chicken or roast beef sandwiches, or even as a dip for French fries, so don't throw it away! The mayo keeps well, covered, in the refrigerator, for a few days.
Nutrition Estimate
Serving:
0.333
recipe
|
Calories:
336
kcal
|
Carbohydrates:
1
g
|
Protein:
12
g
|
Fat:
30
g
|
Saturated Fat:
6
g
|
Cholesterol:
383
mg
|
Sodium:
475
mg
|
Potassium:
126
mg
|
Sugar:
1
g
|
Vitamin A:
590
IU
|
Calcium:
50
mg
|
Iron:
1.2
mg
---
About our Recipes:
Please note that our recipes have been developed using the US Customary measurement system and have not been tested for high altitude/elevation cooking and baking.
Have you made this recipe?
Don't forget to leave a comment and rate the recipe below! Take a picture? Tag @stripedspatula and #stripedspatula on Instagram!
This recipe originally appeared on Striped Spatula in April, 2015. We have since updated the post to best serve our readers.