Juicy slices of Beef Tenderloin with Cognac Cream Sauce make an elegant and impressive centerpiece to any special occasion dinner.
I'm not sure how it's possible that Christmas is next week! With the warm temps we've been experiencing in New Jersey, I feel like we've been heading toward Labor Day rather than Christmas and New Year's.
Not that the promotional sales emails arriving en masse to my Inbox have let me forget how little time is left to shop; I had 1,600 messages piled up last week!
When it comes to planning Christmas dinner, there are few dishes I love to serve more than beef tenderloin. Juicy and tender with a peppery crust, this Beef Tenderloin with Cognac Cream Sauce makes an elegant and impressive centerpiece for any holiday table.
As I was getting ready to make this recipe to share on the blog, I had the opportunity to chat with Bob Kocis, one of the fantastic butchers at McCaffrey's Food Market in Princeton.
For the best flavor and texture, Bob recommends buying tenderloin graded "USDA Choice". (The tenderloin pictured here from McCaffrey's is Angus, and was, hands down, one of the best beef tenderloins I've ever cooked!)
When preparing a whole tenderloin for roasting, Bob explained that it's important to trim the "silver" skin (connective tissue) from the surface of the meat (it's tough and will not tenderize with cooking) and tuck the "tail" (the thinner, tapered end) under the tenderloin to create a roast of even thickness.
After trimming the meat and tucking the tail, tie the tenderloin with kitchen twine to retain the even shape and create the prettiest slices. (You can also ask your butcher to trim and tie the tenderloin for you, as Bob did for me here, streamlining your prep work at home. Thanks for the great tips and for preparing this gorgeous tenderloin for cooking, Bob!)
I've found that there are two main pitfalls to avoid when preparing beef tenderloin: under-seasoning and overcooking. With proper cooking, beef tenderloin is ethereally tender, but because it's so lean, its flavor is more delicate than other cuts.
In terms of seasoning, I like to keep things simple with a generous sprinkling of kosher salt and coarsely-cracked peppercorns (don't be shy here!) and then complement the roasted meat with a well-rounded sauce.
Getting a good sear on the tenderloin before roasting also imparts great flavor. The Maillard reaction that occurs during searing browns and crisps the surface of the meat for a very flavorful crust against the tender center. My mouth is watering just thinking about it!
I like beef on the rarer side and this is especially true of tenderloin. Medium to well-done tenderloin tends to lose the tender, juicy quality that is so special to the cut.
The tenderloin pictured in this post was removed from the oven at an internal temperature between 120 and 125 degrees F, and allowed to rest for about 10 minutes before slicing. (For guests who prefer their meat less "mooing" than I do, I cook the tenderloin to around 130, and let it rest.) The resting period is key to juicy meat!
Cognac Cream Sauce is my favorite accompaniment to beef tenderloin. It's rich and elegant, yet incredibly easy to make in the roasting pan while the tenderloin rests on a cutting board.
Thickened heavy cream creates a velvety base for the sauce, while the cognac imparts a warm depth of flavor, contrasted by the bright tang of Dijon mustard. The nutty flavor of Parmigiano Reggiano and floral chopped thyme round out the sauce for a fresh finish.
For an impressive meal that your guests will rave about long past the holidays, Beef Tenderloin with Cognac Cream Sauce has "Santa's Nice List" written all over it!


📖 Recipe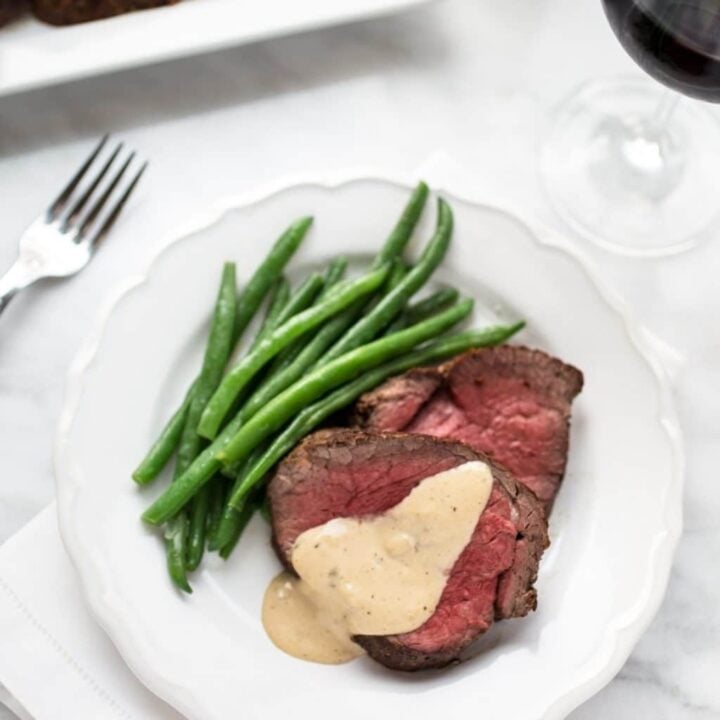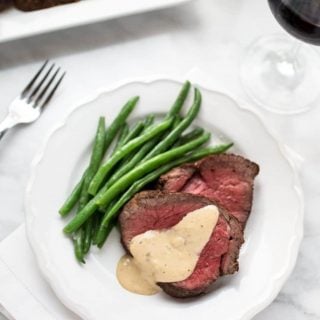 Beef Tenderloin with Cognac Cream Sauce
Juicy slices of Beef Tenderloin with Cognac Cream Sauce make an elegant and impressive centerpiece to any special occasion dinner.

Print
Pin
Rate
Save
Saved!
Servings:
10
servings (½-inch thick slices)
Estimated Calories:
914
kcal
Ingredients
4-½ to 5

pound

beef tenderloin

(about 18-inches in length)

4

tablespoons

olive oil

, divided

Kosher salt

coarsely cracked pepper
FOR THE COGNAC CREAM SAUCE
2

tablespoons

unsalted butter

¼

cup

chopped shallots

½

cup

Cognac

, plus 1-½ teaspoons

3

cups

heavy cream

2-½

tablespoons

Dijon mustard

1

teaspoon

chopped thyme leaves

¼

cup

grated Parmigiano Reggiano

Kosher salt and cracked black pepper

, to taste
Instructions
Remove tenderloin from refrigerator and let stand at room temperature for 1 hour before roasting. Using a sharp, flexible knife, trim the "silver" membrane from the surface of the tenderloin and tuck "tail" underneath to create a tenderloin of even thickness. Tie with kitchen twine. (Or, ask your butcher to prepare your tenderloin for roasting.)

Rub the tied tenderloin with about 2 tablespoons of olive oil. Sprinkle each side liberally with kosher salt and cracked black pepper, pressing to adhere.

Preheat oven to 475 degrees F with rack in middle position.

Place a large stove-top safe roasting pan over high heat and add about 2 tablespoons olive oil to coat the bottom of the pan, heating until hot but not smoking. Sear the tenderloin for about 3-4 minutes per side, until well-browned. Remove tenderloin from roasting pan and carefully clean pan with a paper towel in a pair of tongs.

Place a roasting rack in the pan and set seared tenderloin on rack. Roast until desired internal temperature is reached in the thickest part of the meat, 125 degrees F for medium rare, about 20-25 minutes. Remove from oven, transfer tenderloin to a cutting board, tent with foil, and let rest for 10-15 minutes.
MAKE THE COGNAC CREAM SAUCE AND SERVE
Remove the roasting rack from the pan and place the pan on the stove over medium heat. Add butter and chopped shallots and sauté until shallots are soft and lightly-browned. Remove the pan from heat, carefully pour in ½ cup cognac, and scrape up the brown bits from the bottom of the pan. Return to heat and let simmer for 1-2 minutes.

Whisk in heavy cream and Dijon mustard. Gently simmer until sauce is thick enough to coat the back of a spoon, about 5 minutes. Whisk in Parmigiano Reggiano until melted and smooth. Turn off the heat and add remaining 1-½ teaspoons cognac and chopped thyme leaves. Season sauce to taste with salt and pepper.

Carefully remove the twine from the tenderloin and cut meat into ½-inch slices. Drizzle with Cognac Cream Sauce at the table.
---
Notes
Roasting times can vary by oven and by the thickness of your particular cut of meat. The 5-pound tenderloin photographed in this post had about a 3-½ inch diameter and reached "medium-rare" temperature after roasting for 20 minutes.
Nutrition Estimate
Calories:
914
kcal
|
Carbohydrates:
2
g
|
Protein:
39
g
|
Fat:
79
g
|
Saturated Fat:
37
g
|
Cholesterol:
248
mg
|
Sodium:
184
mg
|
Potassium:
674
mg
|
Vitamin A:
1150
IU
|
Vitamin C:
0.7
mg
|
Calcium:
90
mg
|
Iron:
4.9
mg
---
About our Recipes:
Please note that our recipes have been developed using the US Customary measurement system and have not been tested for high altitude/elevation cooking and baking.
Have you made this recipe?
Don't forget to leave a comment and rate the recipe below! Take a picture? Tag @stripedspatula and #stripedspatula on Instagram!