This Boulevardier Cocktail adds a splash of sweet-tart blood orange juice to the classic Campari cocktail. Similar in composition to a Negroni, the Blood Orange Boulevardier is a sophisticated sip for cooler days.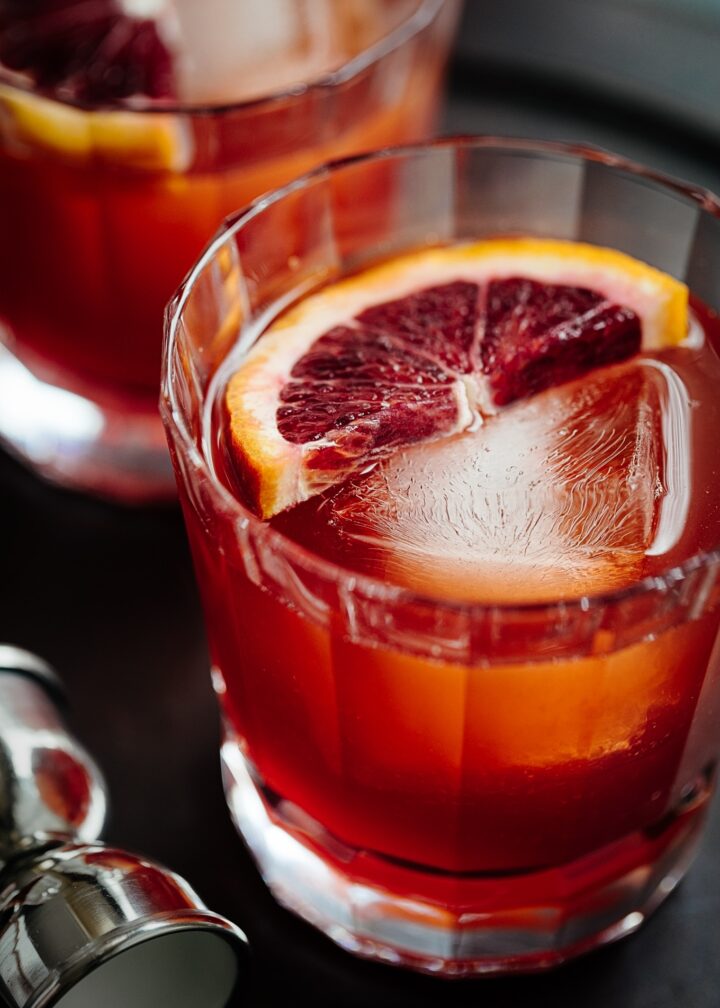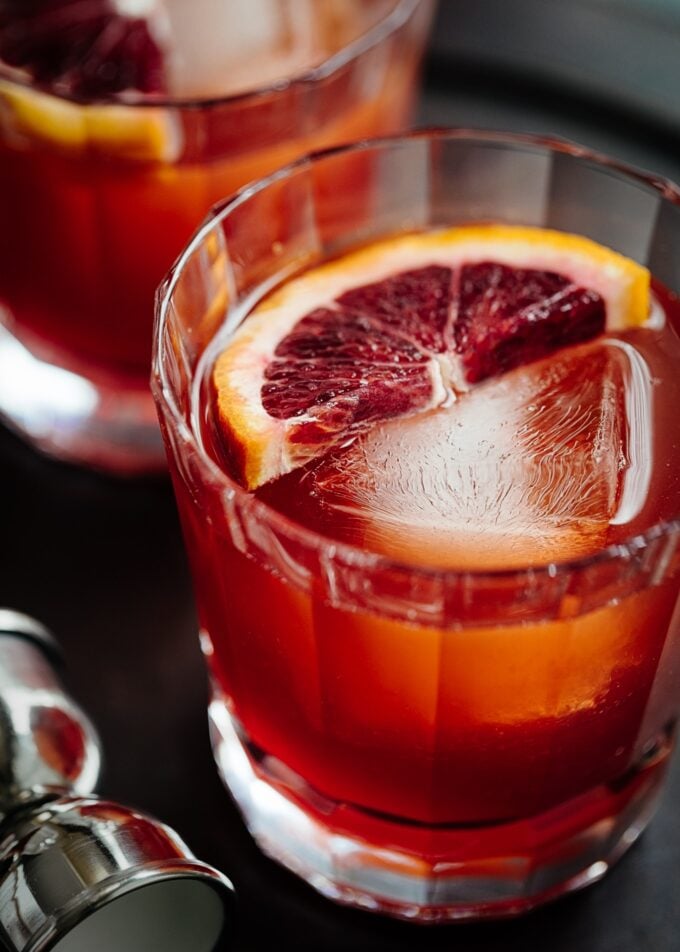 Like many people, I found my way to the Boulevardier cocktail (bourbon, sweet vermouth, Campari) via the Negroni.
The first time I sipped a Negroni (or Campari, for that matter) was a hot summer night. A friend and I were having cocktails and small plates al fresco. When our drinks arrived, I couldn't take my eyes off of the devilishly red drink he'd ordered. It was gorgeous!
Noticing my not-so-subtle staring, my friend offered me a taste. To be honest, I was a little taken aback by that first sip. I'm not sure why, but I was expecting something very sweet (perhaps it was on account of all of those rosy Shirley Temples I drank as a kid).
The Negroni (gin, sweet vermouth, and Campari) was assertive but balanced, with only lightly-sweet, bitter, herbal notes. In the second sip, I found the combination quite refreshing.
Often called a Negroni for the winter, the Boulevardier omits the gin and adds bourbon or rye whiskey.
In this twist on the classic Boulevardier recipe, I add a splash of blood orange juice to the mix. Blood oranges pair particularly well with bourbon, and the juice adds another layer of sweet-tart citrus flavor to the cocktail.
The Blood Orange Boulevardier is bittersweet, spicy, sophisticated, and begs to be sipped slowly in front of a warm fire.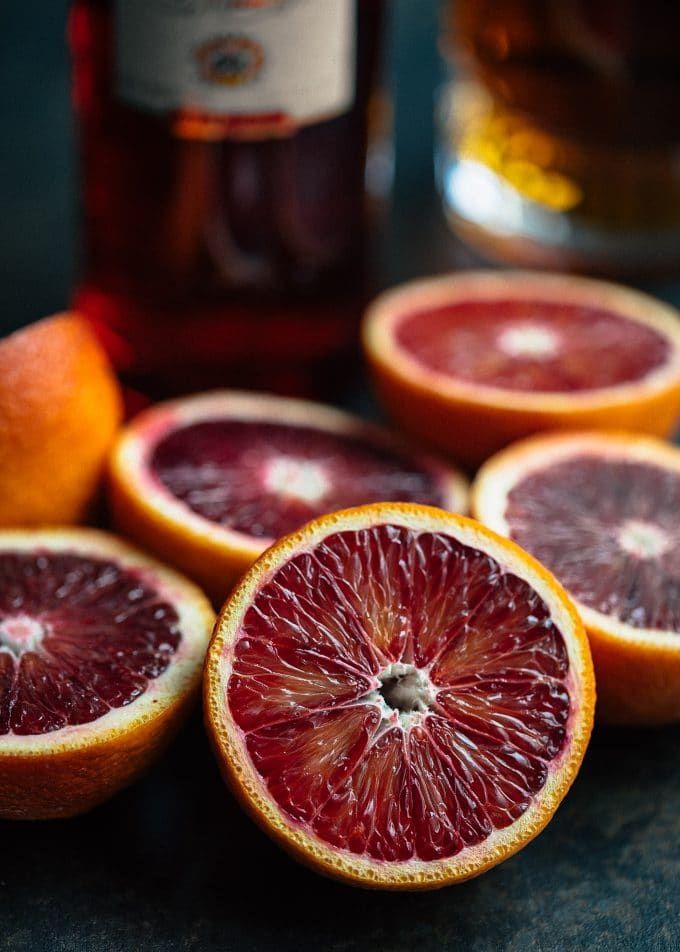 About the Drink
Boulevardier Cocktail History
The classic Boulevardier cocktail (pronounced bool-ah-var-dee-a) was crafted in the 1920s during prohibition. Its name is widely attributed to Erskine Gwynne, an American writer living in Paris. He ran a literary magazine called, "The Boulevardier," and as the story goes, this cocktail was his favorite.
Read more about the History of the Boulevardier Cocktail on Imbibe Magazine.
About Campari
Campari, the Italian aperitivo central to the Boulevardier and Negroni, dates to 1860. It's made via an infusion of fruit and herbs with alcohol, simple syrup, and water. It has a luscious ruby color, and a bitter, herbal flavor.
To be honest, Campari can take some warming up to. If it isn't something you're used to drinking, the flavor can be a bit intense. In a piece for Saveur, William Sertl once called Campari, "the ultimate acquired taste."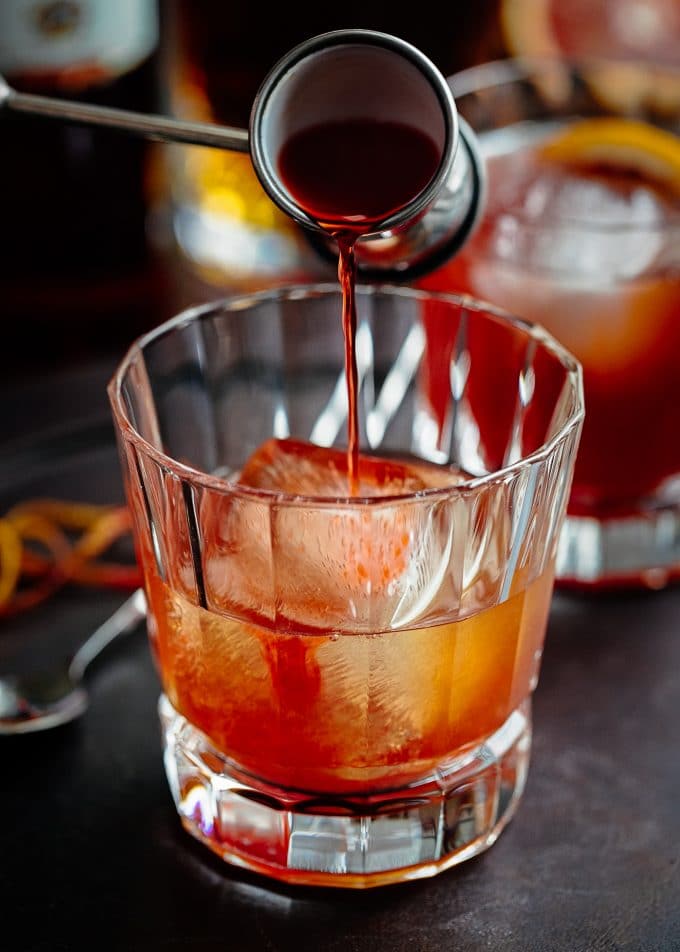 How to Mix a Boulevardier Cocktail
When making a Blood Orange Boulevardier, you have a couple of mixing options. The most commonly-utilized method is to add all of the ingredients to a mixing glass filled with ice, stir until well-chilled, and strain into a rocks glass, coupe, tumbler.
You can also build the cocktail directly in the serving glass. Just pour the ingredients individually over ice, stir, and serve.
Generally, my Blood Orange Boulevardiers made using a mixing glass are slightly more dilute than those built in the serving glass. With an intense cocktail such as this one, I like them made in the mixing glass. The method you choose is a matter of personal preference.
Wondering when to shake, when to stir, and how to mix like a pro? Check out "How to 'Properly' Stir a Cocktail or Mixed Drink" from The Spruce.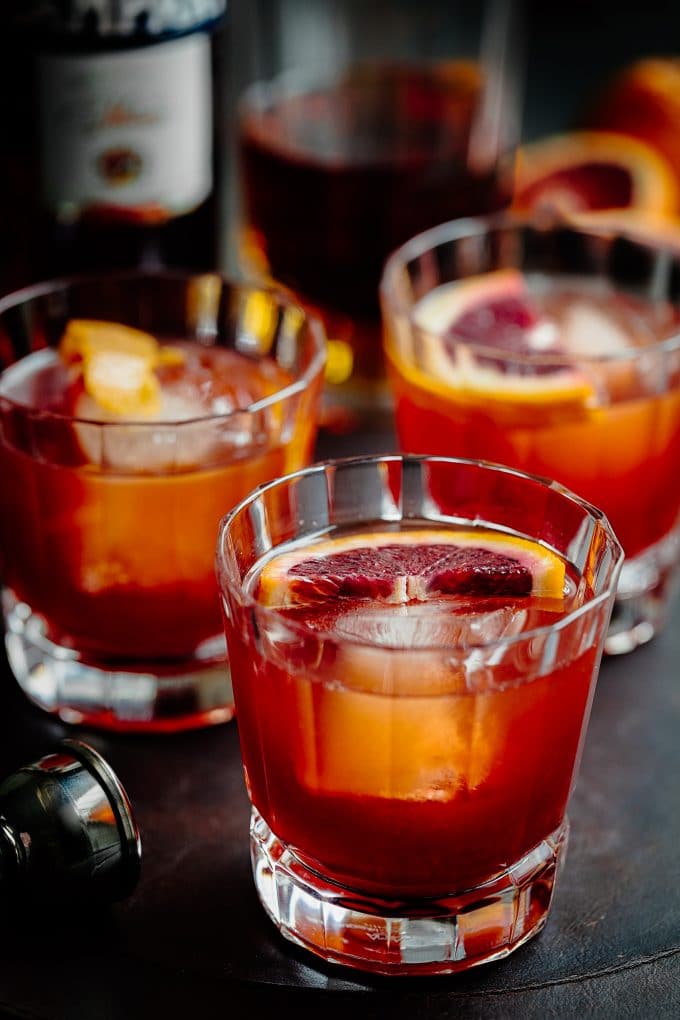 Serving Blood Orange Boulevardiers
If you're utilizing the mixing glass method, you can either pour the cocktail over fresh ice in the serving glass, or serve it "up" without additional ice. I always serve mine over a single large square or round ice cube.
I like to garnish the cocktail with a slice of blood orange (because I can't get enough of them and the season will be gone before I know it), or a twist of orange rind.
Fire it up with a Flamed Orange Rind
If you're up for a bit of fun with your garnish, you can also flame the orange rind over your cocktail. I learned this technique at a cocktail class a few years back, and it adds a certain je ne sais quoi when you're entertaining.
When you flame an orange rind, you gently squeeze the fragrant citrus oils out of the peel, and allow them to pass through the flame and settle in your cocktail. It enhances the aroma and brings a subtle smoky note to the drink.
After flaming the peel, I usually run it around the rim of the glass and drop it into the cocktail. It took me a bit of practice to get the flaming process right, but it's fun for guests to watch as you serve their cocktails.
Want to learn how? Check out this Cocktail 101 piece from Serious Eats on How to Flame an Orange Twist. The same technique works well with lemon peels, too.
More Campari Cocktails:
Concord Negroni Flip (The GastroNom)
Negroni Spagliato (Sidewalk Shoes)
Campari Stinger (Imbibe Magazine)
Upgraded Paloma (Serious Eats)
Blood Peach Bellini (Food & Wine)
More Bourbon Cocktails:
Blackberry Lemon Mint Juleps (Striped Spatula)
Bourbon Sour with Lavender (Champagne Tastes)
Blood and Bourbon (The GastroNom)
Spiced Chamomile Ginger Hot Toddy (Meg is Well)
The Revolver (Blossom to Stem)
📖 Recipe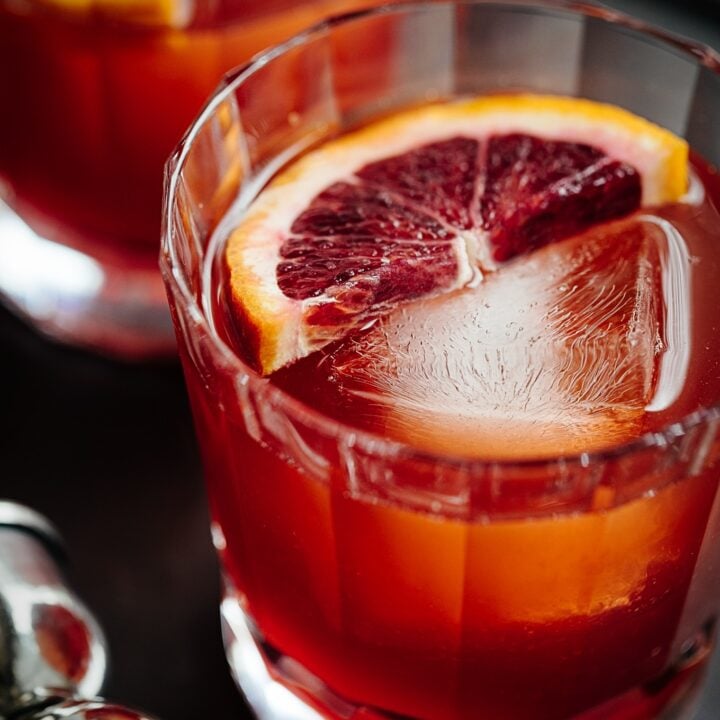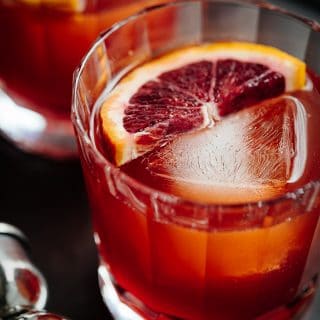 Blood Orange Boulevardier Cocktail
Bittersweet and spicy, with a hint of citrus, this Blood Orange Boulevardier makes a sophisticated cold weather sip.
Print
Pin
Rate
Save
Saved!
Estimated Calories:
209
kcal
Ingredients
1-½

ounces

bourbon

1

ounce

sweet vermouth

1

ounce

Campari

1

ounce

blood orange juice

blood orange slices or twisted peels

, for garnish
Instructions
Fill a mixing glass with ice and add bourbon, vermouth, Campari and blood orange juice. Stir until well combined and very cold.

Strain into a chilled tumbler or rocks glass with fresh ice or serve "up" (without ice). Garnish with blood orange slices or twists of orange peel.
---
Notes
Alternately, you can build the cocktail directly in the serving glass by pouring each ingredient over ice and stirring to mix. If using this method, strain the pulp from the blood orange juice before adding it to the cocktail.
Nutrition Estimate
Calories:
209
kcal
|
Carbohydrates:
11
g
|
Potassium:
56
mg
|
Sugar:
2
g
|
Vitamin A:
55
IU
|
Vitamin C:
14.2
mg
---
About our Recipes:
Please note that our recipes have been developed using the US Customary measurement system and have not been tested for high altitude/elevation cooking and baking.
Have you made this recipe?
Don't forget to leave a comment and rate the recipe below! Take a picture? Tag @stripedspatula and #stripedspatula on Instagram!