It's a cinch to make sweet-tart Pink Lemonade at home! With just 4 ingredients, you might already have everything you need in your pantry and fridge to make a pitcherful. This pastel-hued lemonade is great for spring and summer picnics, wedding and baby showers, brunches, and more.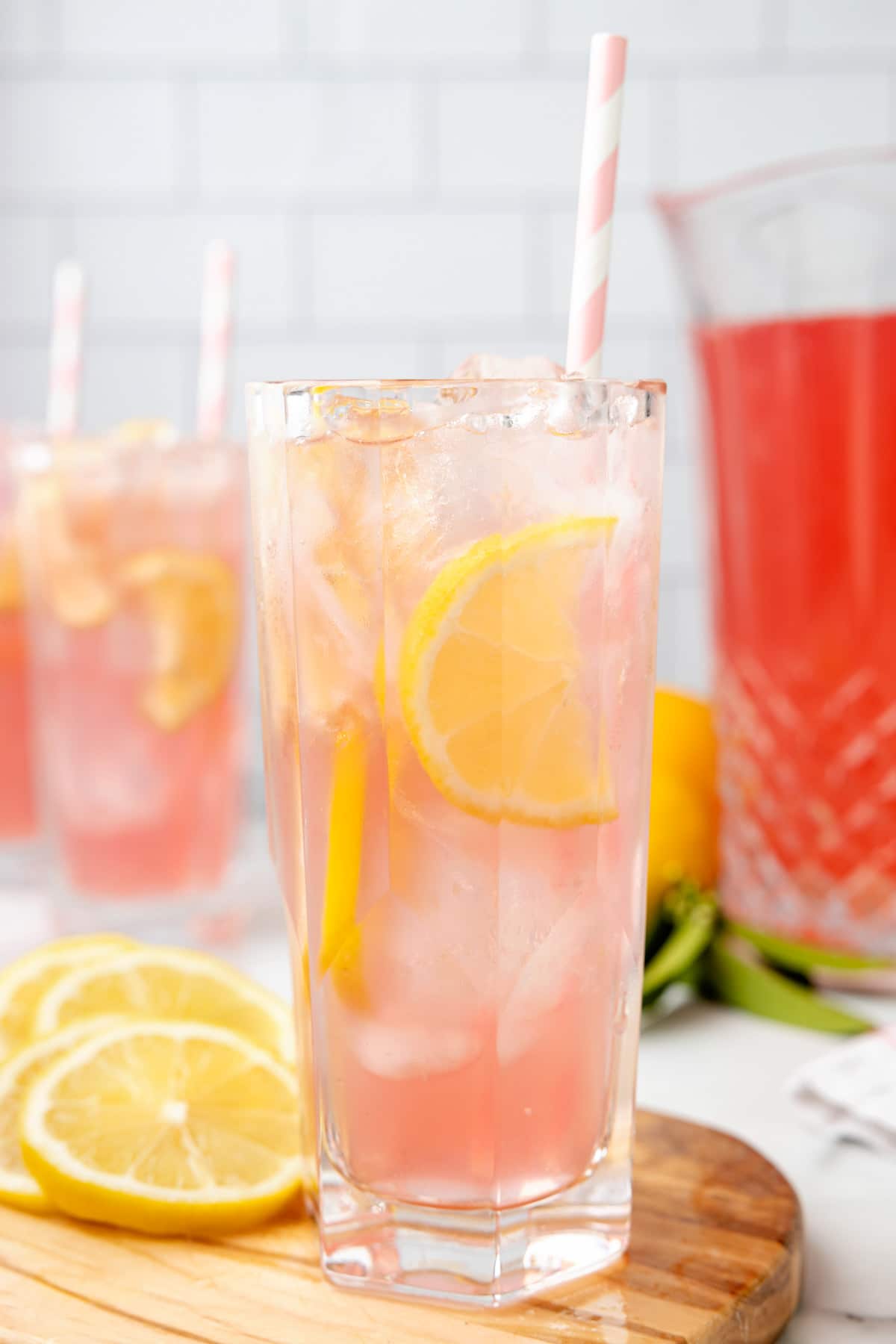 This post contains affiliate links. As an Amazon Associate, I earn a commission (at no additional cost to you) from qualifying purchases made by clicking these links. As always, all recommendations and opinions expressed are my own.
What Makes Pink Lemonade Pink?
While some (not all) brands of pink lemonade are tinted with food dye, I like to add color naturally when making it at home. This recipe uses cranberry juice (or cran-raspberry juice) to give the lemonade a light pastel hue.
You can also make pink lemonade with pomegranate juice, grape juice, red raspberry juice, or strained watermelon or strawberry puree. Each of these additions will add its own unique flavor profile to the lemonade mixture.
If experimenting with substitutions in your own kitchen, keep in mind that different coloring methods will affect the lemonade's sweetness. For instance, you'll need to add less sugar to the pitcher when making pink lemonade with a sweeter juice, like red raspberry, or watermelon puree.
Interesting read: If you're into food history and have ever wondered how Pink Lemonade made its debut, check out The Unusual Origins of Pink Lemonade from Smithsonian Magazine. (Spoiler alert: one story involves a rather unappetizing mistake at a 19th century circus!)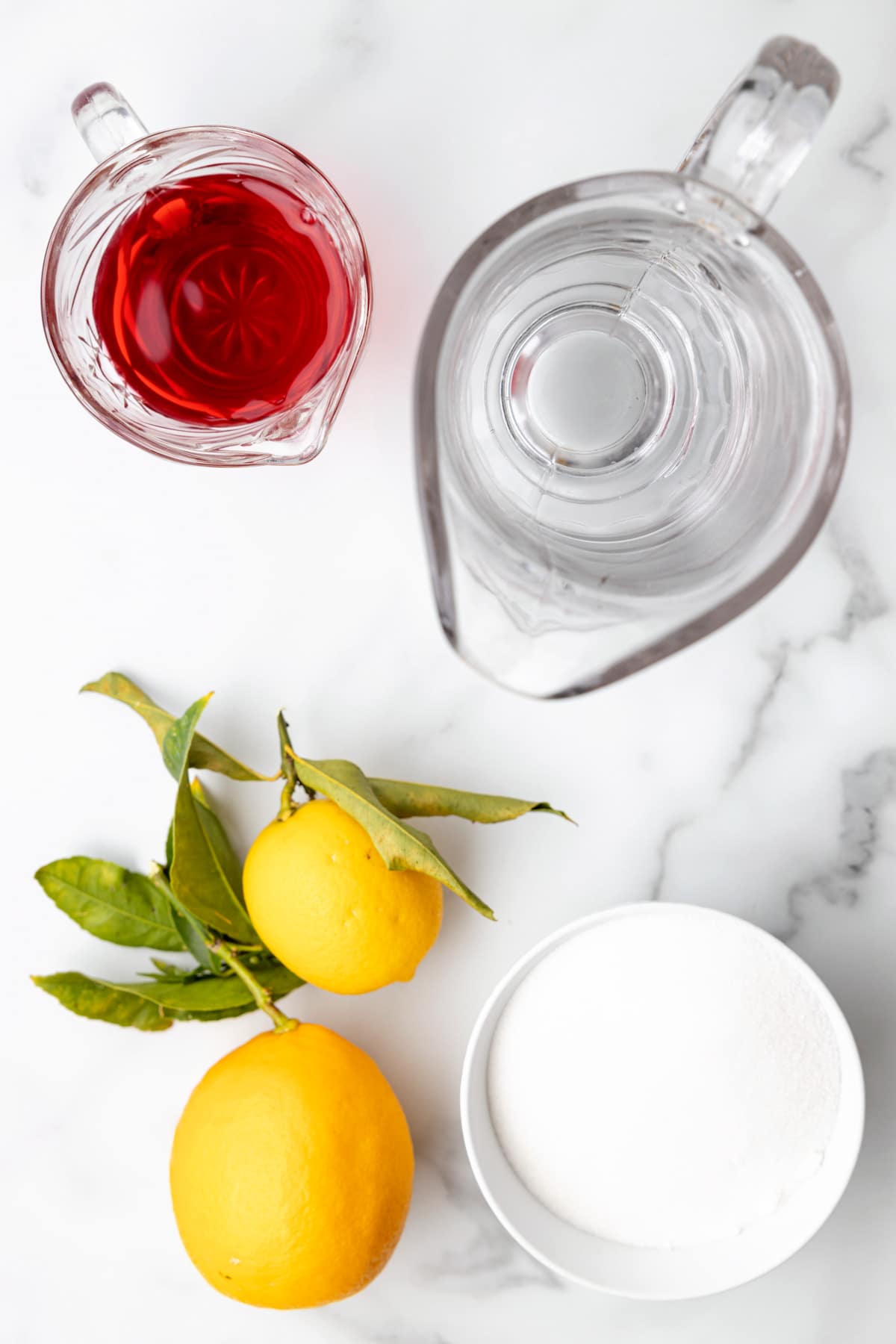 What You'll Need to Make Pink Lemonade
Making homemade pink lemonade is easy, and only requires a few ingredients (a few of which you may already have in your pantry or fridge). Here's what I use in my family's favorite blend:
Lemon Juice. For the best flavor, I recommend using freshly-squeezed lemon juice as opposed to bottled. You'll need 4 to 6 lemons to get a cup of lemon juice, depending on their size. (See my tips in the next section for juicing your lemons.)
Granulated Sugar. Regular granulated sugar dissolves well in the acidic lemon juice in this recipe, but you can substitute superfine sugar, if desired. I've provided a range for the quantity in the recipe card. The amount of sugar you use will depend both on your personal tastes and the sweetness of the cranberry juice you're using.
Water. I like to use filtered or spring water to make lemonade. For a fizzy variation, substitute chilled sparkling water or seltzer, adding it to the pitcher just before serving.
Cranberry Juice. You can use sweetened or unsweetened cranberry juice in this recipe, adjusting the amount of granulated sugar accordingly. We also like to use cranberry juice blends, such as Cran-Raspberry.
Need help deciphering the different types of cranberry juice at the market? Check out What's the Difference Between Cranberry Juice and Cranberry Juice Cocktail? from Kitchn.
Tips for Making the Best Pink Lemonade
Juicing the Lemons
I like to use a handheld lemon juicer to squeeze fresh lemon juice. The design really presses every last drop out of the lemon halves. Just squeeze the juice directly into your measuring cup–no seeds!

When using a traditional citrus juicer or reamer, I start by rolling the whole lemons on the countertop, applying light pressure with the palm of my hand. This breaks down the membranes a bit and makes it easier to get the most juice out of the segments when the lemons are halved.
While you'll want to make sure that all seeds are removed from the lemon juice, you can choose to either strain out the pulp before mixing your pink lemonade, or leave it in. My family enjoys lemonade with a little pulp.
Dissolving the Sugar without Heat
Many lemonade recipes are sweetened with simple syrup, warming the sugar in water on the stove to ensure that it's fully dissolved. I find that the extra step isn't needed here if you combine the sugar with the acidic lemon juice and let it sit for a few minutes.
I like to mix the sugar and lemon juice right in my serving/storage pitcher, whisking vigorously until combined. Let the mixture sit for about 5 minutes, whisk again, and proceed with the recipe.
Need a new lemonade pitcher? We love the Bormioli Rocco Hermetic Seal Glass Pitcher for storing beverages in the fridge. If you're planning to serve poolside, I recommend using a BPA-free shatterproof pitcher.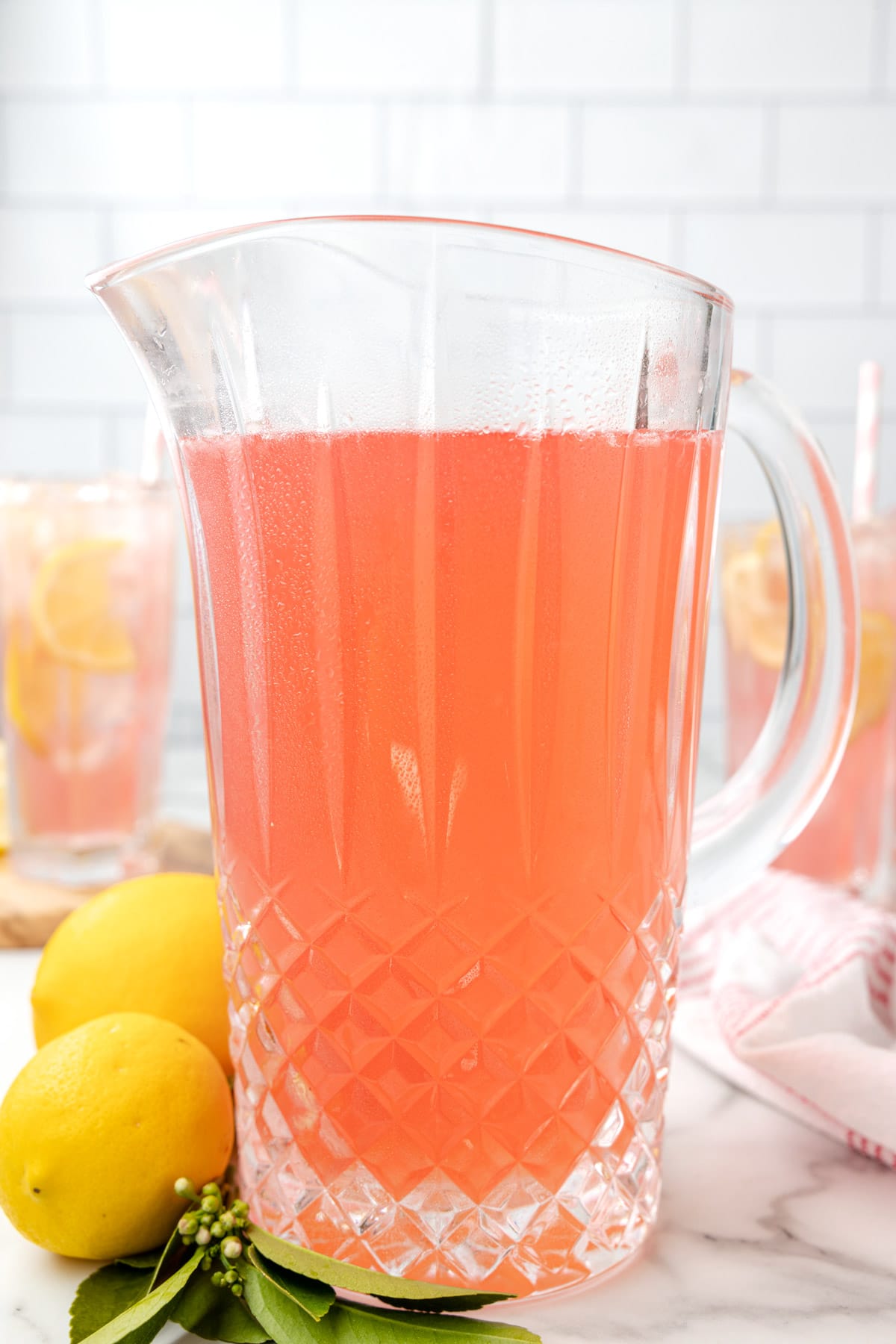 Choosing the Cranberry Juice
On its own, cranberry juice will add a pastel, peachy-pink color to the lemonade. Shades will vary by the type and brand of cranberry juice you buy; some are more vibrant than others.
If you prefer for your pink lemonade to have a cooler shade of pink, try using a Cran-Raspberry juice blend. I find that the addition of raspberry juice (and, sometimes, grape juice) in the mix adds richer red tones and creates a "pinker" pink. (Side note: Cran-Raspberry is my family's favorite.)
This recipe makes pink lemonade that's a beautiful, light pastel shade when poured. Keep in mind that the mixture will look more vibrant in the pitcher than when it's poured into ice-filled glasses.
Personally, I don't like to add extra cranberry juice to the lemonade mixture to deepen the color, as I find that it starts to obscure the flavor of the lemon juice. For a more vibrant color, consider stirring in grenadine or maraschino cherry juice by the teaspoonful.
Adjusting the Water To Taste
My friends and family are split on how much water to add to this pink lemonade base. Some of us prefer a slightly more concentrated base (using 4-½ cups of water for the full recipe) since the lemonade dilutes further as it mixes with the ice in the glass.
A few of my friends prefer that the lemonade is slightly less concentrated from the start, adding 5 cups of water to the pitcher. I recommend starting with 4-½ cups and increasing to taste.
Chilling and Serving Your Pink Lemonade
After mixing the lemonade, I like to chill it in the refrigerator for at least an hour. Serve in tall glasses with plenty of ice, and sliced lemons for garnish. Light pink paper straws make for a party-perfect presentation.
I prefer to add ice to glasses, rather than to the pitcher itself, so that the entire batch of lemonade doesn't become watered down as it sits.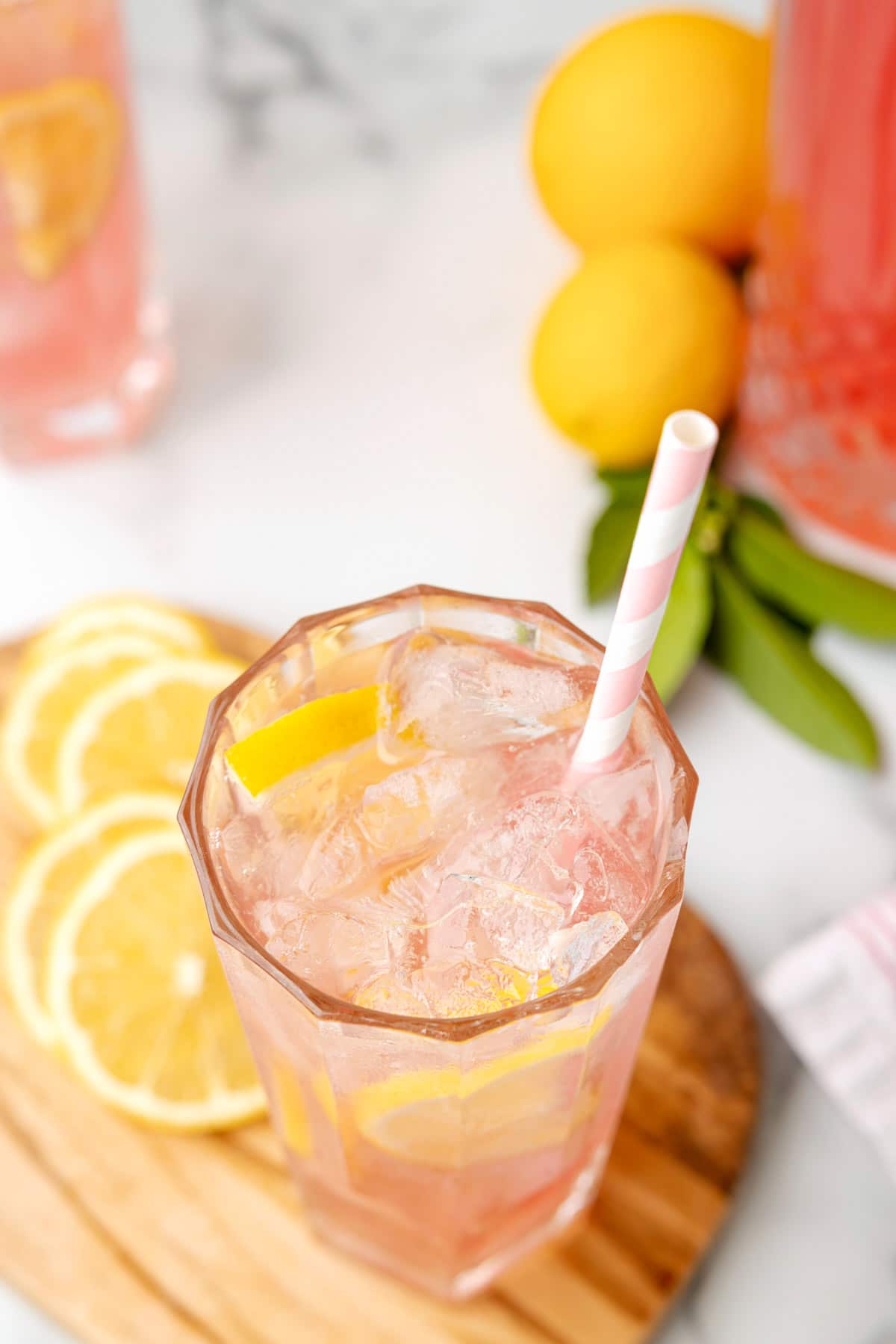 Storing Pink Lemonade
You can store this lemonade in a covered pitcher in the refrigerator, or in your favorite storage bottles. I love to use flip top glass bottles, which also have a bistro-like presentation for serving.
Pink lemonade keeps well for up to 4 days in the fridge. Give the capped bottle a shake or stir the lemonade in the pitcher before pouring.
More Refreshing Spring and Summer Drink Recipes
CRAVING MORE? Subscribe to my newsletter and join me on Facebook, Pinterest, and Instagram for the latest recipes and news.
📖 Recipe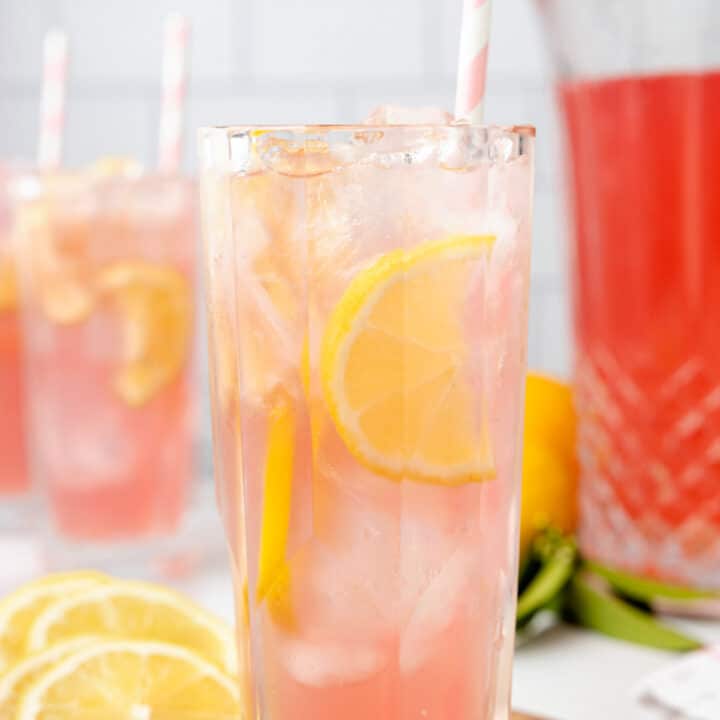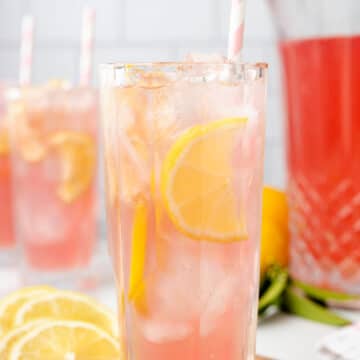 Pink Lemonade
This pretty and refreshing Pink Lemonade gets its light pastel color from cranberry juice. With just 4 ingredients, it's easy to make and customize to your personal preferences. Great for spring and summer picnics, brunches, and showers!
Print
Pin
Rate
Save
Saved!
Servings:
6
to 8 servings
Estimated Calories:
115
kcal
Ingredients
1

cup

freshly-squeezed lemon juice

*

¾ to 1-¼

cups

granulated sugar

**

½

cup

cranberry juice or Cran-Raspberry juice

4-½ to 5

cups

filtered or spring water

, chilled ***
Instructions
In a large pitcher, whisk together lemon juice and granulated sugar. Let stand 5 minutes, and then whisk again to fully dissolve.

Pour in cranberry juice and water, and stir to combine. Chill mixture for at least an hour.

Stir the lemonade before pouring it into ice-filled glasses. Garnish with lemon wedges. Pink Lemonade keeps well for up to 4 days, covered, in the refrigerator.
---
Notes
*If you prefer lemonade without pulp, strain the lemon juice after squeezing.
**The amount of sugar you use will depend on your personal preferences and the sweetness of your cranberry juice. Unsweetened 100% pure cranberry juice is very tart, so if using it, you'll need to add more sugar to the lemonade mix. Both cranberry juice cocktail and blends (even "100% juice varieties") are sweeter. My family prefers a sweeter lemonade in general, so I typically use ¾ to 1 cup of sugar, with Cran-Raspberry juice. Read more in the "Choosing the Cranberry Juice" section in the article above.
***The amount of water you use will depend on your personal preferences. For a slightly more concentrated lemonade that will dilute with ice in the serving glass, use 4-½ cups. For a milder pink lemonade, use 5 cups.
Nutrition Estimate
Serving:
8
ounces
|
Calories:
115
kcal
|
Carbohydrates:
30
g
|
Protein:
1
g
|
Fat:
1
g
|
Saturated Fat:
1
g
|
Polyunsaturated Fat:
1
g
|
Monounsaturated Fat:
1
g
|
Sodium:
5
mg
|
Potassium:
59
mg
|
Fiber:
1
g
|
Sugar:
29
g
|
Vitamin A:
12
IU
|
Vitamin C:
18
mg
|
Calcium:
7
mg
|
Iron:
1
mg
Keyword:
homemade pink lemonade, pink lemonade, Pink lemonade recipe
---
About our Recipes:
Please note that our recipes have been developed using the US Customary measurement system and have not been tested for high altitude/elevation cooking and baking.
Have you made this recipe?
Don't forget to leave a comment and rate the recipe below! Take a picture? Tag @stripedspatula and #stripedspatula on Instagram!