Bouchon Apple Pie features apples sautéed in cider caramel, a layer of almond cream, and a streusel topping. An elegant addition to any holiday table.
Digital magazine subscriptions and I have a love-hate relationship.
The good: I'm never at a loss for something to read, especially during those fun times when a 15-minute wait turns into an hour. (Even better: the ability to reference recipes in the grocery store at the click of the button.)
The bad: Without a glossy magazine cover staring me down from my coffee table, it's easy to forget that I have an unread issue to download. What does any of this have to do with apple pie, you ask?
Earlier this week, I was scrolling through my Newstand app and realized that I'd never read the November issue of Saveur. (Say it ain't so!)
I'd been debating for days whether to kick off Thanksgiving 2014 here on the blog with a dessert or stuffing recipe. Halfway through the magazine, I found this gorgeous pie from the famed Bouchon Bakery winking at me in all of its retina display glory. The decision was suddenly a no-brainer: it was dessert time!
Thanksgiving and Apple Pie are like Peanut Butter and Jelly. They're classic. While you can have one without the other, they're so much better as a pair.
Of course, if we're going to be technical here, this "pie" is actually a tart. Baked in a removable-bottom tart pan, with one layer of apples in a single, crumbly crust, it has all of the hallmarks of a beautiful tart. (If it looks like a duck and quacks like a duck…)
In terms of flavor, this is everything that an amazing pie should be: sweet, but not cloying, lightly-spiced, and intensely apple-y. Whether we label it "tart," "pie," or just, "crazy good apple dessert," one bite and I'm pretty sure you and your guests aren't going to care about technicalities!
A few things make this dessert extra special. First, is the almond cream (frangipane, really). Spiked with a hint of dark rum, it lends a really lovely warm almond flavor to the tart, balancing the sweetness of the apples nicely. It isn't overly assertive, so you're not going to be thinking, "ALMOND!" as you eat this, but it's a nice background flavor.
Then, there's the filling: Fuji apple wedges, sautéed in butter until lightly-browned, glazed with homemade apple cider caramel, and dolloped with apple butter before baking. No additional spices are needed; the apple butter lends enough spice here, allowing the flavor of the apples to shine through.
The tart is topped with a layer of streusel topping (with almond flour, for a nice texture and extra hint of nuttiness). Hungry yet?
The only difficulty I had with the original recipe was the apple cider caramel. The instructions called for a dry method, caramelizing the sugar alone and adding water and apple cider at the end.
On both of my attempts, my sugar browned too quickly, unevenly, and became much darker than the "light amber" indicated. Upon adding the liquid, the caramel immediately solidified into an unbreakable mass (earning it the not-so-loving nickname, "disasta-mel".)
I've had success with dry-caramelization in the past, but I think the problem for me was in the caramel needing to come off of the heat so early. Most dry caramels I've made have been cooked to medium or dark amber.
On my third try, I decided to utilize a slower wet-caramelization method, heating the water and sugar together and adding the apple cider at the end. This yielded better results for my particular stove and cookware. (I actually made a second batch the next day to make sure the technique worked, and all went well.)
While this tart does have five different components to make (crust, almond cream, caramel, apples, topping), don't let that deter you during your busy holiday season. None, on its own, is terribly time-consuming, and the crust, almond cream, and streusel can all be made in advance.
Elegant, impressive, and comforting, this delicious adaptation of a Thanksgiving classic would be a welcome addition to any holiday table. (Or, dessert on a random Tuesday. I have a feeling this is going to become a fall staple in my house. My taste testers all had seconds.) I hope you and your guests enjoy it as much as mine!
PSA: I took so many process photos while making this tart, I couldn't possibly fit them all into this post. If you head over to my Flickr feed, you'll find photos of each component.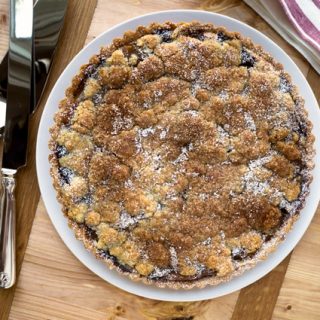 Apple Pie Tart
Bouchon Apple Pie features apples sautéed in cider caramel, a layer of almond cream, and a streusel topping. An elegant addition to any holiday table. Don't be put off by the number of components that go into this delicious pie-like tart! It's well worth the effort.
Recipe adapted, mostly in language, from Bouchon Las Vegas Pastry Chef, Scott Wheatfill ("Bouchon's Apple Pie", Saveur, November 2014)
Print
Pin
Rate
Servings:
8
to 10 servings
Ingredients
Crust
8

tablespoons

unsalted butter

, cut into 1/2-inch cubes and chilled

3-1/2

tablespoons

powdered sugar

1-1/2

tablespoons

beaten whole egg

1/4

teaspoon

vanilla extract

1

cup

all-purpose flour

1/4

cup

almond flour
Almond Cream
5

tablespoons

powdered sugar

2

tablespoons

unsalted butter

, room temperature

1/2

teaspoon

vanilla extract

1/4

teaspoon

dark rum

1/4

teaspoon

almond extract

1

large egg

5

tablespoons

almond flour

2

tablespoons

all-purpose flour
Caramel and Apples
1-3/4

cup

granulated sugar

1/2

cup

sweet apple cider

1/2

cup

water

4

large Fuji apples

, peeled, cored, and cut into 8 wedges

3

tablespoons

unsalted butter
Topping and Assembly
1/3

cup

all-purpose flour

1/3

cup

almond flour

5

tablespoons

granulated sugar

4

tablespoons

unsalted butter

, cut into 1/2-inch cubes and chilled

1/2

teaspoon

kosher salt

1/2

cup

apple butter

powdered sugar and ground cinnamon

, for dusting
Instructions
Make the crust
In the bowl of a stand mixer fitted with the paddle attachment, cream butter and powdered sugar on medium-high speed until light, 1-2 minutes. Scrape bottom and sides of bowl. Add beaten egg and vanilla extract, beating until combined. Scrape bowl. Reduce mixer speed to low and gradually add almond and all-purpose flours, mixing until just combined. Form dough into a disc, wrap in plastic wrap, and chill for at least 1 hour.

Remove dough from the refrigerator and place on a lightly-floured surface. Roll into a 14-inch circle, about 1/6-inch thick. Roll dough around rolling pin and gently fit into a 9-inch tart pan, being careful not to stretch the dough. Trim the edges to a 1-inch overhang and fold into the pan to create sides of double-thickness. Refrigerate for 30 minutes.

Preheat oven to 325 degrees F.* Dock the crust by piercing the dough all over with a fork. Line the tart pan with parchment paper and fill with pie weights or dried beans. Place on a baking sheet and bake for 25 minutes, until light golden brown. Transfer tart pan to a wire rack, remove parchment paper and weights, and cool crust completely.
Make the almond cream
In a stand mixer with the paddle attachment (or a bowl with a handheld mixer), combine powdered sugar and butter, beating on medium-high speed until light. Add extracts, rum, and egg, and beat until just combined. Scrape bowl. Add almond and all-purpose flours, beating on low speed until smooth. Transfer almond cream to a small bowl, cover with plastic wrap, and chill until ready to assemble the pie.
Make the caramel and apples:
Combine granulated sugar and water in a large, clean, heavy-bottomed saucepan with high sides (use a larger pot than you think necessary; caramel will expand).** Cook over medium-high heat until mixture is light amber in color, about 10 minutes, stirring a few times only until sugar is dissolved. Gently swirl pan as color begins to develop to promote even browning. If desired, use a heat-resistant basting brush dipped in water to loosen any crystalized sugar around the edges of the pan during caramelization. When sugar is light amber, remove from heat and carefully add apple cider. (Stand back a bit; mixture will bubble up violently.) When bubbling begins to subside, carefully whisk to fully incorporate cider. Return to heat and cook for an additional minute. Pour caramel into a bowl and set aside.***

Melt butter over medium-high heat in a 12-inch nonstick skillet. Add apples and sauté until golden brown, about 8 minutes. Add reserved caramel to apples, stirring to coat. Cook over medium heat until apples are just softened, 10 minutes. Remove from heat and cool. Strain cooked apples and discard caramel.
Make the topping
In a clean food processor bowl, pulse almond flour, all-purpose flour, sugar, salt, and butter until the consistency of fine, damp sand. Set aside.
Assemble and bake the tart
Spread almond cream onto the bottom of the cooled crust. Place apples over the almond cream, followed by a layer of apple butter. Crumble topping over the entire tart.

Place filled tart pan on a baking sheet and bake at 325 degrees F for 45 minutes, until the topping is golden and the filling bubbles lightly. (Keep an eye on the crust edges after 15-20 minutes and cover with a silicone protector or foil sling if browning too quickly.) Remove from oven and transfer to a wire rack to cool completely. When pie is cool, dust lightly with confectioner's sugar and ground cinnamon. Slice into wedges and serve.
---
Notes
*My crust and assembled pie were both baked using convection.
**I use a 4-1/2 quart stainless steel saucepan with 4-3/4 inch high sides.
***If you're new to caramel-making, you'll want to check out these great preparation and safety tips from David Lebovitz before proceeding.
Make-ahead:
For easy preparation, the almond cream, tart dough, and topping can all be made a day in advance. The baked tart also keeps well for a few days, covered, in the refrigerator. Gently reheat at 350 degrees F, until just barely warm (about 15 minutes), before serving.
If preparing components the day before baking the assembled tart, store the almond cream and topping, covered, in the refrigerator. The covered, baked tart shell can be stored at room temperature overnight. The almond cream should be kept chilled until ready to use. Remove toppping from refrigerator while waiting for the sautéed apples to cool.
Nutrition Estimate
Calories:
696
kcal
|
Carbohydrates:
101
g
|
Protein:
6
g
|
Fat:
31
g
|
Saturated Fat:
16
g
|
Cholesterol:
94
mg
|
Sodium:
166
mg
|
Potassium:
158
mg
|
Fiber:
4
g
|
Sugar:
77
g
|
Vitamin A:
835
IU
|
Vitamin C:
4.5
mg
|
Calcium:
48
mg
|
Iron:
1.8
mg
---
About our Recipes:
Please note that our recipes have been developed using the US Customary measurement system and have not been tested for high altitude/elevation cooking and baking.
Have you made this recipe?
Don't forget to leave a comment and rate the recipe below! Take a picture and tag @stripedspatula and #stripedspatula on Instagram for a chance to be featured in our Insta Stories and newsletter!