Cooked in a classic combination method of pan-frying and steaming, these tender, crisp-bottomed Chicken Potstickers are delicious and easy!
I love making my own "takeout" at home. It's such a fun cooking theme, both for weeknight dinners and entertaining friends.
While I've often ordered potstickers in restaurants and purchased them ready-to-cook in the grocery store, I was surprised to learn how easy they are to make yourself.
In our favorite Chicken Potstickers, I combine ground chicken, cabbage, carrots, ginger, garlic, scallions, soy sauce, and toasted sesame oil for a fresh filling that's big on flavor.
These tender, crisp-bottomed dumplings are delicious served alongside a honey-soy dipping sauce, with an optional touch of Sriracha for a light kick.
Plus, you can assemble them ahead of time and freeze them for later use, making wholesome, homemade potstickers just as convenient as store-bought. Sounds like a plan to me!

The key to making excellent potstickers at home is the wrapper. If possible, you want to look for "gyoza wrappers" or "dumpling skins" instead of wontons.
Many regular grocery stores are carrying them these days (look for them in the refrigerated section, near the tofu), though if you have access to an Asian market, you'll be treated to a much greater selection of authentic choices.
While wonton skins are workable for this recipe (and I've used them many times myself), they're a bit thinner than what is usually used for potstickers.
The gyoza or dumpling wrappers stand up better to the filling and are easier to pleat and cook without tearing. If you can find them, they're definitely worth it!
Potstickers do take a bit of time to fill and shape, but once you're comfortable with the technique, the process gets quicker.
Even better than assembling them alone: invite your friends over for a potsticker party and let everyone get in on the fun!
To assemble, place a dollop of filling in the center of the wrapper (resist the urge to overfill), dampen the perimeter with water, and fold the wrapper in half over the filling.
Use your thumb and forefinger to fold anywhere from 3-6 pleats in the top layer of the wrapper (I find I can add more pleats as I get in my assembly groove), keeping the bottom layer of the wrapper flat. The dumpling will naturally form a crescent shape with a flat base, but you can help it along if necessary.
The most important thing is that the potsticker edges are sealed, and that you've pressed out any air in the dumpling as you've pleated them so they don't split when steamed.
If you like, you can get creative with your pleats as you go along, but trust me when I say that even if the pleats aren't perfect (mine never are), the potstickers will still taste delicious!
I like to use the classic potsticker cooking method of fry-steam-fry: brown the bottoms of the potstickers, steam them through, and give them a final crisp in the pan before serving. The two-stage crisping gives the potstickers a nice contrast of texture and color.
As I mentioned, the dumplings can be filled and folded in advance and frozen, uncooked. Place the assembled potstickers on a parchment-lined baking sheet in a single layer and freeze until solid. Then, just transfer to a zip-top freezer bag for up to 3 months.
When you're ready to serve, cook as directed in the recipe (no need to defrost), increasing the steaming time by a few minutes until the dumplings are cooked through.
Fresh or frozen, homemade potstickers are an easy and delicious treat for an appetizer or light meal!
https://www.youtube.com/watch?v=Fa9HaWrAFAs
Did you know I have a weekly newsletter? Subscribe to stay up to date on what's delicious on the blog!

📖 Recipe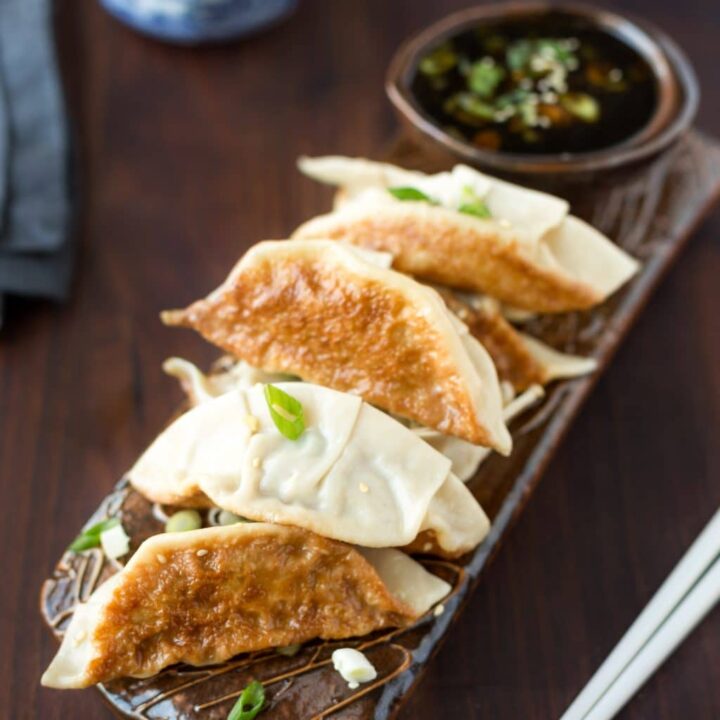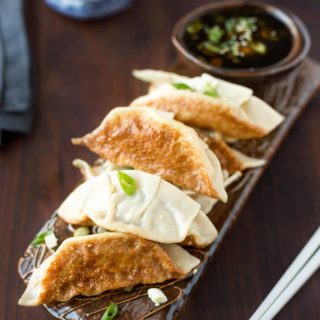 Chicken Potstickers
Cooked in a classic combination method of pan-frying and steaming, these tender, crisp-bottomed Chicken Potstickers are delicious and easy!
Print
Pin
Rate
Save
Saved!
Estimated Calories:
65
kcal
Ingredients
FOR THE POTSTICKERS
2

cups

chopped cabbage

(I finely shred, then chop up long strands)

1-¼

teaspoons

Kosher salt

, divided, plus additional to taste

1

pound

ground chicken

⅓

cup

finely chopped carrots

¼

cup

thinly sliced scallions

1

teaspoon

grated fresh ginger

(I use a microplane)

2

cloves

garlic

, minced

1

tablespoon

soy sauce

1

tablespoon

toasted sesame oil

½

teaspoon

granulated sugar

¼

teaspoon

white pepper

, plus additional to taste

36

round dumpling wrappers

(gyoza), about 3-¾ inch diameter

room temperature water for sealing the dumplings

, and 1 cup hot water, divided, for steaming them

¼

cup

vegetable oil

, divided, for frying the potstickers
FOR THE DIPPING SAUCE
¼

cup

soy sauce

2

tablespoons

rice wine vinegar

2

tablespoons

honey

2

teaspoons

toasted sesame oil

1

tablespoon

thinly-sliced scallions

Sriracha sauce

, to taste (optional, I use 1-2 small squirts)
Instructions
Toss cabbage with 1 teaspoon kosher salt and place in a colander set in a bowl. Let sit for 20 minutes, then transfer cabbage to a clean dish towel and squeeze out as much liquid as you can. Remaining cabbage should total about 1 cup.
MAKE THE POTSTICKERS
In a large bowl, mix together ground chicken, carrots, cabbage, scallions, ginger, garlic, soy sauce, sesame oil, granulated sugar, ¼ teaspoon Kosher salt, and white pepper. Cook a small dollop of the filling in a lightly-oiled non-stick skillet on the stove to taste for seasoning. Adjust salt and pepper to taste.

Fill a small bowl with water. Place about 1 tablespoon filling in the center of a dumpling wrapper. Use your finger or a pastry brush to dampen the perimeter of the wrapper with water (don't soak). Fold the wrapper in half. Use your thumb and forefinger to gently pleat the top layer of the wrapper 3-6 times across, squeezing out any air in the dumpling. Stand the pleated dumpling upright, pinching edges to seal.

Keep wrappers covered with a towel while working so they don't dry out. Transfer dumplings to a parchment-lined baking sheet and cover with a towel while you finish filling the remaining potstickers.

In a 12-inch nonstick skillet over medium high heat, warm 2 tablespoons oil until shimmering. Stand half of the dumplings in the pan, flat side down, and cook until bottoms are golden brown and crisp, about 2 minutes, gently shaking pan occasionally.

Carefully add ½ cup hot water to the pan (oil might sputter) and immediately cover with a tight-fitting lid. Reduce heat to medium and steam for 8-10 minutes, until dumplings are cooked through.

Remove lid, increase heat, and allow any remaining water to evaporate, cooking until potsticker bases are re-crisped, about 2 minutes. Remove from pan and repeat with remaining oil and potstickers. Serve immediately, crisped side up, with dipping sauce.
MAKE THE DIPPING SAUCE
In a bowl, whisk together all ingredients. If desired, garnish sauce and plated potstickers with additional sliced scallions and toasted sesame seeds.
---
Nutrition Estimate
Calories:
65
kcal
|
Carbohydrates:
5
g
|
Protein:
3
g
|
Fat:
3
g
|
Saturated Fat:
1
g
|
Cholesterol:
11
mg
|
Sodium:
186
mg
|
Potassium:
88
mg
|
Sugar:
1
g
|
Vitamin A:
210
IU
|
Vitamin C:
1.7
mg
|
Calcium:
7
mg
|
Iron:
0.4
mg
---
About our Recipes:
Please note that our recipes have been developed using the US Customary measurement system and have not been tested for high altitude/elevation cooking and baking.
Have you made this recipe?
Don't forget to leave a comment and rate the recipe below! Take a picture? Tag @stripedspatula and #stripedspatula on Instagram!