Three delicious ways to make Coconut Shrimp: traditional deep fried, oven baked, and air-fried. These lightly-sweet, crunchy shrimp are a great appetizer for game day and casual entertaining!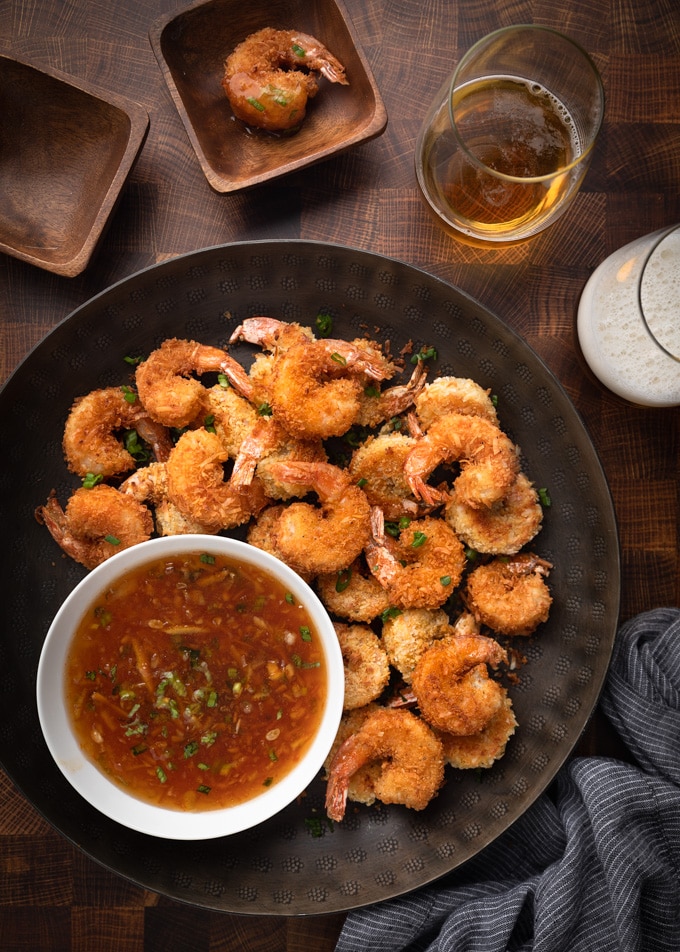 This post contains affiliate links. As an Amazon Associate, I earn a commission (at no additional cost to you) from qualifying purchases made by clicking these links. As always, all recommendations and opinions expressed are my own.
One of my favorite breaded appetizers is Coconut Shrimp. My friends and I often order them in restaurants when we're out for a seafood dinner. When I make them for a get together at home, there's quickly nothing left on the platter but crumbs.
What's not to love? Coconut Shrimp are are lightly sweet, satisfyingly crunchy, and perfect for dipping. Whether you're gathered around the TV for game day, or entertaining poolside during the summer, these shrimp are sure to be a hit.
Looking for more party-ready shrimp appetizers? Try my Bacon Wrapped Shrimp with Bourbon Glaze, or Roasted Shrimp Cocktail!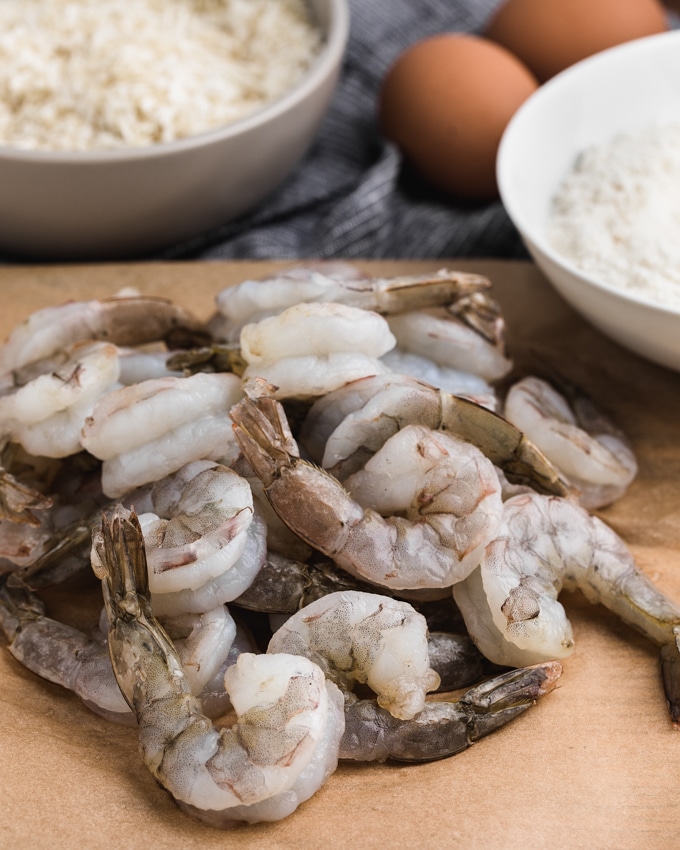 What You Need to Make Restaurant-Quality Coconut Shrimp at Home
The Star of the Show: The Shrimp
For this recipe you'll need raw shrimp that are deveined and shelled, with the tails left on.
I like to use "Extra Jumbo" 16/20 count shrimp. They're large enough to be impressive on a platter, but not so large to make dipping awkward. They'll also cook up in just a few minutes, without over- or under-cooking by the time the breading is crisp and golden.
If you're using frozen raw shrimp, be sure to defrost them fully and pat them dry with paper towels to remove excess water before breading.
Shopping for Shrimp? Check out my handy Shrimp Sizing Guide before heading to the market!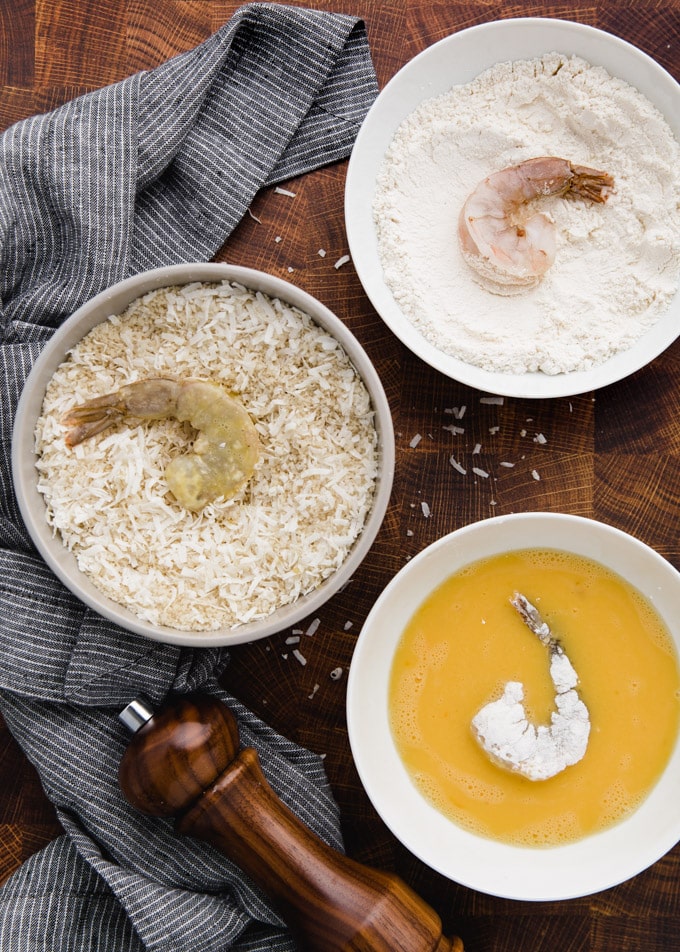 The Breading
I use a traditional flour-egg-crumb coating technique for my Coconut Shrimp. The flour helps the egg adhere to the raw shrimp, followed by a dip in egg wash, and finally, a simple mixture of shredded coconut and panko breadcrumbs.
You can use either sweetened or unsweetened shredded coconut for your coating mixture. I like to use unsweetened coconut since we serve the shrimp with a sweet-spicy dipping sauce–in this case, sweetened coconut makes the whole bite a bit too sugary for me.
If you prefer the shrimp themselves to be sweeter, or aren't serving them with a sweet sauce, substitute sweetened coconut.
Want to read more about types of coconut at the market? Check out Help! What Type of Coconut Do I Use in My Recipe? from Taste of Home.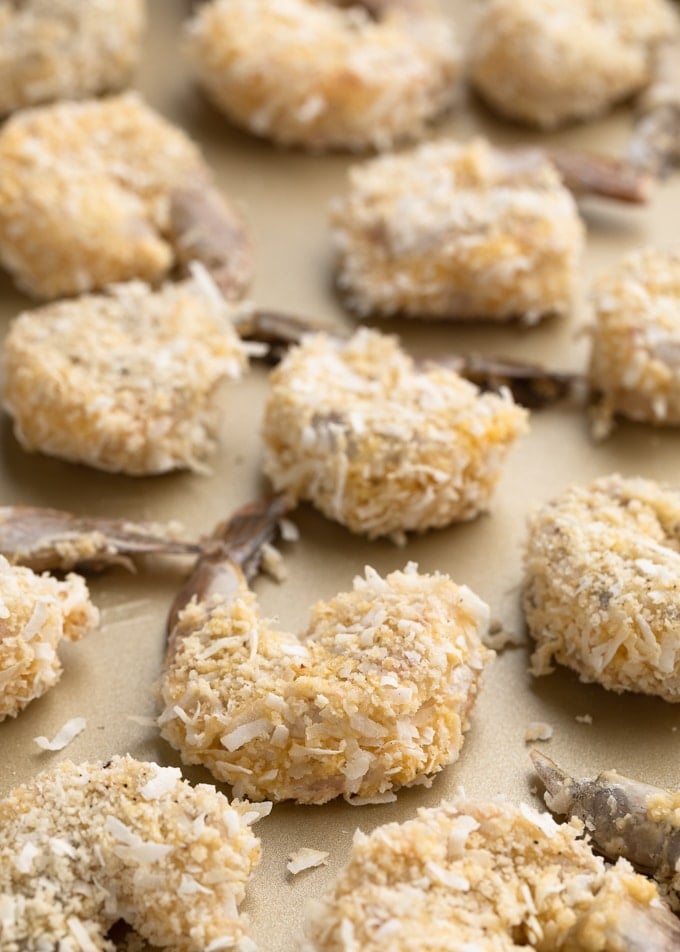 3 Ways to Cook Coconut Shrimp
One of the great things about Coconut Shrimp is that you can cook them by deep-frying, baking, or air-frying. They taste great with any of these methods, so it's a recipe that's adaptable both to your schedule and calorie preferences.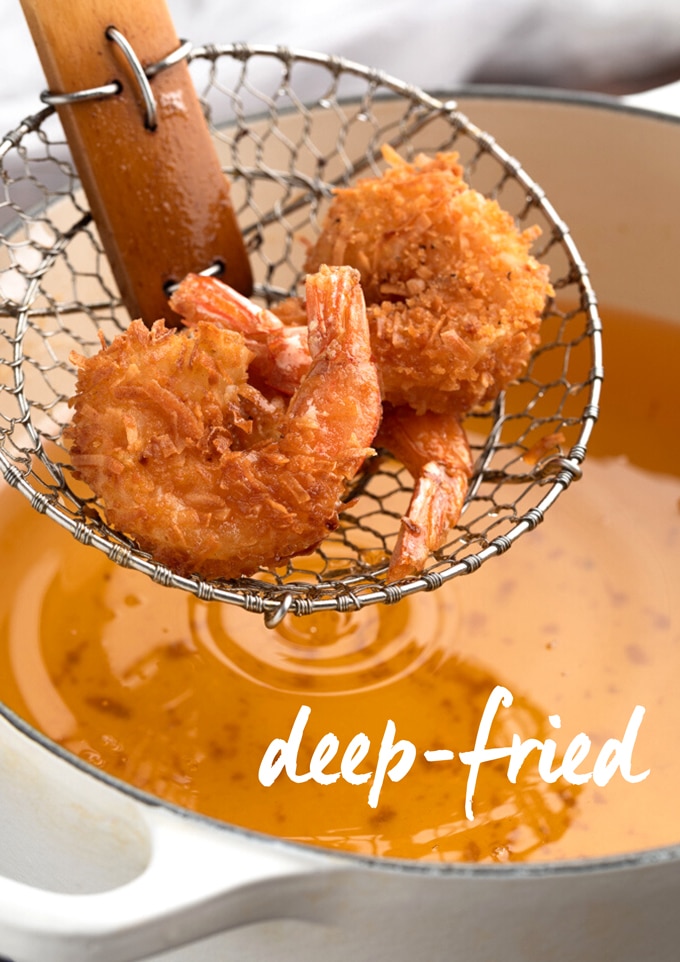 To deep fry the shrimp, you'll need a high-sided, heavy-bottomed pot or an electric deep fryer. I fry the shrimp in vegetable oil at 325-350 degrees F for 3-4 minutes.
If using a pot on the stove, I like to attach thermometer with a clip-on probe to monitor the oil temperature as I'm frying. A spider strainer is also my tool of choice for moving the shrimp in and out of the hot oil.
Tip: I like to fry the shrimp in batches of 5-6 at a time, so they don't crowd the pot and cause the oil temperature to drop too much.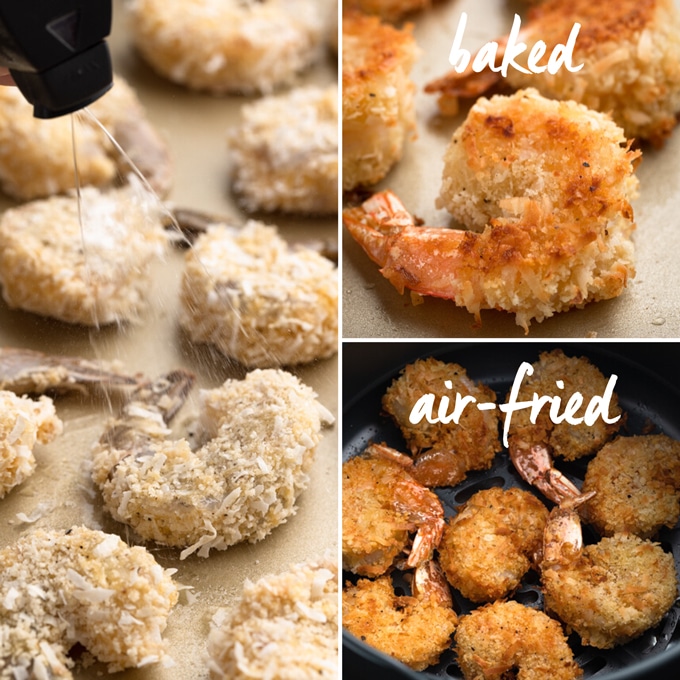 To bake the shrimp, you'll need a sheet pan and an oil spray bottle or mister. This method uses considerably less oil than deep frying, so you can enjoy Coconut Shrimp with fewer calories.
I bake the shrimp at 425 degrees F for 8-10 minutes, flipping once, until the shrimp are cooked and the breading is lightly-browned.
To air fry the shrimp, you'll also spray them on both sides with oil. I air fry them at 400 degrees F for 6-8 minutes, flipping once.
Looking to buy an air fryer? For a standalone unit, we like the Philips Turbostar Digital Airfryer. We also have the 6-in-1 Instant Pot Air Fryer Lid (used for the shrimp in this post), which turns your Instant Pot into a roaster, air fryer, dehydrator, baker, broiler, and food reheater.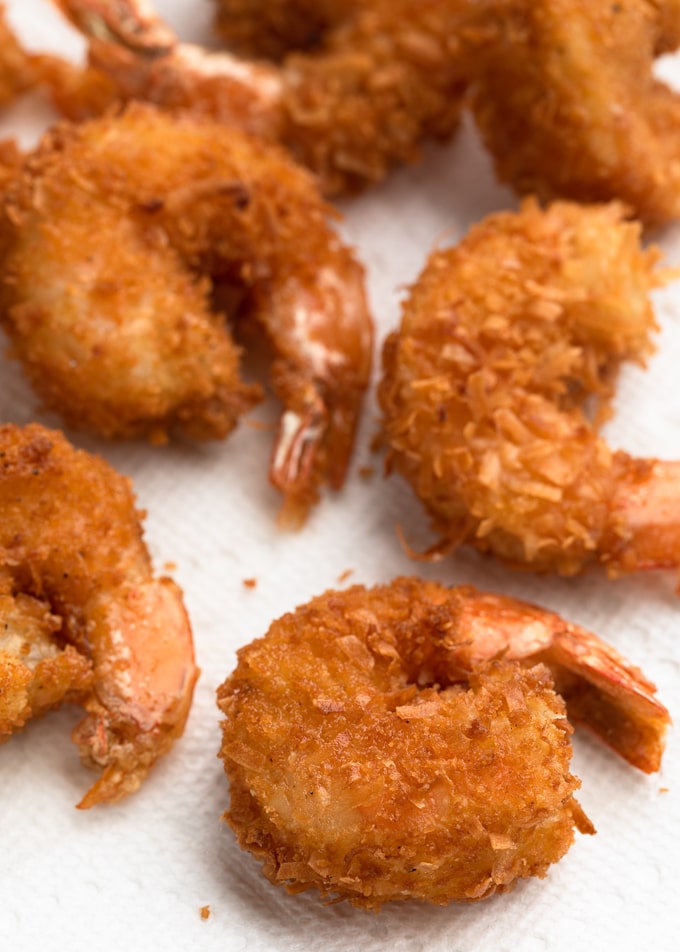 Which Cooking Method is the Best?
It depends entirely on your personal preferences! Here's what to expect from each method:
Deep-Fried Coconut Shrimp will have the most golden and crispy coating. They also have the most calories of the three cooking methods, but they're a delicious occasional treat.

Air-Fried Coconut Shrimp are the second-most crispy, using less oil than deep frying.

Conventional Baked Coconut Shrimp won't be quite as crunchy or evenly golden as deep-fried or air-fried shrimp. They tend to be the most golden in the areas where the shrimp touch the baking pan. They're still a delicious alternative to deep-fried shrimp if you want to save some calories and don't have an air fryer.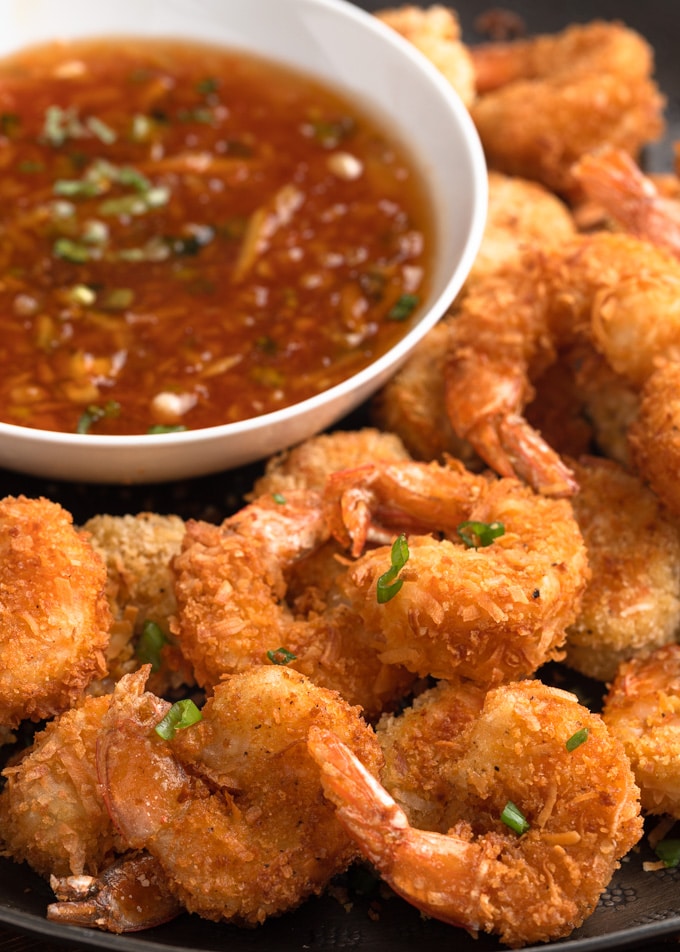 How to Serve Coconut Shrimp
These shrimp are best served hot, shortly after they come out of the fryer or oven. I like to sprinkle them with thinly-sliced scallions or chopped cilantro.
If you need to reheat the shrimp before serving or during a party, I don't recommend a trip to the microwave (it can give the shrimp a rubbery texture).
Instead, place the shrimp in an air fryer or the oven at 350 degrees F for just a minute or two, until hot. Overcooked shrimp can be tough and dry, so you don't want to go overboard with reheating!
We love to serve these shrimp with a sweet-spicy dipping sauce. Our favorite is this easy Orange Dipping Sauce with Sriracha (which you can customize to your heat preferences).
If you prefer to not make your own sauce, a quick alternative is store-bought sweet Thai Sweet Chili Sauce.
Craving more? We'd love to welcome you to our exclusive Facebook group community where we share recipes, hosting tips, party ideas, and more!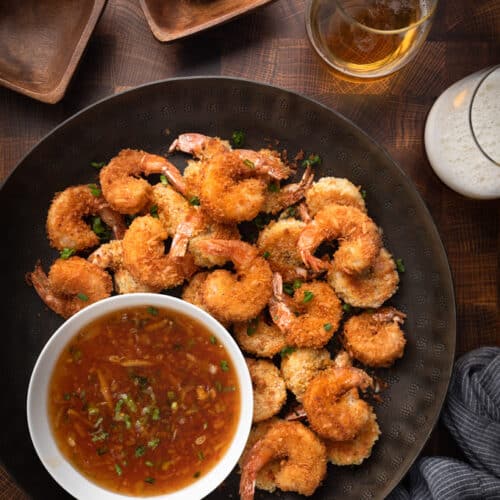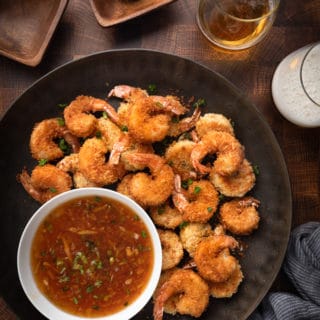 Coconut Shrimp
These crispy, crunchy restaurant-style coconut shrimp are a cinch to make at home. Choose from 3 different cooking methods to suit your preferences.
Print
Pin
Rate
Save
Saved!
Servings:
4
to 5 servings (4 shrimp)
Estimated Calories Per Serving:
575
kcal
Ingredients
1

pound

raw 16/20 count shrimp

, deveined, shelled, tail left on

1/2

cup

all purpose flour

2

large

eggs

1

teaspoon

cool water

3/4

cup

unseasoned Panko breadcrumbs

3/4

cup

shredded coconut

(unsweetened or sweetened – your preference; I use unsweetened)

kosher salt and ground black pepper

vegetable, canola, or peanut oil (for deep frying) or oil spray (for baking or air frying)

thinly-sliced scallions or chopped cilantro

, for garnish (optional)

Orange Dipping Sauce

, for serving
Instructions
All Cooking Methods
Prepare 3 bowls for breading. Place flour in the first bowl with a pinch each of kosher salt and black pepper. In the second bowl, whisk together eggs and water. In the third bowl, combine panko and coconut with 1/2 teaspoon each kosher salt and black pepper.

Pat shrimp with paper towels to remove excess moisture. One at a time, dredge shrimp in flour, shaking off excess. Dip into egg wash, allowing excess to drip off. Dip in coconut-panko mixture, gently pressing to adhere.
To Deep-Fry
Heat 2-3 inches of oil in a heavy-bottomed, deep pot to 325 to 350 degrees F. Fry shrimp in batches of 5-6, being sure not to crowd the pot, until the breading is golden and the shrimp are opaque, 3-4 minutes. Use a spider strainer to gently move the shrimp around in the oil for even browning.

Remove shrimp from the oil with the spider strainer and place them on a double layer of paper towels set on a plate or baking sheet to drain.
To Bake
Preheat oven to 425 degrees F with rack in the lower-middle position.

Place shrimp in a single layer on a baking sheet. Spray both sides with vegetable oil spray (I use an oil spray bottle.)

Bake for 8-10 minutes, until breading is light golden and shrimp are opaque, turning the shrimp over once halfway through baking.
To Air-Fry
Spray shrimp on both sides with vegetable oil spray, as in the baking method. Add shrimp to the air-fryer basket (I like to cook them in batches of 6-7) and fry at 400 degrees F for 6-8 minutes, until breading is golden and shrimp are opaque. Flip shrimp over once during air frying.
To Serve
Place Coconut Shrimp on a serving platter and garnish with sliced scallions or chopped cilantro, if desired. Serve hot with dipping sauce.
---
Notes
*Note: nutrition estimates below are for deep-fried shrimp, assuming 10% oil absorption. Values are for the shrimp only and do not include the dipping sauce.
Prep-ahead: If you're entertaining, you can bread the shrimp up to 4-6 hours in advance and store them on a baking sheet in the refrigerator. Depending on how chilled they are when you cook them, you might need to add a minute to the cooking time.
Variation:
To add a little spice to your breading, whisk 1/2 teaspoon cayenne pepper into the flour.
See the blog post above for information on shrimp sizing, comparisons of cooking methods, and reheating suggestions.
Nutrition Estimate
Calories:
575
kcal
|
Carbohydrates:
28
g
|
Protein:
30
g
|
Fat:
38
g
|
Saturated Fat:
29
g
|
Cholesterol:
391
mg
|
Sodium:
1048
mg
|
Potassium:
225
mg
|
Fiber:
2
g
|
Sugar:
8
g
|
Vitamin A:
153
IU
|
Vitamin C:
5
mg
|
Calcium:
203
mg
|
Iron:
5
mg
---
About our Recipes:
Please note that our recipes have been developed using the US Customary measurement system and have not been tested for high altitude/elevation cooking and baking.
Keywords:
air fried coconut shrimp, baked coconut shrimp, coconut shrimp recipe, fried coconut shrimp
Have you made this recipe?
Don't forget to leave a comment and rate the recipe below! Take a picture and tag @stripedspatula and #stripedspatula on Instagram for a chance to be featured in our Insta Stories and newsletter!