This Old-Fashioned Coconut Custard Pie is one of my family's longtime favorites. The creamy egg custard filling with plentiful toasted coconut is just rich enough to satisfy without being too decadent. Great for a holiday dessert!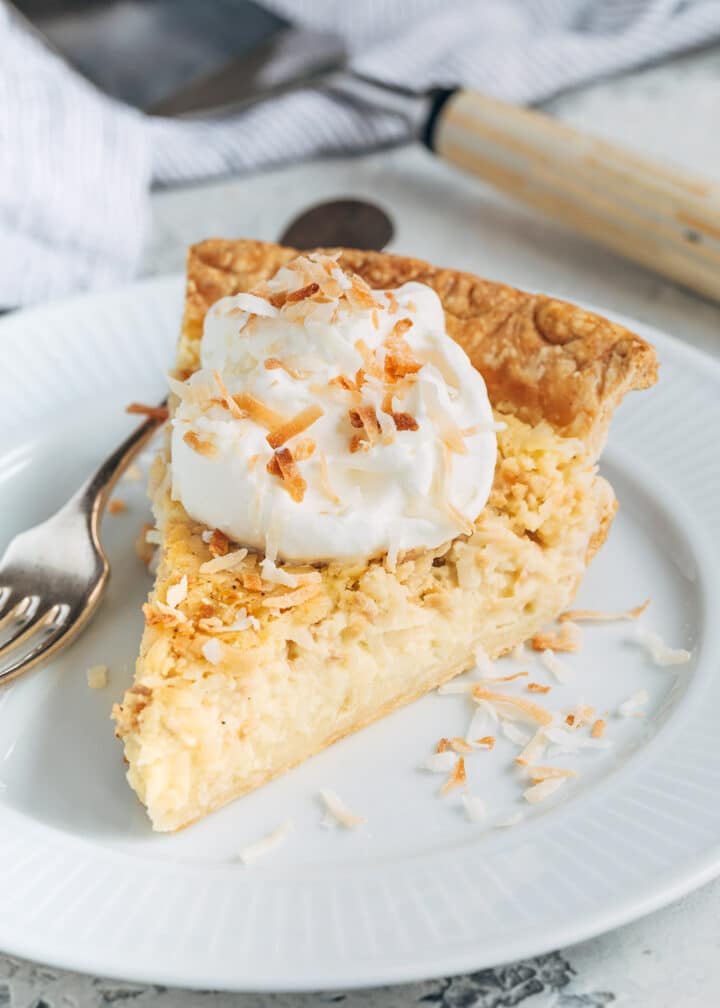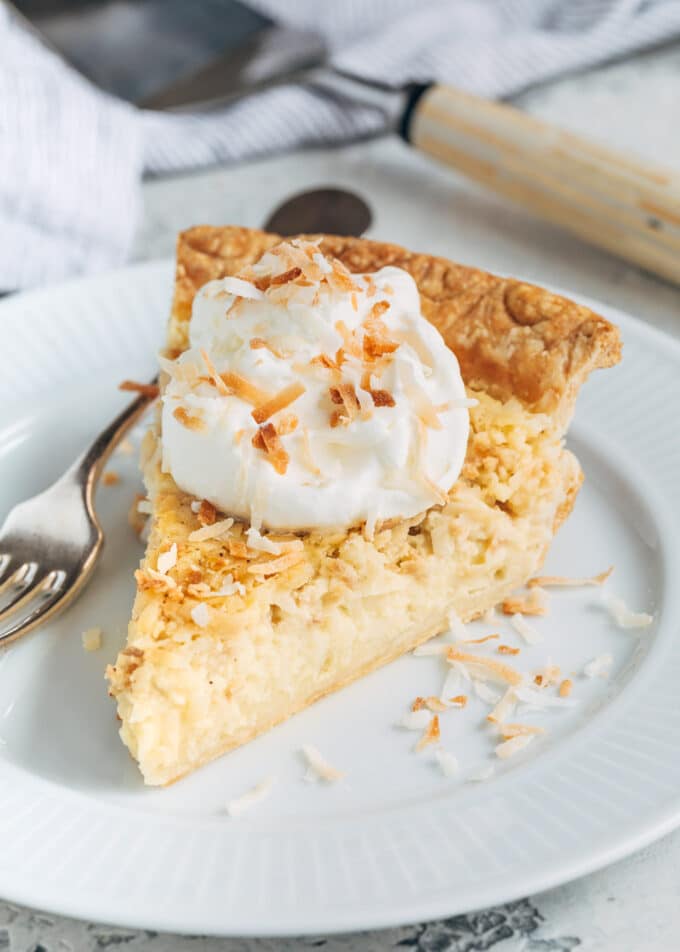 When I was growing up, we always had a large table of Thanksgiving guests, and at least 4 different varieties of pie for dessert. Everyone had a favorite, and it wouldn't be Thanksgiving unless everyone got the taste they were looking forward to!
One of those was always Coconut Custard Pie, and in total honesty, we never made it ourselves. We'd order the pie from the local cider mill, where they baked them fresh for pickup the night before Thanksgiving. Truth be told, every pie they made was amazing and the pickup line was out the door every year.
Their coconut pie remains my favorite to this day (and I miss the now-closed cider mill so very much). I've tweaked our recipe in the years since their closing to recreate it, and this is it!
This pie has a flaky, buttery crust and a lightly-sweetened custard filling with plenty of toasted coconut flakes. It's a perfect bite at the end of a big holiday dinner, or any night really. I'd never say no to a slice!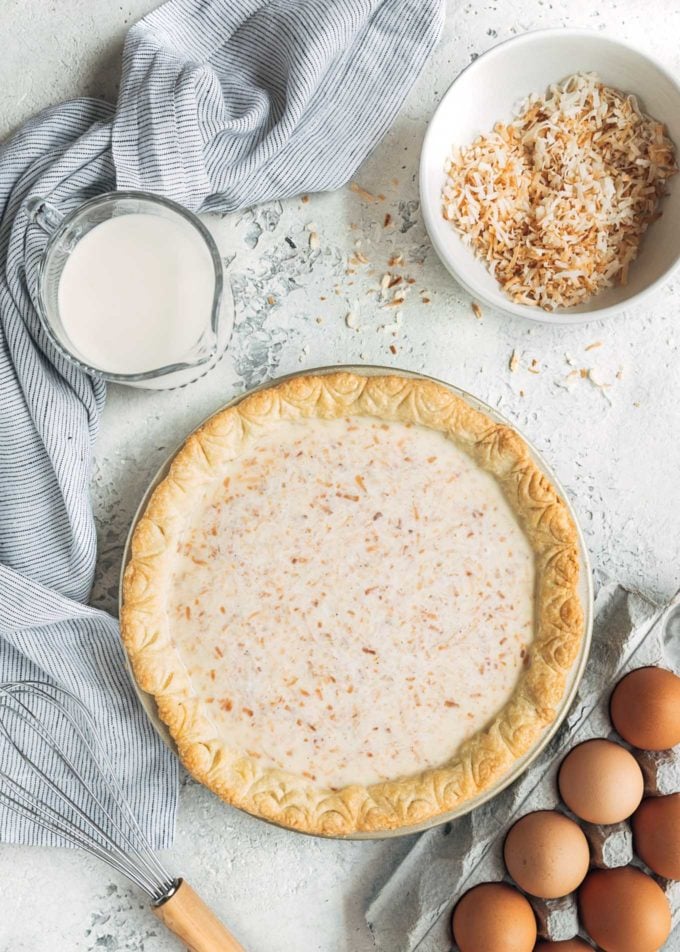 Coconut Cream Pie vs. Coconut Custard Pie
Despite sounding similar, Coconut Custard Pie and Coconut Cream Pie are totally different desserts (and, I love them equally). The biggest difference is that Custard Pie has a baked filling, and Cream Pie does not.
Coconut Custard Pie is made with an egg and milk/cream custard that sets up and thickens in the oven. Coconut Cream Pie is a custard, but it's cooked on the stove and chilled until set. It's then topped with a layer of whipped cream.
The texture of Custard Pie isn't as creamy as Cream Pie, and is typically more compact. For a visual (besides the post photos of course), I could eat the filling for Cream Pie on its own in a bowl, with a spoon, but not Custard Pie filling.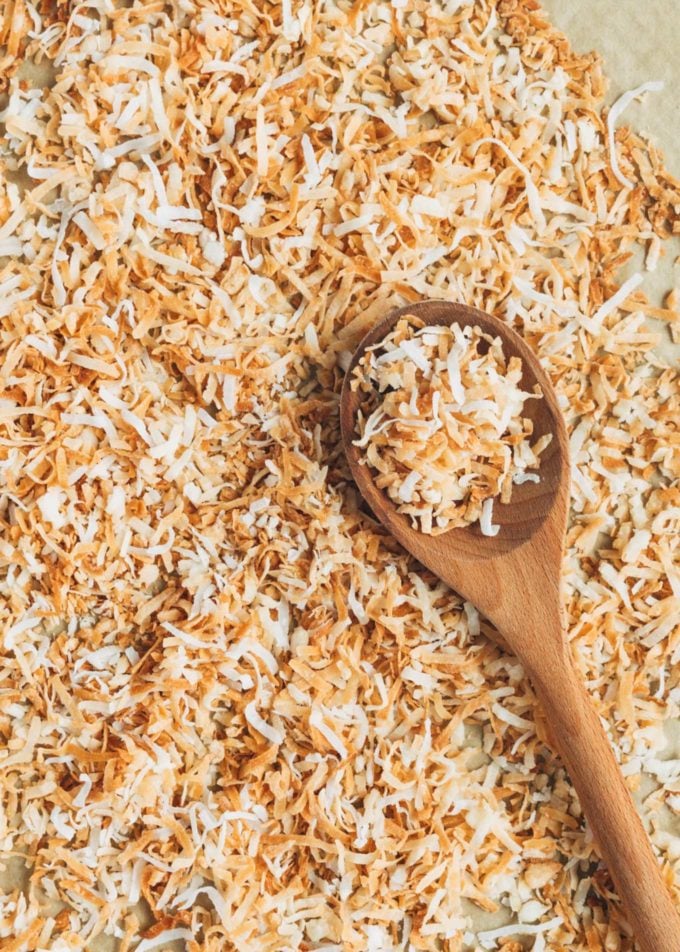 Making Coconut Custard Pie From Scratch
Coconut Custard Pie is one of the easiest pies to make at home. It's a simple egg custard filling that you just whisk together, pour into a pie shell, and bake. Here are a few tips I follow for making the best pie:
Combat Soggy Crust
The coconut custard is liquid when you pour it into the crust. If you were to use raw dough, the bottom wouldn't have much of a chance to brown up and crisp, and your crust would be soggy.
Partially baking ("blind baking) the crust before filling gives it a head start. I also like to bake the filled pie on a pre-heated baking sheet, to make sure the bottom gets an extra boost of heat.
Toast the Coconut Flakes
Sweetened coconut shreds or flakes are sweet, but they can also be a little bland in a pie like this. Toasting them only takes about 8 minutes in the oven, and boosts the custard's coconut-ty flavor.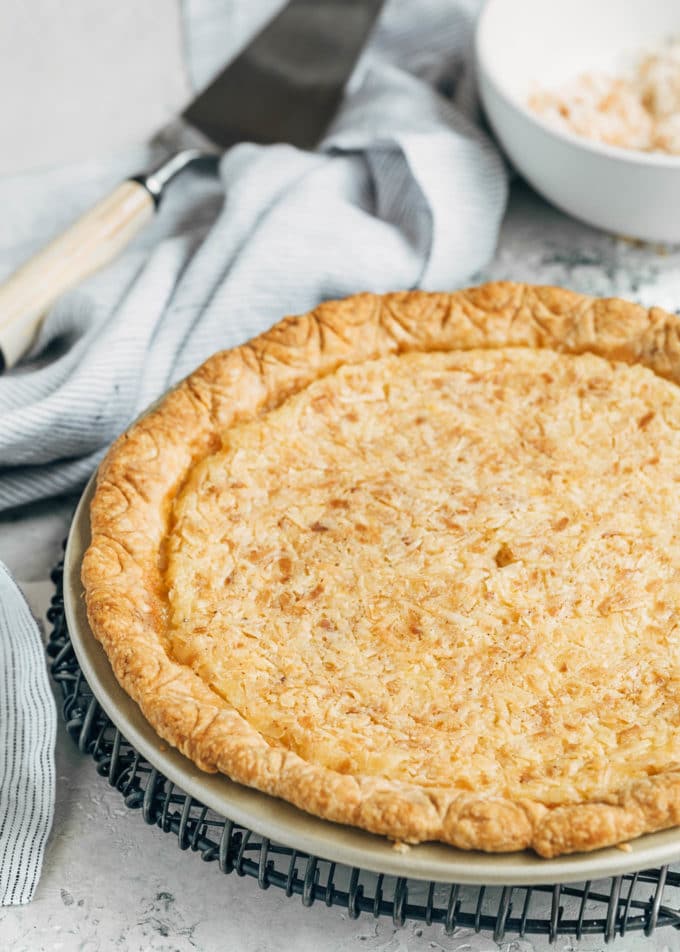 Choose a Sweetness Level
Traditional Coconut Custard Pie is very sweet. Most recipes call for a full cup of sugar. The pie from the cider mill was much less sweet, so my tastebuds expect less sugar.
I like my pie lightly-sweetened with ½ cup of sugar (plus the sweetness from the coconut flakes). It's just enough for me. If you like a sweeter pie, ¾ cups of sugar is a nice step up, without being cloyingly sweet. If you love a very sweet pie, go for it with the full cup!
When is Coconut Custard Pie Done?
The pie is ready to leave the oven when the top looks puffed and golden, and the tip of a knife inserted into the center comes out (nearly) clean. I say "nearly" because you'll often get a bit of coconut clinging to the knife.
As long as you've cooked it 45-50 minutes, the center of the pie is set, and the knife isn't coated in custard, it's done.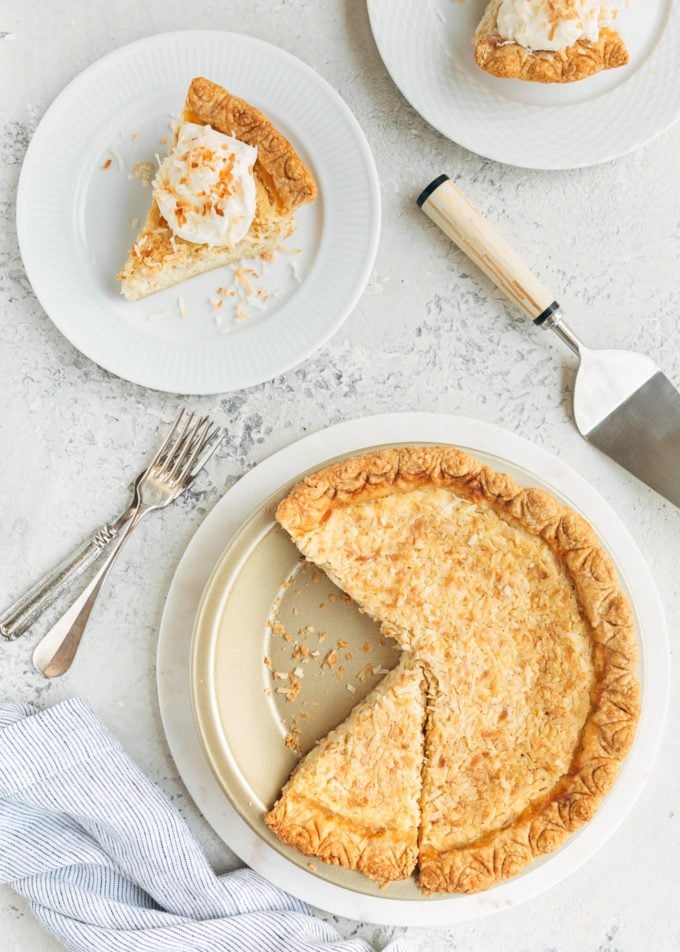 Serving and Storing Homemade Coconut Custard Pie
My family likes to top chilled slices of the coconut pie with lightly-sweetened whipped cream and extra toasted coconut flakes. The filling is creamy and soft, so we love the contrast of the crunchy toasted coconut on top of the whipped cream.
I've read several accounts of people serving Coconut Custard Pie slightly warm, with a scoop vanilla ice cream. Personally, I've never tried it and can't attest to it. We've always eaten the pie chilled, but if you serve it with ice cream, let me know!
Does Coconut Custard Pie Need to be Refrigerated?
Yes. This is a dairy-based pie and needs to be stored in the refrigerator, after it's cooled to room temperature. I like to cover it with plastic wrap before storing for up to two days. (Any longer, and the crust will be too soggy.)

Enjoy this pie with a wine pairing! Hugh Preece, Sommelier and Italian Wine Ambassador – Vinitaly Academy, suggests enjoying:
Monte Tondo Recioto di Soave DOCG 'Nettare di Bacco', Veneto, Italy
"Golden yellow color, aromas of exotic fruit, citrus fruits, vanilla and almond, in the mouth it is very subtle, pervasive, very persistent and a final slightly bitter note, typical characteristic of Garganega."
More Thanksgiving Pie Week Recipes:
📖 Recipe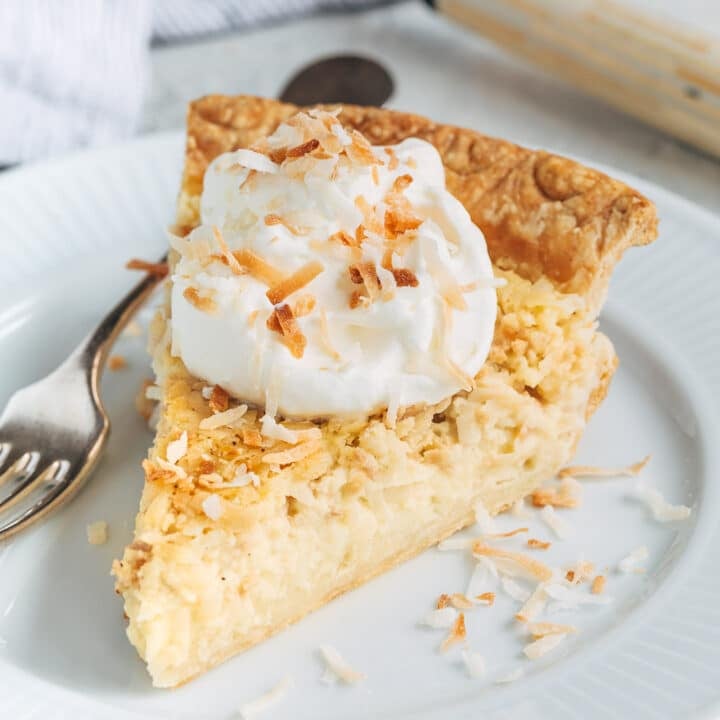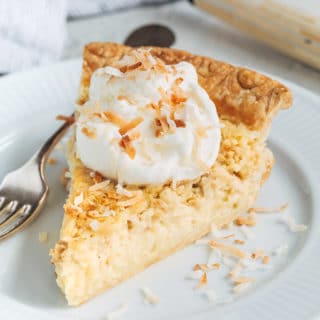 Coconut Custard Pie
This classic Coconut Custard Pie has a creamy filling with toasted coconut in every bite. Make it a day in advance of serving for easy entertaining.
Print
Pin
Rate
Save
Saved!
Estimated Calories:
307
kcal
Ingredients
½

recipe

all-butter pie crust

1-½

cups

sweetened, flaked coconut

"angel flake" (3.9 to 4.2 ounces, depending on the brand)

1-½

cups

whole milk

3

large

eggs

½ to 1

cup

granulated sugar

*

1

teaspoon

vanilla extract

½

teaspoon

coconut extract

(optional, if you like a fuller coconut flavor)

¼

teaspoon

salt

pinch

ground nutmeg

(optional)

½

cup

heavy cream

lightly-sweetened whipped cream and extra toasted coconut flakes

, for garnish
Instructions
Preheat oven to 325 degrees F. Spread coconut onto a parchment-lined baking sheet. Toast for 5-8 minutes, stirring once or twice, until the coconut is speckled with golden flakes and fragrant. Set aside.

Raise the oven temperature to 375 degrees F. Follow the instructions in the all-butter pie dough recipe to make a blind baked, single crust pie, in a 9-inch pie plate. (I like to use a metal pie dish when making custard pies for the best textured crust.) After the crust is prepared, place the empty baking sheet back on the rack, and keep oven on at 375 degrees F.

In a large bowl, whisk together milk, eggs, sugar, vanilla, coconut extract (if using), salt, and nutmeg (if using) until well combined. Stir in heavy cream and toasted coconut. Pour filling into the blind-baked pie crust. Place a pie crust shield over the crust edges, or cover the edges with foil.

Bake for 45-50 minutes, until a knife inserted into the center of the pie comes out clean. Remove the pie crust shield 10 minutes before the pie is finished baking.

Cool to room temperature and then cover and refrigerate until chilled. Slice and serve with whipped cream and a sprinkling of toasted coconut flakes.
---
Notes
Adjust the amount of sugar in the pie for your sweetness preferences.
½ cup, as written: lightly-sweetened pie
¾ cup: moderate sweetness
1 cup: very sweet (traditional)
To properly measure angel flake coconut:
Gently spoon the coconut into a dry measuring cup, lightly patting it down when the cup is filled, only adding additional if needed. For the best results, use a kitchen scale to confirm your measurement. 1-½ cups should equal 3.9 to 4.2 ounces. This equates to just a little bit more than half of a 7-ounce bag, which contains roughly 2-⅔ cups of coconut.
If you pack the coconut into the measuring cup, far too much will be used, and the texture of the pie will be too dense.
Nutrition Estimate
Serving:
1
slice
|
Calories:
307
kcal
|
Carbohydrates:
32
g
|
Protein:
4
g
|
Fat:
17
g
|
Saturated Fat:
10
g
|
Cholesterol:
91
mg
|
Sodium:
244
mg
|
Potassium:
135
mg
|
Fiber:
2
g
|
Sugar:
19
g
|
Vitamin A:
345
IU
|
Calcium:
43
mg
|
Iron:
1.1
mg
Keyword:
coconut custard pie, coconut pie recipe, how to make coconut pie
---
About our Recipes:
Please note that our recipes have been developed using the US Customary measurement system and have not been tested for high altitude/elevation cooking and baking.
Have you made this recipe?
Don't forget to leave a comment and rate the recipe below! Take a picture? Tag @stripedspatula and #stripedspatula on Instagram!