Pre-cooking the filling makes our favorite apple pie foolproof. Pair it with an all-butter crust for a dessert that begs to be enjoyed with seconds!
I used to have the most difficult time making consistently good apple pies. It seems a simple enough process, right? Toss apple slices, sugar, a thickener, and spices into a pie crust and bake.
Except, sometimes, my apples threw more juice than I anticipated and the pie was a giant mess of liquid when I served it. Other times, the beautiful mound of apples simply refused to cook through in the oven. (There are few snacks more refreshing than a crisp apple, but not in my pie, thank-you-very-much!)
Then, there were the pies that looked beautiful when pulled out of the oven, with fully-cooked apples (score!), only to find a gigantic gap between the top crust and filling upon slicing.
I'm not a big fan of surprises when cooking and baking for guests. The holidays can be busy enough without adding unpredictable pies to the mix!
So, I decided to start researching alternative pie-making methods a few years ago and found a simple technique that has morphed into our favorite apple pie: par-cooking the filling.

I first read about par-cooked apple pie filling in Joy of Cooking, and have since come across several recipes that utilize a similar method.
The premise is the same in each: simmer apple slices on the stove with sugar and spices until tender (but not falling apart) and their released juices thicken. Then, just cool the filling to room temperature, fill the pie crust, and bake until golden.
It's that easy. And, frankly, foolproof. No more undercooked apples! No more gap in the crust! Say goodbye to overly-juicy pies! (How did I not find this sooner?!)
As for apple variety, I prefer a sweeter pie, so I tend to shy away from Granny Smith. My favorite combination of apples is sweet "Jonathan" with sweet-tart "Cameo," both of which I'm able to find at my local orchard in the fall.
I also like to add a little bit of apple cider to my apples as they're cooking on the stove. I find that it ups the flavor ante a bit and brings a nice depth to the fruit's natural glaze.
Complement this with Saigon cinnamon, freshly-grated Grenada nutmeg, a little brown and white sugar, and an all-butter crust, and you have an apple pie that begs to be enjoyed with seconds!
I like this pie best served on its own, just slightly warm. That said, a scoop of French vanilla ice cream or a dollop of Bourbon-spiked whipped cream would also be delicious accompaniments. No matter how it's served, this apple pie is sure to be a sweet (and stress-free) ending to any holiday meal!
Did you know I have a weekly newsletter? It's a great time of year to subscribe and have delicious recipes delivered to your Inbox for all of your holiday entertaining needs!
More Thanksgiving Recipes on Striped Spatula:
Delicata Squash with Brown Butter Vinaigrette (gluten-free, vegetarian)
Sausage and Chestnut Stuffing
Apple-Orange Cranberry Sauce (gluten-free, vegetarian)
Maple-Bacon Sweet Potato Biscuits
Butternut Squash and Wild Rice Salad (gluten-free, vegan)
Caramel Apple Frangipane Tart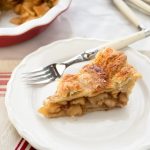 Print
Our Favorite Apple Pie
Par-cooked apple filling makes a foolproof holiday pie. This recipe is best enjoyed within a day of baking, To re-warm the pie before serving, place on a baking sheet in a 350-degree F oven for 15 minutes.
Inspired by several sources, mostly Joy of Cooking and Williams-Sonoma
Ingredients
1

recipe

all-butter pie crust

4

pounds

mixed sweet and sweet-tart apples

(I use Cameo and Jonathan, peeled, cored, and cut into 1/4-inch thick slices)

2

tablespoons

cornstarch

3

tablespoons

apple cider

, divided

1/2

cup

light brown sugar

, lightly-packed

1/4

cup

granulated sugar

, plus extra for sprinkling over pie

1

teaspoon

ground cinnamon

1/4

teaspoon

ground nutmeg

1/4

teaspoon

salt

2

tablespoons

unsalted butter

, chilled and cut into 1/2-inch dice

1

egg beaten with 1 tablespoon cool water

(egg wash)
Instructions
Prepare the crusts
Roll out two disks of pie dough to 12-inch diameters (about 1/8-inch thick). Fit one crust into a 9-inch pie plate and trim overhang flush with the plate's edge. (Be careful not to stretch the dough when fitting it into the plate.) Keep the second crust flat. Refrigerate both crusts for 30 minutes. Remove from the refrigerator 5 minutes before filling and baking.
Make the filling
In a small bowl, combine 1 tablespoon apple cider with 2 tablespoons cornstarch, stirring until dissolved. Set aside.

In a large, heavy-bottomed pot or Dutch oven, combine apple slices, remaining 2 tablespoons apple cider, brown sugar, granulated sugar, cinnamon, nutmeg, and salt. Cover and cook over medium-low heat, gently stirring occasionally, until apples are soft, but do not lose their shape, about 15 minutes.

Stir in cornstarch/apple cider mixture and continue cooking, uncovered, until juices are thick and clear, about 5 minutes. Remove from heat and let cool to room temperature.
Fill and bake the pie
Preheat oven to 400 degrees F with rack in lower-middle position. Place a baking sheet on the rack. Pour cooled pie filling into the lined pie plate. Sprinkle with 2 tablespoons chilled, diced butter.

Top pie with second rolled crust (roll the crust around a rolling pin for easy moving). Trim top crust to a 1/2-inch overhang, tuck under bottom crust, and crimp or flute as desired to seal. Cut three slits in the center of the filled pie to vent. If desired, decorate with seasonal crust cutouts.

Lightly brush the top of the pie with egg wash (you'll have more than you need) and sprinkle with about 1/2 tablespoon granulated sugar. Place on preheated baking sheet and bake for 40-50 minutes, until crust is golden brown (keep a close eye and lay a piece of foil on top of the pie or around the edges if browning too quickly).

Let pie cool on a wire rack until room temperature, at least 3 hours. Slice and serve.
Have you made this recipe?
Let me know by leaving a comment and rating the recipe below! Don't forget to take a picture and tag
@stripedspatula
and
#stripedspatula
on
Instagram
for a chance to be featured in my newsletter!