Making a shopping list for your next trip to the warehouse club? From cheese and chicken stock to chocolate chips, here are my 10 best things to buy at Costco for food staples and pantry items. (Neither Striped Spatula nor this post are affiliated with Costco. We're just happy members.)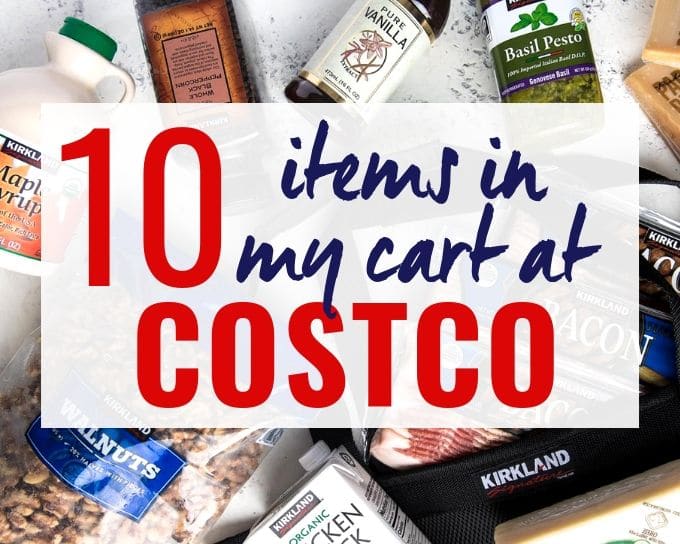 I love exploring the aisles and displays at Costco, but with so many choices, it can be tricky to choose what you really need and what sounds like a good idea right now.
In this list, you'll find my top 10 picks for grocery staples to buy in bulk at the warehouse club. These are items I'm rarely without in my pantry or fridge, at prices that are a substantial savings from what I'd find at the regular grocery store.*
*Product availability and pricing will vary regionally and with market fluctuations. Call or visit your local warehouse for the most up to date and accurate information for your area.
1. Real Deal Parmigiano Reggiano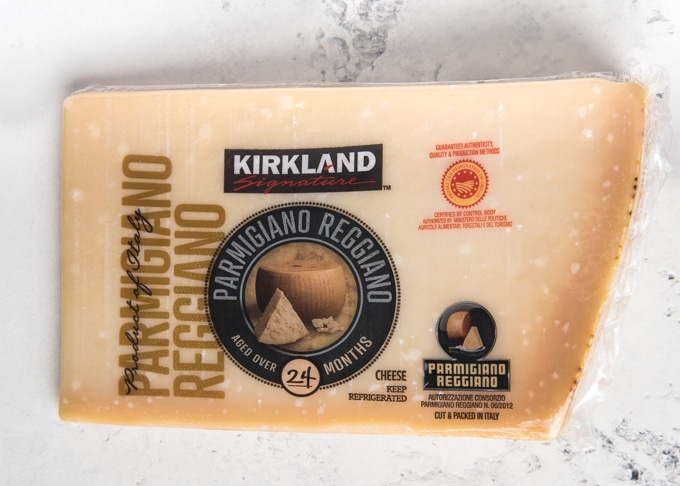 If I had to choose only one thing for my "Best Things to Buy at Costco" list, it would have to be Parmigiano Reggiano. The Kirkland Signature wedges are legit: they're imported from Italy with both the PDO seal and cheese certification marks, and are aged for at least 24 months.
The price fluctuates throughout the year, but compared to the cheese case at my grocery store, the savings are always substantial.
Preferring to shred and grate cheese myself, I buy the big wedges. They usually weigh in at around 1-½ pounds. (If you prefer pre-shredded, they sell it in canisters also.)
I either grate the wedge as needed with my microplane, or process it in bulk and store it in a sealed storage container in the fridge. (I use my Vitamix to make quick work of this.)
If you're buying the wedge, don't forget to save the rinds to add great flavor to soups and stocks! If you don't need them right away, you can pop them into a zip-top bag and store them in the freezer.
Bonus: The same goes for the wedged Pecorino Romano. It has all of the necessary certification marks and is aged for at least 9 months.
Use It (Parmigiano Reggiano Recipes):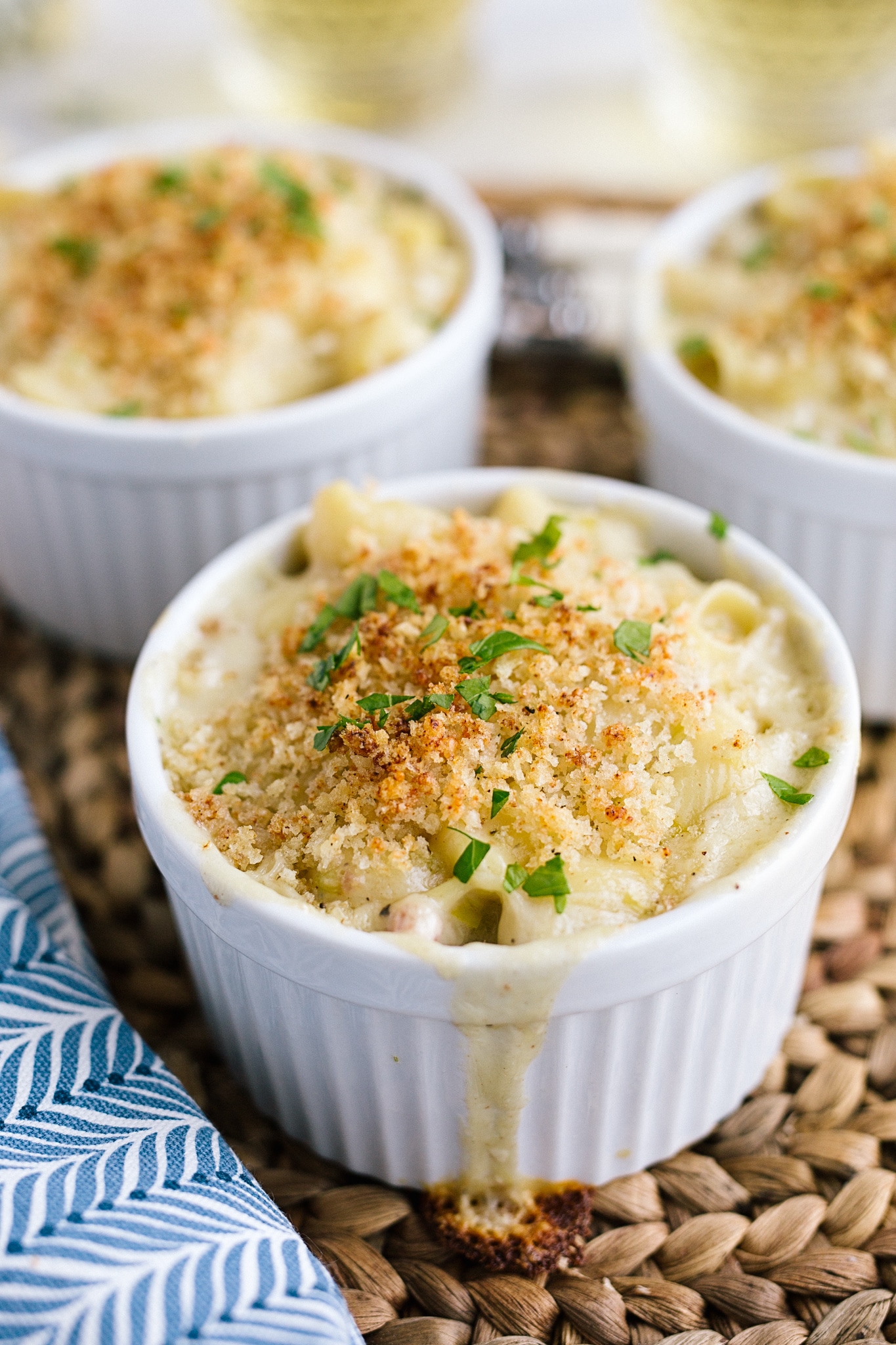 ---
2. Whole Black Peppercorn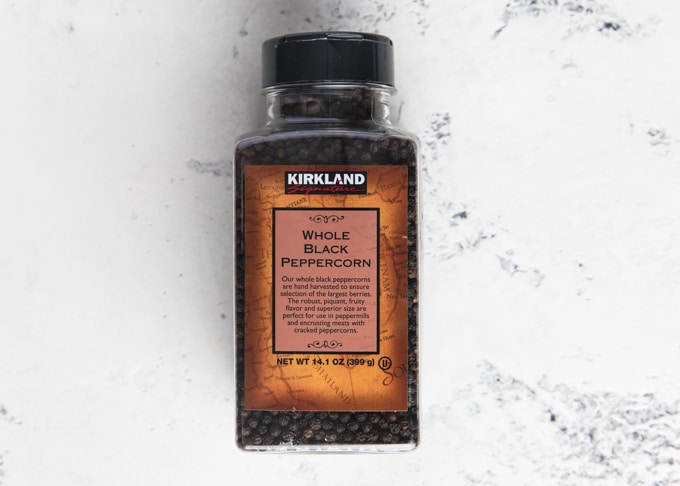 Just about every one of my recipes calls for "freshly ground black pepper". Why? The flavor is so much fuller when you grind peppercorns in your pepper mill as you need them. (You can also control the coarseness of the grind for the dish you're making.)
Those little guys can get pricy, though! At the time of this writing, Kirkland's 14.1-ounce jar of Vietnamese peppercorns prices at a savings of up to half of some bulk-packaged peppercorns I've seen at the regular grocery store.
Since they're a whole spice, these peppercorns will stay fresh for up to a couple of years in your pantry (if you don't use them up faster).
Use It (Peppercorn Recipes):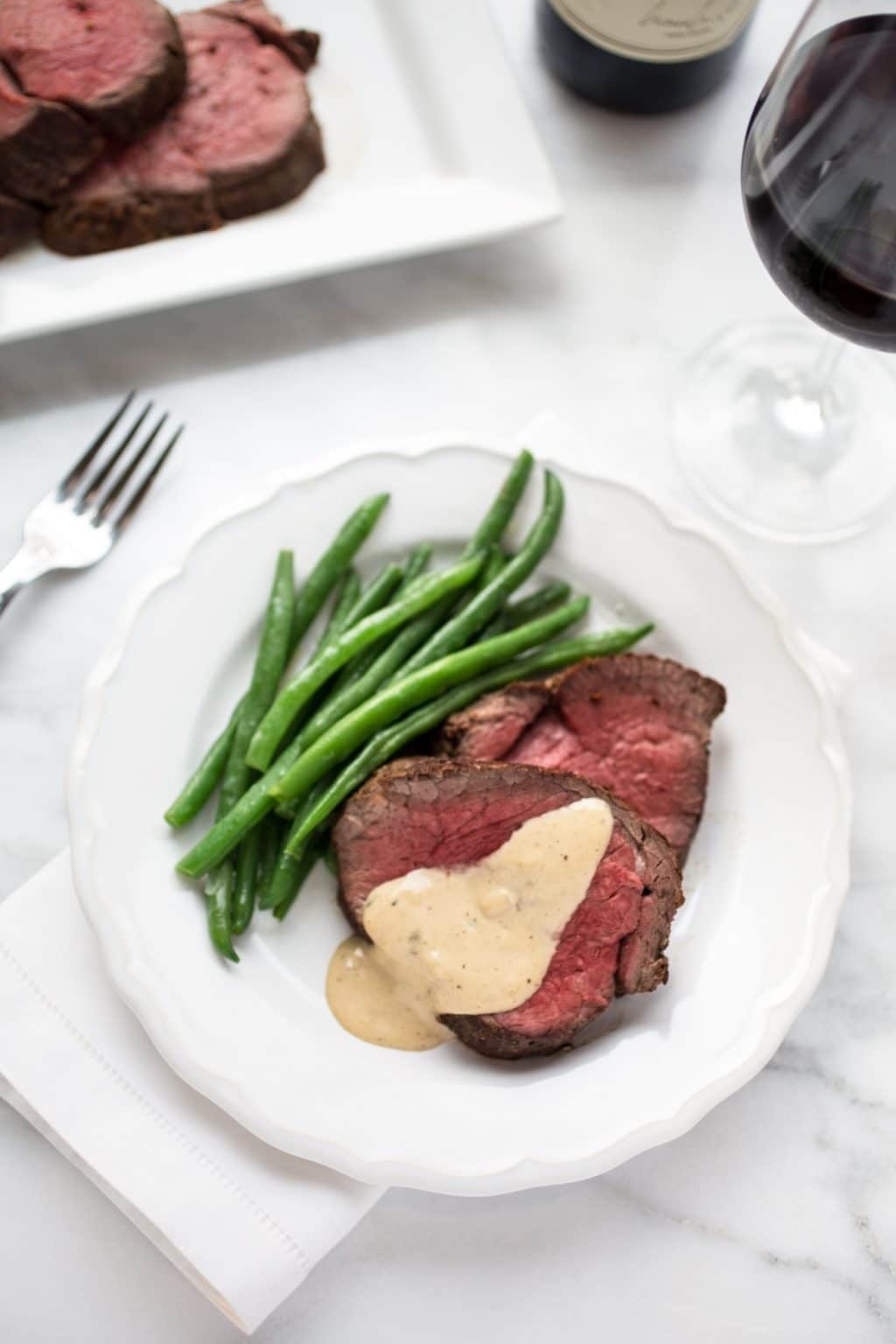 ---
3. Organic Pure Maple Syrup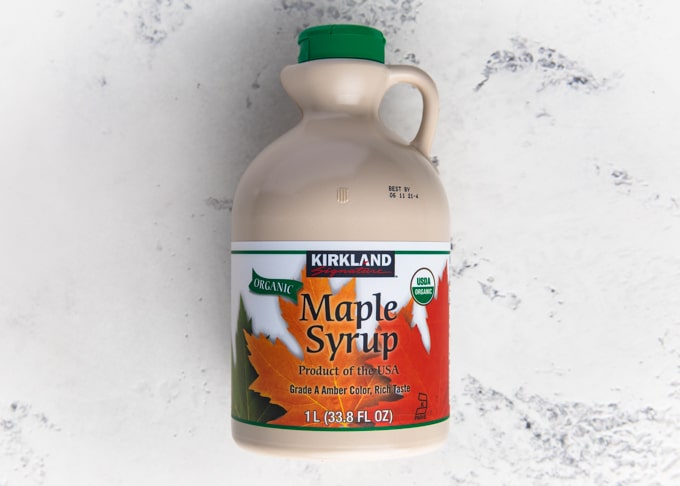 For breakfasting, cocktails, glazes, and beyond, I'm never without a jug of Costco's maple syrup in my refrigerator (plus a backup in the pantry when it starts getting low!)
The Kirkland pure maple syrup is high quality (USDA organic, Grade A, Amber), and for the lack of a better term: cheap. The jug holds a full liter of syrup at a cost of only $0.33-ish per ounce at the time of this article. I haven't found a (non-specialty) grocery store product that can beat it on flavor or price.
Use It (Maple Syrup Recipes):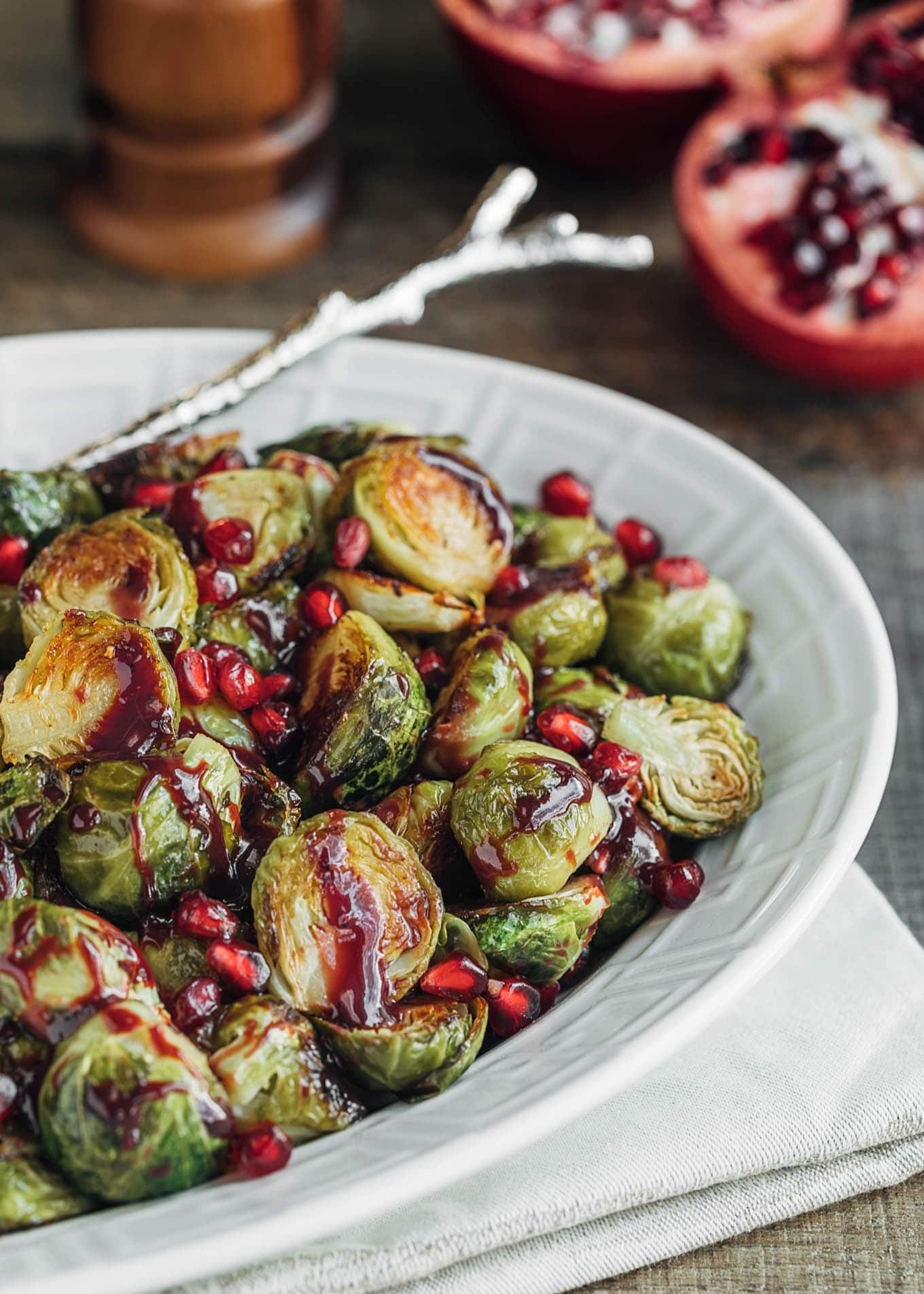 ---
4. Shelled Nuts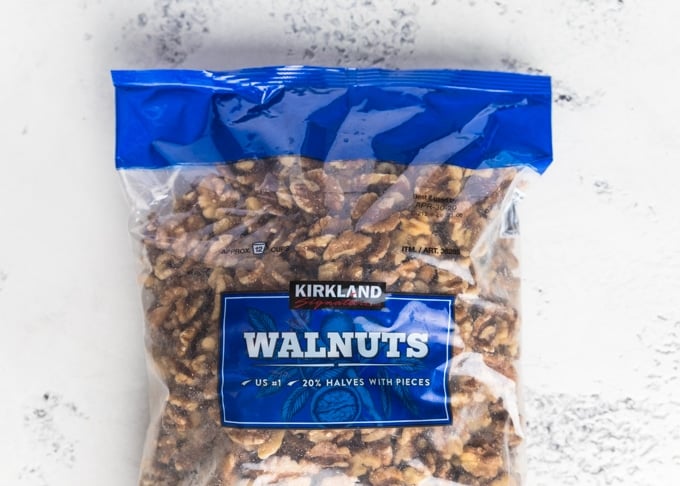 When I need bulk shelled walnuts, pecans, almonds, and pine nuts, I stock up at Costco. The quality is great and they're fantastic for baking.
Halved walnuts and whole almonds come in 3-pound bags, halved pecans in 2-pound bags, and organic pine nuts in 1-½ pound bags.
How does this compare to my other favorite source for nuts, Trader Joe's? Since you're buying at least twice the quantity (TJ's sells 1-pound bags), the price per ounce is lower. Costco's walnuts were just $0.23/ounce on this week's shopping trip ($10.99 for the 3-pound bag).
If I'm not using the nuts right away for something like a big holiday bake, I store them in the freezer to keep them fresh for up to a year.
Use Them (Nut Recipes):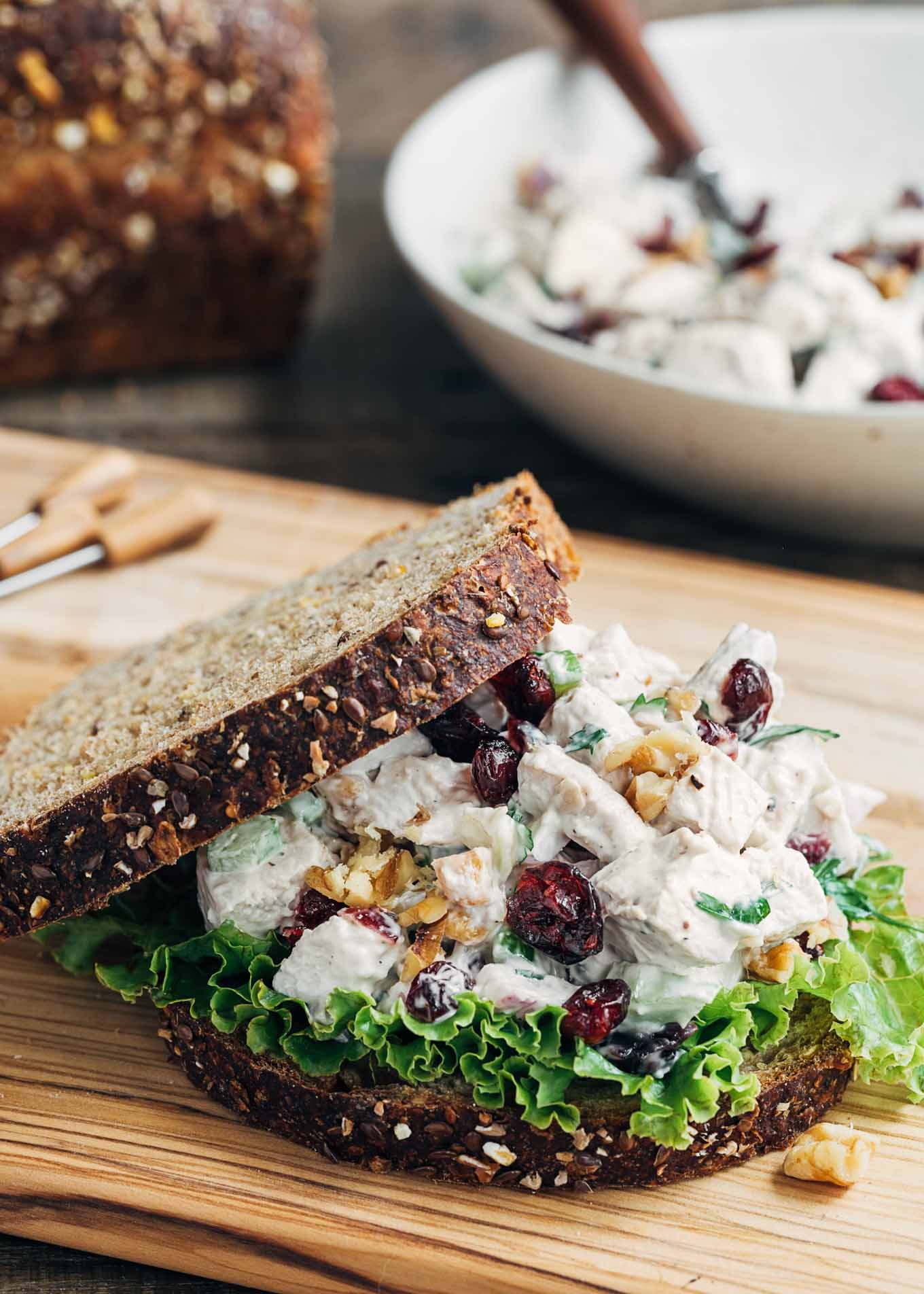 ---
5. Organic Chicken Stock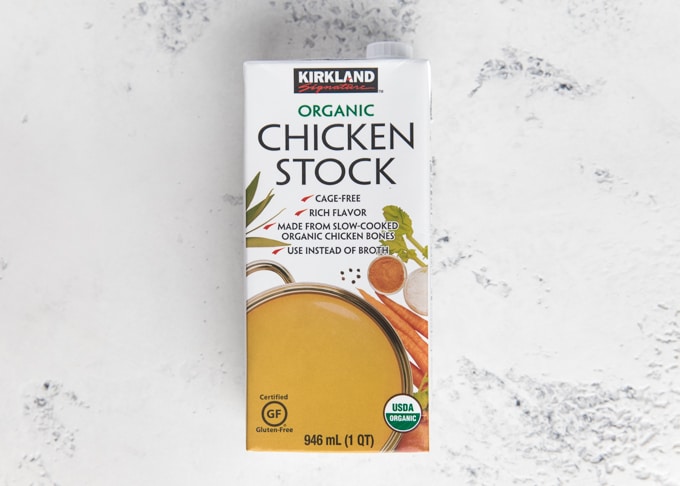 I love to make my own chicken stock for the freezer, and I'll keep it completely real by adding that nothing matches homemade. But, I also keep cartons of commercial broths and stocks on the shelf for convenience.
I tried Kirkland's Organic Chicken Stock several years ago, and it's been a constant on my "best things to buy at Costco" list ever since.
This stock is fat free, USDA-certified organic, gluten free, and has a good, balanced flavor. While this isn't a low sodium product (keep that in mind when "low sodium" is specified in a recipe), I've found the salt content to be on par with other "regular" commercial stocks on the market.
Over the past few years, I've been able to use it successfully in just about any dish calling for regular broth or stock.
You'll find this chicken stock in a box of six, 32-ounce resealable cartons for usually around $10-$12. (Look for discounts on it in the member's savings coupons too.)
Use It (Stock Recipes):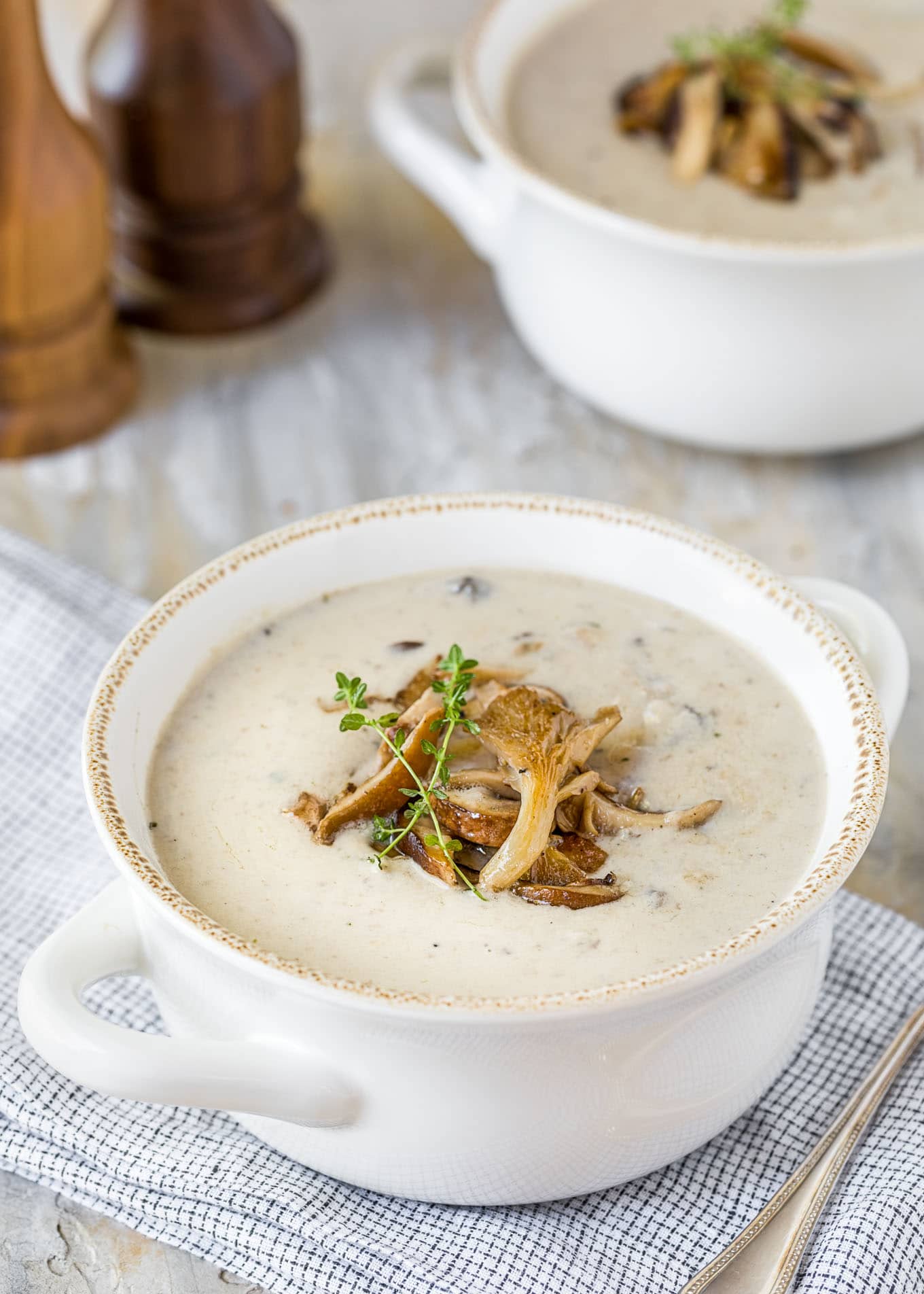 ---
6. Bring Home The Bacon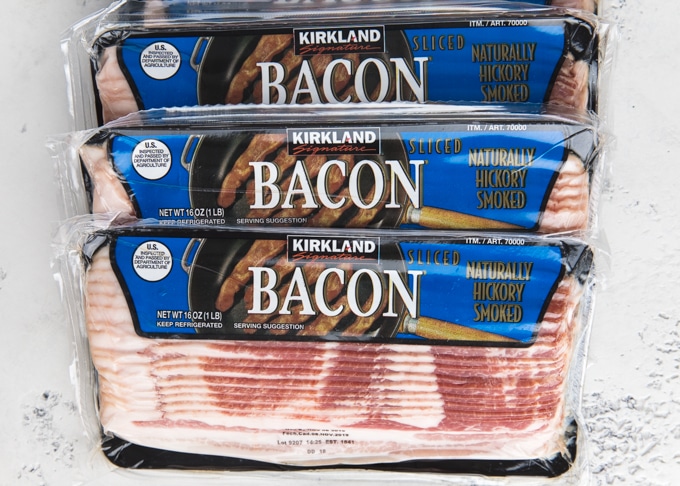 I love exploring small-batch, artisanal, and speciality bacons; but, when it comes to all-purpose pork, Kirkland's Signature bacon has the classic weekend breakfast vibe wrapped up.
You can buy the house bacon in regular cut, thick cut, and reduced sodium varieties.
The slices are well balanced between meat and fat, taste good (hickory-smoked but not overwhelming), cook up crisp, and the price is right. (Currently, $3.30 to 3.50-ish/pound at my store.) In fact, Kirkland beat out every other name brand bacon tested for price and quality in a Consumer Reports ranking.
The only caveat here, as with most items when you're warehouse shopping, is that you're committing to a big bacon purchase–3 to 4 pounds at a time, depending on the variety. Don't let this deter you! The bacon is divided into separate 1- to 1-½ pound packages. Just pop them in the freezer and they'll keep for 6-8 months for all of your bacon-loving needs.
Use It (Bacon Recipes):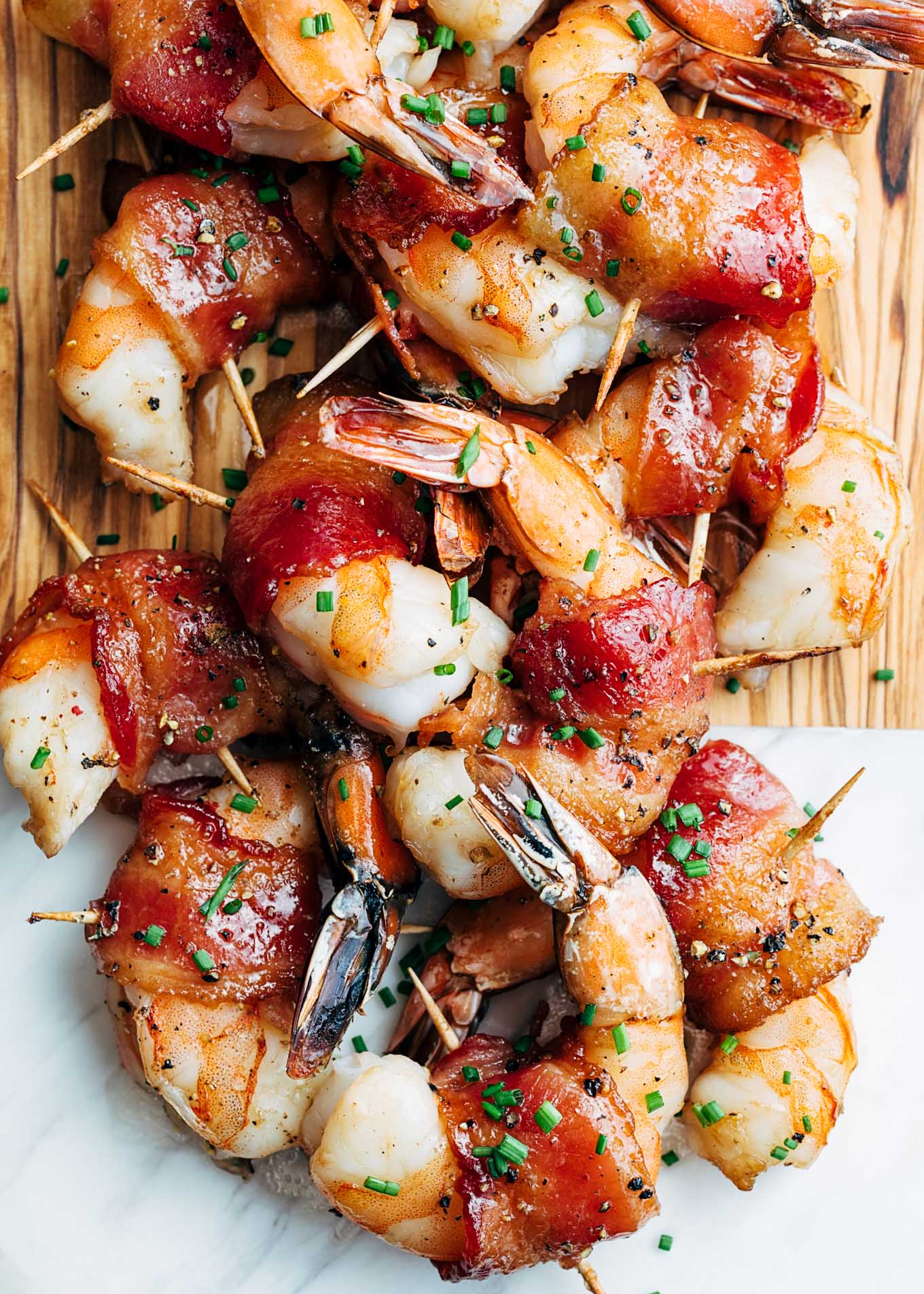 ---
7. Genovese Basil Pesto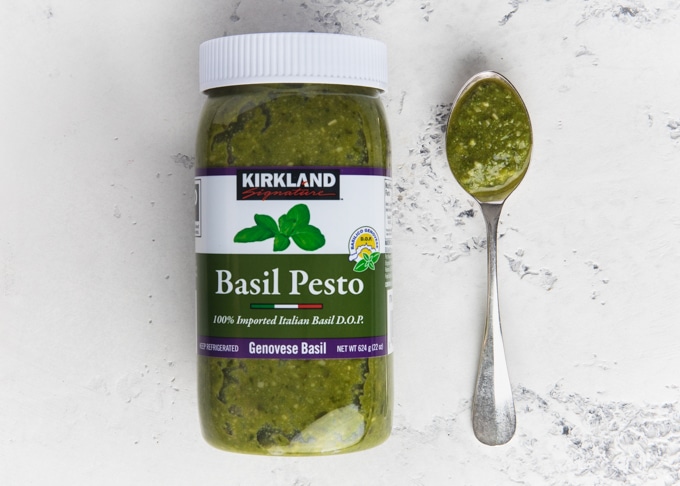 As you've probably seen me shout from the rooftops during the summer, I make my own pesto with the basil I grow on my patio. When the weather gets chilly, or when I need a big batch of pesto at once, I love Kirkland's, made with DOP Genovese basil.
It's one of the best tasting commercial pestos I've had, and the price ($8.99 for a 22-ounce jar, at the time of this post) can't be beat.
I keep it in the fridge and use it for making sandwich spreads, pastas, compound butters, and to add a flavor boost to quick weeknight dinners. If you don't think you'll use the whole jar in time, you can freeze portions in an ice cube tray, just like you would homemade.
---
8. Pure Vanilla Extract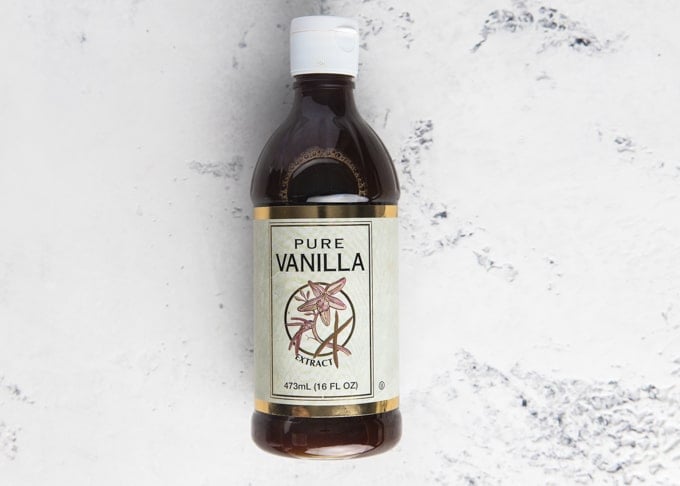 I love using specialty vanilla extracts, but for my all-purpose pantry extract (and especially when I'm doing a big bake for the holidays), Kirkland's pure vanilla extract is on my Costco shopping list. It has the warm, round flavor you'd expect from vanilla, and it's great in cookies, cakes, muffins, brownies, and more.
At the time of this post, the 16-ounce bottle cost around $29.99 ($1.87/ounce), compared to $4-5/ounce for a popular brand name at the regular grocery store, and $6-7/ounce for speciality. If you use vanilla often, this one is a steal!
Use It (Vanilla Extract Recipes):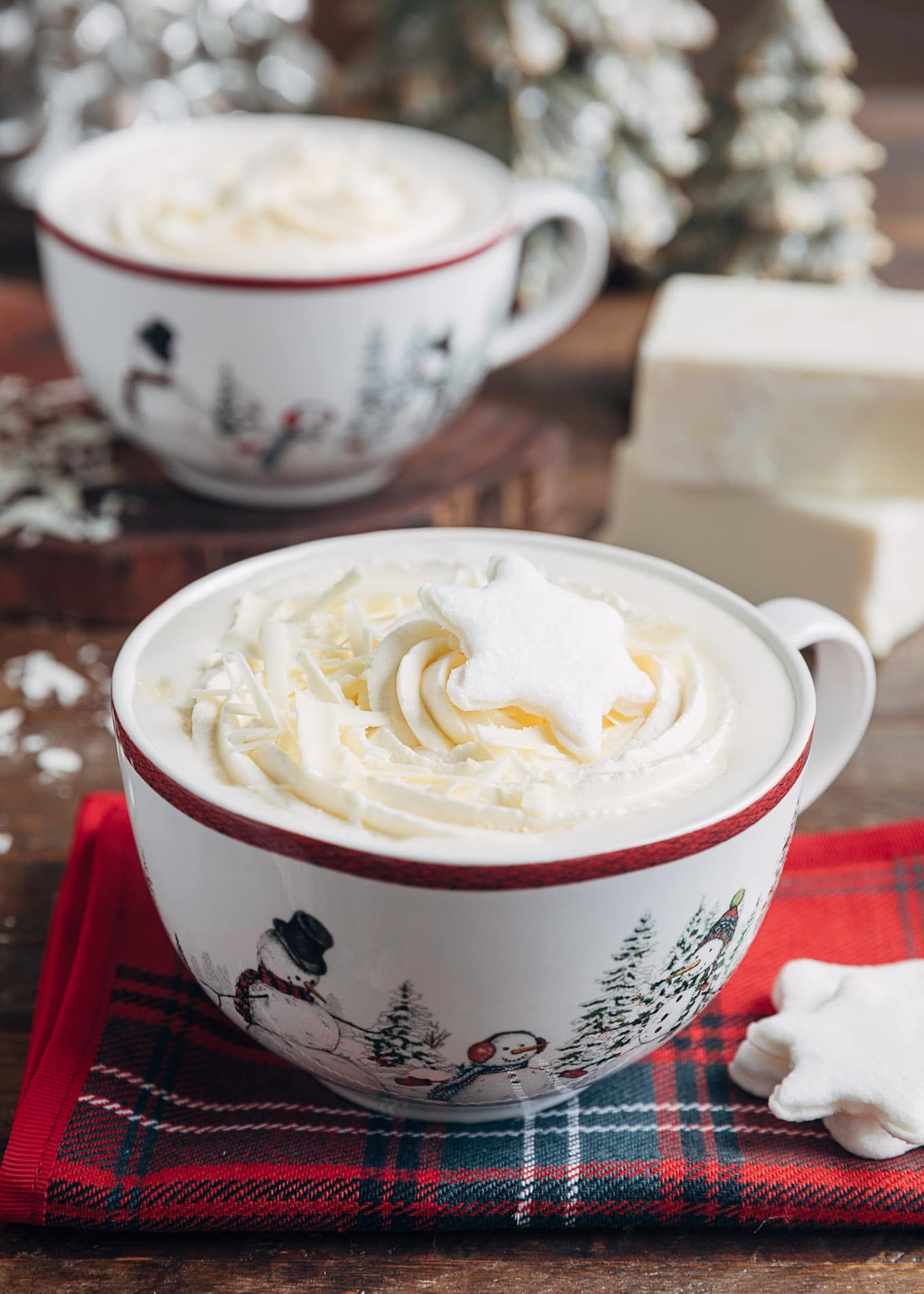 ---
9. Kirkland Chocolate Chips (*Update/Swap)
#9 on the list used to be Kirkland's Signature Hazelnut Spread with Cocoa, but I haven't been able to find it and was told it was discontinued. I've still found brand name Nutella available in stores near me for a good price, so if you love chocolate hazelnut spread, you can still stock up!
I'm updating this one to Kirkland's Semi-Sweet Chocolate Chips. They come in a resealable 4-½ pound bag (great for holiday baking!) and are a good quality chip for old fashioned chocolate chip cookies, brownie mix-ins, and more.
Tip: I like to measure the chips into 12-ounce portions and vacuum seal them in smaller food saver bags. That way, I can just pull one from the shelf when a recipe calls for a standard bag of chocolate chips.
---
10. (Almost) All of the Oils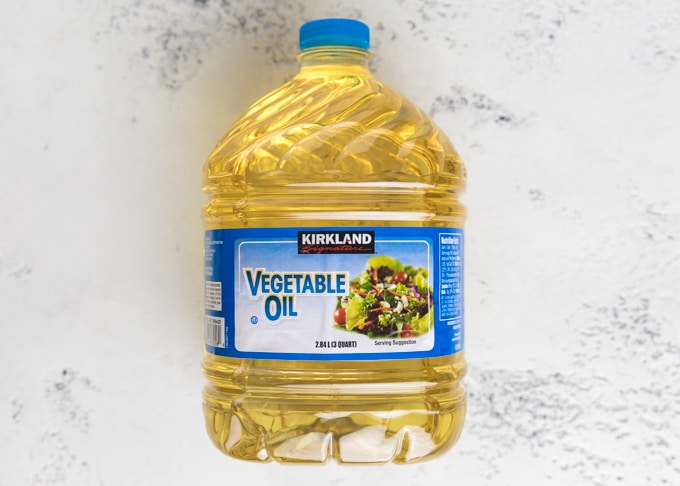 I had originally labeled this entry just "extra virgin olive oil," before I realized that it was far too limiting. Whenever I need any bulk oil, I buy it at Costco (and usually go for the house brand). They're good quality oils and the price savings are substantial over the grocery store.
When I'm deep frying, I most often pick up the two-pack of Kirkland's vegetable oil, measuring 6 quarts total. (I'm hoping they start carrying peanut oil in a similar configuration–the one I saw was quite a bit larger than I'd use at 4.5 gallons.)
The Kirkland line also includes USDA certified organic extra-virgin olive oil (a favorite of Chef Samin Nosrat; Salt, Fat, Acid, Heat), imported Spanish extra-virgin olive oil, and regular olive oil. You'll find brand name specialty oils at good prices as well, such as avocado oil.
My only word of caution would be to make sure you have a need for the quantity when purchasing the fruitier, finer oils. They can lose some of their luster after the bottles have been opened for a while.
If you don't think you're going to use a big bottle of oil in a reasonable period, you'll probably be better off buying smaller at the grocery store. I buy the extra virgin bottles when I'm doing a lot of cooking around the holidays or hosting parties over the summer.
Use It (Deep Fried Recipes):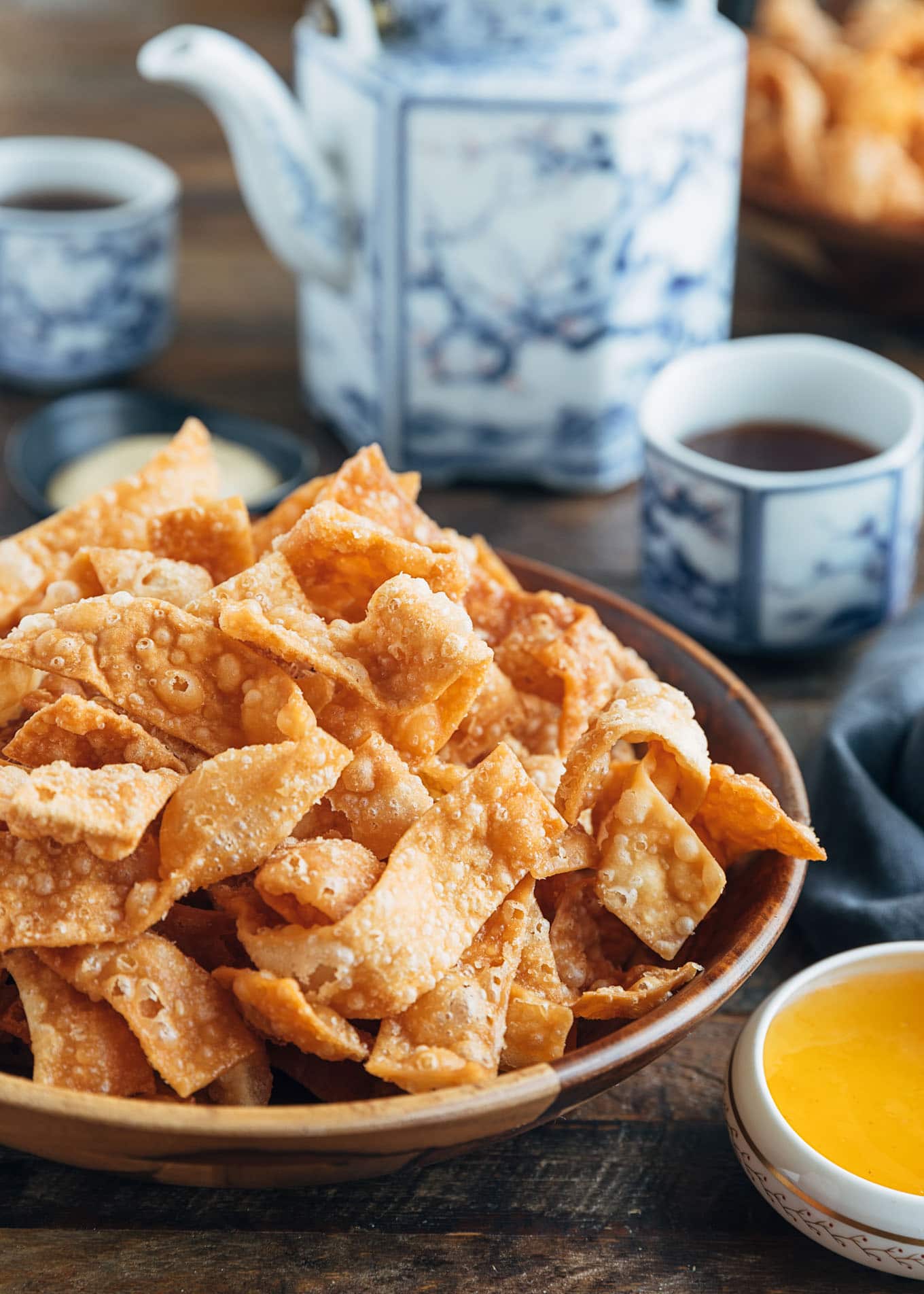 What's on your Costco shopping list? Tell me your "Best Things to Buy at Costco" for grocery staples in the comments below!