Treating your ingredients to a quick trip to the grill before mixing gives Grilled Guacamole a unique and subtle smoky undertone. Great for easy summer entertaining!
We've reached that time of year when the grill comes out of hibernation and I serve my ovens their 5-month pink slip. The first grill night of the season is practically its own holiday in my house and I find just about every reason I can to cook outside from that point until I'm knee-deep in fallen leaves.
That visual established, you can imagine my excitement when, about ten years ago, I saw Michael Chiarello extol the virtues of grilled guacamole on his Easy Entertaining show.
I did a double-take in front of the TV that day.  Grilled Guacamole? I'd never heard of such a thing!
Chiarello prepared his guac with an Italian flair that day, adding Parmesan and basil. As lovely as it looked, I can be a bit of a guacamole purist, so I have to be totally honest that I never tried his variation. (Though, I keep meaning to make a bowl. The recipe has gotten good reviews and I'm sure it's delicious. I've linked to it in my recipe notes for those who are interested.)
Intrigued by the grilling concept, I tried throwing all of my usual ingredients (avocados, red onions, limes) onto the grill the next time I made a bowl of guacamole. Grilling didn't take long at all, and ever since, this smoky Grilled Guacamole has been the only guacamole served in my house during the summer. We absolutely love it.
Grilling the avocados until they're just lightly charred (don't overdo it until they're completely blackened, or they can become a little bitter) gives the whole bowl of guacamole a subtle smoky undertone. I find that the grilling process brings out the avocados' natural fats and makes them extra creamy, resulting in a luscious guac.
Grilled red onion introduces a bit of caramelization to the dish, brightened by the juice of grilled limes.  As in my raw guacamole, I add some cumin to further complement the smoky flavor, as well as a bit of cilantro (optional for those who hate it!), and a touch of minced garlic.
My favorite way to serve Grilled Guacamole is, quite predictably, with warm, lightly-salted tortilla chips. (If it ain't broke, don't fix it!) For an extra layer of flavor, I like to squeeze a tiny bit of the grilled lime juice over the chips just before serving.
It's delicious with your favorite cocktails and mocktails for easy summer entertaining.
While the "avocado toast" concept is verging on "overplayed" status these days (it's everywhere, I know, but it's so good), I'd be remiss if I didn't mention how great Grilled Guacamole tastes spread onto a slice of grilled artisan bread. It's a lunch favorite in my house.
For a quick low-carb dinner, we've also been known to enjoy a dollop alongside lime-marinated grilled chicken breasts, or on top of burgers (poultry or beef).  Ladies and gentlemen, start your burners!
Did you know? Striped Spatula has a weekly newsletter! Subscribe to stay up to date on what's delicious on the blog.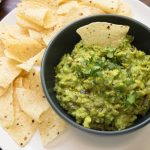 Print
Smoky Grilled Guacamole
Treating your ingredients to a quick trip to the grill before mixing gives Grilled Guacamole a unique and subtle smoky undertone. Great for easy summer entertaining!

Makes 2 to 2-1/2 cups guacamole.
Recipe inspired by Michael Chiarello, "Grilled Avocado Rockamole"
Ingredients
4

ripe avocados

(preferably Haas), halved, pits removed

1/2

red onion

, peeled, and cut into 1/2-inch thick slices

3

small limes

, halved crosswise

extra virgin olive oil

kosher salt

freshly-ground black pepper

1

garlic clove

, minced

3/4

teaspoon

ground cumin

2

tablespoons

chopped cilantro

(optional)
Instructions
Squeeze the juice of one lime half over the flesh of the avocados to prevent oxidation. Brush cut-side of avocado halves, remaining lime halves, and both sides of the red onion slices with extra-virgin olive oil. Lightly season with salt and pepper.

Preheat grill over a medium-high flame. Oil grates, or line with a non-toxic, nonstick grill mat. Grill onions until soft and caramelized, about 5 minutes per side. Grill avocados and limes, cut-side down, until grill marks appear with a light char, about 5 minutes. Remove to platter to cool.

When avocados are cool enough to handle, scoop flesh into a large bowl and mash to desired consistency (I like to leave my guacamole a little chunky). Chop grilled onions (you should have between 1/2 and 3/4 cup).

Stir chopped onions, garlic, cilantro, ground cumin, 1/2 tablespoon (1-1/2 teaspoons) extra virgin olive oil, 1 teaspoon kosher salt, and 1/2 teaspoon pepper into the mashed avocados. Add 1-2 tablespoons grilled lime juice, to taste, and stir to combine. Cover and let stand at least 30 minutes for flavors to meld. Season to taste with additional salt and pepper.

Serve, with a drizzle of extra virgin olive oil and an additional pinch of cilantro, if desired.
Recipe Notes
I like to allow the smoky flavor of the grilled avocados and cumin shine through in this guacamole, without adding "heat." If you like your guacamole spicy, feel free to add some de-seeded, grilled, chopped jalepeño pepper or a few dashes of hot sauce to taste.
Have you made this recipe?
Let me know by leaving a comment and rating the recipe below! Don't forget to take a picture and tag
@stripedspatula
and
#stripedspatula
on
Instagram
for a chance to be featured in my newsletter!