Sweet and tangy with a kick of heat in the background, Major Grey's Mango Chutney is a delicious accompaniment to curries, meats, and cheeses.
One of the aspects of blogging that I enjoy most is having the opportunity to interact with other people, near and far, who share my passion for cooking. I always enjoy reading about what my fellow home cooks are stirring up in their kitchens.
On Tuesday, I received a comment on my Curried Cauliflower Soup from a reader who made the recipe, but was unable to find Major Grey's Chutney in her local grocery store. What did she do? She made her own!
Finding her enthusiasm inspiring, I scribbled "Homemade Chutney" onto my "To-Do" list for when prime mango season rolled around. As luck would have it, my trip to the grocery store on Wednesday greeted me with a huge display of Champagne Mangoes where the Sumo oranges (now out of season) had once stood.
That's probably the fastest I've ever put a recipe on my list and had it come to fruition. Homemade Mango Chutney was meant to be this week!
What is Major Grey's Chutney?
Major Grey's Chutney is a style of chutney (not a brand, as I erroneously thought long ago) popular here in the United States and the United Kingdom.
The chutney's backstory goes something along the lines of a British officer (or his cook) having made it while stationed in India in the 19th century and brought the recipe home with him. (It's thought that "Major Grey" may have been apocryphal, but it's a fun story, nonetheless.)
The ingredients in Major Grey's chutney vary both across commercial brands and recipes, but a few elements seem to remain constant: mangoes, raisins, citrus, onions, a sugar of some sort, and warm (not overly hot) spices.
The chutney should be sweet and tangy with a nice "kick" of heat at the end that's just enough to compliment the different layers of flavor without consuming them. You'll often see it served with curried dishes, or as a condiment to meats and cheeses.
Sweet and Spicy Mango Chutney
While I've made various relishes and preserves in the past, mango chutney is always something I've purchased prepared. I'm not really sure why that's the case, because it turned out to be incredibly easy to make and the flavor payoff is huge.
If you've been reading Striped Spatula for a while, you know that my tastebuds tend toward full flavors with mild heat levels. By the same token, I'm not the biggest fan of foods that are cloyingly sweet, which I find can be an issue in some commercially-prepared chutneys.
The great part about making chutney at home is that you can tailor the "sweet" and "heat" balance to your preferences.
What we loved most about this batch of Major Grey's was both its chunky texture (I like seeing the bits of fruit, rather than having a homogenous, jam-like consistency), and its bold, fresh flavor.
It was good enough to taste with a spoon, though, I can imagine that it would be a really delicious accompaniment to thick, juicy pork chops. Just thinking out loud here.
Storing your Chutney
The recipe makes a goodly amount of chutney, but recipes such as these keep well in the refrigerator for a few weeks and can also be frozen.
As for shelf-stable preservation methods: I'm a total slacker in the home-canning department. It's not something I've done often (I was a casual observer in the kitchen of those who are proficient in the art a few times), though it's something I'd love to explore in the future.
How lovely would a jar of homemade chutney be for a hostess gift? Another item for the "To Do" list, I think!
Have you heard? The Striped Spatula email subscription service has migrated to a weekly newsletter! Subscribe to stay up to date on each week's featured recipes and tips. (I take your privacy as seriously as I do my own and will never rent or sell your email address.)
📖 Recipe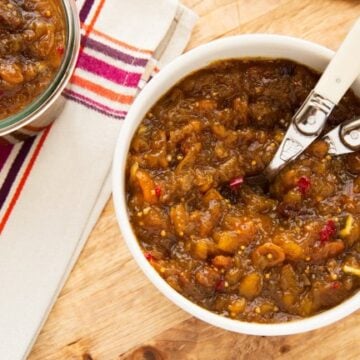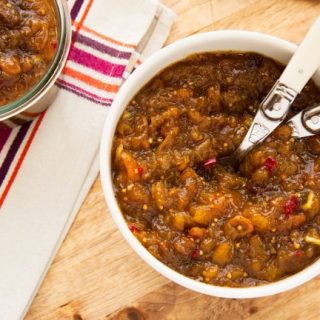 Mango Chutney (Major Grey's Style)
Sweet and tangy with a kick of heat in the background, Major Grey's Mango Chutney is a delicious accompaniment to curries, meats, and cheeses.
The spice level of this chutney is easily tailored to your personal preferences by adjusting the amount of chili pepper and ginger in the recipe.
Makes about 5 cups of chutney.
Recipe adapted from my favorite commercial brands and various recipe sources, mostly Saveur and The Guardian

Print
Pin
Rate
Save
Saved!
Servings:
20
servings (¼ cup)
Estimated Calories:
145
kcal
Ingredients
3

pounds

Champagne mangoes

, peeled and cut into ½-inch dice (4 cups of diced fruit)

1

cup

granulated sugar

*

1

cup

light brown sugar

, packed

1

cup

apple cider vinegar

1

cup

golden raisins

⅓

cup

peeled grated ginger

(use a microplane), or mince very finely with a knife

½

lime

(preferably, thin-skinned), seeded and cut into a small dice**

1

small red chili pepper

, seeded, de-veined and cut into a small dice***

1

teaspoon

grated nutmeg

1

teaspoon

kosher salt

½

teaspoon

ground cloves

½

teaspoon

ground black pepper

2

garlic cloves

, minced

1

large yellow onion

(about 2 cups), finely chopped

1

cinnamon stick

1-½

teaspoons

mustard seeds
Instructions
Stir all ingredients together in a large, heavy-bottomed pot and bring to a boil over medium-high heat. Reduce heat to maintain a steady bubble and cook, stirring often, until chutney is thick, about 35 minutes.

Cool, remove cinnamon stick and serve chutney chilled or at room temperature. Flavors will deepen with time.

Store cooled chutney in airtight containers in the refrigerator for up to 2 weeks, or in the freezer for up to 1 year (be sure to leave about ½-inch at the top of your containers for expansion if freezing).

The chutney can also be jarred and sealed according to standard canning guidelines for preserves.
---
Notes
*I used Turbinado (Raw) sugar for a little extra depth of flavor, but you can use white sugar with good results.
**If you prefer a less prominent lime flavor in your chutney, use 2 tablespoons juice in place of the chopped lime.
***Chili peppers vary widely in terms of heat levels. Judge the spiciness of yours before adding to the chutney to determine how much to use. Removing the seeds and inner veins will always bring the heat level down a bit. It's a good idea to wear gloves when handling hot peppers to avoid irritation.
To dice a mango:
Mangoes have long, relatively flat, oblong-shaped pits. You'll need to slice into either side of the pit to remove the edible fruit (known as "cheeks").
To do this, hold the mango with the stem end pointing away from you. Using a sharp knife, carefully slice the mango lengthwise about ¾-inch from the center to remove the first cheek. Rotate the mango and repeat on the opposite side to remove the second cheek.
Using the tip of your knife, score each cheek in about ½ inch increments lengthwise and crosswise, being careful not to slice through the skin.
To separate the mango cubes from the skin, slide a spoon between the flesh and skin to scoop out the cubes (much like you would an avocado). Or, invert the cheek by pushing up on the bottom so the cubes stand up and use a knife to carefully trim them away from the skin. You can try gently carving around the edges of the pit slice to see if any additional fruit can be extracted, but depending on the mango, the amount might be negligible.
Nutrition Estimate
Calories:
145
kcal
|
Carbohydrates:
36
g
|
Sodium:
122
mg
|
Potassium:
194
mg
|
Fiber:
1
g
|
Sugar:
33
g
|
Vitamin A:
635
IU
|
Vitamin C:
25.2
mg
|
Calcium:
24
mg
|
Iron:
0.4
mg
---
About our Recipes:
Please note that our recipes have been developed using the US Customary measurement system and have not been tested for high altitude/elevation cooking and baking.
Have you made this recipe?
Don't forget to leave a comment and rate the recipe below! Take a picture? Tag @stripedspatula and #stripedspatula on Instagram!