Canadian triple-layer Nanaimo Bars combine chocolate, nuts, buttercream, and coconut, for a sweet and decadent ("no-bake") dessert.
Last week, I had an "oops" moment on the blog. I was in my Dashboard changing a few settings and somehow locked myself out of my WordPress account. Despite my best efforts, my login attempts (and keystrokes that grew increasingly emphatic with each failure) found me repeatedly slapped in the face with an "invalid user" dialogue. Fun times.
As the cold sweat of panic set in (moments like these immediately make you regret having poor backup habits), I called my Bluehost Account Manager for help. Long story short, he connected me with Technical Support, who was able to undo my error and get me up and running again in no time. Disaster averted.
The calamity was actually a fruitful one, because it resulted in my Account Manager telling me about a dessert I'd never heard of before: Nanaimo Bars. His description on the phone thoroughly piqued my interest, and when a link later appeared in my Inbox with more info, I knew that I had to give them a try.
Within a few days, I'd gathered the ingredients at the grocery store, and put them on my list for my next snow day project. Luckily, Mother Nature came through with a whopping foot of the white stuff on Tuesday and I got to cooking.
The Nanaimo Bar (pronounced Na-NYE-mo) is a triple-layer Canadian confection, named for the city of Nanaimo on the West Coast. Sweet and decadent, this "no-bake" dessert is a perfect treat for a snowy day, or any day, really.
The base is a dense, almost fudge-like combination of butter, cocoa powder, chopped nuts, graham cracker crumbs, and coconut. (What could be bad about that?) It's topped with buttercream, flavored with vanilla custard powder (more on this in the ingredient notes), and finished with a layer of melted chocolate.
Sliced into squares, these bars are as pretty as they are delicious. Either I've been living under a rock, or our friends to the North have been holding out on us!
Reading about Nanaimo Bars, I've come to realize that they're one of those time-tested desserts that elicits strong opinions from everyone and their grandmother about what constitutes a proper recipe. Wanting to start with a traditional bar, I decided that the City of Nanaimo's website would be the best place to start.
Good call. The featured recipe won the city's Nanaimo Bar competition in the 1980's, and with good reason. I made only a few minor tweaks (a little vanilla extract in the base and extra chocolate for a thicker top layer), and added some of my own notes for ease of preparation.
The recipe that follows is traditional, but from what I've read, the buttercream layer can be varied to include pretty much any flavor that suits you. I've come across filling recipes ranging from Mocha and Peanut Butter to Irish Cream, Grand Marnier, and Peppermint. The sky's the limit. (Although, the traditional recipe was so good, I'm more than content to stick with it.)
As the saying goes: when life gives you lemons, make lemonade. When WordPress locks you out of your blog, make Nanaimo Bars. Thanks for the recommendation, Regan!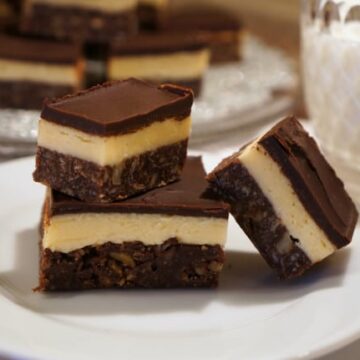 Nanaimo Bars
Canadian triple-layer Nanaimo Bars combine chocolate, nuts, buttercream, and coconut, for a sweet and decadent ("no-bake") dessert.
Adapted from Joyce Hardcastle via The City of Nanaimo

Print
Pin
Rate
Save
Saved!
Servings:
16
(2-inch) squares
Estimated Calories:
328
kcal
Ingredients
Base
½

cup

unsalted butter

¼

cup

granulated sugar

5

tablespoons

unsweetened cocoa powder

1

egg

, lightly beaten

1

teaspoon

vanilla extract

1-¼

cups

graham cracker crumbs

1

cup

sweetened flaked coconut

½

cup

finely chopped nuts

(almonds, walnuts, or pecans)
Buttercream
½

cup

unsalted butter

, at room temperature

2

tablespoons

plus 2 teaspoons heavy cream

2

tablespoons

vanilla custard powder

2

cups

confectioner's sugar
Top Layer
6

ounces

semisweet chocolate

, chopped (or use chips)

3

tablespoons

unsalted butter
Instructions
Make the base
Lightly coat an 8-inch square baking pan with nonstick cooking spray. To make it easier to cut and remove the completed bars, line the pan with a piece of parchment paper with a 2-inch overhang on two of the sides.

In a bowl over simmering water, melt butter with cocoa powder and sugar, stirring until smooth. Slowly add beaten egg and vanilla extract, whisking until thickened. Mixture may look slightly curdled at first; continue whisking until smooth.

Remove from heat and stir in graham cracker crumbs, coconut, and nuts. Press mixture into the prepared baking pan (a tart tamper or the bottom of a dry measuring cup are helpful in pressing an even layer).

Refrigerate until cooled and firm, about 1 hour.
Make the buttercream
In the bowl of an electric mixer (or a large bowl with a hand mixer), cream butter until light. Add custard powder, heavy cream, and confectioner's sugar, and beat until fluffy and spreadable.

Using an offset spatula, spread an even layer of buttercream over the chilled base.

Refrigerate until set, about 30 minutes.
Make the top layer
In a bowl over simmering water, melt chocolate and butter until smooth and glossy. Cool slightly (you don't want to melt the buttercream). Using an offset spatula, quickly spread chocolate over the buttercream layer.

Chill 10 minutes, until just set. For ease of cutting, remove from refrigerator and score bars in 2-inch increments, barely slicing into the top chocolate layer. Return to refrigerator for an additional 20-30 minutes.

Using the parchment overhang, lift bars out of pan and transfer to a cutting board. Peel off parchment and cut along score marks using a sharp knife (cleaning between cuts for neat slices).

Store in an airtight container in the refrigerator. Bars are best if allowed to sit at room temperature for about 30 minutes before serving.
---
Notes
*There's a lot of discussion on the Web about which nut varieties do and don't belong in Nanaimo Bars. From what I can gather, almonds and walnuts are tied for the most traditional, with pecans in a close second. I used walnuts and the results were delicious.
**I'd never heard of custard powder before shopping for this recipe. Lo and behold, I easily found a canister of the Bird's brand in the International section of my grocery store. While custard powder is traditional, some recipes claim that you can substitute instant vanilla pudding mix. I'd be careful of this. From a quick taste of the custard powder on my fingertip, it's quite a bit less sweet than pudding mix. I can imagine that the substitution would make the already sweet buttercream much sweeter. Proceed with caution.
Nutrition Estimate
Calories:
328
kcal
|
Carbohydrates:
30
g
|
Protein:
2
g
|
Fat:
22
g
|
Saturated Fat:
13
g
|
Cholesterol:
54
mg
|
Sodium:
37
mg
|
Potassium:
135
mg
|
Fiber:
2
g
|
Sugar:
24
g
|
Vitamin A:
470
IU
|
Calcium:
24
mg
|
Iron:
1.2
mg
---
About our Recipes:
Please note that our recipes have been developed using the US Customary measurement system and have not been tested for high altitude/elevation cooking and baking.
Have you made this recipe?
Don't forget to leave a comment and rate the recipe below! Take a picture? Tag @stripedspatula and #stripedspatula on Instagram!