Learn everything you need to know to make a restaurant-quality pan seared steak at home. Pick your favorite steak cut, grab a pan, and get searing with this tutorial!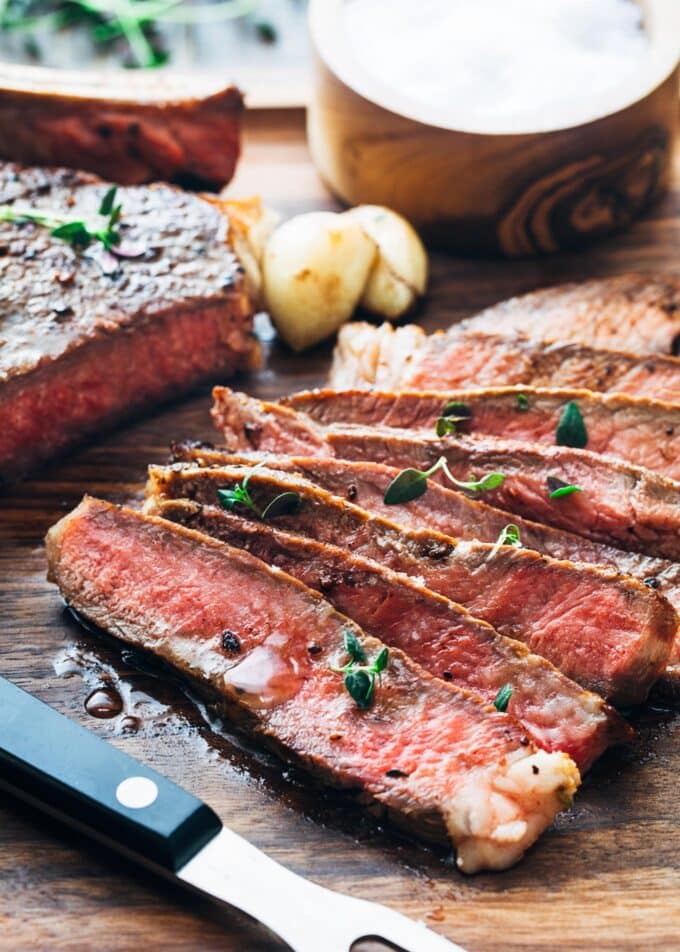 About a decade ago, a few chef friends introduced me to cast iron pan-seared steaks. Truth be told, it was the first time I fell in love with a steak that I hadn't cooked with the flame of a grill during the summer months.
It was a cold winter day, my grill was in hibernation, and I was feeling steak-deprived!
With a few guidelines and techniques, you can make a pan-seared steak at home, any time of the year, that will rival your favorite steakhouse. I'm talking about deep, caramelized crusts. Juicy tender centers. And, of course, garlic-infused butter.
Feeling hungry? Read on!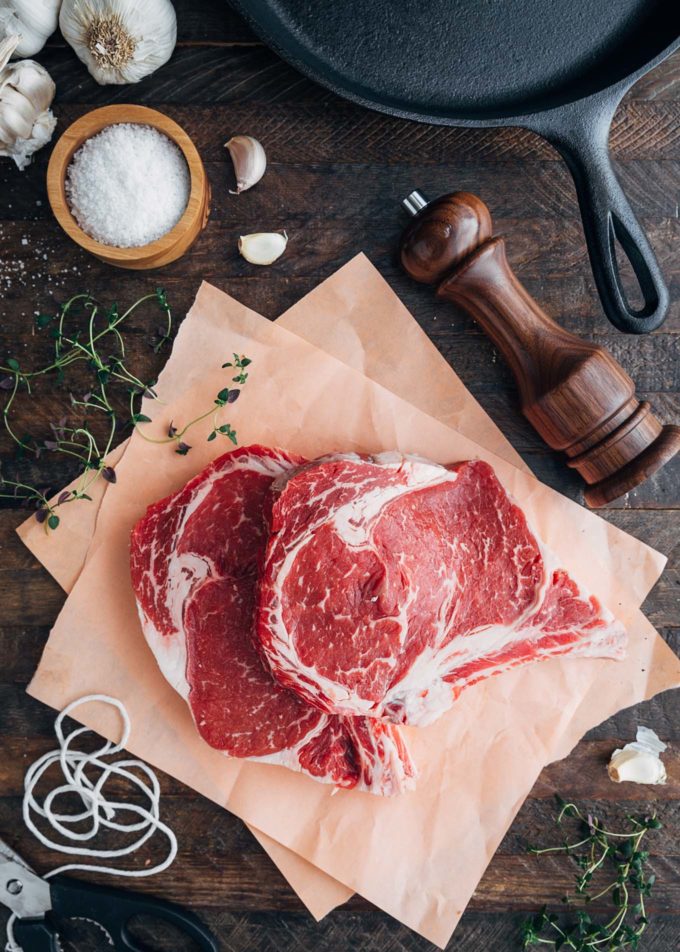 Choosing the Cut of Meat
You can pan-sear most steak cuts, from ribeyes to porterhouse, strip steak, and filet mignon. The steaks shown in this post are my favorite to sear: bone-in ribeyes.
When the option is possible for the cut, I like to cook steaks bone-in, but this technique works boneless too. The bone helps to regulate the heat during the cooking process. Yes, the meat nearest to the bone is generally a little rarer than the rest of the steak, but I enjoy that little tidbit on a medium-rare ribeye.
I like to buy most cuts between 1 and 1-1/2 inches thick with good marbling for the best flavor and texture. Of course, you can use steaks of any thickness, adding or subtracting time as needed to reach your desired doneness.
How to Sear Sear Steak: Tips and Tricks for Making the Best Steak Ever
Step 1: Dry and Season the Meat
To create an enviable golden crust on your steak, pat it dry with paper towels before cooking. If the steak has a lot of moisture when it hits the pan, the heat that should be dedicated to surface browning will instead create steam as it evaporates. Drying the surface helps you to get that crave-worthy steakhouse-quality crust.
After drying, season the steak fairly liberally with kosher salt and freshly-cracked black pepper on all sides. Let the steak rest at room temperature as the seasonings meld with the meat for 40-60 minutes before cooking. Then, pat it dry again.
Step 2: Choosing a Pan
I like to use a naturally nonstick seasoned cast iron skillet. Cast iron has excellent heat retention properties, so it stays hotter, longer than other types of pans. This will help you create an excellent crust on the steak in a short cooking time, with a juicy center.
I always make sure that I'm using a cast iron skillet large enough to hold the steak flat with some wiggle room around it. Most of the time, I'll use either a 10-inch or 12-inch pan.
Want to read up on cleaning and seasoning your cast iron? Check out How to Season and Cast Iron Skillet from Southern Living.
Step 3: Make it Hot, Hot, Hot
In order to ensure that you get the crust that you've been doing everything right so far to achieve, you need to make sure your pan is good and hot on the stove. Smoking hot, actually. This will create a proper Maillard reaction (browning) when the steak hits the pan.
Test to see if the pan is hot enough by splashing in a few drops of water. Do the droplets dance around in the pan? If so, keep heating. Does the water evaporate right away? The pan is heated.
When the pan is sufficiently hot, add vegetable oil, which should start to shimmer almost immediately, with a few wisps of smoke. It's showtime!
Step 4: Put a Sear on It
Using tongs, carefully place your steak in the hot oil in the pan, and then don't touch it for about 2 minutes. This is optimal crust formation time.
After a few minutes, flip the steak. It should release easily from the pan. (If it seems like it's sticking more than a gentle tug will release, let it cook a little longer.) Cook the steak on the second side for 2 minutes more, then flip it again.
"Wait, what?" you might be thinking, "She's flipping the steaks again?!"
Yes, it's true. Like many these days, I don't follow the rule that you should only flip a steak once. I find that on my home stove, I get a more even, restaurant-quality crust and a juicier center if I flip it a couple of times during the searing process.
Step 4: Butter Basting
One of the secrets to a really delectable pan seared steak is butter basting. While the pan's direct heat is searing the steak on the bottom, spooning hot butter over the top helps it to cook more evenly and efficiently.
Butter basting also gives you a little boost in the browning process on any lighter areas on the steak surface. Not to mention that the flavor of nutty browned butter is delectable, and I pretty much want to put it on everything.
To baste, add about two tablespoons of butter to the pan after the second flip outlined above. After it gets foamy, gently tilt the pan and collect some of the butter with a spoon, basting it over the top of the steak. Continually baste the meat for about a minute before flipping again.
Step 5: The Aromatics
Your steak is browning up nicely and it's time to add some more flavor! At this point, I add a third and final tablespoon of butter to the pan, along with crushed garlic cloves and whole herbs, such as sprigs of rosemary or thyme.
The garlic and herbs will infuse the butter, and consequently, the steak. Continue cooking and basting, flipping once or twice more, until the steak is deeply golden and your desired internal temperature is reached. For a medium-rare steak, you'll want to take it off of the stove when your instant-read thermometer reaches 120 degrees F, so it can rest up to 125-130.
It's important to keep a close eye on the butter and garlic during this final cooking stage. If they burn, they'll be quite bitter. Since cast iron retains heat so well, I reduce the flame on my stove to medium toward the end.
Step 6: Rest It.
Just like any meat, a pan seared steak needs to rest so the juices can redistribute. Just place it on a cutting board and tent it loosely with foil for about 10 minutes before slicing and serving.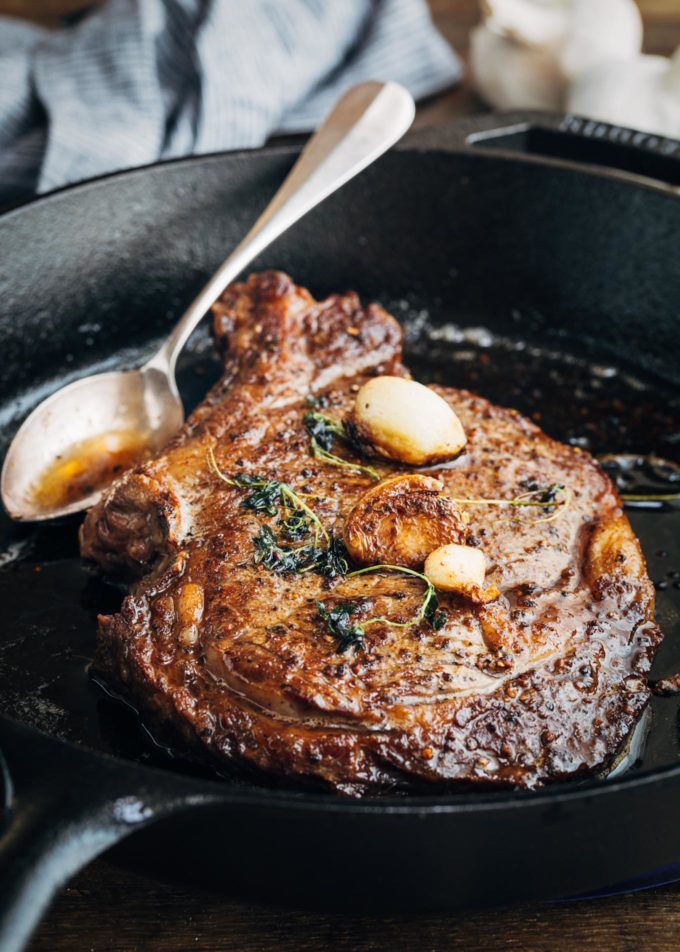 Serving Your Perfectly Pan Seared Steak
Once your gorgeous steak is rested, it's time to slice and eat. I like to carve away the bone and slice the meat against the grain to my desired thickness.
Most of the time, I drizzle a little bit of the garlic-and-herb infused butter over the steak slices and sprinkle them with a pinch of coarse sea salt and a few thyme leaves for freshness. If any juices have accumulated on the cutting board, I drizzle some of those over the meat as well.
Serve your steak with a classic side, such as potatoes or Creamed Spinach, or turn it into the best Steak Sandwich you've ever eaten!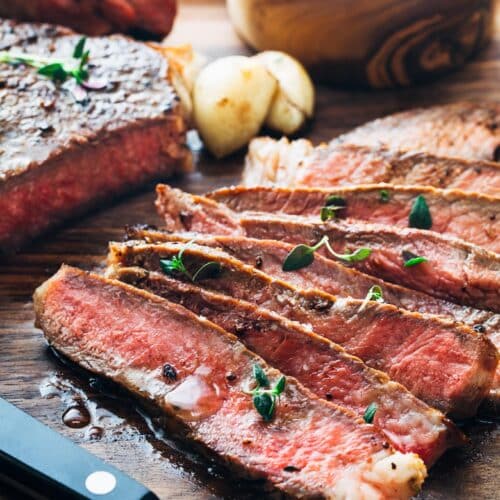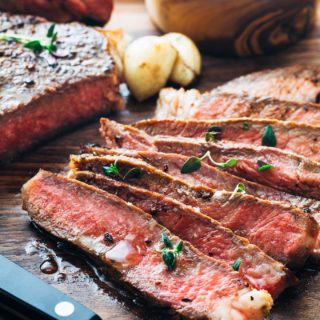 Pan Seared Steak
Learn how to make restaurant-quality steak at home with this simple pan-seared and butter basted cooking technique.
Print
Pin
Rate
Save
Saved!
Estimated Calories Per Serving:
1011
kcal
Ingredients
1

steak (bone-in ribeye, T-bone, strip, etc.)

, 1- to 1-1/2 inches thick

2-3

tablespoons

vegetable oil

(depending on the size of your pan)

3

tablespoons

unsalted butter

, divided

3-4

large

garlic cloves

smashed and peeled

2-3

sprigs

fresh herbs

, such as rosemary or thyme

kosher or sea salt and freshly-cracked black pepper
Instructions
Remove steak from the refrigerator 40-60 minutes before cooking. Pat the surface dry with a paper towel. Season both sides with salt and pepper. Let stand at room temperature until ready to cook.

Heat a large cast iron skillet over high heat until very hot. (Test the temperature by adding a few droplets of water to the pan. They should evaporate immediately.) Add the vegetable oil to the pan and continue to heat until it shimmers and just a few light wisps of smoke rise from the edges.

Pat the steak dry again and add it to the pan with tongs. Let it cook for 2 minutes, then flip it to the other side to cook for 2 minutes longer.

Flip the steak again and add 2 tablespoons butter to the sides of the pan, letting it melt until foaming. Start to baste the top of the steak with the hot butter, gently tilting the pan if needed to collect it with your spoon. Continue cooking and basting for about a minute before flipping the steak again.


Add the remaining 1 tablespoon of butter, garlic cloves, and herbs to the pan. Continue basting the steak with the infused, browned butter, flipping once or twice more, until the steak is golden on both sides and registers 110-115 degrees F for rare, 120-125 for medium rare, or 128-130 for medium.*

Transfer the steak to a cutting board and tent with foil. Rest for 10 minutes before slicing and serving, drizzling with any accumulated juices and a little browned butter. Sprinkle the sliced meat with a pinch of coarse sea salt, if desired.
---
Notes
*Keep an eye on the butter and garlic. If they're getting too brown, reduce the heat.
Nutrition Estimate
Calories:
1011
kcal
|
Carbohydrates:
3
g
|
Protein:
91
g
|
Fat:
70
g
|
Saturated Fat:
32
g
|
Cholesterol:
285
mg
|
Sodium:
238
mg
|
Potassium:
1251
mg
|
Vitamin A:
340
IU
|
Vitamin C:
5.4
mg
|
Calcium:
48
mg
|
Iron:
7.8
mg
---
About our Recipes:
Please note that our recipes have been developed using the US Customary measurement system and have not been tested for high altitude/elevation cooking and baking.
Keywords:
how to cook the best steak, how to pan sear steak
Have you made this recipe?
Don't forget to leave a comment and rate the recipe below! Take a picture and tag @stripedspatula and #stripedspatula on Instagram for a chance to be featured in our Insta Stories and newsletter!