Pork Loin Braised in Milk and Cream is a wonderful weekend dinner. Infused with lemon and sage, the roast is tender, aromatic, and downright succulent.
I need to start wearing my glasses.
Last week, I glanced at a package that had been delivered to my front door and was sure that the return label said, "Pork Loin." I was exuberant for a second thinking that someone might've gifted me a fabulous cut of heirloom pork (I mean, really, how amazing a gift would that be?). Alas, the shipment, sent from a warehouse on Polk Lane, contained only the new kitchen towels and a cookbook I had ordered.
Of course, the misread put the notion of pork into my head, and soon the cravings were too much to ignore. Seeing as October is "National Pork Month" (I wasn't aware of this until recently, but am more than happy to jump on the "Porktober" bandwagon), it's a good time to talk pork loin.
More specifically, Pork Loin Braised in Milk and Cream, a.k.a, one of the best pork recipes your tastebuds will ever meet.
Truth be told, I've cooked (and choked my way through) my fair share of dry, bland pork dishes. It happens, even with the best of intentions. Pork is a meat that, depending on the cut and cooking method, can be easy to overcook.
Traditional slow-cooking methods usually do the trick for larger cuts like shoulders, which are heavenly, but I'm not always in the mood for shredded, fall-apart meat. A few years ago, feeling somewhat lukewarm about the pork loin I was about to pop in the oven, I stumbled upon the Northern Italian method of milk-braising.
With reviews across multiple recipes emphatically declaring it the best! pork! ever!, I decided to retire my roasting pan for the afternoon and give it a try. Three hours, and one bite later, I was hooked.
In the past, I'd braised various meats in broth, wine, and even beer, but never milk or cream. I was a little skeptical at the start. As it turns out, the lactic acid in dairy creates a magical braising liquid. With gentle heating, it tenderizes the seared meat, helping it to absorb all of the liquid's wonderful, aromatic flavors; in this case, lemon and sage.
The resulting roast is fork-tender (yet still sliceable), full-flavored, and downright succulent. Everyone I've ever served this to has said the same thing (with full mouths, between bites): "amazing."
While the pork is incredible enough on its own, the pan sauce created during the braise is too good to resist. After three hours on the stove, the milk, cream, aromatics, and pork drippings will have reduced into a nutty, golden brown gravy.
Don't panic (as I did the first time I made this, despite having read multiple warnings): the sauce will look curdled. For many, the curd-separation is a hallmark of this dish. Fear not!
While rustic in appearance, the curds are actually quite delicious. If you prefer a velvety sauce (as I have photographed here), a quick whir in a blender (or with an immersion blender in the pot) does the trick.
Juicy, fork-tender, sage-infused pork. A slice of this on a crisp autumn night with a scoop of creamy polenta on the side, and I'm a happy woman. (That is, until lunchtime the next day, when a thinly-sliced leftover pork sandwich inevitably finds its way to my plate. Who's going to say "no" to that?) Happy Porktober!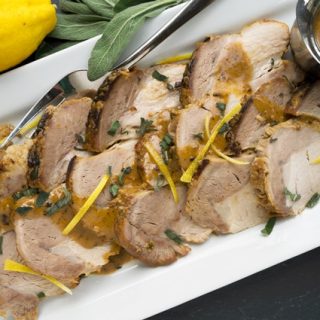 Pork Loin Braised in Milk and Cream
This slowly-cooked pork infused with the aromas of lemon and sage is a wonderful weekend meal. Don't worry when the braising liquid starts to look curdled toward the end of the cooking process; this is normal! The richly-flavored sauce can either be served as-is, or blended for a silkier texture.
Recipe adapted, mostly in notes, from Saveur (January, 2009)
Print
Pin
Rate
Save
Saved!
Estimated Calories Per Serving:
1142
kcal
Ingredients
5

pound

center cut rib, bone-in pork loin roast

salt and freshly ground pepper

1

tablespoon

olive oil

3

tablespoons

unsalted butter

Leaves

from 1 bunch fresh sage

(about 20 leaves_

2

cups

whole milk

2

cups

heavy cream

strips of zest from 1 lemon

, plus extra for garnish
Instructions
Separate the ribs from the loin meat (most butcher counters will do this for you upon request). Set ribs aside. Tie the roast section with twine and season both sides of the roast and ribs with salt and pepper.

Melt olive oil and 1 tablespoon butter in a large dutch oven until foaming subsides. Sear pork roast and ribs, until all surfaces are well-browned, about 3 minutes per side. Transfer roast and ribs to a plate.

Pour most of the fat out of the dutch oven and add remaining 2 tablespoons butter. Add half of the sage leaves and sauté for 10 - 20 seconds. Slowly add the milk and cream. Add lemon zest and a few pinches of salt, to taste.*

Bring to a simmer, stirring to loosen any pork drippings from the bottom of the pan, and nestle roast and ribs into the braising liquid. Cover, leaving the lid slightly vented. Gently simmer (regulating burner heat as needed) for 1 hour, turning roast and ribs every 30 minutes.

Coarsely chop or tear the remaining sage leaves and stir into the braising liquid. Gently simmer for another hour with the lid partially vented, turning the meat every 30 minutes.

Uncover the dutch oven and continue simmering the pork for an additional 1 to 1-1/2 hours, turning every 30 minutes.** The pork is finished when it is tender (a fork will slide in easily) and the braising liquid has reduced to a thick, golden-brown gravy.

Remove the roast and ribs from the dutch oven. Discard the ribs and allow the roast to rest, loosely tented, on a cutting board for 10 minutes. Skim the braising liquid of any large pools of fat. (If desired, transfer gravy to a blender and puree until smooth, or use an immersion blender.) Season to taste with salt and pepper.

Remove twine from pork roast and carve into thin slices. Serve, drizzled with gravy and fresh lemon zest, passing additional gravy at the table.***
---
Notes
*Keep in mind that the braising liquid will reduce significantly during the cooking process, intensifying the flavors. I tend to be lighthanded with the salt at this stage (just a few pinches), adding additional salt to the gravy before serving, if needed.
**It's important to watch the pot closely during the last hour of cooking so that the milk and cream don't scorch and become bitter. You want to maintain a very gentle simmer. The liquid should not bubble vigorously. When I flip the roast and ribs, I like to stir the braising liquid, loosening any cooked-on bits on the bottom of the pot where the meat rests.
***Leftover pork is delicious, thinly-sliced, in sandwiches (warm or cold). To reheat and preserve the roast's juiciness, I find that steaming works best. Just place the slices in a skillet with a few tablespoons of water, cover, and steam over medium heat until heated through.
Nutrition Estimate
Calories:
1142
kcal
|
Carbohydrates:
6
g
|
Protein:
78
g
|
Fat:
87
g
|
Saturated Fat:
40
g
|
Cholesterol:
370
mg
|
Sodium:
254
mg
|
Potassium:
1512
mg
|
Sugar:
4
g
|
Vitamin A:
1500
IU
|
Vitamin C:
2.7
mg
|
Calcium:
213
mg
|
Iron:
3
mg
---
About our Recipes:
Please note that our recipes have been developed using the US Customary measurement system and have not been tested for high altitude/elevation cooking and baking.
Have you made this recipe?
Don't forget to leave a comment and rate the recipe below! Take a picture and tag @stripedspatula and #stripedspatula on Instagram for a chance to be featured in our Insta Stories and newsletter!