Tender and juicy with a rich cognac-infused sauce, this Roasted Capon would be a wonderful addition to any holiday menu as an alternative to turkey.
As if we all haven't eaten enough epeoultry over the past week (Thanksgiving leftovers abound!), I decided to roast a capon on Tuesday.
A friend and I had been recounting our recent holiday feasts when she mentioned knowing a woman who served roasted capon instead of turkey to rave reviews. Having seen capon in the poultry case, but never tasted it (I've heard it was a popular dish in my grandmother's holiday repertoire long before I was born), I was intrigued.
As luck would have it, when I visited my local poultry market that afternoon, there was one capon left in the case. It was just waiting for me to take it home!
Just what is capon, and how does it differ from other poultry? In simplest terms: capon is a neutered rooster. It's larger than your average chicken (mine was close to eight pounds), with a slightly higher fat content (but not as fatty as a duck or goose; both of which, by the way, I love and will be finding their way to this blog in due course!).
In terms of flavor, I'd best describe it as being reminiscent of really, really good chicken. The roasted capon meat was exceptionally tender and juicy, and not at all gamy. If I had to differentiate it from chicken, I would say that capon tastes a bit more complex (but not as strong as turkey), with a more buttery mouthfeel.
The meat was so delicious, with minimal fussing, that I would absolutely consider roasting one (or two) of these for a future Thanksgiving feast.
Once I got home with my beautiful new bird, I turned to the wonderful world of Google to figure out the best way to cook it. Most recipes didn't differ significantly in terms of technique from roasted chicken, except for requiring a longer cooking time on account of the capon's larger size.
For the roasting method, I turned to Tyler Florence, who rubs the entire bird with compound butter, resulting in herb-infused meat with a beautifully-browned skin. A pan of water under the roasting rack helps alleviate any smoking that might occur from the rich pan drippings.
For a special touch upon serving, I couldn't resist Jacques Pépin's suggestion of a creamy mushroom sauce. Roasted capon stands up well to a full-bodied sauce, and the warm undertones of cognac and vermouth make it feel extra-luxurious for a holiday dinner.
As I mentioned, I'm incredibly lucky to have a fantastic natural poultry farm and market in my town (I can't say enough about their ultra-fresh poultry in general; the marinated poussin are a summer staple on our grill!).
I have, however, seen capon offered seasonally in my local supermarket. So, if you don't have access to a poultry farm, you might just find it in your grocery store's butcher case, nestled amongst the holiday turkeys. It never hurts to inquire at the butcher counter, either—items like these can often be ordered with advance notice.
With Thanksgiving behind us, Roasted Capon would be a wonderful addition to a Christmas or New Year's Day menu, pairing beautifully with just about any traditional holiday side dish. A seven and a half to eight-pound bird, such as the one I purchased, should feed about six guests, generously.
"Christmas Capon"? I think I like the sound of that!
Did you know? Striped Spatula has an email list! Subscribe to receive my weekly newsletter.
📖 Recipe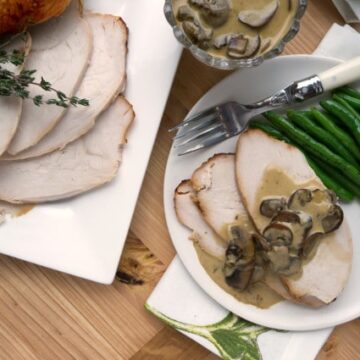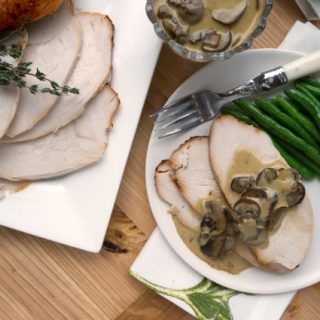 Ingredients
To Roast the Capon
7-8

pound

capon

8

tablespoons

unsalted butter

, room temperature

¼

cup

chopped fresh herbs

(such as tarragon, thyme, and marjoram) PLUS

1

small bunch mixed fresh herbs

(whole)

1

lemon

halved (reserve halves), with 1 tablespoon juice extracted

4

garlic cloves

, smashed

Kosher salt and freshly ground pepper

2

cups

water

, plus additional if needed
Mushroom-Cognac Sauce
¾

pound

white button mushrooms

1

pound

cremini mushrooms*

3

tablespoons

unsalted butter

½

cup

dry vermouth

1-¾

cup

chicken stock

, plus additional, if needed

1

cup

heavy cream

2

tablespoons

cognac

2-½

teaspoons

cornstarch

, dissolved in 2 tablespoons water

1

tablespoon

chopped tarragon

Kosher salt and freshly ground pepper
Instructions
Roast the Capon
Preheat oven to 450 degrees F. Place a "V" rack into a large roasting pan. Pour 2 cups of water into the bottom of the roasting pan and set aside.

In a small bowl, combine unsalted butter, chopped fresh herbs, and 1 tablespoon lemon juice. Set aside.

Remove neck and giblets from the capon's cavity and discard. Season the capon on all sides with salt and pepper. Place garlic cloves, juiced lemon halves, and whole fresh herbs into the capon's cavity. Tie legs together with butcher's twine. Rub the entire exterior of the capon with the herb butter.

Place the capon, breast-side down, onto the prepared rack. Roast for 20 minutes. Remove from oven and reduce temperature to 375 degrees F. Using two meat forks or poultry lifters, carefully flip the capon so that the breast is facing up. Baste the capon with pan drippings.

Return capon to the oven and roast for 60 minutes. Check the pan drippings; if the water has evaporated, add another 1-2 cups to the bottom of the roasting pan.

Continue roasting another 60 minutes (approximately), basting occasionally, until a probe inserted into the meatiest parts of the breast and thigh (away from the bone) registers 165 degrees F and the juices run clear.

Transfer the capon to a carving board and tent with foil. Let rest for 15 minutes. Carve and serve with Mushroom-Cognac Sauce.
Make the Mushroom-Cognac Sauce
Clean mushrooms and slice ⅛- to ¼-inch thick, discarding any tough stems.

In a large sauté pan, melt butter until foaming subsides. Add mushrooms, a pinch of salt, and a few grinds of freshly-ground pepper, and cook over medium-high heat until liquid evaporates and mushrooms are lightly-browned.

Stir in vermouth and cook until almost entirely evaporated, 1-2 minutes. Add chicken stock, reduce heat to maintain a steady simmer, and cook for 5 minutes. Remove from heat and stir in heavy cream and cognac.

Return to stove and simmer until sauce is slightly reduced and thickened, an additional 5 minutes. Whisk in dissolved cornstarch until smooth. Cook over low heat until sauce is velvety, about 1-2 minutes more.

While the capon is resting, loosen any browned bits from the bottom of the roasting pan with a wooden spoon or whisk. Strain pan drippings into a gravy separator or liquid measuring cup, allowing the fat to separate.

Discard fat and whisk about 3 tablespoons of pan drippings into the mushroom sauce. Stir in chopped tarragon and season to taste with salt and pepper.

If sauce is too thick, thin with a little bit of water or chicken stock until desired consistency is reached. Serve sauce alongside carved capon.
---
Notes
*You can use a variety of mushrooms in this recipe. Jacques Pépin's original recipe calls for shiitake, but the cremini looked freshest at my local market the day I went shopping, so I opted to use them instead. A gourmet mushroom blend would also be lovely here.
Nutrition Estimate
Calories:
1151
kcal
|
Carbohydrates:
8
g
|
Protein:
78
g
|
Fat:
86
g
|
Saturated Fat:
33
g
|
Cholesterol:
380
mg
|
Sodium:
312
mg
|
Potassium:
1242
mg
|
Fiber:
1
g
|
Sugar:
2
g
|
Vitamin A:
1900
IU
|
Vitamin C:
16.8
mg
|
Calcium:
110
mg
|
Iron:
4.6
mg
---
About our Recipes:
Please note that our recipes have been developed using the US Customary measurement system and have not been tested for high altitude/elevation cooking and baking.
Have you made this recipe?
Don't forget to leave a comment and rate the recipe below! Take a picture? Tag @stripedspatula and #stripedspatula on Instagram!