Bucatini with Roasted Eggplant and Cherry Tomato Sauce turns fresh summer produce into a hearty dish that's perfect for the transition to fall.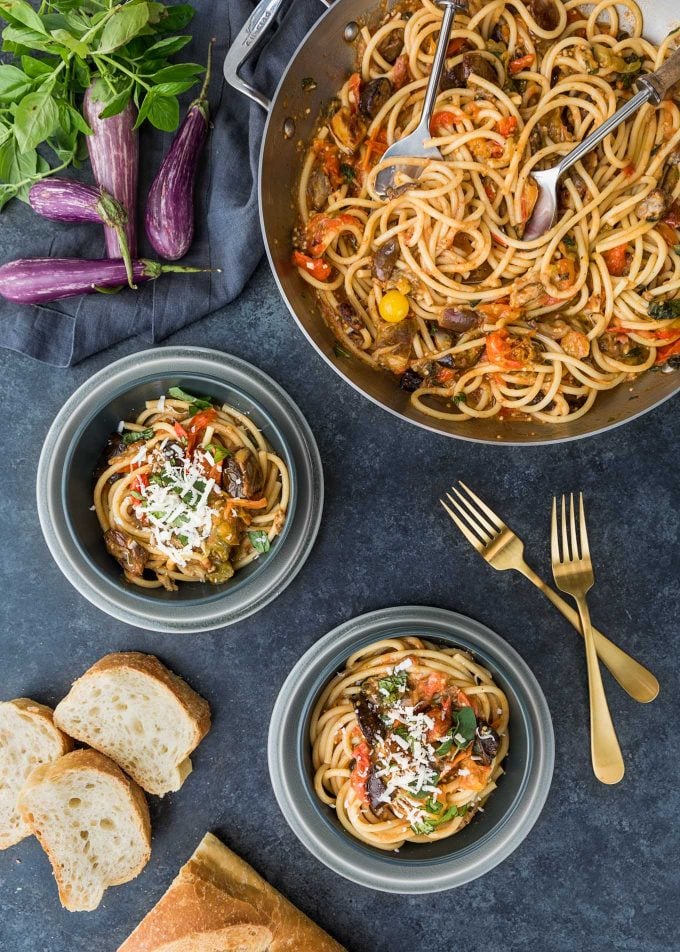 Yet again, I went a little crazy at the farm market and bought all the things. Much like the squirrels, who seem to know that summer is reaching its end, I'm running around stocking up on my fill of the season's best; in my case, heirloom tomatoes and Fairy Tale eggplants.
We've had some chilly days over the past week here in New Jersey. I wore long sleeves and closed-toed shoes for most of Labor Day weekend! The cool evenings have begged for comforting dinners. How better to warm up than with a bowl of bucatini?
In this late-summer pasta dish, I make an heirloom cherry tomato sauce by sautéing the tomatoes with garlic until they burst. Tossed with roasted eggplant cubes, fresh herbs, and a grating of Ricotta Salata, this pasta is some of the best flavors of summer, wrapped up in a dish that's comforting for fall.
Fresh Cherry Tomato Sauce
My late grandfather grew tomatoes and zucchini every summer. My grandmother used to make a quick tomato sauce from the harvest, adding sautéed zucchini rounds to the dish. It was so light and fresh; just perfect for a summer dinner.
When Epicurious' video for 15-Minute Burst Cherry Tomato Sauce popped up in my Facebook feed last week, I was reminded of my grandmother's simple summer sauce. With a sudden and serious craving for pasta, I decided so swap out "Nanny's" zucchini with the eggplant I'd picked up at the market.
The resulting dish was a fresh tomato version of Pasta alla Norma, and we loved it.
Roasted Eggplant and Removing the Bitterness
Sautéing eggplant can be a little tricky. The cubes act like sponges and will soak up oil quickly. Depending on the recipe, you're sometimes better off deep frying eggplant than shallow-frying to avoid a greasy taste. I wasn't in the mood for frying when I made this pasta, so I decided to roast the eggplant.
Roasted eggplant uses far less oil, and takes a deep, rich flavor in the oven. When roasting, you want to look for a thin-skinned eggplant, like the Fairy Tale variety I used. Eggplant varieties with thicker skins can be used, but should be peeled so that the skin doesn't become tough.
There's a lot of division in the "salting vs. not-salting" eggplant debate. Maybe it's habit, but I like to salt my eggplant for 30 minutes before cooking, especially for a pasta dish like this. I like the tender texture of the salted eggplant, and the process pretty much ensures I'm not going to add unwanted bitterness to my sauce. (I often find that even the varieties that claim "no bitterness," still have a bite!)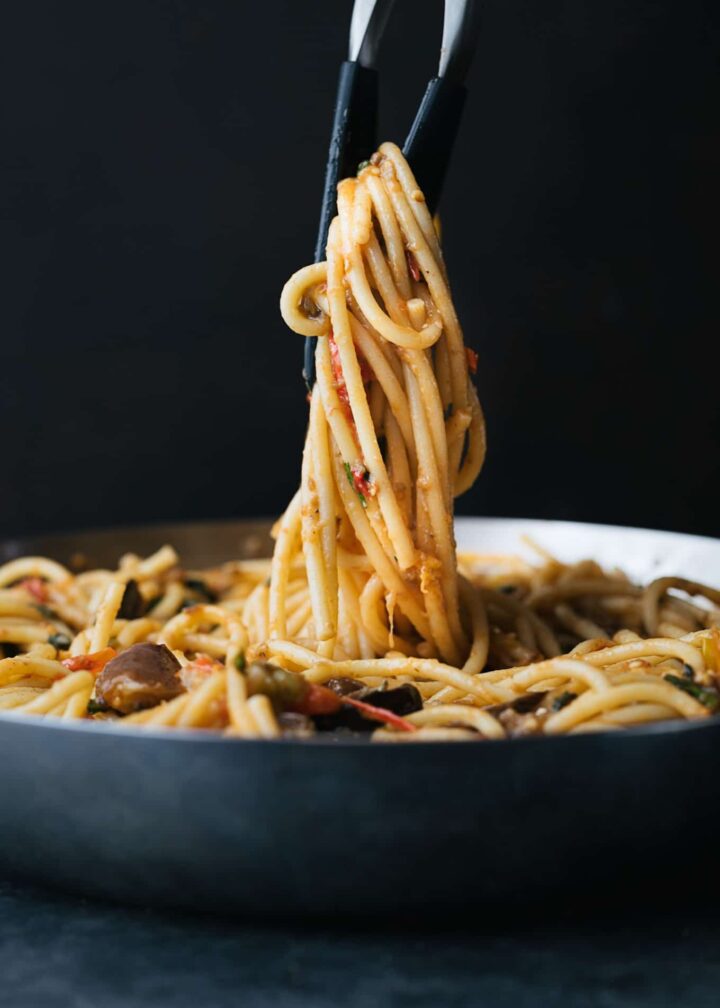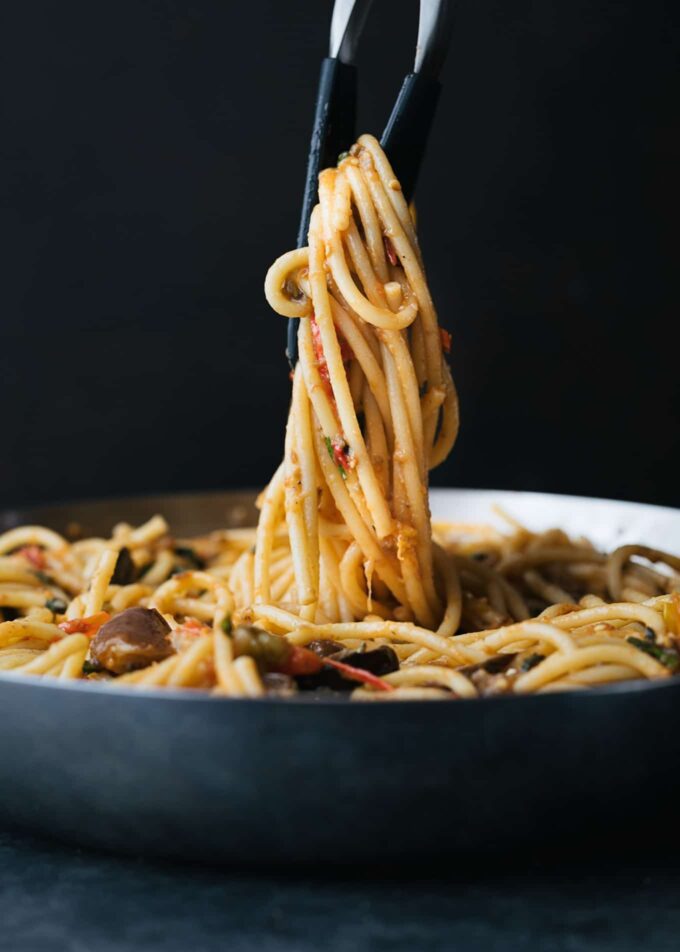 Ricotta Salata – Not the ricotta in lasagna!
If you aren't familiar with it, Ricotta Salata is a firm, sheep's milk cheese that is often sold in wedges. It has a salty flavor that is a little bit briny. Ricotta Salata is softer in texture than a block of Parmigiano Reggiano, but grates or shaves beautifully over pasta.
It's so much different than the creamy, fresh ricotta that can be eaten with a spoon!
My grandmother always grated Ricotta Salata over her tomato and zucchini sauce. It's also a classic finish for Pasta Alla Norma.
If you can't find "grating ricotta," I'd substitute Pecorino Romano in this dish. You want that nice punctuation of saltiness against the tomatoes and eggplant.
(Bought a block of Ricotta Salata and wondering what else you can make with it? Check out this list of uses from The Kitchn.)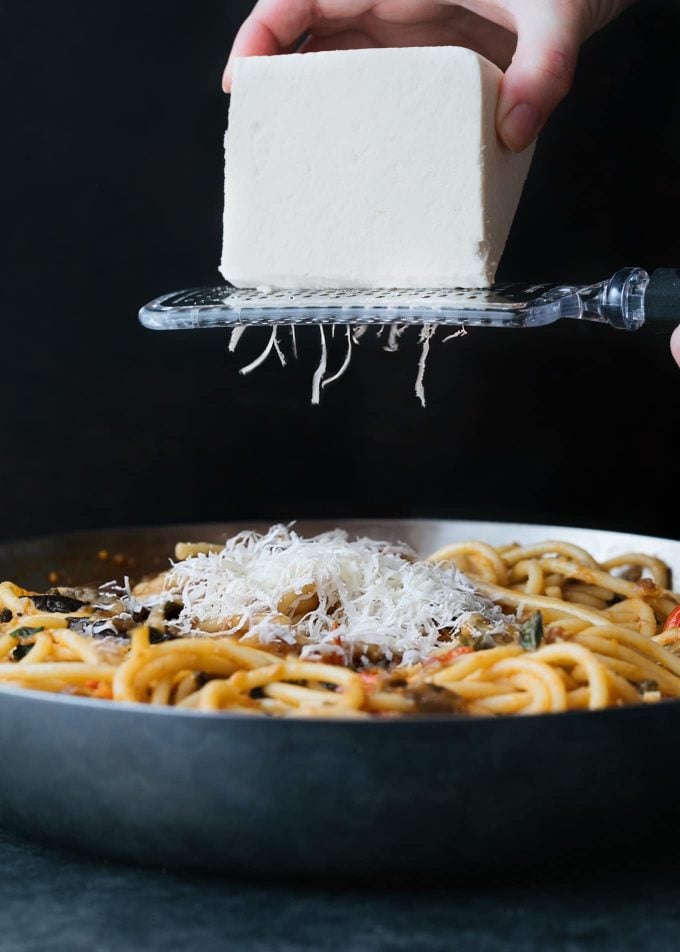 With a bowl of this pasta, and maybe a glass of Pinot Noir on the side, I might be okay with summer coming to a close and the heartier flavors of fall and winter on the horizon. Though, you can bet that I'll be first in line at next year's tomato harvest to savor summer again!
📖 Recipe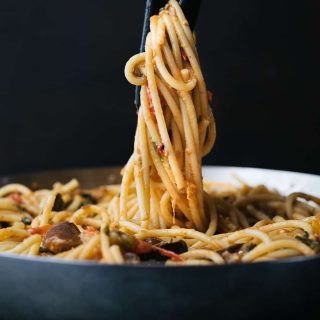 Bucatini with Roasted Eggplant and Cherry Tomato Sauce
This quick and easy fresh tomato sauce, mixed with silky roasted eggplant and herbs, is a perfect late-summer dinner for when the evenings start to cool down. Red pepper flakes are an optional addition for a bit of heat and can be reduced or omitted to make a mild sauce.
Print
Pin
Rate
Save
Saved!
Estimated Calories:
527
kcal
Ingredients
1-½

pounds

eggplant,

cut into ¾- to 1-inch dice*

½

cup

plus 2 tablespoons olive oil,

plus additional for serving

3

large

garlic cloves,

chopped

2

pounds

cherry tomatoes

½

teaspoon

crushed red pepper flakes

(optional)

½

cup

fresh basil leaves,

torn

1

tablespoon

fresh oregano leaves,

roughly chopped

1

pound

bucatini

(or your favorite pasta)

ricotta salata,

for serving

kosher salt and freshly-ground black pepper
Instructions
Roast the Eggplant
Preheat oven to 425 degrees F. Toss eggplant cubes and 1 tablespoon kosher salt in a colander set inside of a bowl. Let stand for 30 minutes. Discard any liquid in the bowl, rinse eggplant cubes, and dry well.

On a large baking sheet (line with foil for easy cleanup), toss together eggplant, 2 tablespoons olive oil, and a few grinds of black pepper. Roast for 20 minutes. Flip eggplant cubes, and continue roasting for 10-15 minutes more, until eggplant is tender and browned.
Make the Cherry Tomato Sauce
While eggplant is cooking, heat ½ cup olive oil in a large skillet over medium-high heat. Add garlic and sauté for 30 seconds, until fragrant. Add cherry tomatoes, ½ teaspoon salt, and a few grinds of black pepper. Cook until tomato skins begin to blister, pressing down on the tomatoes with the black of a wooden spoon to help them burst and release their juices. Add the crushed red pepper flakes, if using.

Lower heat and simmer until tomatoes are soft and the sauce is thickened, about 15 minutes.**

Stir in roasted eggplant, basil, and oregano. Season to taste with salt and pepper.
Serve
Cook bucatini to "al-dente" in a pot of salted, boiling water. Reserve 1 cup of the pasta cooking water and drain pasta in a colander. Add pasta to the sauce skillet and toss to combine over medium heat. Add reserved pasta cooking water, as needed, to bring the sauce to a consistency that coats the pasta.

Serve in warm bowls, with a drizzle of extra-virgin olive oil, and grated ricotta salata on the top.
---
Notes
*Depending on the varieties of eggplants you're using, you might want to peel them before roasting. The skins on baby eggplants, such as Fairy Tale, usually become very tender with roasting, but tougher-skinned varieties can be unappealing in the sauce.
**I like to serve the sauce chunky with some of the tomatoes still intact. If you prefer that your finished sauce not have the tomato skins and seeds in it, you can puree it at this point, or pass it through a food mill before returning it to the pan and proceeding with the recipe. Pureed sauce might need extra pasta water to coat, so reserve a bit more than a cup when draining your bucatini.
Nutrition Estimate
Calories:
527
kcal
|
Carbohydrates:
65
g
|
Protein:
11
g
|
Fat:
24
g
|
Saturated Fat:
3
g
|
Sodium:
25
mg
|
Potassium:
601
mg
|
Fiber:
5
g
|
Sugar:
7
g
|
Vitamin A:
915
IU
|
Vitamin C:
35.8
mg
|
Calcium:
53
mg
|
Iron:
2.6
mg
---
About our Recipes:
Please note that our recipes have been developed using the US Customary measurement system and have not been tested for high altitude/elevation cooking and baking.
Have you made this recipe?
Don't forget to leave a comment and rate the recipe below! Take a picture? Tag @stripedspatula and #stripedspatula on Instagram!