This rich and creamy Slow Cooker Hot Chocolate is great for a snowy winter day or for entertaining. Having a holiday party? This recipe is a fun way to create a serve-yourself cocoa bar for your guests!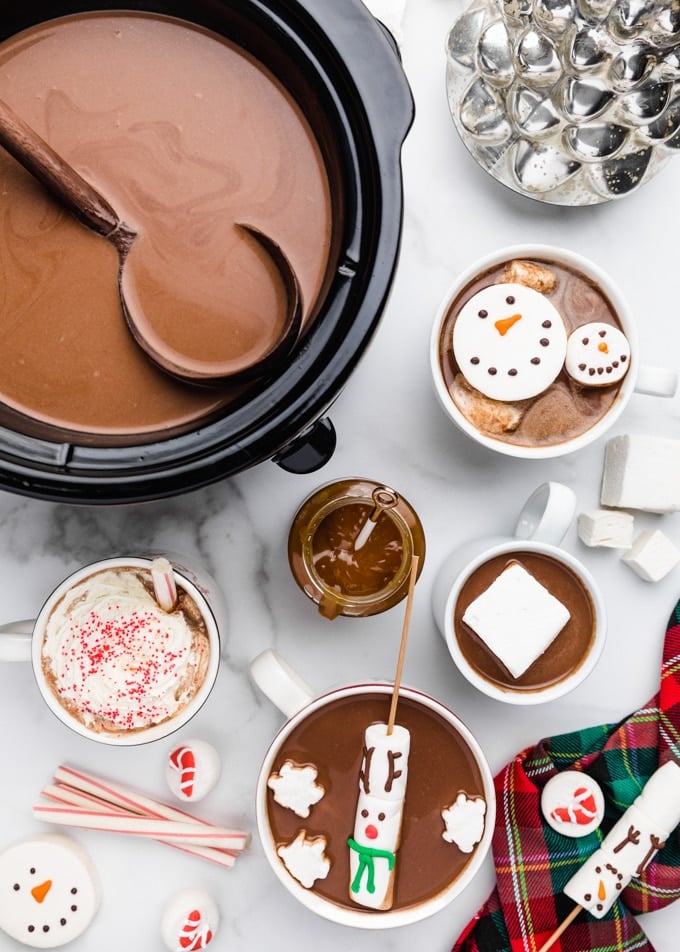 Why Make Hot Chocolate in a Slow Cooker?
The first time I made hot chocolate in my crockpot, my friends asked me my reasoning for it. Why cook something that takes minutes to heat on the stove for 2 hours in a slow cooker?
It's a legitimate question! Do you need a slow cooker to make great hot chocolate? Definitely not. Are there times when it's the preferable way to make it? Definitely!
For me, the slow cooker is convenient and easy for when I want to make hot chocolate in bulk, especially during the holiday season. With the crockpot, I don't need to monitor a big pot of simmering milk on the stove, or regulate the flame to make sure it doesn't scorch.
In just a few minutes, I can prep the hot chocolate in the pot and make a fun, serve-yourself beverage that's great for tree trimming parties, cookie swaps, and Christmas open houses.
It's also a good treat for days when we're cozy at home and want to help ourselves to leisurely mugs of hot chocolate over the span of a few hours (such as a snow day).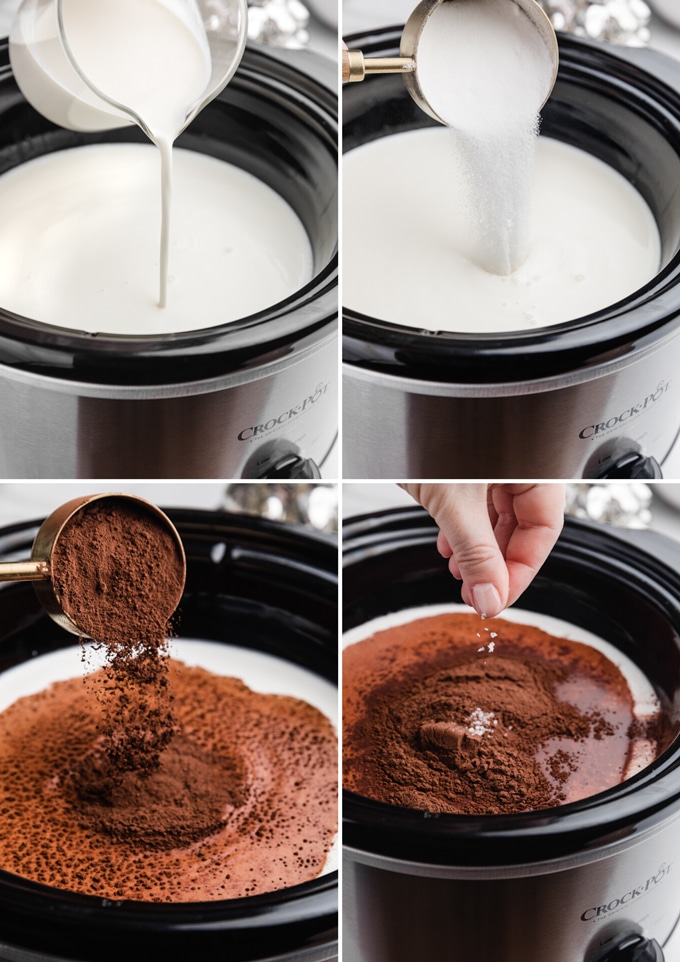 How to Make Hot Chocolate in Your Crockpot
Making hot chocolate in the slow cooker couldn't be simpler. Just mix everything together and heat it on LOW for 2 hours, giving the mixture an occasional stir. It doesn't get easier than that!
Here are the ingredients you'll need:
Warm Milk. For rich and creamy hot chocolate, whole or 2% milk works best.
Warm Heavy Cream
Vanilla Extract
Unsweetened Cocoa Powder. You can use either natural or dutch-process cocoa to make hot chocolate. Dutch process will yield a more richly-colored drink.
Granulated Sugar. The amount you need will depend on the chocolate you've used and your personal preferences. Start with ½ cup and increase to ¾ cup, to taste.
Semisweet Chocolate. Use either chips or chocolate you've chopped finely from a block.
Kosher or Sea Salt. Just a pinch will complement the rich chocolate flavor.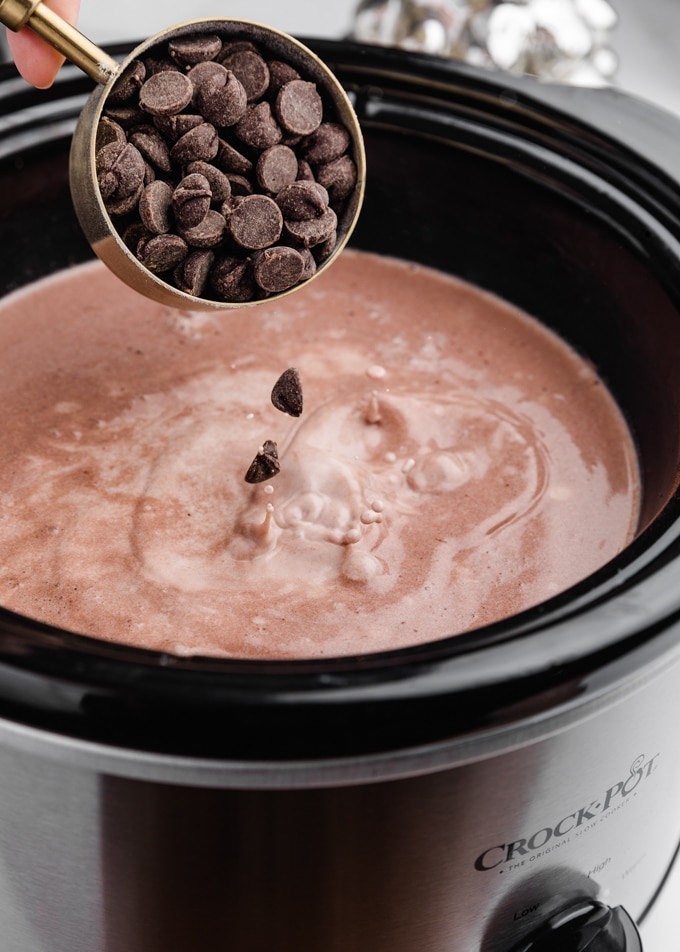 Ensuring Food Safety
I tested this recipe across several different slow cooker models, and the heating times varied, in some cases, by over an hour. Since milk is perishable, I like to bring it out of the "danger temperature zone" (40-140 degrees F) within 2 hours.

To ensure proper food safety across all models when making slow cooker hot chocolate, I recommend warming your milk and cream to 90-100 degrees F before adding it to the insert. I just pop the dairy in the microwave to warm it up.

Starting with warm milk and cream, the hot chocolate in 4.5 quart ceramic Crock Pot pictured here made it to 140 degrees F within about an hour and a quarter on LOW heat.
After a total of 2 hours, the hot chocolate was a comfortable 155-160 degrees F, which is the perfect temperature for me. It's hot enough to satisfy and soften marshmallows, but not scorching to where I'm burning my mouth.
If your slow cooker runs hotter (my 6.5-quart cast aluminum All-Clad, for example, tends to heat the mixture more quickly), adjust your cooking times accordingly.
Keeping the Hot Chocolate Warm
After the hot chocolate is heated above 140 degrees F and everything is melted, you can hold it in your slow cooker on the "warm" setting for 2 hours. After that, store it in the refrigerator and reheat it on the stove or in the microwave before serving.
You'll notice that as the hot cocoa sits in the slow cooker (and when it's chilled), some of the melted chocolate will create a darker layer on the surface. It should be stirred before serving each mug.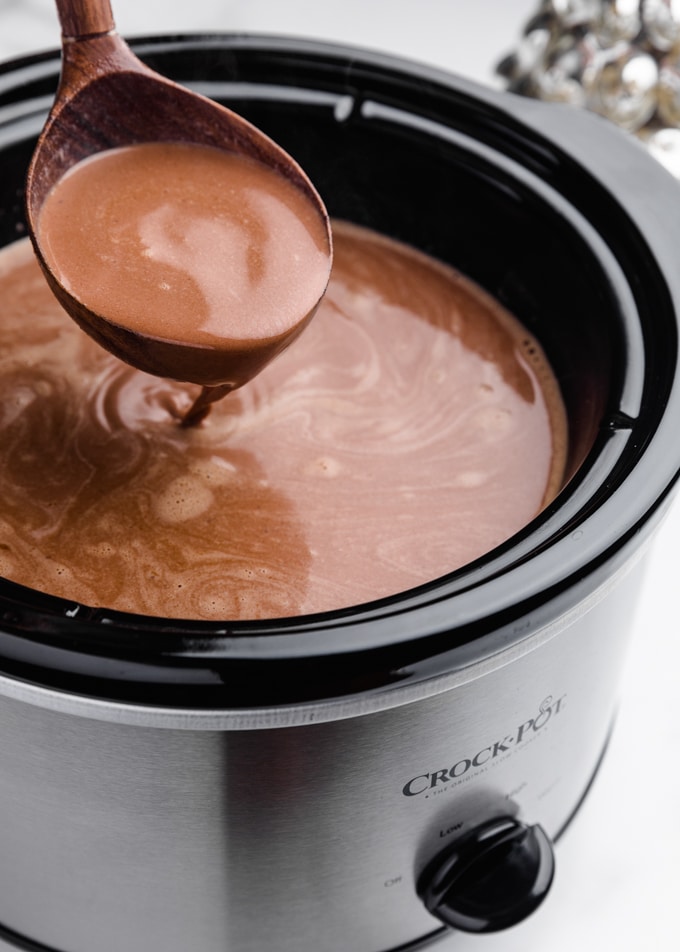 Serving the Hot Chocolate
I like to serve the hot chocolate with a variety of toppings for my guests to choose from, like marshmallows, candy canes, whipped cream, chocolate shavings, chocolate or caramel sauce, and cookie dippers.
For an ultra-decadent treat, you can float miniature marshmallows in the hot chocolate while it's still in the slow cooker. (Pictured below.) Add them about 5 minutes before you're ready serve, place the lid back on the crockpot, and they'll create a melty, slightly frothy layer that you can scoop up with your cocoa.
I don't recommend doing this if you're going to keep the cocoa on a "warm" setting. The marshmallows will dissolve completely the longer they sit and make the hot chocolate too sweet. In this case, offer marshmallows on the side for guests to add to their mugs.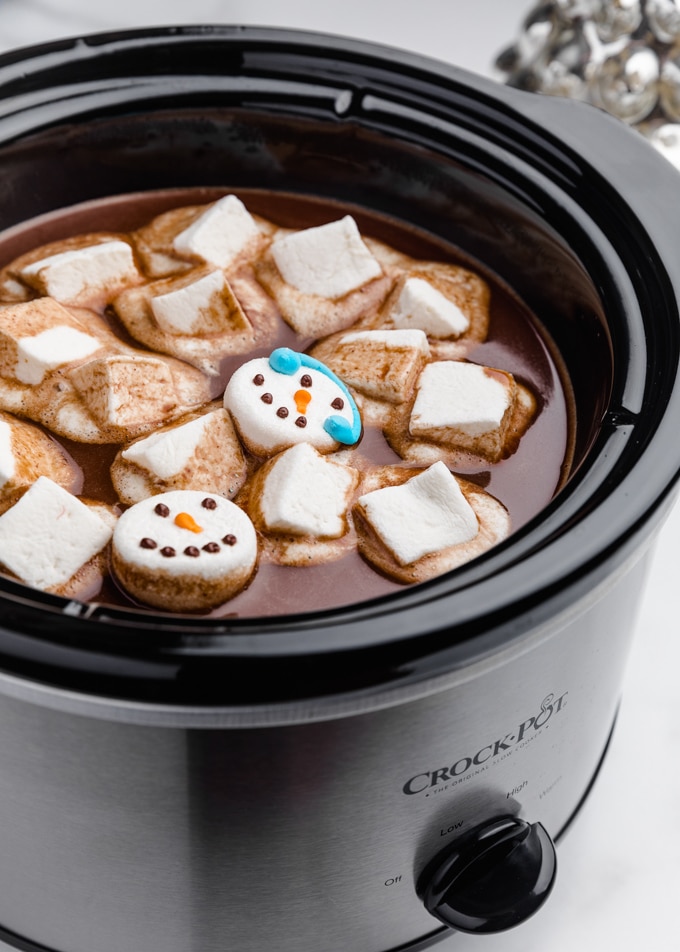 Variation Ideas
It's easy to tweak the base recipe to create different hot chocolate flavors for your friends and family. Here are some of our favorites:
Sea Salt Hot Chocolate. For a sweet-salty twist, add additional sea salt, to taste.
Caramel Hot Chocolate. Substitute your favorite caramel sauce (or salted caramel sauce) for the granulated sugar. Start with ½ cup.
Chocolate Hazelnut Cocoa. Substitute 1 cup chocolate hazelnut spread for the chocolate chips, adding additional to taste. Adjust the quantity of granulated sugar, to taste (it will depend on the brand of chocolate hazelnut spread you're using–some are sweeter than others).
Peppermint Hot Chocolate. Add ½ to 1 teaspoon peppermint extract, to taste. (Add it gradually; peppermint extract can be strong and overpower easily!)
Cinnamon Hot Chocolate. Whisk in 1 teaspoon ground cinnamon with the cocoa powder.
Mexican Hot Chocolate. Whisk in ½ teaspoon ground cinnamon, ¼ teaspoon ground nutmeg, and ¼ teaspoon cayenne pepper with the cocoa powder.
Spiked Hot Chocolate. After the hot chocolate is warmed, add your favorite liquor or liqueur, to taste. Some of our favorites are Bailey's Irish Cream, Kahlua, Caramel Liqueur, Amaretto, Peppermint Schnapps, or Bourbon.

If you're using a sweet liqueur, go light on the quantity of granulated sugar you use in the hot chocolate base and adjust to taste.
Looking for more Hot Chocolate recipes? Check out my popular Peppermint Hot Chocolate, White Hot Chocolate, and Pumpkin Spice Hot Chocolate (all of which are spikeable for adults!)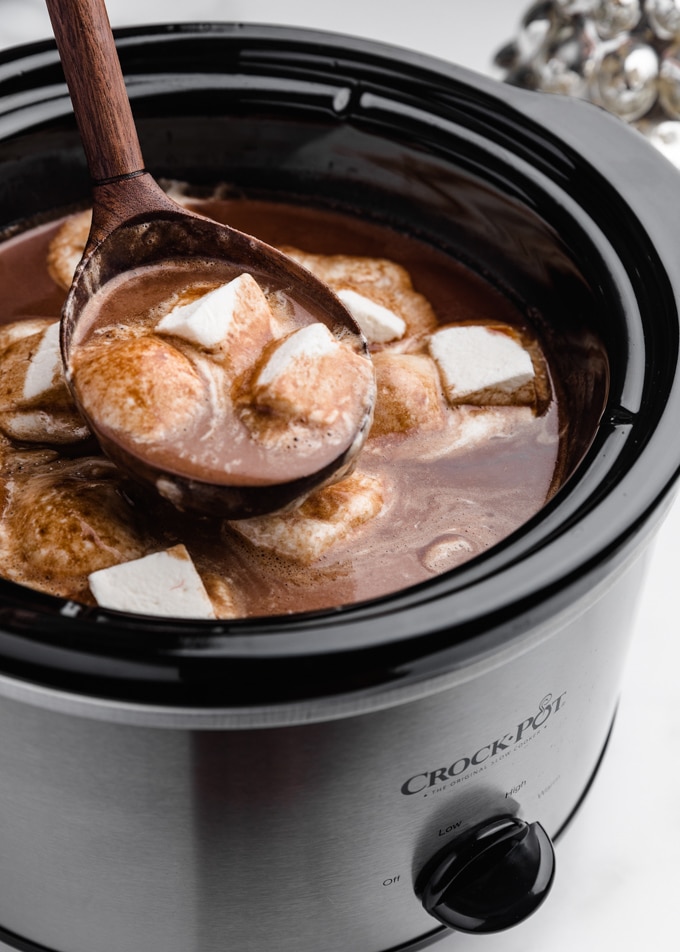 Slow Cooker Hot Chocolate FAQ
Q. Can I use milk chocolate instead of semisweet?
A. Yes, with a few caveats. We prefer semisweet chocolate for a rich, decadent flavor. Hot cocoa made with milk chocolate will not be as deeply-flavored. It will also make the drink considerably sweeter, so you'll need to adjust the added sugar accordingly if making a swap.
Q. How long can leftover hot chocolate be stored?
A. Refrigerate leftovers in an airtight container for 3 to 5 days.
Q. Can I make this recipe without dairy?
A. Yes. You can substitute almond or coconut milk, coconut cream, and dairy-free chocolate chips for a non-dairy alternative.
CRAVING MORE? Subscribe to my newsletter and join me on Facebook, Pinterest, and Instagram for the latest recipes and news.
📖 Recipe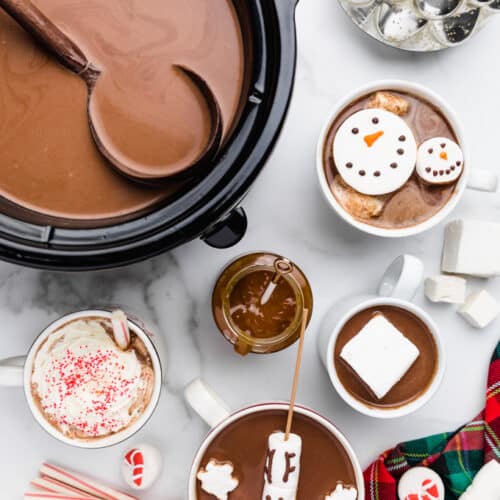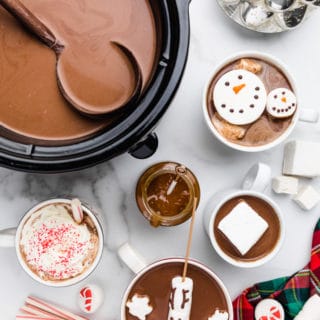 Slow Cooker Hot Chocolate
This rich and creamy hot chocolate is easy to make in the crockpot and great for entertaining!
Print
Pin
Rate
Save
Saved!
Servings:
8
to 10 servings
Estimated Calories:
621
kcal
Ingredients
8

cups

milk

(whole or 2%), warmed to 90-100 degrees F*

1-½

cups

heavy cream

, warmed to 90-100 degrees F*

2

teaspoons

vanilla extract

¼

cup

unsweetened cocoa powder

½ to ¾

cups

granulated sugar

(to taste)

2

cups

semisweet chocolate chips

(or finely-chopped chocolate from a block – 12 ounces total)

pinch

kosher or sea salt

whipped cream, marshmallows, candy canes, chocolate shavings

, for serving
Instructions
Whisk togther warm milk, cream, vanilla, cocoa powder, sugar, and salt in the insert of a 4.5 to 6.5 quart slow cooker. (Cocoa powder will not dissolve fully – mix it as well as you can.) Stir in chocolate chips.

Place the lid on the slow cooker, set it to LOW, and cook for 2 hours, until the mixture is hot and the chocolate is melted. Whisk the hot chocolate every 30 to 45 minutes as it heats. If, at the end of the cooking time, you still see little flecks of chocolate, whisk vigorously for just a few seconds, and they will melt into the base for a smooth and creamy drink.

Stir the hot chocolate before serving each cup. You can keep the hot chocolate on the WARM setting of the slow cooker for up to 2 hours (as long as it's maintaining a temperature above 140 degrees F). Store leftovers, covered, in the refrigerator and reheat on the stove or in the microwave.
---
Notes
*See the Food Safety section of the article above for why I recommend taking the chill off of the dairy before adding it to the slow cooker.
For additional flavor ideas for your hot chocolate, see the Variations section above.
For ideas and instructions for hot chocolate accompaniments, see the Serving section.
Click here for recipe FAQ's.
Nutrition Estimate
Calories:
621
kcal
|
Carbohydrates:
51
g
|
Protein:
12
g
|
Fat:
42
g
|
Saturated Fat:
25
g
|
Cholesterol:
88
mg
|
Sodium:
127
mg
|
Potassium:
652
mg
|
Fiber:
4
g
|
Sugar:
42
g
|
Vitamin A:
1074
IU
|
Vitamin C:
1
mg
|
Calcium:
336
mg
|
Iron:
3
mg
Keyword:
crockpot hot chocolate, crockpot hot cocoa, slow cooker hot chocolate, slow cooker hot cocoa
---
About our Recipes:
Please note that our recipes have been developed using the US Customary measurement system and have not been tested for high altitude/elevation cooking and baking.
Have you made this recipe?
Don't forget to leave a comment and rate the recipe below! Take a picture? Tag @stripedspatula and #stripedspatula on Instagram!