Crispy on the outside, soft on the inside, sweet potato fries are a great side for burger night. Dip them into Chipotle-Lime Aioli for a fun Game Day snack!
If my friends had to take bets on what I'm going to order when we meet for lunch, there are two items that they could safely stake their bank accounts on: sparkling water with a wedge of lime and (if given the choice with a sandwich or burger) sweet potato fries. I'm nothing if not consistent.
A good sweet potato fry (I emphasize "good" because many droopy impostors have found their way onto my plate over the years!) is pure bliss. They're light and crisp on the outside, creamy on the inside, with a sprinkling of fine sea salt to contrast their natural sweetness (no cinnamon for me!)
Great with a sandwich, but also amazing on their own, a batch of fresh Sweet Potato Fries dipped into Chipotle-Lime Aioli makes a great snack amongst friends (perhaps while watching a certain sporting event this weekend?).
Sweet Potato Fries are fun to make at home, but, at least in my experience, can have lackluster results. Whether they're baked or fried, sweet potatoes are a lot more prone to sogginess than white potatoes.
I've tried a lot of techniques over the years in my quest to make a fry at home that compares to my favorite lunch spots. Many people swear by soaking them in water for a few hours before cooking for the crispiest results. While this works for standard fries, I've never found lengthy soaking to make that much of a difference with sweet potatoes.
My favorite pre-cooking prep has three key components: 1.) potatoes cut into thin matchsticks (about 1/4-inch) that are, 2.) rinsed and dried, and 3.) lightly-tossed in cornstarch or arrowroot powder.
If there's a key to the crispy fry kingdom when it comes to sweet potatoes, it's Part 3: the coating. A quick shake in a zip-top storage bag before cooking creates a very thin starch layer on the fries that helps to absorb extra moisture and create a little crunch, while allowing the interior to remain soft.
When it comes to baking versus frying, I've come to accept that baked sweet potato fries will never be quite as crispy as those that are deep fried.
Baked fries are delicious in their own right (and definitely much healthier), but if you dive into them thinking that they're going to have the same texture as those emerging from a vat of hot oil, disappointment will inevitably prevail!
That said, I most often bake my fries at home, reserving the deep frying for when I'm entertaining and want to serve something a little more indulgent.
Regardless of cooking method, sweet potato fries should be served quickly after emerging from the oven or fryer for the best level of crispness.
I love dipping them into a flavored mayonnaise or aioli, as photographed here. With a hint of tartness from the lime juice, a little garlic, and heat level to your personal tastes (I like it on the milder side), the aioli balances the sweetness of the potatoes well and gives the fries a nice kick.
To use the obligatory football reference given the weekend: the combo is a touchdown!
Did you know? Striped Spatula is on Instagram! Let's be friends!
See more Appetizers and Snacks for the Big Game:
Baked Flour Tortilla Chips
Hot Crab Salsa Dip
Potato and Zucchini Chips with Gorgonzola
Roasted Grape Crostini
Savory Palmiers
Spinach and Artichoke Dip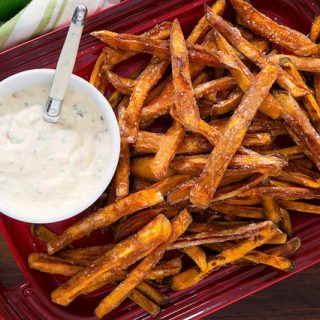 Sweet Potato Fries with Chipotle-Lime Aioli
Crispy on the outside, soft on the inside, sweet potato fries are a great side for burger night. Dip them into Chipotle-Lime Aioli for a fun Game Day snack!
Baked or fried, Sweet Potato Fries are best enjoyed served immediately after cooking to retain their crispness. The Aioli can be made in advance and refrigerated, covered, for up to three days.
Print
Pin
Rate
Save
Saved!
Servings:
6
to 8 Servings
Estimated Calories Per Serving:
408
kcal
Ingredients
To Prep the Fries:
4

large sweet potatoes

, peeled and cut into 1/4-inch matchsticks

3-4

tablespoons

cornstarch or arrowroot powder
To Deep Fry:
2

quarts

peanut oil or vegetable oil

(*see important note for allergens)
To Bake:
3-5

tablespoons

peanut oil, vegetable oil, or melted coconut oil*
To Make the Chipotle-Lime Aioli and Serve:
1

cup

mayonnaise

1-2

tablespoons

chipotle peppers in adobo

, minced

2

garlic cloves

, minced

1

tablespoon

lime juice

2

tablespoons

minced chives

fine sea salt
Instructions
Prep the Fries:
Peel the sweet potatoes. Using a sharp knife, cut a thin slice off of the bottom of the sweet potato so it sits flat and sturdy on your cutting board. Cut the potato lengthwise into 1/4-inch slices, then each slice into 1/4-inch lengths to create a matchstick shape. Make the slices as uniform as possible for even cooking. Rinse in cold water and thoroughly pat dry.**

Place 1 tablespoon cornstarch or arrowroot powder in a gallon-sized ziptop storage bag. Add about 1/3 of the cut potatoes, seal the bag, and shake to create a thin coating on the fries. Repeat with the remaining potatoes in two separate additions, adding additional cornstarch or arrowroot powder to the bag as needed.
To Deep Fry:
Heat oil in a heavy-bottomed pot with high sides (I use my Dutch oven) and bring to 325-350 degrees F. Add sweet potatoes in small batches, being careful not to overcrowd the pan. Keep the fries moving with a "spider" tool and remove from the oil when golden brown and crisp, regulating the heat as needed to maintain oil temperature.

Drain on a paper towel lined baking sheet and immediately sprinkle with sea salt. Reheat oil to 325-350 degrees and repeat until all potatoes are fried. If desired, place cooked fries on a baking sheet and hold in a 250-300 degree F oven to keep warm until all fries are ready to serve.
To Bake:
Preheat oven to 450 degrees F with racks in the midde- and upper-third positions. Coat 2-3 baking sheets (I use half sheet pans; nonstick is best) with about 1-1/2 tablespoons of oil each. Divide prepared sweet potatoes between the pans in even layers, being careful not to overcrowd the fries for the crispiest results (you want the air to be able to circulate around the sides of each fry; if not, they will steam instead of roast). Turn fries in the oil so that all sides are lightly-coated. Bake for 10-15 minutes.

Remove from oven and flip the fries with a thin metal spatula to crisp the second side. Continue baking for 5-10 minutes until fries begin to lightly puff, caramelize, and reach desired crispness. Keep a close eye during the last few minutes so that the fries don't over-caramelize and burn. Remove from the oven and sprinkle with sea salt. Serve immediately.
Make the Chipotle-Lime Aioli
In a bowl, whisk together mayonnaise, minced chipotle peppers in adobo (amount to taste, depending in your preferred heat level), minced garlic, lime juice, and chives. Season to taste with salt. Refrigerate until ready to serve.
---
Notes
*Peanut oil is great for deep frying due to its high smoking point and neutral flavor. It is important to note that many people have peanut allergies. Make sure you tell your guests if you've used peanut oil. If allergies are an issue, you can use vegetable oil.
**Dry potatoes are key for safe frying and crisp fries. Water and oil don't get along, and wet slices will be prone to splattering. Don't skip this step!
Nutrition Estimate
Calories:
408
kcal
|
Carbohydrates:
22
g
|
Protein:
1
g
|
Fat:
35
g
|
Saturated Fat:
5
g
|
Cholesterol:
15
mg
|
Sodium:
327
mg
|
Potassium:
299
mg
|
Fiber:
2
g
|
Sugar:
4
g
|
Vitamin A:
12405
IU
|
Vitamin C:
4
mg
|
Calcium:
31
mg
|
Iron:
0.6
mg
---
About our Recipes:
Please note that our recipes have been developed using the US Customary measurement system and have not been tested for high altitude/elevation cooking and baking.
Have you made this recipe?
Don't forget to leave a comment and rate the recipe below! Take a picture and tag @stripedspatula and #stripedspatula on Instagram for a chance to be featured in our Insta Stories and newsletter!