Hazan's Tomato Sauce with Butter and Onion is luxurious and light with a pure tomato flavor. This is the kind of sauce that you'll want to eat with a spoon.
Some of the best meals I've made (and eaten) have been collaborative efforts. My yen to cook with others started young. Whether I was helping my mother to assemble cream puffs, filling pans of madeleines, or prepping chicken milanese, the food, and the time we spent making it, was an expression of love.
Cooking solo is fun in its own right, but when other people join you in the kitchen, memories are made. A few weekends ago, we did just this when our dear friend, Linda, visited to show me how to make Marcella Hazan's Tomato Sauce with Butter and Onion.
I've read great things about Hazan's recipe over the years (it's become something of a staple in the food blogosphere), but never got around to trying it. As someone who has always made marinara sauce with sautéed garlic and olive oil, the idea of swapping them out for butter and raw onions (Not even chopped! No tears!) hadn't occurred to me. I always wondered if Hazan's recipe would have the same depth of flavor that I craved in homemade sauce.
When Linda mentioned having made this sauce with a crop of fresh San Marzano tomatoes to rave reviews from her family, I knew that I had to give it a try. was thrilled when she agreed to come over (with her beautiful supply of tomatoes!) to make the sauce for the blog.
What struck me most about this recipe (aside from the flavor) was how easy it was to make. After prepping the tomatoes, all that's left to do is to drop them into a pot with the butter and onion, and simmer until the juices have cooked down and the fat floats to the surface.
(Let's be honest: any recipe that instructs me to be on the lookout for little pools of melted butter as an indicator of doneness has my interest.)
About fifteen minutes in, I couldn't believe the heavenly aroma that was wafting from my stove. The sauce might be low-maintenance in terms of preparation, but you're not going to want to leave the kitchen.
Hazan's finished sauce is light in texture with a wonderful silkiness from the butter. The lack of spices or pungent garlic allows the flavor of the tomatoes to steal the show, with just a hint of sweet onion in the background.
(Hazan recommends discarding the onion halves after cooking, but I'll go on record as saying that if you're an onion lover, the softened slices are delicious spread onto a piece of Italian bread.)
This is the kind of sauce that you'll want to eat with a spoon. Been there, done that, no shame!
Out of curiosity, I did a test-run of the recipe using canned San Marzano tomatoes. It was nothing short of delicious. If you want to make this recipe outside of prime tomato season, or cut down on your prep time, don't hesitate to reach for a can of high-quality imported tomatoes. You won't be disappointed.
Since the sauce freezes beautifully, you might also want to double the recipe, as Linda and I did for these photographs. I think it's safe to say that every freezer would benefit from a container of this sauce.
To reciprocate in the sharing of recipes, I showed Linda my favorite Ricotta Gnocchi while the sauce was simmering. Since ricotta gnocchi are so much lighter than their potato counterparts, they married especially well with this sauce. Neither overpowered the other in terms of texture or flavor.
(Gnocchi also freeze well, if you're looking to plan a full meal for a busy night).
Good food, good laughs, and good friends. I can't think of a better way to spend a Sunday afternoon. Thanks, Linda!
Did you know? Clicking (most) images in any post will take you to my Flickr feed, where you can view more photos taken during the cooking process.

📖 Recipe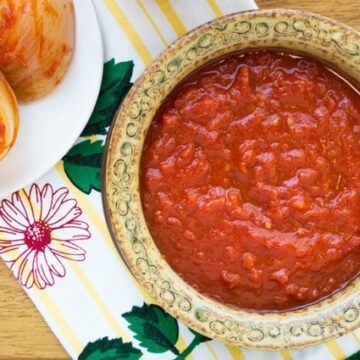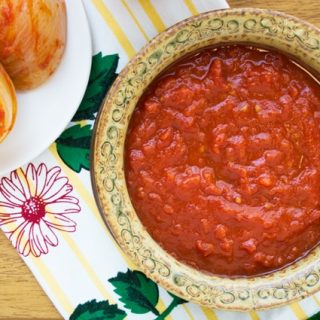 Tomato Sauce with Butter and Onion
Simple and delicious, this tomato sauce shines on its own. Leftover sauce (or a doubled recipe) keeps well in the refrigerator in an airtight container for three days, or in the freezer for up to three months.
Makes 2 cups sauce.
Recipe adapted, in language only, from Marcella Hazan (Essentials of Classic Italian Cooking, 1992)
Print
Pin
Rate
Save
Saved!
Servings:
4
servings (½ cup)
Estimated Calories:
177
kcal
Ingredients
2

pounds

ripe plum tomatoes

, preferably San Marzano, OR

28

ounce

can whole Italian tomatoes in puree

5

tablespoons

unsalted butter

1

medium onion

, peeled and cut in half

salt

, to taste
Instructions
To prepare the tomatoes, if using fresh
Wash tomatoes. Insert the tip of a sharp paring knife into the stem end of each tomato, at a 45-degree angle, and carefully cut around the stem. Discard cores. (This step is optional, but is nice to do to avoid tough core pieces in the sauce. If you don't core the tomatoes, gently score them by cutting a shallow "X" into one end.)

Bring a large pot of water to a boil. Add tomatoes, and blanch until skins begin to blister and split (anywhere from 30 seconds to 2 minutes). Remove tomatoes with a slotted spoon to a bowl of ice water. Let cool briefly and slip the skins off of each tomato (they should slide right off; any stubborn spots can be helped along with a paring knife.) Place in a large bowl or dish, allowing juices to accumulate.
To make the sauce
Place tomatoes and their juices (fresh or canned), butter, and onion, in a heavy-bottomed saucepan. Bring to a simmer over medium heat, lowering temperature as needed to maintain a gentle and constant bubble. Simmer, uncovered, for about 45-minutes, until sauce is reduced and small pools of butter rise to the surface. Stir the sauce every 10-15 minutes as it simmers, breaking up tomato pieces against the side of the pot with a wooden spoon.* Do not allow the sauce to scorch.

Remove onions and eat or discard. Season the sauce with salt, to taste, and serve.
---
Notes
*A potato masher also works well for crushing the tomatoes while simmering. If the sauce is too chunky for your tastes at the end of the cooking process, an immersion blender or food mill can always be used to make it smoother.
Nutrition Estimate
Calories:
177
kcal
|
Carbohydrates:
11
g
|
Protein:
2
g
|
Fat:
14
g
|
Saturated Fat:
9
g
|
Cholesterol:
37
mg
|
Sodium:
14
mg
|
Potassium:
577
mg
|
Fiber:
3
g
|
Sugar:
7
g
|
Vitamin A:
2325
IU
|
Vitamin C:
33.1
mg
|
Calcium:
33
mg
|
Iron:
0.7
mg
---
About our Recipes:
Please note that our recipes have been developed using the US Customary measurement system and have not been tested for high altitude/elevation cooking and baking.
Have you made this recipe?
Don't forget to leave a comment and rate the recipe below! Take a picture? Tag @stripedspatula and #stripedspatula on Instagram!