Venetian Cookies (also known as 7-Layer, Italian Rainbow, and Neapolitans) are layered petit fours with almond sponge cake, jam, and melted chocolate.
The Christmas after I graduated from college, one of my friends jokingly criticized my 10 some-odd variety cookie tray for its lack of Venetians. One of my all-time favorite cookies, I never felt compelled to make them myself since they were always available, fresh and delicious, from the many Italian bakeries common to New Jersey.
Further into the conversation, we both started to wonder if homemade Venetians could yield results anywhere near those found in bakeries to justify the work. (They're beautiful cookies, but their seven layers scream "high maintenance" to the naked eye.)
By the end of the night, "Betcha can't do it," became a "Triple Dog Dare" (the "coup de grâce of all dares"), and the challenge was on.
Venetian Cookies (also known as Seven-Layer, Italian Rainbow, and Neapolitans) are layered petit fours consisting of almond sponge cake, jam, and melted chocolate. The best cookies are moist with a tight crumb and pure almond flavor. My favorite bakeries utilize two flavors of jam between the sponge cake layers (seedless raspberry and apricot) and adorn the cookies with chocolate sprinkles.
My first attempt that year failed miserably. For whatever reasons, the cookies came out with a gummy mouthfeel and an almond intensity that was so in-your-face, it bordered on offensive. They broke during layering and were just plain ugly.
With hours of cookie-making labor now sitting in the trash, morale was running low and I nearly gave up on the challenge. ("If I want them, I'll buy them," I told myself as I scrubbed food coloring from my fingertips. Defeatist, I know.)
The following week, I was standing line at the grocery store and glanced over at the cover of Gourmet Magazine to see a serendipitous picture of Venetian cookies staring back at me. Curious (and still slightly annoyed that I'd been bested by a cookie), I flipped through the magazine to find a detailed recipe that seemed straightforward enough to give it another try.
Verdict? The cookies were delicious—beautifully textured with just enough almond flavor. The secret, as Gourmet stresses, is to slightly under-bake the sponge cake. As soon as the batter sets up (7 – 8 minutes for me), take the layers out of the oven and immediately transfer to a wire rack. While warm, the cake will be pliable and will lift out of the parchment-lined pan easily.
Time-wise, Venetians are an all-day, if not overnight, affair. But, most of that time is "hands off" to let the layers chill and compress post-assembly.
Taste-wise, they're worth the effort, especially if you don't have access to a good Italian bakery. These also keep well for a few weeks, stored in airtight containers. In fact, they improve with age.
Today's batch marks the eighth year that they've been in my holiday cookie rotation. Triple Dog Dare approved.
📖 Recipe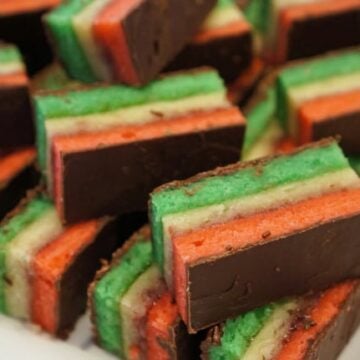 Venetian Cookies (a.k.a. Seven Layer Cookies)
Venetian Cookies (also known as 7-Layer, Italian Rainbow, and Neapolitans) are layered petit fours with almond sponge cake, jam, and melted chocolate.

Adapted from "Seven-Layer Cookies," Gourmet, December 2005
Print
Pin
Rate
Save
Saved!
Estimated Calories:
116
kcal
Ingredients
4

large eggs

, separated

1

cup

granulated sugar

8

ounces

almond paste

1.25

cups

unsalted butter

(2-½ sticks, softened, plus more for buttering parchment)

1

teaspoon

pure almond extract

2

cups

all-purpose flour

½

teaspoon

salt

25-30

drops

red food coloring

25-30

drops

green food coloring

¾

cup

apricot preserves

, warmed and strained

⅓

cup

seedless red raspberry jam

, warmed

9

ounces

bittersweet or semisweet chocolate

, chopped

chocolate sprinkles

(optional)
Instructions
Preheat oven to 350 degrees with rack in middle position. Butter a 13x9 inch baking pan and line with parchment paper, leaving a 2-inch overhang on each of the long sides. Butter the parchment paper.

Place egg whites in stand mixer and beat at medium-high speed with the wire whip attachment until they begin to hold stiff peaks. With mixer at high speed, gradually add ¼ cup of sugar, beating until stiff, glossy peaks are formed. Transfer whipped egg whites to a holding bowl.

In the now-empty mixing bowl (no need to wash), add the almond paste and ¾ cup sugar. Beat on medium speed with the paddle attachment until almond paste is broken up and combined with the sugar, about 4 minutes. Add softened butter and beat until mixture is light and fluffy, 3-4 minutes, stopping once to scrape sides of bowl. Add yolks and almond extract and beat for an additional 2 minutes. Scrape bowl. With mixer running on low, gradually add flour and salt and mix just until no streaks of flour remain.

Stir about a third of egg whites into the almond mixture to lighten. Fold in remaining egg whites until no white streaks remain.

Portion batter into three separate bowls. Fold red food coloring into one, green into another, and nothing into the third. Spread the contents of one of the bowls into the prepared pan (an offset spatula is helpful here). The layer will be thin, about ¼-inch. Bake 7-10 minutes, until the batter is set. Do not allow the cake to brown.

Remove the pan from the oven, loosen the two "short" edges of the cake from the pan with a sharp knife, and immediately use the parchment overhang to lift the cake onto a wire rack to cool. The cake will be pliable and will lift out easily. Wash and prepare the pan again, repeating for the remaining two layers.*

Line a baking sheet or cutting board with wax paper. When all layers are baked and cooled, invert the green layer onto the prepared sheet. Remove the baking paper and spread with the apricot preserves. Repeat, this time inverting the white layer onto the green layer, discarding the baking paper, and spreading with raspberry jam. Invert the red layer onto the white layer and discard baking paper.

Cover the assembled layers with plastic wrap and place a baking sheet on top, weighting with a cookbook, grill press, or unopened canned goods. Refrigerate at least 8 hours, or overnight.

Remove chilled layers from the refrigerator and uncover. In a bowl over simmering water, melt chocolate until glossy and smooth. Pour half of the chocolate over the red layer, spreading to edges. The chocolate layer will be thin. Let sit at room temperature until chocolate is set, about 15 minutes.

Cover the chocolate with a piece of wax paper and invert onto a baking sheet. Spread the remaining chocolate onto the green layer. Sprinkle evenly with chocolate sprinkles, if using. Let the chocolate set completely, 15-30 minutes.

Trim edges with a long knife to make a clean rectangle. With the long end facing you, and your knife parallel to the short edge, cut cake into ¾-inch strips. Clean knife with hot water (and dry) between each cut to facilitate easy slicing. Cut each strip into 4 cookies, about 2 inches each.

Store cookies in airtight containers with wax paper or parchment between layers. Cookies will remain fresh up to 2 weeks at room temperature.
---
Notes
*The process is streamlined if you own three 13x9-inch pans that can be prepared and filled at once. If you only own one, as I do, the pan should be washed before relining/refilling. This is mainly to cool the pan down, as it's difficult to spread a thin layer of batter into a hot pan.
Nutrition Estimate
Calories:
116
kcal
|
Carbohydrates:
12
g
|
Protein:
1
g
|
Fat:
6
g
|
Saturated Fat:
3
g
|
Cholesterol:
21
mg
|
Sodium:
25
mg
|
Potassium:
47
mg
|
Sugar:
7
g
|
Vitamin A:
135
IU
|
Vitamin C:
0.2
mg
|
Calcium:
13
mg
|
Iron:
0.6
mg
---
About our Recipes:
Please note that our recipes have been developed using the US Customary measurement system and have not been tested for high altitude/elevation cooking and baking.
Have you made this recipe?
Don't forget to leave a comment and rate the recipe below! Take a picture? Tag @stripedspatula and #stripedspatula on Instagram!