Whether you're new to Feta cheese or a longtime Feta fan, this cheese guide is for you! In this post, you'll learn the history of one of the world's oldest cheeses, how to shop for it, and inspiration for how to enjoy it at home. Feta fans unite!
TABLE OF CONTENTS
(click headings to jump)
What is Feta Cheese and Where Does it Come From?
Feta is a white, brined cheese traditionally made with sheep's milk or a combination of sheep's milk and goat's milk. It is one of the oldest and most well-known cheese styles in the world, with origins that date back to ancient times. In fact, the production of an early feta-style cheese is described in Homer's Odyssey!
Traditional Feta has a salty, tangy, flavor and a firm, yet creamy texture that lends itself well to crumbling. The texture and aroma of Feta cheese can vary based on the type of milk used, the vessel it ages in, and the length of the aging process.
Most Feta is aged anywhere from 2 to 12 months in barrels, tins, or baskets. Barrel-aged Feta tends to be brined the longest, creating a sharper, more complex flavor. Fetas produced in baskets or tins age for less time and are generally lighter in flavor.
Feta in the European Union: A Protected Greek Product
In 2002, the European Union granted Greece Protected Designation of Origin (PDO) status for Feta. PDO upholds quality standards of traditional, regional foods and protects their integrity in the marketplace. This means that any cheese labeled "Feta" in the EU must meet certain production requirements.
PDO Feta must contain at least 70% sheep's milk, and/or up to 30% goat's milk and come from certain areas of Greece. The designated regions are Peloponnese, Epirus, Central Greece, Macedonia, Thessaly, Thrace, and the islands of Lesvos and Cephalonia.
But Wait…I've Seen Cheeses Labeled "Feta" From Other Countries!
Yes, you have! Especially if you live in the United States. Here's where things get tricky. For now, PDO regulations don't apply to all countries outside of the EU.
Some countries have agreements with the EU to honor them, and others do not. While there have been efforts extend the restrictions to PDO products produced and sold globally, they've faced some pushback.
Feta-style cheeses have existed with regional variations outside of Greece for hundreds, if not thousands of years. In fact, a battle between Greece and Denmark over Danish cow's milk "Feta" sparked the PDO designation in the first place.
Bottom line: it isn't permissible to sell a non-Greek Feta-style cheese as "Feta" in the European Union and countries that have agreed to honor PDO. You'll often see the term "white cheese" instead. In the US, though, "Feta" is currently fair game.
Common Non-Greek "Feta" Styles:
Bulgarian Feta: Known as "Sirene", this Feta-style cheese can be made with sheep's milk, cow's milk, goat's milk, or a mixture of milks. Flavors vary, but Bulgarian Feta is typically saltier and tangier than Greek Feta. I'd describe the flavor as a bit lemony. The texture is firm, but not as crumbly as Greek.
French Feta: This cheese is produced in the southwest region of France with 100% Lacaune sheep's milk (the same milk used to make Roquefort). French Feta is milder in flavor than Greek and Bulgarian Fetas, less salty, and creamier in texture. Look for it under the Valbreso label.
Israeli Feta: Typically made from sheep's milk and brined for about a month, this cheese has a much mellower flavor than Greek feta, and is less salty. Its texture lends itself more to slicing than crumbling. You'll most often find it under the Pastures of Eden brand.
American Feta: Domestic Feta produced in the United States is most often made with cow's milk. Most of the brands I've tasted were milder, drier, and crumblier than imports.
Shopping for Feta Cheese: Top Tips
You can find imported Greek Feta and Feta-style cheeses in the specialty cheese case at the grocery store, international markets, and gourmet cheese shops. Here are some of my tips for buying the best!
Want authentic Greek Feta? Look for the stamp. Feta imported to the United States from Greece will bear the red and yellow PDO mark on the packaging. If the Feta is in tubs without packaging, you can ask your cheesemonger to show you the stamp on the original label. My favorite Greek brands imported to the United States are Real Greek and Dodoni.
Buy Feta in brine. Feta cheese tends to dry out quickly. For the best texture and flavor, look for the cheese to be in brine (salt and water solution), either in the cheese case or the sealed package. If you're buying Feta from a serviced cheese counter, your cheesemonger will package it in brine for you to take home.
If possible, pass on pre-crumbled cheese. In my experience, crumbled Feta stored in brine pick up way too much moisture and break down easily. The texture and flavor will be much better if you buy a block of brined Feta and crumble it as you need it. (The only time I've been truly happy without a block is when I know it's freshly-crumbled and I plan to use it the same day.)
Recipe Inspo: Ways to Use Feta
Chickpea Salad with Lemon Vinaigrette and Feta
Chickpea and Feta Salad is wonderful served as a light lunch with a wedge of warm flatbread, or as a side dish to an array of grilled meats and seafood.
Get the recipe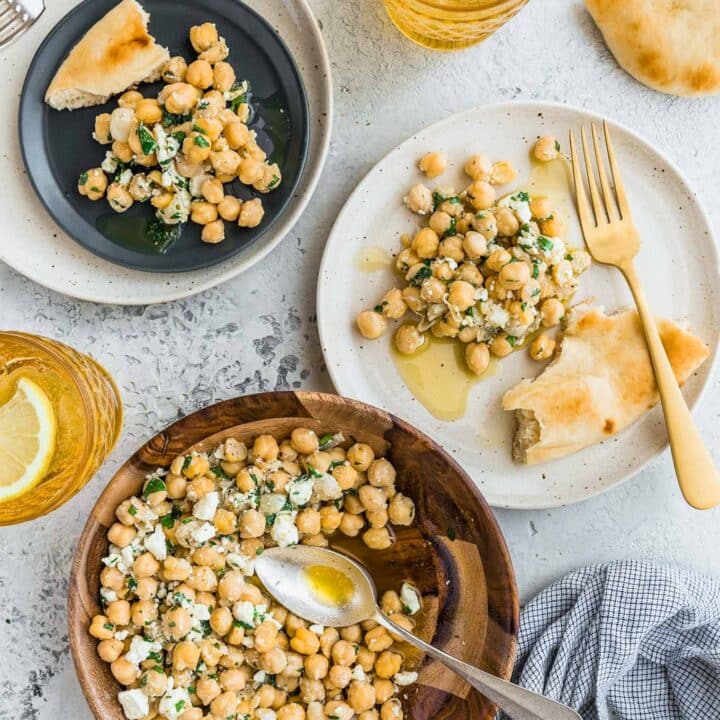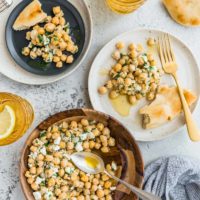 Leftover Lamb Pita Board
Turn your leftover holiday lamb roast into an inviting Pita Board! Everyone gets to choose their favorite add-ins for a casual, fun, self-serve presentation.
Get the recipe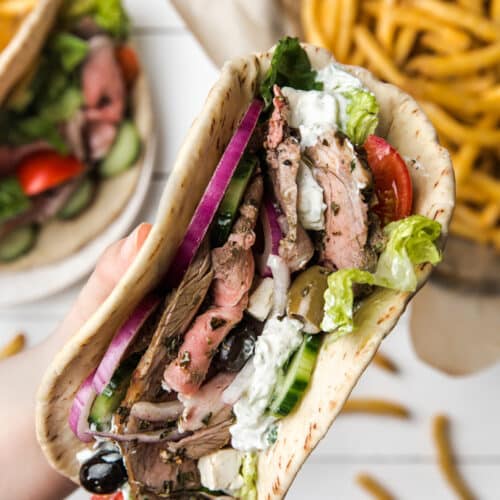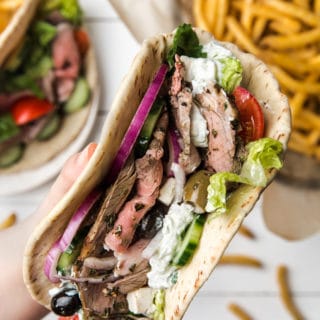 Mediterranean Pearled Couscous Salad
This Pearled Couscous Salad is a bright and fresh side dish or meatless main dish that's perfect for weeknight dinner or easy summer entertaining.
Inspired by my Chickpea and Feta Salad

Get the recipe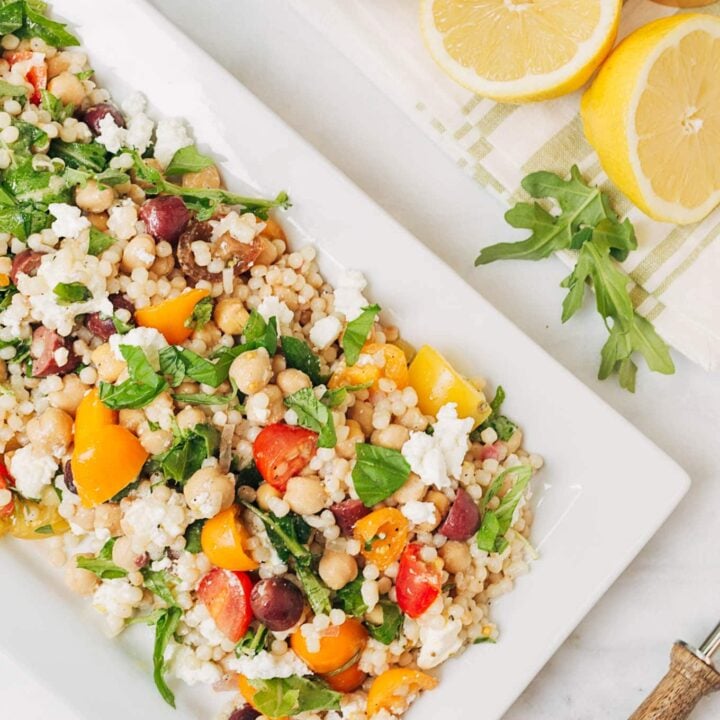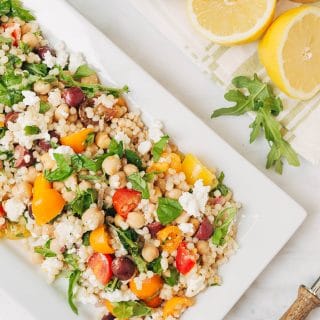 Want more cheesy info? Check out our collection of Cheese Guides.