Chickpea and Feta Salad is wonderful served as a light lunch with a wedge of warm flatbread, or as a side dish to an array of grilled meats and seafood.
As I'm sure you've noticed, Striped Spatula has been on hiatus.  While I have a growing list of recipes that I've wanted to photograph and share with all of you, my health has not been cooperative these past few months, and I've had to hang up my oven mitts for a bit.  I'm hoping to be back on my feet, cooking, and regularly sharing my favorite recipes with all of you soon!

That said, let's talk about chickpeas!  Although I photographed this Chickpea and Feta Salad back in early March (which seems like a lifetime ago; there was snow on the ground the day I made this, and now it's 80-degrees!), my excitement for it hasn't waned in the slightest.
Chickpeas (garbanzos, ceci, or whatever you like to call them) are my favorite member of the legume family.  They're delicately-flavored, packed with protein and nutrients, and have more uses than I will probably ever have an opportunity to prepare in my kitchen (although, I'm such a fan, I'm certain my tastebuds will have no complaints giving it the old college try!).
My mother has been making Chickpea and Feta Salad for as long as I can remember. It's one of those dishes that I've always made "by eye" without a written recipe, so it was fun to finally measure everything out when preparing it for the blog.  With that in mind, it's also the kind of dish that's very adaptable to your personal tastes.
The salad is simple yet satisfying, combining hearty chickpeas (starting with either canned, or those that have been soaked and cooked from dry; it really doesn't matter here), with creamy French Feta, lemon juice, garlic, and olive oil.
It's a great side dish for grilled chicken breasts or lamb chops.  Personally, I like it best served on its own with nothing more than a fork and a warm wedge of naan.  Perfect for a Meatless Monday lunch.
While we're on the subject of the hashtag food themes that seem to be creeping up with ever-growing prominence (#TacoTuesday? #SlowCookSunday?), can we please start a grassroots campaign for #FetaFriday? Let's be real here: my love of Feta borders on obsession (especially the French variety, so good!).
Creamy, briny, and surprisingly versatile in recipes (not to mention delicious on its own, snuck directly out of the container when no one's looking; guilty as charged), Feta totally deserves its own hashtag.  Who's with me?
Did you know? I have a weekly newsletter! Subscribe to stay up to date on what's delicious on the blog.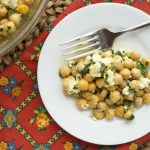 Print
Chickpea and Feta Salad
Chickpea and Feta Salad is wonderful served as a light lunch with a wedge of warm flatbread, or as a side dish to an array of grilled meats and seafood.
This salad is highly adaptable to your own personal tastes and what's fresh in your kitchen. Year-round, I use parsley, but during the summer, when fresh herbs are at their peak, I like to play with different flavors; a few leaves of fresh oregano, a little basil, a sprig of fresh mint. The sky's the limit!
Ingredients
2, 15-

ounce

cans chickpeas

, drained and rinsed OR 1 cup dried chickpeas, soaked and cooked*

4-5

tablespoons

extra virgin olive oil

**

2

tablespoons

fresh lemon juice

1/2

teaspoon

kosher salt

1/2

teaspoon

freshly-ground black pepper

1

garlic clove

, minced

1/4

cup

chopped Italian parsley

1/2

cup

crumbled Feta

, preferably French
Instructions
If using dried chickpeas
Sort through dried chickpeas to remove any stones or discolored beans. Rinse chickpeas and place in a large bowl with enough water to cover by about 2 inches. Soak overnight (12-hours).

Drain and transfer soaked chickpeas to a large pot. Fill with water to cover chickpeas by 2-3 inches and bring to a boil over high heat. Reduce heat and simmer for 1-1/2 to 2 hours, until chickpeas are tender, but not mushy. Drain and cool until just slightly warm or room temperature. Makes about 3 cups cooked chickpeas.
To assemble the salad
Gently dry chickpeas between a double-layer of paper towels, discarding any loosened skins.

Place the chickpeas in a large bowl and add extra virgin olive oil, lemon juice, salt, pepper, garlic, and parsley. Toss to combine. Cover and refrigerate for at least an hour.***

Gently stir salad and fold in crumbled Feta. Season to taste with additional salt and pepper and serve.
Recipe Notes
*Either canned or dried chickpeas can be used as a starting point here with delicious results; it's up to your personal preferences and what's handy in your pantry.
**I always use 5 tablespoons of extra virgin olive oil for the brand of chickpeas I buy, but less plump chickpeas sometimes only need 4 tablespoons (or 1/4 cup). (That's not to say that a little residual lemon-garlic olive oil in the bowl is a bad thing, especially if you have dipping bread around!) Less olive oil will also make the salad a little bit more "lemony." Adjust the olive oil to taste.
***Longer chill times result in better flavor, but you might find that the olive oil solidifies a bit. This is normal! The dressing will return to proper texture at room temperature. Just let the salad sit out on the counter for 20 minutes or so, stirring occasionally, or microwave (before adding Feta) for 5 - 8 seconds.
Have you made this recipe?
Take a picture and tag
@stripedspatula
and
#stripedspatula
on
Instagram
for a chance to be featured in my newsletter!