You can have this classic Beef and Broccoli recipe on the table in an hour, with only 15 minutes of cooking time! Learn all the tips and tricks you need to make this restaurant-quality stir-fry at home.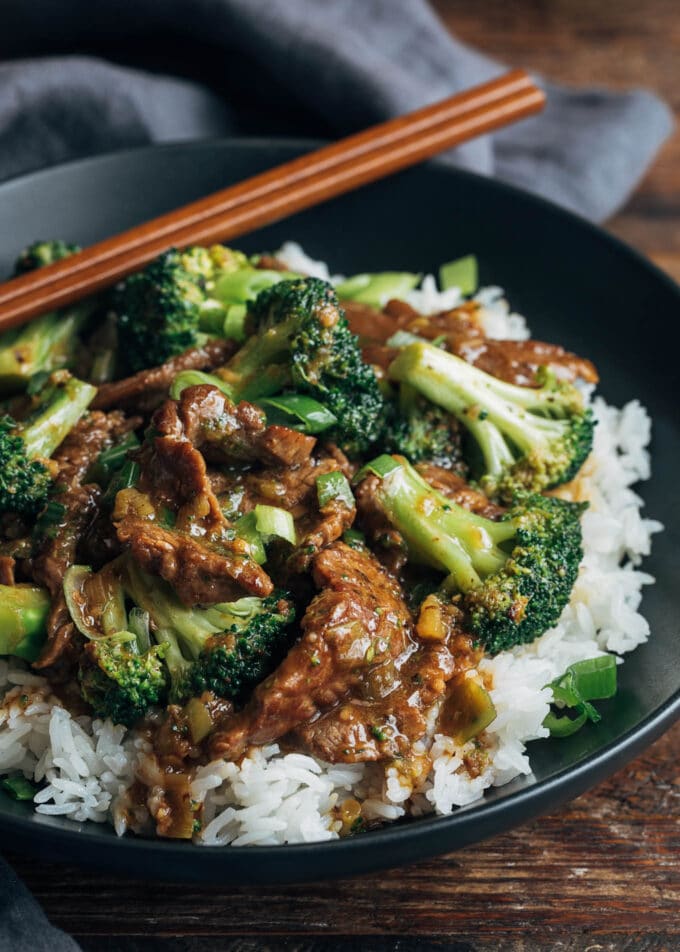 Whenever I order takeout with friends, Beef and Broccoli is always a must. Everyone loves the tender meat, crisp broccoli, and the salty, garlicky, umami-rich sauce. I can taste it just writing about it!
As a stir-fry recipe, Beef and Broccoli is easy to make, with a few simple tips and techniques. Ready in just 60 minutes from prep to fork, this is a dish that can double as a weeknight dinner, or for entertaining with an Asian-inspired menu during the weekend.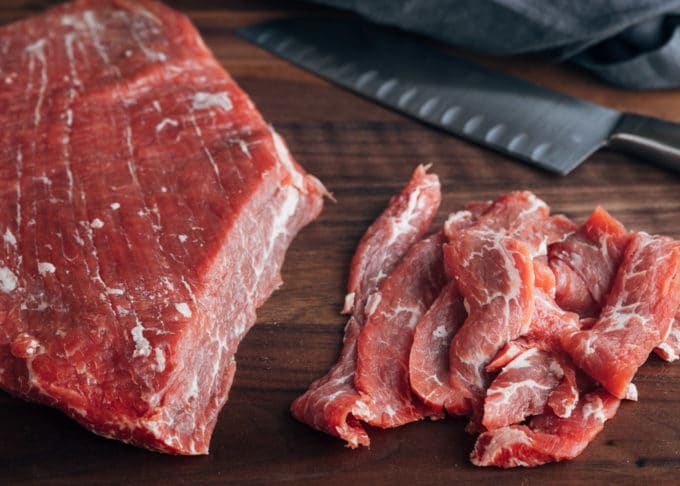 Buying and Prepping the Best Meat for Stir-Fry
I like to buy flank steak for this Beef and Broccoli recipe. When properly sliced and marinated, it is well suited to the high heat, quick-cooking stir-fry method.
Trim the flank steak of excess fat before using it for this stir-fry (or, ask your butcher to do it for you). Most flank steaks you find in the butcher case will be sufficiently trimmed, but I've come across a few that I've gotten home and have needed a little additional work.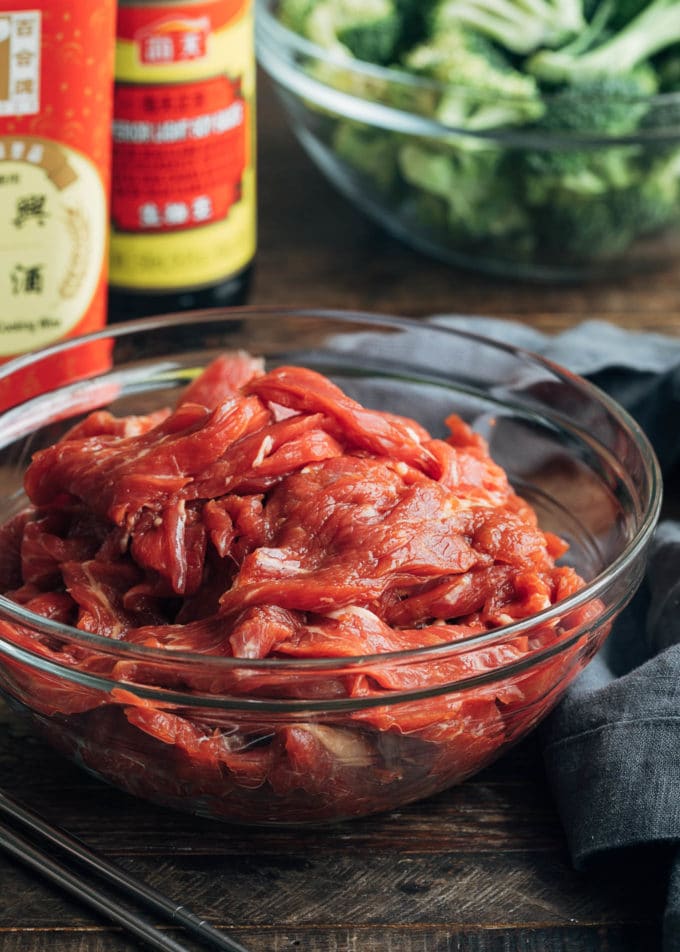 Slicing the Flank Steak
For the most tender meat, cutting the flank steak into thin slices is key. Use a sharp knife to cut the meat against the grain into 1/8-inch thick slices.
As you can see from the meat in the photo above, I like to angle my blade slightly. So, instead of cutting straight down with my blade perpendicular at 90-degrees to the steak, I angle it slightly to the left and cut/shave the meat downward, to the right.
To make slicing the meat so thinly easier, pop the flank steak in the freezer for 15-20 minutes before slicing. It should be just starting to firm, but not left in long enough to freeze solid. The firm texture will help you create thin, clean slices.
Tenderizing the Beef Slices
Flank steak can be a tougher cut of beef. The thin slices help it to cook to a tender texture, as does a quick marinade.
Chinese cooking often utilizes a method called "velveting" to create a tender and silky texture in stir-fried fish, poultry, and meat. Velveting involves marinating the meat in a mixture of cornstarch, egg whites, and rice wine, before blanching in oil or water.
For this Beef and Broccoli recipe, I use a quasi-velveting method by marinating the flank steak slices in light soy sauce, rice wine, and cornstarch for 15-20 minutes. Instead of blanching the marinated meat, I move directly to browning the strips in hot oil.
This technique is convenient for a weeknight stir-fry, and the steak always comes tender. Plus, the soy sauce and rice wine marinade is able to flavor the meat in a short period since it's so thinly sliced.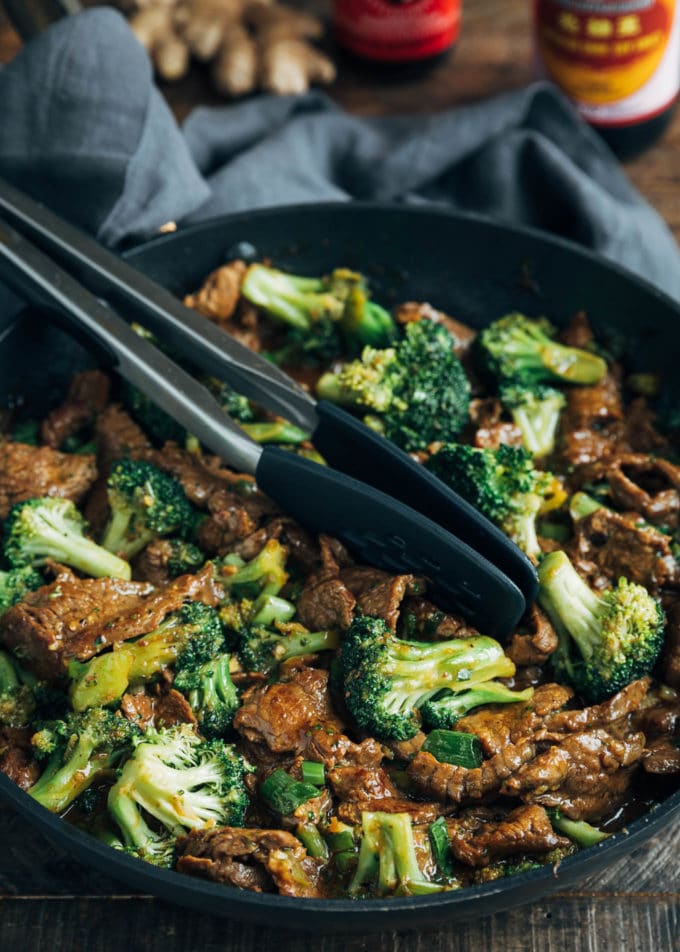 What Asian Pantry Items Should I Buy?
For this Beef and Broccoli recipe, you'll need to buy Oyster Sauce, Light and Dark Soy Sauce, Sesame Oil, and Shaoxing Rice Wine. To read more about these ingredients, don't miss my Chinese Cooking: Pantry Essentials Guide.
Given the condiments used to make the sauce, Beef and Broccoli is traditionally a pretty salty dish. I've found that it's important to use low-sodium chicken broth when making the sauce mixture. Sodium content on commercial broths and stocks can vary so widely, and using low-sodium levels the playing field a bit.
If you want to control the salt content further, you can use low sodium soy sauce and add your own salt to the dish, to taste, before serving.
Do I Need a Wok?
If you have a wok that you love to use, you can certainly use it to make this stir-fry. You don't, however, need to purchase a wok especially for this Beef and Broccoli recipe.
While I enjoy wok-cooking, I find that most stir-fries cook quite well in a large, deep nonstick skillet. The skillet shown in this post is a 12-inch and makes Beef and Broccoli just as well as my wok (if not better, actually).
Most importantly for a stir-fry is that your heat is high enough. Your pan and oil need to be sufficiently heated for your meats to brown without poaching in released juices and your vegetables to quickly cook to crisp-tender.
Want to read more about wok vs. skillet stir-frying? Read Can You Stir-Fry Without a Wok from Tommy Werner at Epicurious.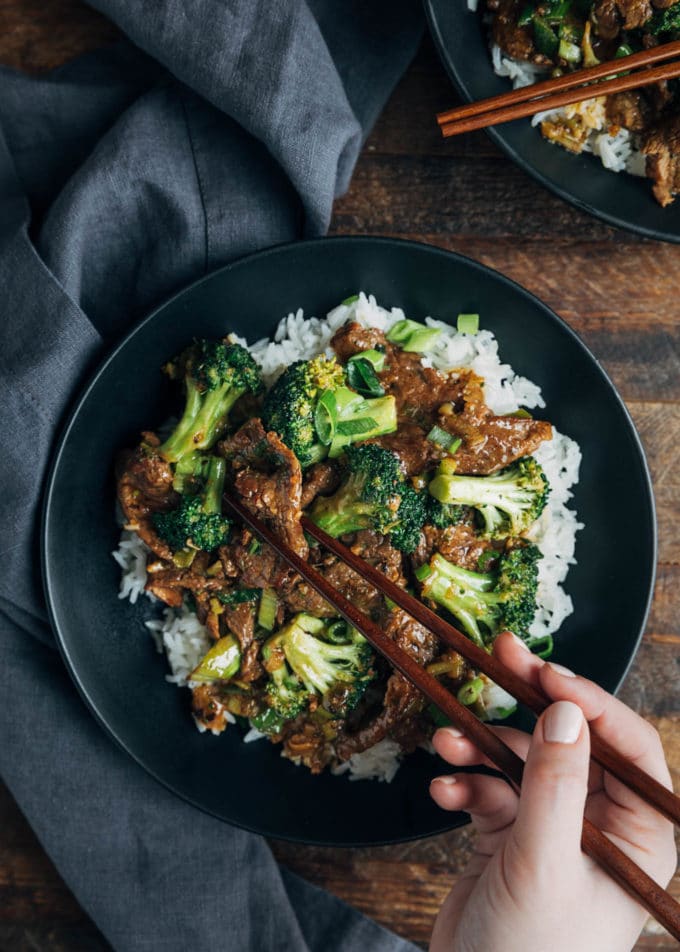 Serving Chinese Beef and Broccoli
Just like at my favorite Chinese restaurants, I serve Beef and Broccoli with jasmine rice. If you have an electric rice cooker, pressure cooker or Instant Pot, it's especially easy to cook the rice in a "hands off" way while you're preparing the stir-fry. I typically use this method.
As written, this isn't a Beef and Broccoli recipe that's extremely saucy, where you're going to have large pools of sauce mingling with the rice. The sauce mostly clings to the meat and vegetables, with drips here and there to flavor the base of rice.
If you do prefer a much saucier dish, it's easy to double the sauce ingredients and add them to the stir-fry with the same method as the original recipe.
For the full takeout experience, try starting your Beef and Broccoli dinner with my crispy Fried Wonton Strips, and/or a bowl of Wonton Soup!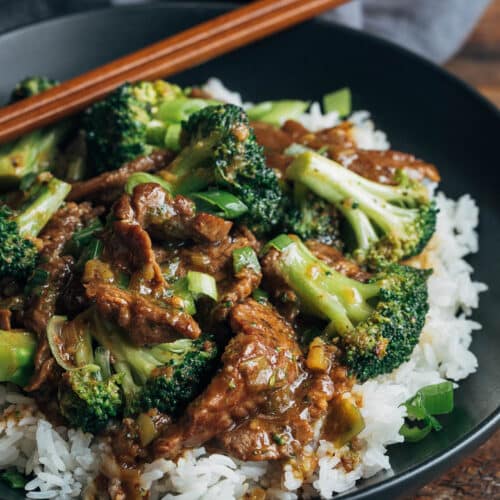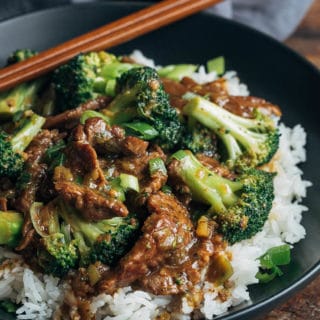 Beef and Broccoli Recipe
This restaurant-style Beef and Broccoli stir-fry is easy to make at home and ready in an hour, from prep to finish!
Print
Pin
Rate
Save
Saved!
Estimated Calories Per Serving:
369
kcal
Ingredients
Stir-Fry
3/4

cup

low-sodium chicken broth

*

2

tablespoons

oyster sauce

1 to 1-1/2

tablespoons

light soy sauce

(depending on how salty you want the sauce)

1

teaspoon

dark soy sauce

1

teaspoon

toasted sesame oil

1

tablespoon

dark brown sugar

3

teaspoons

cornstarch

4

large

scallions

, thinly sliced and divided between light and dark parts

1

pound

small broccoli florets

2

teaspoons

finely minced ginger

2

teaspoons

finely minced garlic

2-1/2

tablespoons

vegetable oil

, divided

ground white pepper

, optional

cooked jasmine rice

, for serving
Instructions
Marinate the Steak
Freeze flank steak for 15-20 minutes, until just starting to firm. Cut against the grain into 1/8-inch thick slices, cutting long slices in half with the grain into two pieces.

In a bowl, toss steak slices with cornstarch. Add soy sauce, water, and rice wine, and toss to coat. Marinate for 15-20 minutes.
Make the Stir-Fry and Serve
In a bowl, combine low-sodium chicken broth, oyster sauce, light and dark soy sauces, sesame oil, brown sugar, cornstarch, and the white and light green parts of the scallions (about 1/2 cup scallions). Set aside.

Heat 1-1/2 teaspoons vegetable oil over high heat in a large (12-inch) skillet or wok until shimmering.

Pat the steak slices dry with paper towels and add half of them to the skillet, separating them with tongs into a single layer. Let them sit, undisturbed, for 1 minute. Then, use tongs to stir the beef around in the pan until it is brown around the edges, about 1 minute longer. Transfer to a bowl.

Add another 1-1/2 teaspoons oil to the pan, heat, and repeat the process with the remaining beef.

When all of the beef has been cooked and removed from the pan, heat 1 tablespoon of vegetable oil. Add the broccoli and cook, stirring, until crisp-tender, 2-4 minutes, depending on the size of your florets.

Clear an area in the center of the pan. Heat 1-1/2 teaspoons vegetable oil and add minced ginger and garlic. Cook for about 30 seconds, until fragrant, and then stir it into the broccoli. Add the meat and any accumulated juices back into the pan and toss to combine.

Whisk the chicken broth mixture to recombine any cornstarch that might've settled in the bowl. Pour the sauce around the pan. Lower heat to medium, and cook, stirring, until the sauce is thickened and evenly coats the meat and broccoli, about 1-2 minutes.

Season to taste with white pepper (if desired), sprinkle with remaining sliced scallions (dark green parts), and serve over rice.
---
Notes
*Due to the salt content in the oyster and soy sauces, it's important to use low-sodium chicken broth to make the stir-fry sauce. This is a relatively salty dish. To control the salt content further, you can use low-sodium soy sauce and season to taste with salt.
Nutrition Estimate
Calories:
369
kcal
|
Carbohydrates:
9
g
|
Protein:
39
g
|
Fat:
18
g
|
Saturated Fat:
10
g
|
Cholesterol:
102
mg
|
Sodium:
1234
mg
|
Potassium:
720
mg
|
Sugar:
3
g
|
Vitamin A:
250
IU
|
Vitamin C:
4.7
mg
|
Calcium:
57
mg
|
Iron:
3.5
mg
---
About our Recipes:
Please note that our recipes have been developed using the US Customary measurement system and have not been tested for high altitude/elevation cooking and baking.
Keywords:
beef and broccoli recipe, Chinese takeout recipes, how to make a stir fry
Have you made this recipe?
Don't forget to leave a comment and rate the recipe below! Take a picture and tag @stripedspatula and #stripedspatula on Instagram for a chance to be featured in our Insta Stories and newsletter!