Learn how to make pork and shrimp wonton soup at home, with this recipe and tutorial. From filling and folding the wontons to making an aromatic broth, you'll find all the tips and tricks you need for takeout-inspired wonton soup that will wow your family and friends.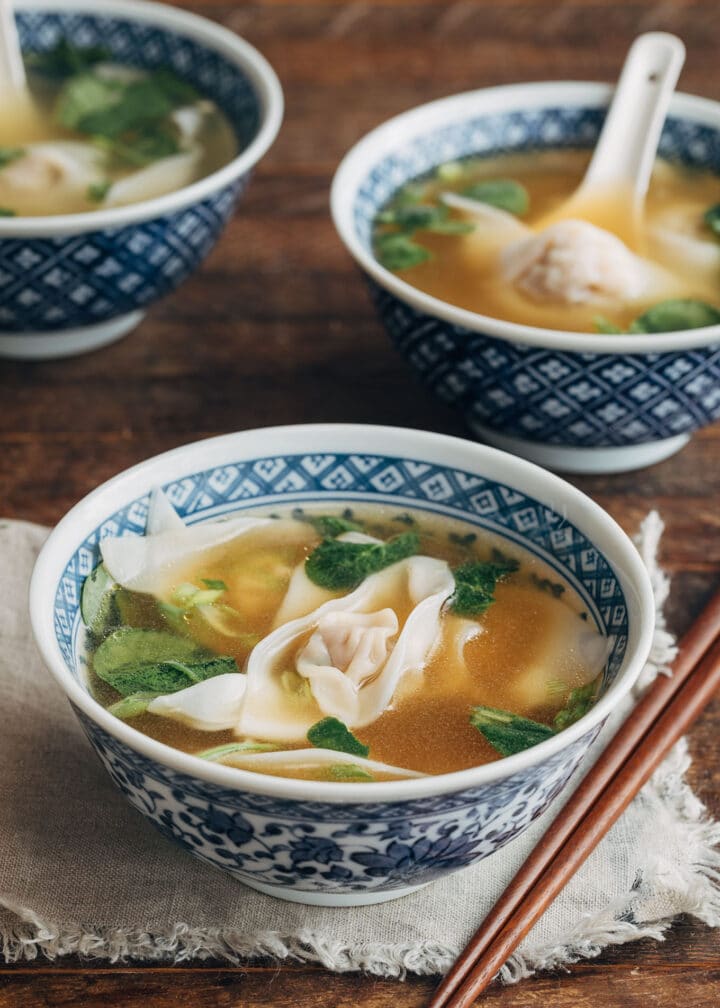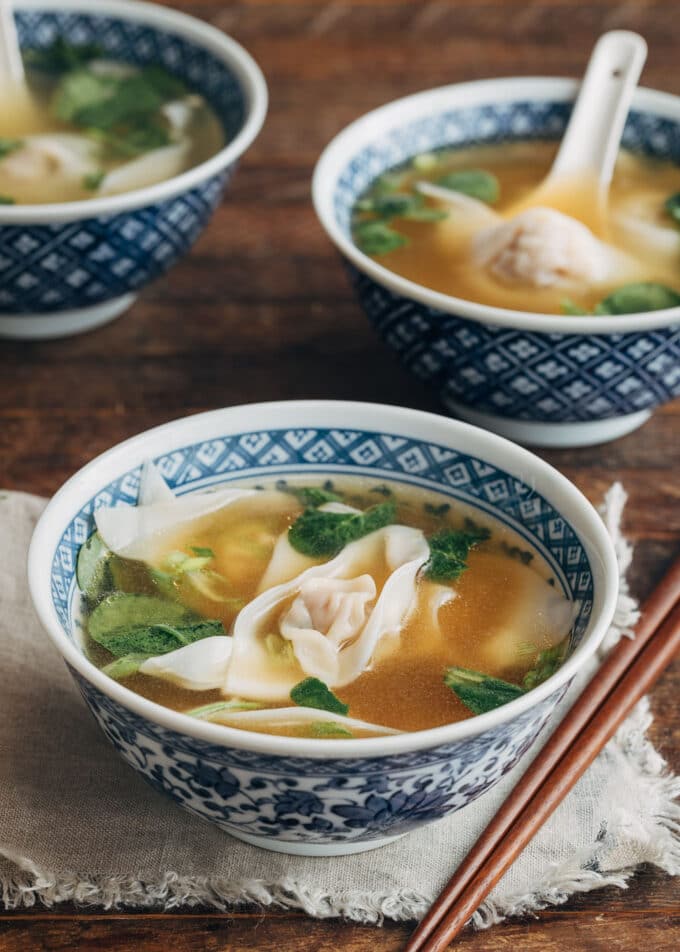 One of the most comforting dishes in our takeout order is always the wonton soup. I love just about every Asian noodle- and broth-based soup, but wonton soup in particular defines coziness and nostalgia for me.
Just the thought of it, and I can taste the aromatic broth, the silky wonton wrappers, the tender filling. One inevitable slurp, and I feel like a kid again, sitting around the table with my family on a Friday night.
It's simply classic.
Takeout-inspired wonton soup isn't difficult to make at home. It's a great weekend project that the whole family can participate in. In this post, I'll take you through the entire process, step by step, with all the tips and tricks you need to ensure homemade wonton soup success.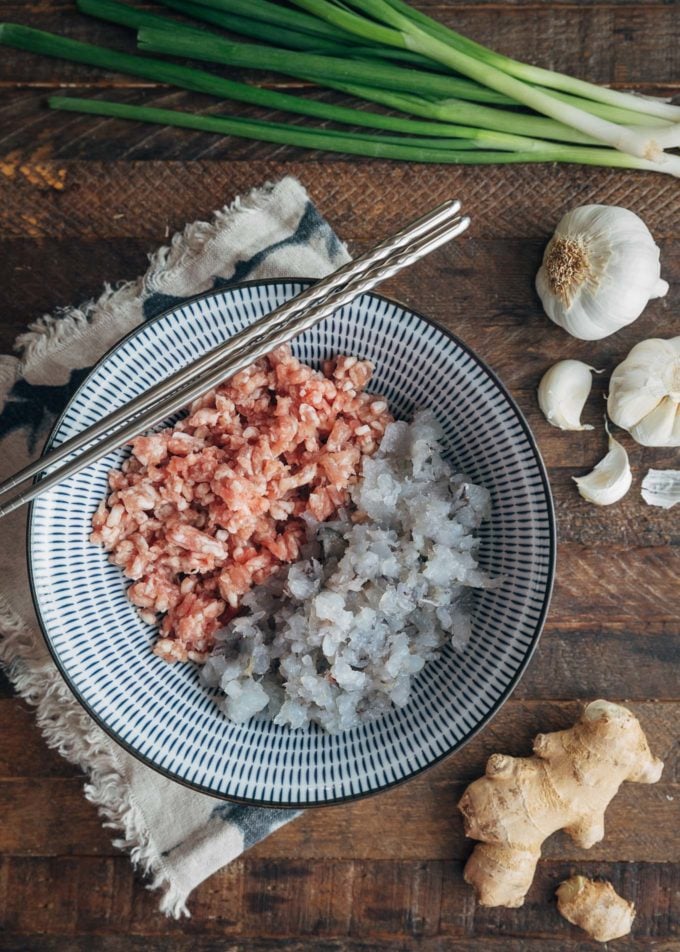 Making Wonton Filling
To make restaurant-style wontons for soup, I use a filling of ground pork and finely-minced shrimp. It's a classic combination that makes a tender filling.
In choosing ground pork, you'll want it to have a bit of fat to it. Very lean pork (tenderloin, for example), will result in a drier, tougher cooked filling.
I've been finding really gorgeous ground pork at my local Asian Market (as pictured) that's the same quality as when I grind it myself. Many times, you can also ask the butcher counter at your regular grocery store to grind pork fresh for you. If you're going to have it freshly ground, or grind it yourself, pork butt is the best cut.
Want to learn how to grind meat at home? Click the red text for my full tutorial!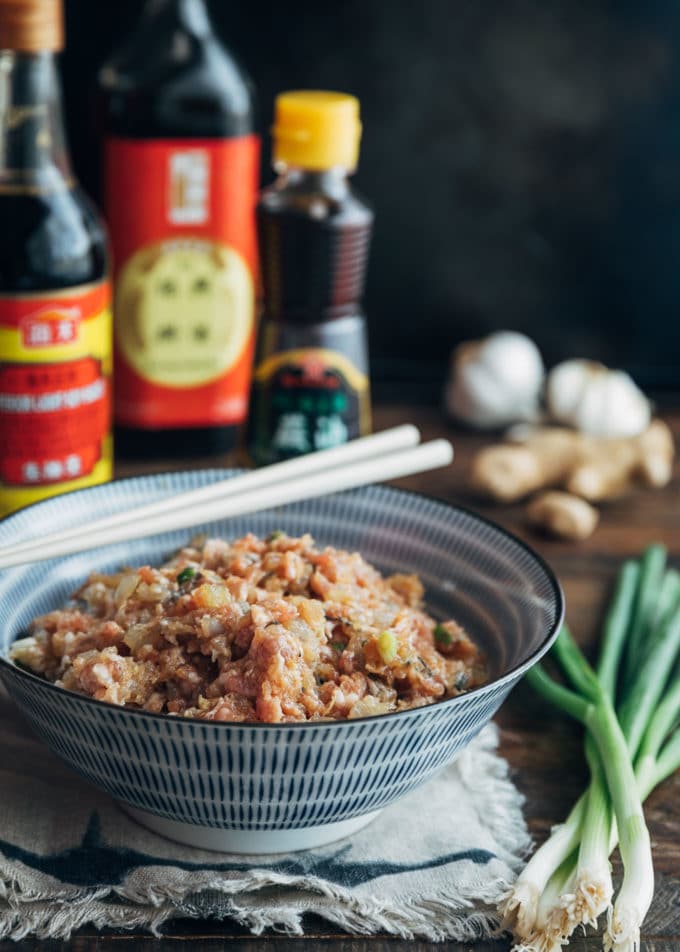 For the raw shrimp, you can use any size you'd like. I don't send them through the grinder, but instead use my chef's knife to mince them very finely, almost to a paste. You want the pieces to be tiny, so they'll incorporate with the pork for a fine-textured filling.
The seasonings for my pork and shrimp wontons are classic: freshly-grated ginger, garlic, scallions, shaoxing rice wine, toasted sesame oil, light soy sauce, and ground white pepper. Check out my Chinese-Inspired Cooking: Pantry Essentials guide to read more about these ingredients, with shopping tips.
After you've mixed the filling, cook a teaspoonful in a skillet on the stove. This is an extra step, but one I wouldn't recommend skipping. It'll allow you to taste for seasoning and make any necessary adjustments for your personal tastes before folding the wontons.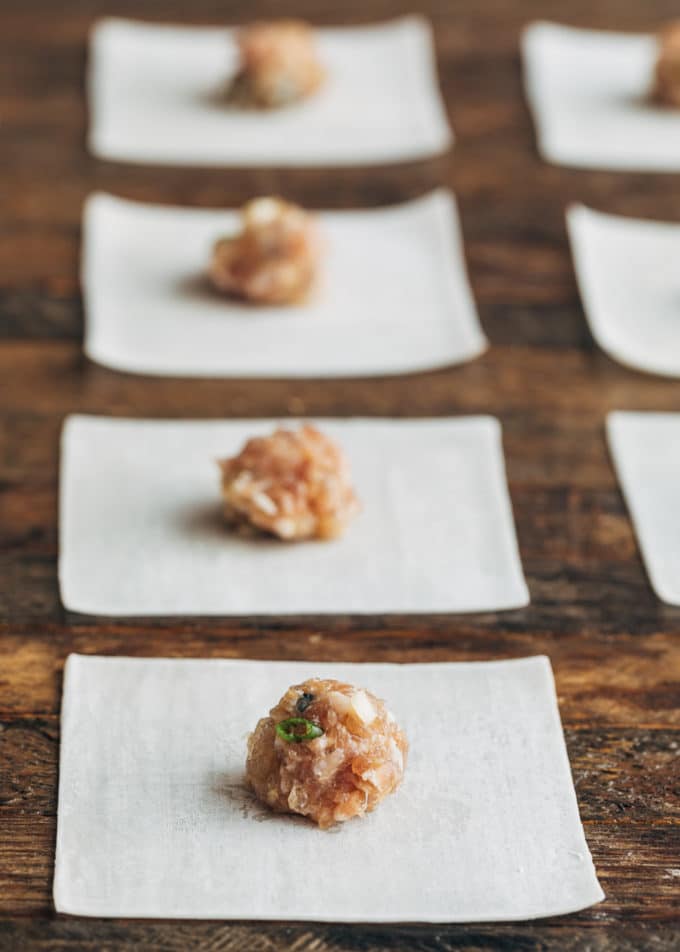 How to Make Wontons for Soup
Buying Wonton Wrappers
For this recipe, you'll need to buy square wonton wrappers (skins) at either your regular grocery store or an Asian specialty market. (Rather than the round wrappers used to make potstickers.) I like to buy the white, eggless "Shanghai style" skins, but you can also buy the yellow-hued egg wrappers if you prefer them.
If you have an Asian market in your area, it is worth a visit if you're looking to recreate restaurant-style dumplings. The variety of wrappers offered is larger, and they're incredibly fresh since they're restocked so regularly.
Since these wontons will be boiled, I use wrappers with a thin or medium thickness. I find that thicker wrappers are best suited to pan-frying.
Have leftover wonton wrappers? Make these Fried Wonton Strips!
How to Fold Wontons
There are so many different ways to fold wontons for soup, from a simple triangle fold, to more intricate techniques with overlaps and flourishes. You can try out different folds and choose the ones that you like best.
My favorite fold for wonton soup is Chao Shou, or "folding hands," which I've depicted step-by-step in the photos below. It's a fairly simple technique that looks pretty both when folded and cooked.
In full disclosure, folding the wontons is the most time consuming part of making this recipe. I find that once I get going, my folding technique speeds up a bit, but plan that it will take a bit of time to get them all done.
Even better, get your friends and family involved in the folding! It's fun to make an event out of it and fold wontons together.
For more wonton folding inspiration and instructions, check out 10 Ways to Fold Wontons.
1. Place 1 teaspoon of filling into the center of the wrapper. Lightly dampen top and right edges with water.
2. Fold the bottom left corner of the wrapper up over the filling to make a triangle. Press out any air around the filling.
3. Use your two thumbs to cinch the center of the wonton around the filling.
4. Dampen the right "arm" with water and cross under the left arm, pressing to seal.
Wonton Folding Tips
With any folding technique that you choose, a few tips are key:
Don't let them dry out. Keep both the stack of wonton wrappers and the wontons you've folded covered with lightly-dampened towels while you're working. Wontons dry out quickly when exposed to air. I fill and fold four wrappers at a time.
Don't overfill the wontons. You only need about a teaspoon of filling in the center of each wrapper. Overfilled wontons will be prone to splitting when simmered.
Press out the air. When you make your first fold over the filling, use your thumbs to press out as much air as possible in the wonton. You'll feel the little air pockets as you press around the diameter of the filling. Too much air left in the wontons will also lead to splitting.
Your folds don't have to be perfect. It can take some practice to get your folding technique down pat, especially for more intricate folds. More important than pretty folds is that the wontons are well-sealed.
Avoid sticking. Place the folded wontons on a nonstick baking mat (like Silpat), or a parchment-lined baking sheet dusted with cornstarch so they don't stick and tear.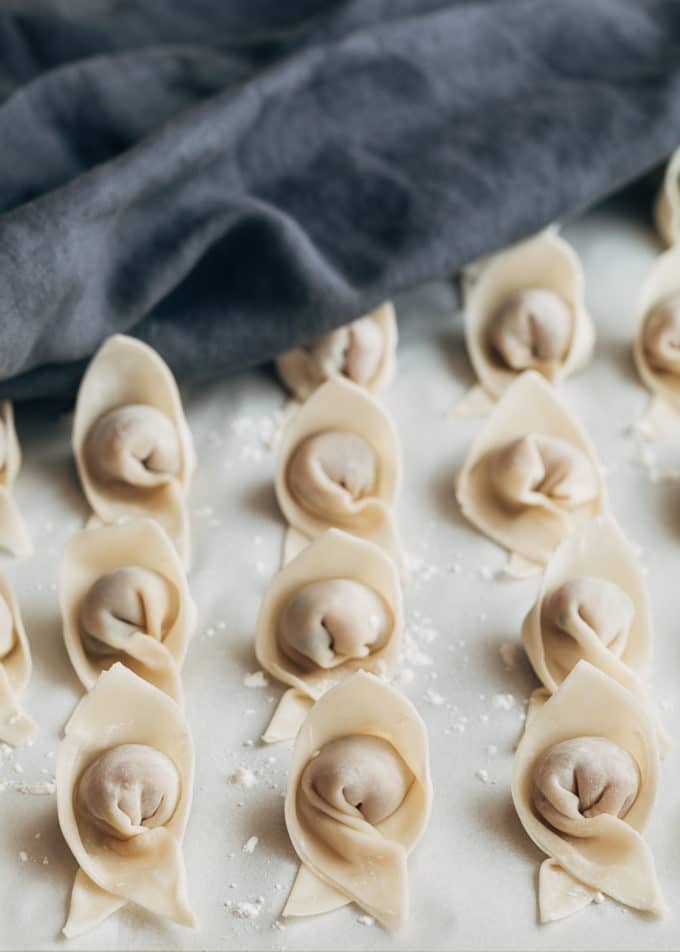 Cooking Wontons for Soup
Wonton wrappers are coated with a dusting of starch (usually, cornstarch) in the package to keep them from sticking to one another when stacked. In order to keep the soup broth from becoming starchy and cloudy, I like to cook the wontons separately, in boiling water.
It's best to simmer wontons in batches so they don't crowd each other. The number you can fit depends on the width of your pot. They only need about 2-3 minutes to cook through.
When they're ready, the wontons will float to the top of the water. The wrapper will be transparent and will pucker around the filling.
This makes a lot of wontons! Can I freeze some to cook later?
Yes! These wontons freeze beautifully. Cover the parchment-lined baking sheet you used to hold the folded wontons with plastic wrap and pop it into the freezer until the wontons are firm. Then, transfer them to a zip-top freezer bag to store for up to 3 months.
Cook the wontons from frozen in boiling water for 3-5 minutes. No need to defrost first!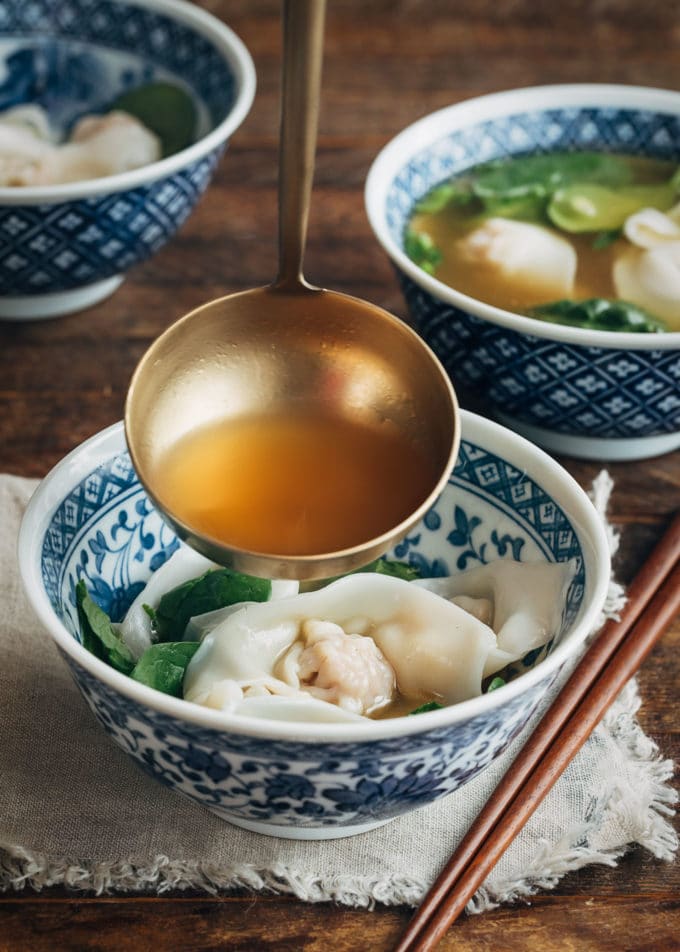 Infused Broth for Wonton Soup
You can serve your delicious homemade wontons with your favorite chicken broth or stock. For a restaurant-style experience, it's easy to turn plain, store-bought (or homemade) chicken broth into infused broth with a few simple additions.
All you need to do is simmer chicken broth for about 15 minutes, adding the same aromatics and seasonings you used in the filling. These flavors will steep into the broth for a soup that complements the wontons beautifully.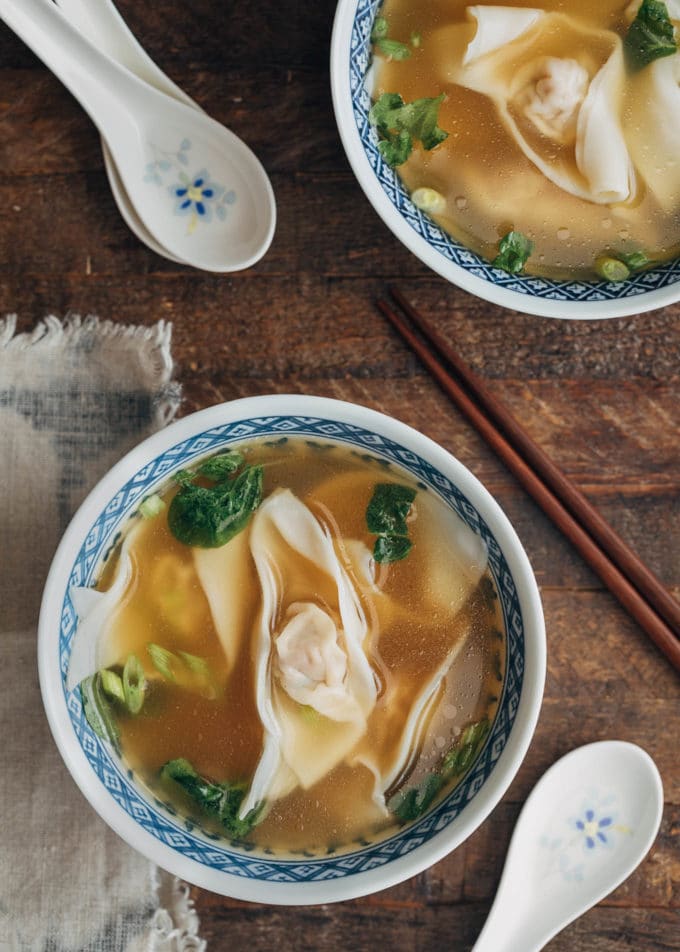 Serving Wonton Soup
To serve, place the hot wontons in soup bowls, with a few torn baby spinach leaves. The spinach is optional. Some of my favorite restaurants use it in their wonton soup; others leave it out.
Ladle the hot seasoned broth into the bowl and let it stand for a minute or two to wilt the spinach leaves. Add a few sliced scallions on top, and you'll be cozying up to a bowl of wonton soup that you'll swear came from a restaurant.
📖 Recipe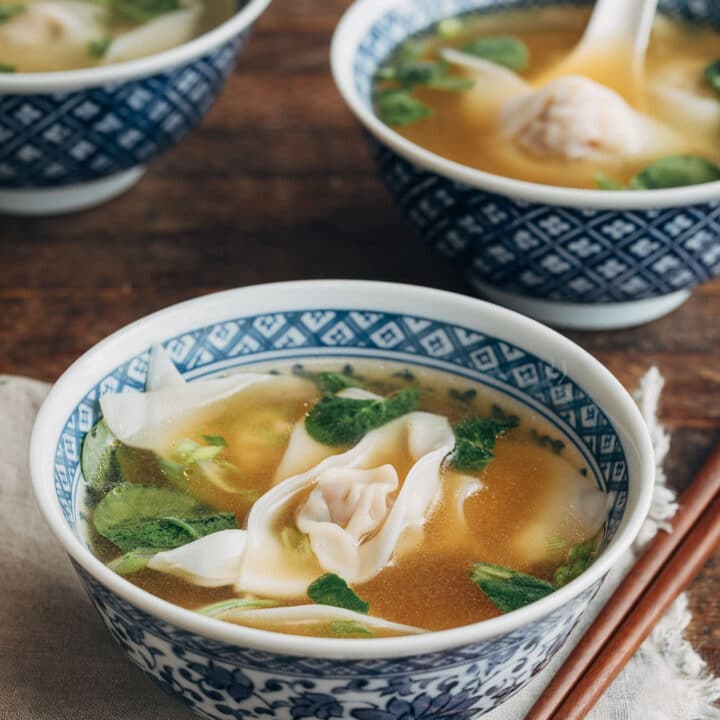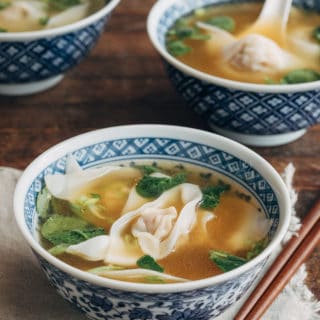 Wonton Soup Recipe
This classic pork and shrimp wonton soup is cozy, comforting, and absolutely delicious. For additional tips and tricks, including freezing instructions, please read through the blog post, above.
Print
Pin
Rate
Save
Saved!
Servings:
8
to 10 servings
Estimated Calories:
240
kcal
Ingredients
Wontons
6

ounces

raw shrimp

, peeled and deveined

6

ounces

ground pork

(with some fat to it)

1

large

garlic clove

, minced

1

teaspoon

finely minced or grated ginger

(I use a microplane)

2

tablespoons

thinly-sliced scallions

1

tablespoon

light soy sauce

2

tesapoons

Shaoxing rice wine

1

teaspoon

toasted sesame oil

½

teaspoon

granulated sugar

¼

teaspoon

kosher salt

⅛

teaspoon

ground white pepper

48

wonton skins
Infused Broth
8

cups

chicken broth

4

large

scallions

, halved

1

inch piece

ginger

, cut into slices*

2

cloves

garlic

, crushed

2

teaspoons

Shaoxing rice wine

½

teaspoon

sesame oil

2

tablespoons

light soy sauce

kosher salt and ground white pepper
To serve
1

cup

baby spinach leaves

, torn
Instructions
Make the Wontons
Finely mince raw shrimp until they are almost the consistency of a paste. Mix shrimp in a large bowl with ground pork, garlic, ginger, scallions, soy sauce, Shaoxing rice wine, sesame oil, sugar, salt, and pepper. Combine using a fork or mixing chopsticks until the filling is fairly smooth and paste-like.

Cook about a teaspoon of filling in a skillet on the stove until cooked through. Taste the cooked filling for seasonings and adjust salt and pepper in the raw mixture accordingly.
To Fill and Fold
Working 4 at a time, place a teaspoonful of filling onto the center of each wonton wrapper. (As you're working, keep the stack of wonton wrappers and the wontons you've folded covered with a damp towel so they don't dry out.)

Use your finger or a pastry brush to dampen the top and right edges of the wrapper with water. Fold the bottom left corner over the filling to meet the top right corner, forming a triangle. Press around the filling to remove any trapped air from the folded wonton.

Use your thumbs to gently cinch the wrapper around the filling at the bottom of the wrapper. This will pull the left and right "arms" of the triangle downward.

Dampen the right arm with water and pass it under the left arm, gently pressing in the middle to seal.
Make the Broth
In a large pot, combine chicken broth, scallions, ginger, garlic, rice wine, sesame oil, and soy sauce. Bring to a boil, reduce heat, and simmer for 15 minutes. Strain and discard solids. Season to taste with salt and white pepper.
Simmer the Wontons
Bring a large pot of water to a boil. Add the wontons to the pot in batches, gently stirring so they don't stick to the bottom, and being sure not to crowd them (they need to have enough room to float; I usually cook about 10 at a time).

Simmer for 2-3 minutes, until the wrappers are transparent and the wontons float in the water. The internal temperature of the filling should be 160 degrees F.
To Serve
Place wontons in soup bowls with a few torn baby spinach leaves, if desired. Ladle hot broth over the wontons. Let stand for 2-3 minutes so the spinach leaves wilt. Garnish with sliced scallions and serve.
---
Notes
*Sliced ginger infuses the broth with a bit of heat. If you prefer a very mild broth, omit the ginger, or decrease the quantity.
Nutrition Estimate
Calories:
240
kcal
|
Carbohydrates:
29
g
|
Protein:
14
g
|
Fat:
6
g
|
Saturated Fat:
2
g
|
Cholesterol:
72
mg
|
Sodium:
1749
mg
|
Potassium:
372
mg
|
Fiber:
1
g
|
Vitamin A:
495
IU
|
Vitamin C:
21.4
mg
|
Calcium:
83
mg
|
Iron:
3.1
mg
Keyword:
Chinese takeout recipes, wonton soup recipe
---
About our Recipes:
Please note that our recipes have been developed using the US Customary measurement system and have not been tested for high altitude/elevation cooking and baking.
Have you made this recipe?
Don't forget to leave a comment and rate the recipe below! Take a picture? Tag @stripedspatula and #stripedspatula on Instagram!