Every great cheese board deserves equally great crackers! Here are our picks for some of the best crackers for cheese, from small-batch artisan varieties, to supermarket classics, and a gluten-free option.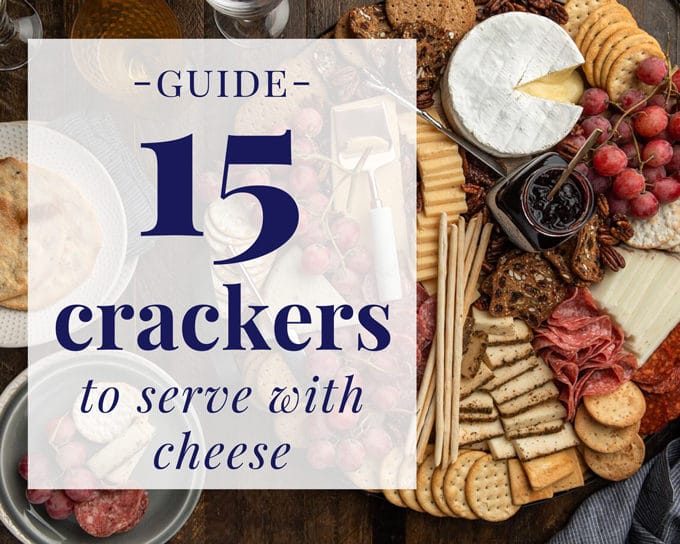 This post contains affiliate links. As an Amazon Associate, I earn a commission from qualifying purchases made by clicking these links. As always, all recommendations and opinions expressed are my own.
The Best Crackers For Cheese
It's no secret that we love cheese (and making cheese boards!). Part of the glorious experience of eating cheese is the vehicle you're using to transport it from the plate to your palate.
Whether you prefer plain crackers that let the cheese be the star, or like to explore complementing flavors and textures, these are 15 of our favorite crackers, crisps, and breadsticks to serve with cheese, grouped by category.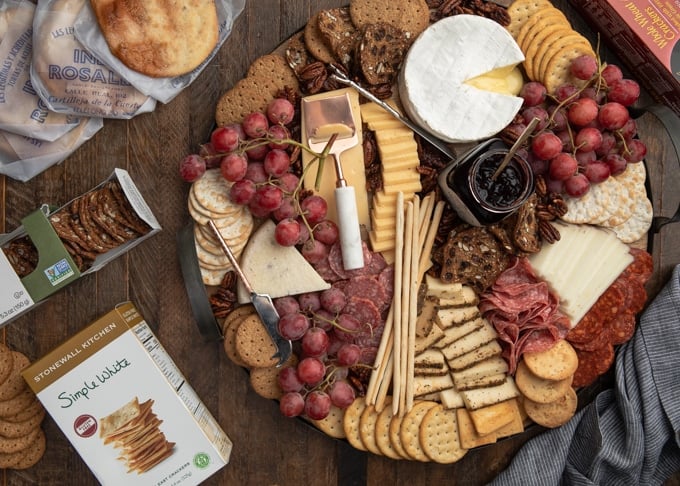 Neutrals and Classics
01. Carr's Table Water Crackers
Serving Carr's water biscuits with cheese is about as classic as it gets. The flavor is neutral with an ever-so-slightly toasty undertone that goes with every cheese style imaginable.
This is the box to choose when you want to taste the cheese and not the cracker. Look for them in the gourmet cheese department or specialty cracker aisle of the grocery store.
---
02. Stonewall Kitchen Sea Salt Crackers
Stonewall's thin, crispy, delicately-flavored Sea Salt Crackers are a staple in our pantry. The hint of surface salt is subtle, so you won't be over-salting your guests between the cheese and crackers.
These crackers are the perfect, two-bite size for fitting into the nooks and crannies of a cheese board.
---
03. Cabaret Buttery Original Crackers
Guests always appreciate crisp butter crackers on a cheese plate. Since Cabaret are more richly-flavored than other plain crackers, and slightly sweet, we like to arrange them near cheeses like mature cheddar. They're also great with robust spreads, like Pimento Cheese.
---
04. Grissini Breadsticks
Thin, crisp olive oil Grissini breadsticks are a rustic-yet-elegant choice for a cheese display.
They can make an impressive centerpiece when presented upright in a tall glass. Or, wrap them with Prosciutto di Parma and serve them alongside olives and aged Italian cheeses for the perfect Mediterranean-inspired spread.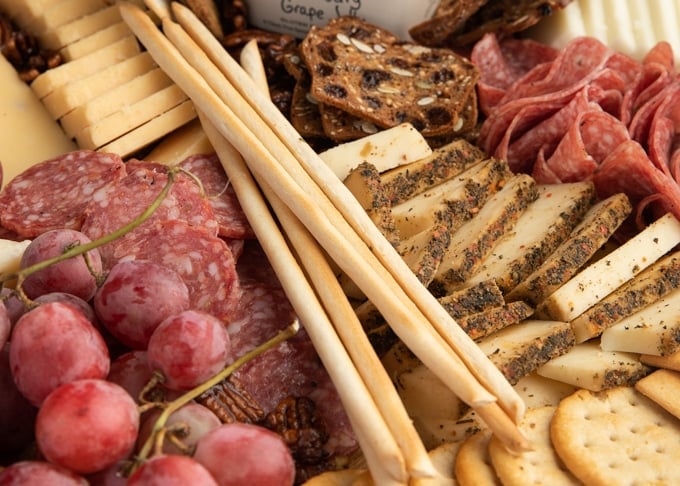 Wheat Crackers
05. Carr's Whole Wheat
This is the choice that straddles the border between cracker and cookie. Carr's Whole Wheat Crackers are thicker than other varieties on this list (similar to a digestive biscuit) with a delicate, honey-like sweetness reminiscent of graham crackers.
We love to pair them with oozy baked Brie, creamy chèvre, and a range of blues. (Particularly love them with Cambozola!)
Want to try making whole wheat crackers from scratch at home? Try this recipe from Serious Eats!
---
06. Triscuit Original
It doesn't get any more classic in the wheat category than a Triscuit. These hearty, woven crackers are versatile enough to serve with just about any cheese, whether it's soft and spreadable or crumbly. (We especially enjoy them with sharp cheddar, apples, and salami.)
---
07. Breton Original
Made with whole wheat flour and wheat germ, these cracker rounds have a crisp texture and mild, nutty flavor that makes them versatile for pairing with cheese.
Compared to Carr's Whole Wheat, Breton Original crackers are thinner, have a flakier texture, and aren't quite as sweet.
Seed, Fruit, & Nut Crackers
08. Lesley Stowe's Raincoast Crisps
These artisan, small-batch crisps look like tiny little slices of fruit and nut bread. Studded with dried fruits, seeds, and nuts, they're a great all-in-one bite to pair with a variety of cheeses.
Our favorite Raincoast Crisps are Rosemary Raisin Pecan and Fig and Olive.
---
09. Rip Rap Bakery Seeded Crackers
Sprinkled with bands of poppy seeds, sesame seeds, and paprika, Rip Rap's seeded crackers pop visually on a cheese board. The pretty strips bring a pop of color and flavor, and stand up well to aged cheeses. Handmade in Central Pennsylvania.
---
10. Crunchmaster Multi-Grain Sea Salt (GF)
These crunchy, gluten-free Multi-Grain Sea Salt crackers are made with rice flour, corn, and a blend of 4 seeds. A friend who follows a gluten-free diet recommended them to us, and when we tucked them into a cheese board, all of our guests (gluten-free and not) enjoyed them.
---
11. Castleton Crackers Multi-Seeded Rye
With caraway, poppy seeds, sesame seeds, and rye flour, Castleton's Multi-Seeded Rye crackers a unique treat that can accompany just about any cheese on your board. They have a flaky texture, but are hearty enough to stand up to cheesy dips as well. Handcrafted in Vermont.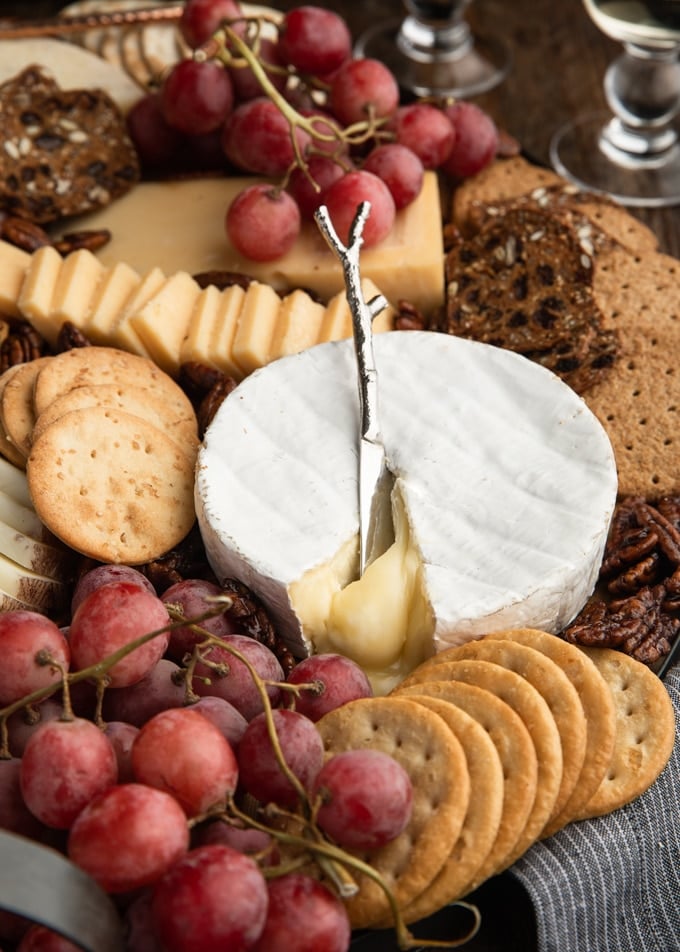 Flatbreads, Crisps, and Tortas
12. Ines Rosales Olive Oil Tortas
Ines Rosales (named after their founder, Ines Rosales Cabello) has been handcrafting these crispy, flaky olive oil tortas in Seville for more than 100 years. The thin, airy rounds are individually wrapped in waxed paper and make for a unique pairing with creamy cheeses.
Olive oil tortas are available in both sweet and savory varieties. We particuarly love the Original (sesame seed and anise) and Seville Orange (especially with chèvre!).
---
13. Firehook Mediterranean Sea Salt Crackers
These crisp, artisan flatbread-like crackers are cut into long strips and topped with crunchy sea salt flakes. Mediterranean Sea Salt Crackers are sturdy, so you can serve them with anything from a semisoft Swiss, to cheese dips and spreads, or an oozy Epoisses.
---
14. La Panzanella Mini Croccantini
These light and crispy crackers are the miniature version of La Panzanella's Croccantini flatbreads. They're versatile to pair with just about any cheese on your board and layer beautifully for a fanned presentation.
We especially love the original (sea salt), cracked pepper, and sesame Mini Croccantini varieties.
---
15. Rustic Bakery Sweet Onion & Crème Fraîche Flatbread
While we usually gravitate toward neutral-flavored crackers for a cheese board, we found a new favorite last summer in these sweet-savory handmade flatbreads from Rustic Bakery.
The rich crème fraîche, caramelized onions, and white sesame seeds are well-balanced with a sourdough base for a delicate flavor that complements cheeses without overpowering.
What's your favorite cracker to serve with cheese? Tell us in the comments below!