Get funky! Learn all about washed rind cheeses, including what gives them their characteristic aroma, varieties you'll find at the cheese counter, and how to serve them.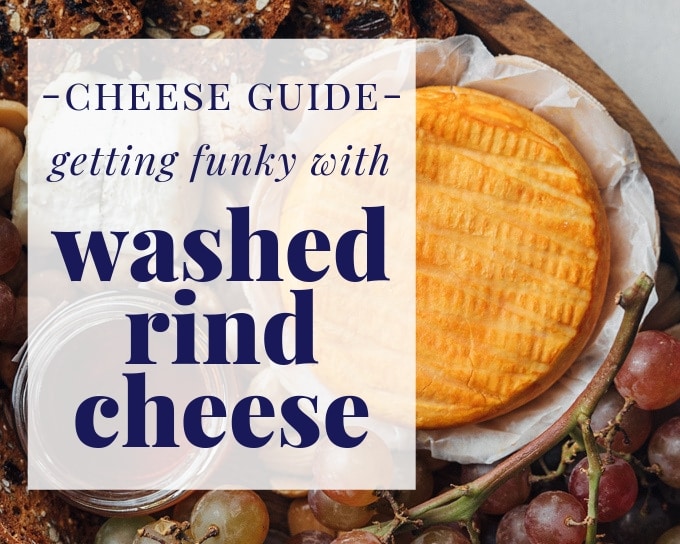 TABLE OF CONTENTS
(click headings to jump)
What is Washed Rind Cheese?
Washed rind cheese is bathed with a saltwater brine (or sometimes alcohol, such as brandy, wine, or beer) as it ages. This "bathing" process involves dunking the cheese in the brine, or brushing or spraying it onto the cheese directly.
Many washed rind cheeses are aged 2-3 months, but some mature for 5, 6, or even 10-12 months.
Why "wash" a cheese rind? Introducing this moisture to the cheese as it ages helps to cultivate specific edible bacteria (most often, Brevibacterium linens) on the rind. The wash also works to keep other strains of bacteria and mold from forming, allowing B. linens to thrive.
How does B. linens get onto the cheese? Sometimes, it exists naturally in the environment where the cheese ages (such as a cave). It can also be added to the milk when the cheese is first made, or to the washing solution itself (in a process called "smear-ripening").
B. linens is also what makes these cheeses "stinky".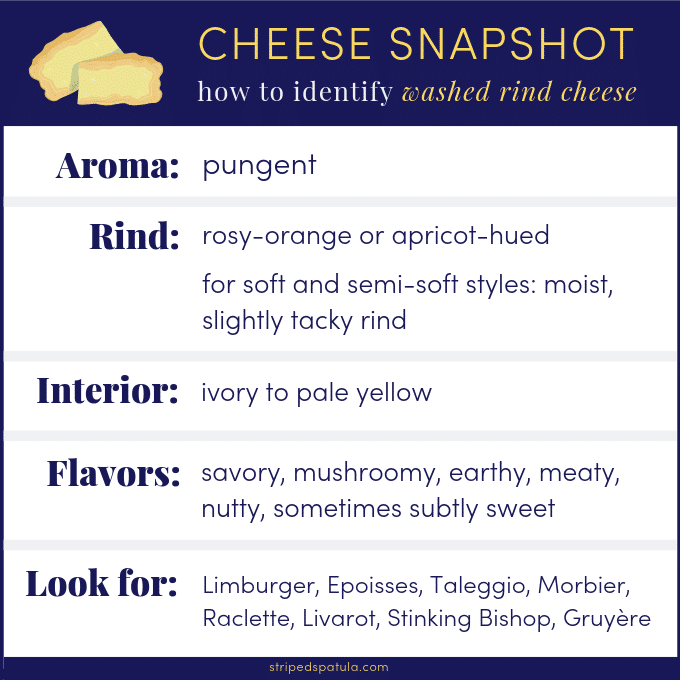 Just how stinky are we talking here?
It depends! Washed rind cheeses can range from mildly nose-wiggling to pinch-your-nose pungent. The stench aroma usually falls somewhere between "farmy" (think: a barnful of cows and hay) to an old pair of sneakers that needs the insoles replaced.
In fact, France actually banned Epoisses on public transport. I'd say that's some funky cheese!
Fair warning: if you're squeamish, you might want to skip this next part. The truth is, B. linens is common on our skin, flourishing in close, humid environments (such as when you sweat while wearing a sock).
So, when you hear the aroma of stinky cheeses likened to a gym bag or feet; well, that's pretty accurate.
That's appetizing info. Remind me of why I should eat stinky cheese?
Don't hit the back button on your browser! Washed rind cheese is utterly delicious and doesn't taste anything like its aroma. You'll be amazed by how mild some stinky cheeses taste.
The bacteria (which, again, are not harmful) ripen the cheese from the outside in and develop rich, savory flavors. Some varieties have a subtle sweetness to them, while others are nutty, earthy, and meaty, with great umami.
I won't lie. The "stinkiest" varieties can take some getting used to, but if your nose can forge the assertive bouquet, the flavors are worth it.
Can you eat the rinds?
Technically, most of these rinds are edible, but you might not enjoy eating them on every variety.
Some washed rinds develop a sandy texture as the cheese ages. They can also have a very sharp or bitter flavor. Others aren't quite as piquant and taste earthy and mushroomy–it depends on the type of cheese.
While these flavors can be very unique contrast to the cheese inside, they might not be everyone's cup of tea. Chat with your cheesemonger about it (ask for a sample before buying) and let your tastebuds be your guide!
Types of Washed Rind Cheese
Washed rind cheeses range in texture to very soft cheeses that ooze (like the Pont L'Eveque above) to semi-soft and hard cheeses that you can slice. I've tasted a few washed rind cheeses made from goat's milk and sheep's milk, but cow's milk is most common.
Let's take a look at a few of the varieties you'll find at the cheese counter:
Soft Varieties
Epoisses (ay-PWOS); France: A deliciously oozy cow's milk cheese known for its red-orange, brandy-washed rind and robust, meaty flavor. We love to dip right into the ripened cheese wheel and spread it onto rustic bread.
Livarot (LEEV-ah-roh); France: This cow's milk cheese has a soft, creamy texture. Like Epoisses, it becomes oozy and runny at room temperature. The flavor is nutty and spicy with citrus notes. You'll find it wrapped in five reed strips (often paper nowadays), which originally helped the cheese keep its shape. The French all it "le Colonel," because the strips form a pattern reminiscent of their army colonel insignia.
Munster (Munster Géromé); France: Don't confuse this cheese with sliceable American "Muenster"! This soft cow's milk cheese comes from the Alsace and Lorraine regions (around the Vosges mountains). Munster dates back to medieval times, when it was made by Benedictine monks. The texture is creamy with a beefy, nutty flavor and bold, barnyard aroma.
Stinking Bishop; United Kingdom: With a name like "Stinking" Bishop, it's no surprise that it's a washed rind cheese! Bathed in a pear-fermented alcohol called perry, this cow's milk cheese has an orange rind and runny texture at room temperature similar to Epoisses and Livarot. Its name comes from the stinking bishop pears used to make the alcohol.
Semi-Soft Varieties
Limburger (lim-bur-ger); Belgium, Germany, Netherlands: Smooth cow's milk cheese with a mushroomy flavor. For a classic, try a Limburger Sandwich on rye or pumpernickel (buttered, if you'd like) with mustard and onions. Great with a cold beer.
Morbier (more–bee–ay); France: A layered cow's milk cheese from the Comté region. Comté cheesemakers originally made Morbier out of their leftover curds. You'll immediately be able to identify it by the line of edible ash (usually vegetable ash or charcoal) in the center. (Read about the use of ash in cheese here.) Morbier has a yeasty aroma with a mildly sweet flavor.
Taleggio (Tah-ledge-ee-oh); Italy: Cow's milk cheese with a lightly-tangy, dough-like, fruity flavor. The rind is quite pungent (the "barnyard" scent I described earlier), but the cheese is comparatively mild. Since it melts well, try using it to switch up your fondue or macaroni and cheese recipes.
Semi-Hard Varieties
Gruyère (groo-YAIR); Switzerland: This smear-ripened cow's milk cheese is aged for 5 months to a year. It has an aromatic, nutty, salty flavor and is great for melting. Try it in my Savory Palmiers.
Raclette (rah-KLETTE); Switzerland: The name of this cow's milk cheese comes from the French word "racler," which means "to scrape." Raclette is traditionally served melted, by heating the cut edge of a halved cheese wheel with fire (today, broiler tools are used). When the cheese is bubbly and blistered, it's scraped from the wheel and served over potatoes or with charcuterie. The flavor is nutty with a prominent "footy" aroma.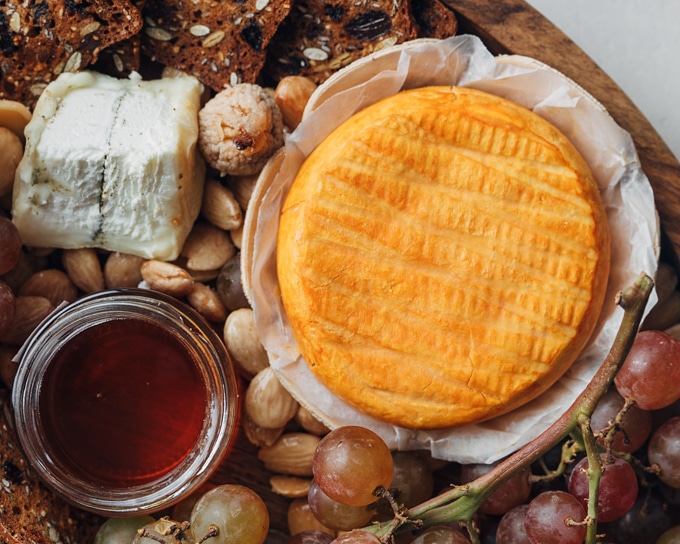 Serving Washed Rind Cheese
First, if I'm including a washed rind cheese on a cheeseboard, I leave it off of the board until ready to serve. (Also be sure to store these cheeses individually-wrapped in the fridge.) The aroma can permeate more delicate cheese styles.
Similarly, if serving a washed-rind cheese that your guests will cut themselves, it should have its own knife. You wouldn't want to dip into Epoisses with the same knife you're using to cut Brie.
Like bloomy rind cheeses, we enjoy washed rind cheeses best when ripened to room temperature or melted. On a board, their flavors pair beautifully with dark breads, cured meats, and fruits (fresh and dried).
Feta, and Swiss, and Brie – oh my! You can get all of the cheesy info in our library of Cheese Guides.