It's easy to make restaurant-quality Chicken Marsala at home! In this recipe, thinly-sliced, sautéed chicken cutlets meet a rich mushroom and Marsala wine reduction. Easy enough for a weeknight and impressive for guests.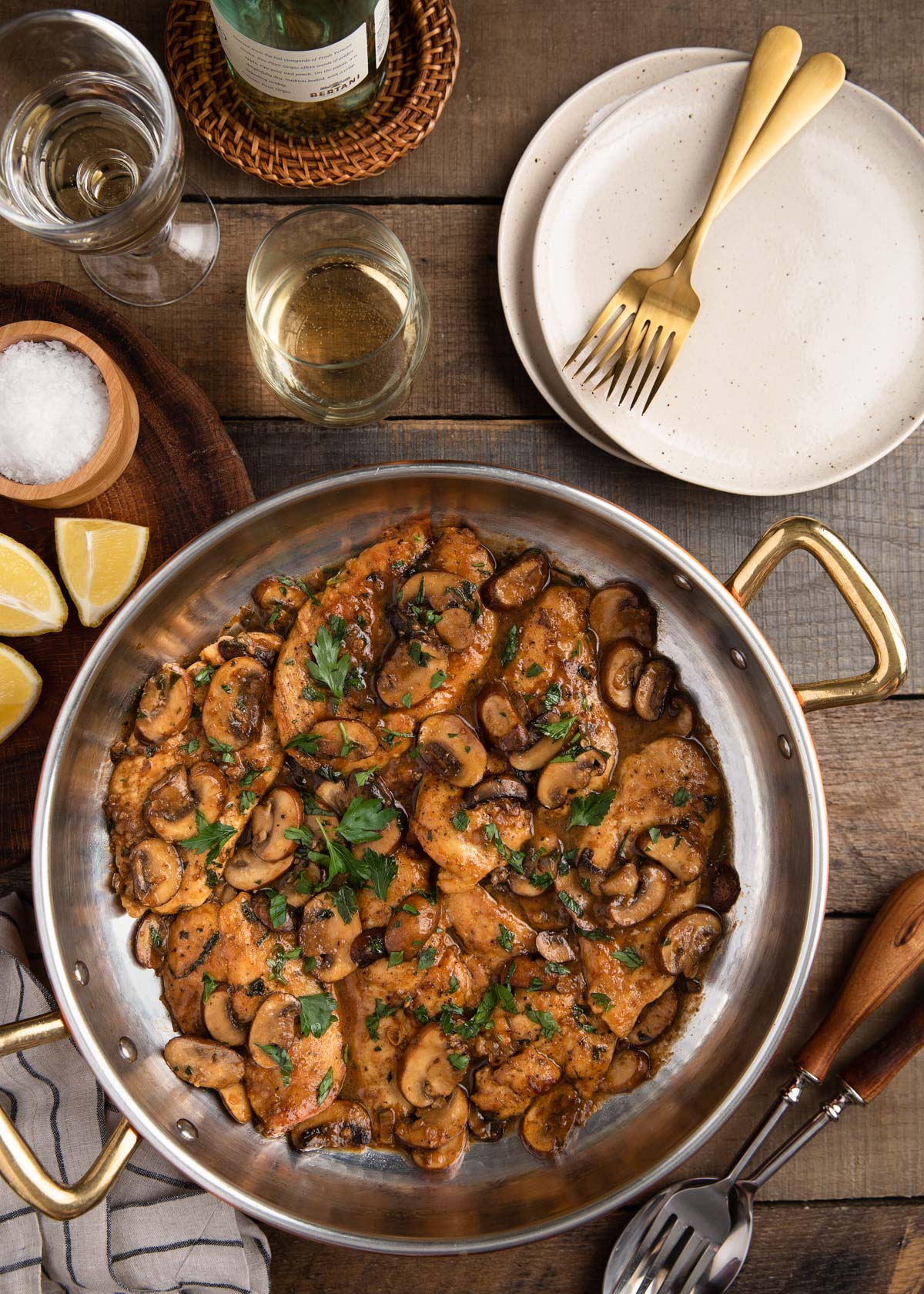 This post contains affiliate links. As an Amazon Associate, I earn a commission (at no additional cost to you) from qualifying purchases made by clicking these links. As always, all recommendations and opinions expressed are my own.
What is Chicken Marsala?
Readers often ask me what recipes are in my "go to" dinner rotation. Chicken Milanese is one dish we eat at least once a week (often, air-fried to keep things a little lighter), and this Chicken Marsala is another.
Chicken Marsala is an Italian-American scallopini dish. When we talk about scallopini (scaloppine), we're referring to thinly-sliced cutlets of meat (chicken, veal, etc.), that are sautéed and served with a pan sauce.
So, for instance, Veal Piccatta is a scallopini dish, with Piccata referring to the lemon-butter-caper sauce the veal cutlets are served with. Here, Marsala refers to the reduced wine and mushroom sauce served with the chicken cutlets.
Scallopini dishes are an easy way to bring a restaurant-quality dinner to your table. You can have Chicken Marsala on the table in under an hour!
Have thinly-sliced pork chops on hand? My Creamy Pork Marsala is one of the most popular recipes on the blog!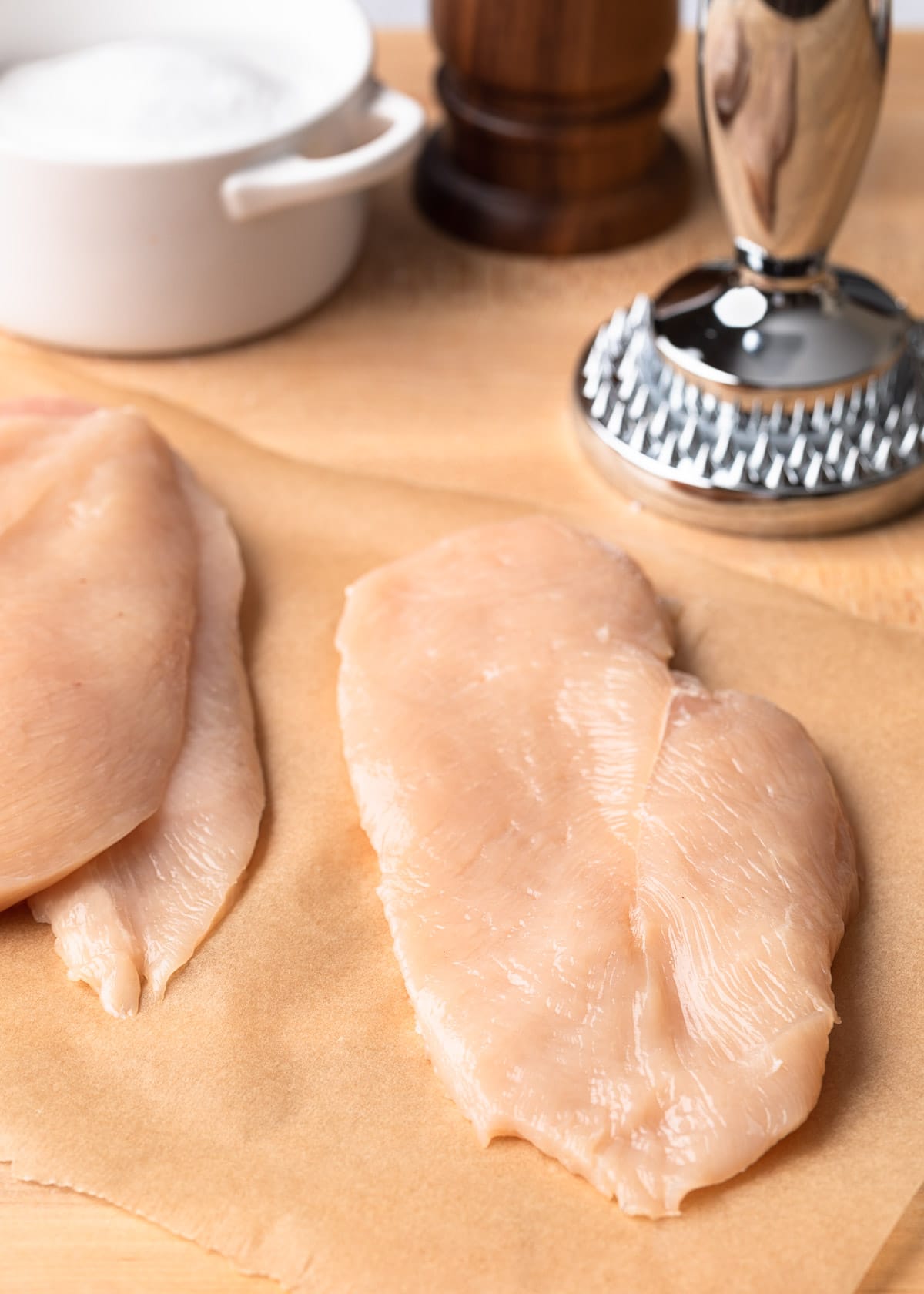 Chicken Marsala Ingredients
The primary ingredients you'll need to make Chicken Marsala are thinly-sliced chicken cutlets, fresh mushrooms, shallots, garlic, dry Marsala wine, chicken stock, and parsley.
You'll also need a few pantry staples: all-purpose flour, butter, olive oil (not extra virgin), kosher salt, and freshly-ground black pepper.
I also like to add a little fresh lemon juice to the sauce to brighten the rich flavors just before serving.
The Chicken Cutlets
If your market carries chicken cutlets, or cutlets labeled "scallopini", they're great for this recipe. They'll save you a few minutes of prep time, but they're typically priced a bit higher than boneless, skinless breasts.
If you buy the full boneless breasts, it's easy to cut them into cutlets at home. Place the chicken breast on a cutting board and use sharp knife (such as a chef's knife) to carefully cut the breast in half horizontally from the thickest side, keeping your knife parallel to the board.
As you cut, you'll start to be be able to open the breast like a book. Check to make sure you're slicing evenly, so both halves will be about the same thickness. When you have the "book" fully open, cut down the center to create two cutlets.
Pounding the Cutlets
After you cut the chicken breasts into two halves, you'll need to pound them to ¼-inch thickness. I usually have to do this with the pre-sliced chicken cutlets too; they're almost always a bit too thick.
Pounding the chicken creates a thin cutlet that cooks quickly and tenderizes the meat. You can use the flat side of a meat pounder, or even a rolling pin.
I like to place the chicken between two pieces of plastic wrap (lightly dampen the top layer so the meat pounder doesn't stick to it), or in an unzipped plastic zip-top bag. Pound the cutlets evenly, being sure not to hit too hard. You don't want the meat to split or get too thin in areas.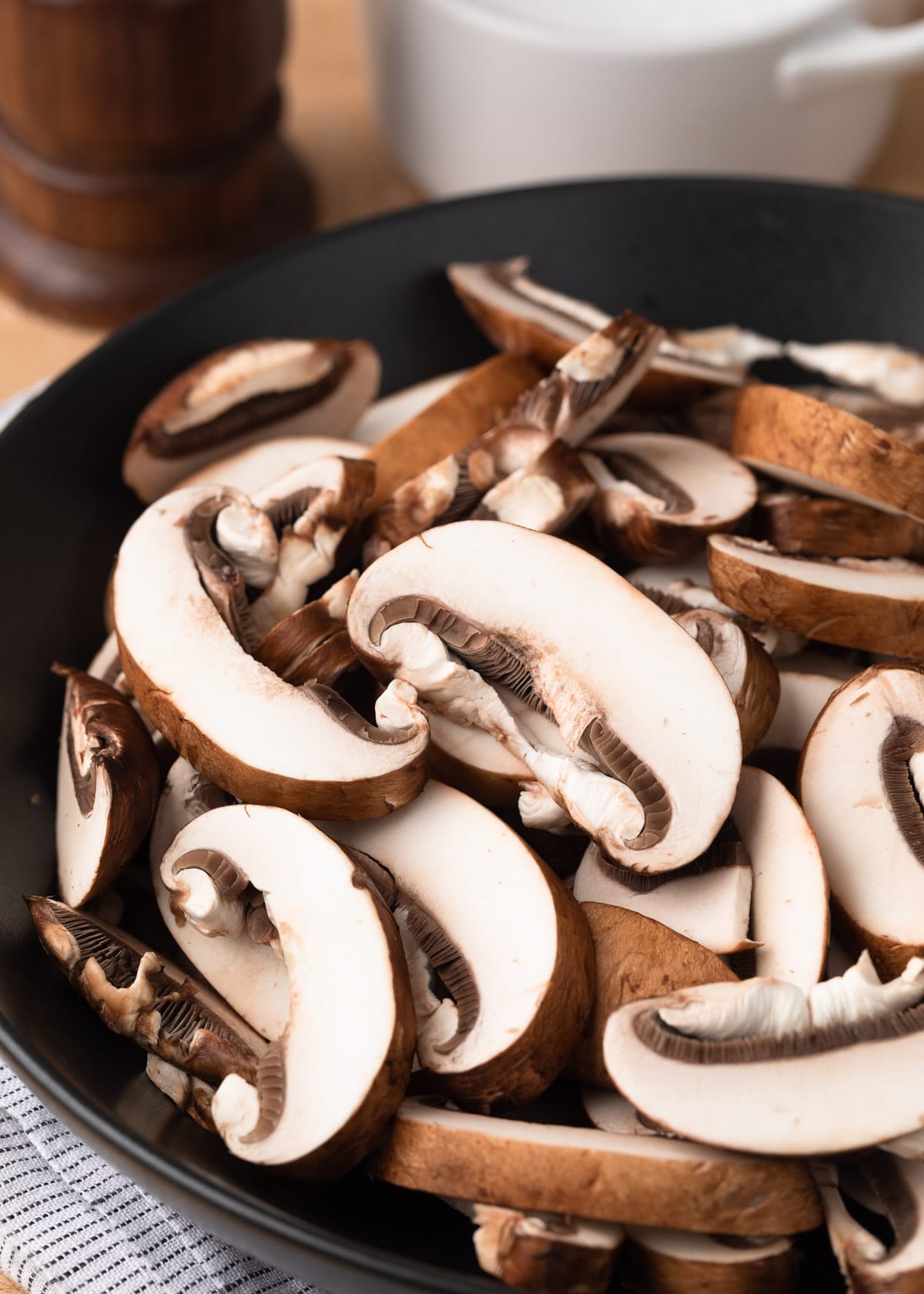 Choosing the Mushrooms
Chicken Marsala usually includes white button or cremini mushrooms. We love to use the latter. They have a deeper flavor that complements the wine sauce nicely.
That said, if you prefer button mushrooms, or they're what you have on hand, they're delicious in this recipe too. I've also made Marsala with a gourmet mixed mushroom medley, with varieties like shiitake and porcini.
For the best texture and flavor, I like to buy my mushrooms whole, trimming and slicing them just before I'm going to cook. That said, pre-sliced fresh mushrooms can certainly be substituted.
Heading to the market? Check out this guide for buying, storing, and cleaning mushrooms from Cooks Illustrated.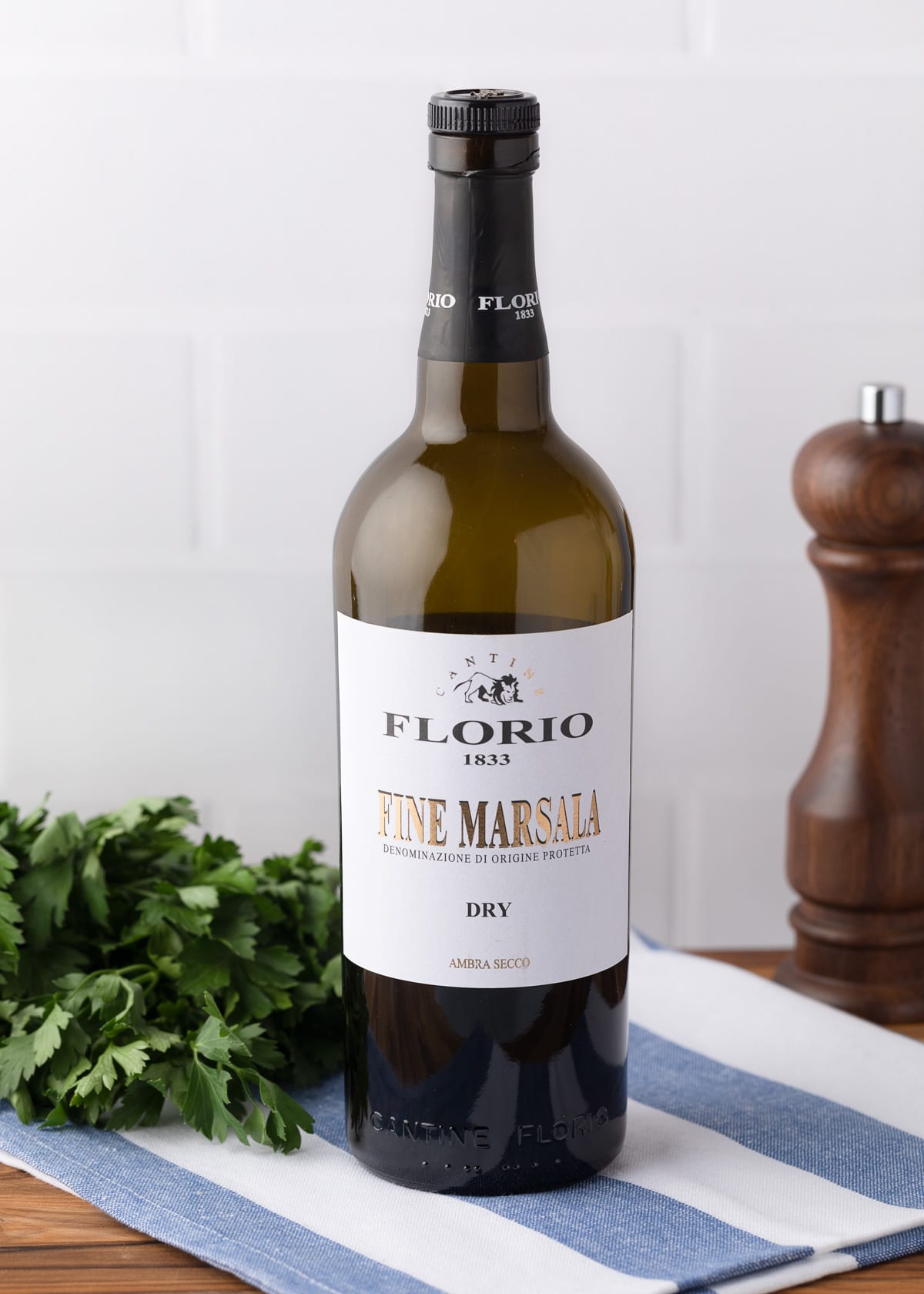 Buying Marsala Wine
I keep bottles of both "sweet" and "dry" Marsala (a Sicilian fortified wine) in my pantry. Dry Marsala is great for savory dishes, and Sweet Marsala is delicious in desserts, like Zabaglione.
For cooking, I typically use the "fine" or "superior" grades of Marsala, which have been aged for 1-2 years.
When you're shopping, you might find that the bottles don't have any distinction at all and simply say, "Marsala." In my experience, these bottles are often semisecco (semisweet) wines. They'll add will add some sweetness to the dish, but not nearly as much as those labeled dolce (sweet).
Whenever possible, look for a bottle labeled dry or secco. The brand of dry Marsala carried at my local liquor store is Florio.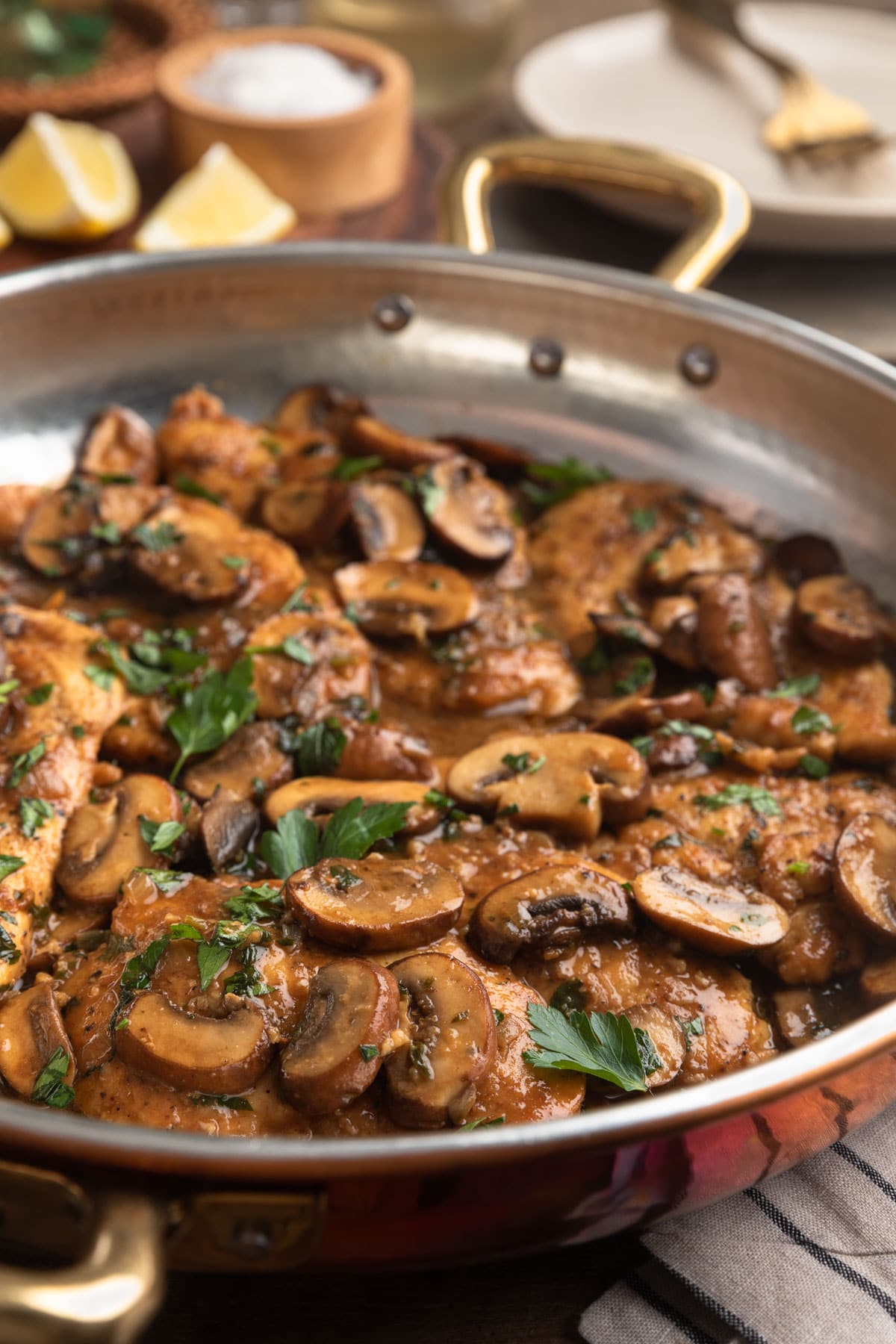 What to Serve with Chicken Marsala
We like to serve Chicken Marsala with rice, simple buttered noodles, or my personal favorite, creamy mashed potatoes. I also love haricots verts on the side.
This recipe isn't an overly saucy dish; it makes enough pan sauce to coat the cutlets, with some to spare. But, if you're looking for a lot of extra Marsala sauce to toss with pasta, you can double the sauce ingredients and reduce it longer to thicken.
(Note: I don't recommend undergoing a longer reduction period with the chicken and mushrooms in the pan; they'll both overcook, and the mushrooms will get rubbery. Reduce the sauce separately.)
More Easy Chicken Dinners
📖 Recipe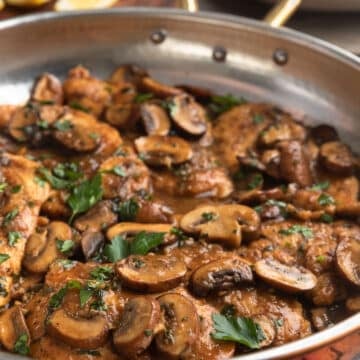 Chicken Marsala
Chicken Marsala is an easy, restaurant-quality scallopini dish that's great for a weeknight or for a dinner party. Ready in an hour, prep to table!
Print
Pin
Rate
Save
Saved!
Servings:
3
to 4 servings
Estimated Calories:
528
kcal
Ingredients
1-¼

pounds

thinly-sliced chicken breast cutlets

(about 6-7 cutlets)

3

tablespoons

olive oil

(not extra virgin), divided

4

tablespoons

unsalted butter

, divided

¼

cup

all purpose flour

10

ounces

sliced mushrooms

(I use cremini)

⅓

cup

chopped shallot

(about 1 large)

2

cloves

garlic

, minced

1

cup

dry Marsala wine

¾

cup

chicken stock

1

teaspoon

lemon juice

2

tablespoons

chopped flat-leaf parsley

kosher salt and freshly-ground black pepper
Instructions
Using a meat mallet or pounder or a rolling pin, evenly pound chicken cutlets between two pieces of plastic wrap (or in an unzipped plastic ziptop bag), until they're about ¼ inch thick. Season both sides of the cutlets with salt and pepper.

Heat 1 tablespoon olive oil and 1 tablespoon butter in a large (12 to 14-inch) skillet over medium-high heat. Dredge half of the cutlets in flour, shaking off excess, and add to the skillet in a single layer. Cook for 2-3 minutes per side, until browned. Transfer to a plate and tent with foil.

Heat another 1 tablespoon olive oil and 1 tablespoon of butter in the pan. Repeat the dredging and cooking process with the remaining chicken cutlets, transferring to the plate when browned.

Add an additional 1 tablespoon each of oil and butter to the pan. Saute shallots and mushrooms with ½ teaspoon kosher salt and ¼ teaspoon freshly-ground black pepper until mushrooms are tender and starting to brown and their released liquid has evaporated, about 5-8 minutes. Add garlic and cook for 1 minute, until fragrant.

Remove the mushroom mixture from the pan and set aside. Deglaze the pan with the Marsala, scraping the brown bits from the bottom and sides of the pan. Let the wine boil for 2-3 minutes. Stir in the chicken stock, bring to a boil, reduce heat to maintain a simmer, and cook for about 5 minutes.

Nestle the mushrooms and chicken cutlets back into the pan along with any accumulated juices on the plate. Simmer for 5-6 minutes, turning the chicken cutlets over occasionally, until the sauce lightly coats the back of a spoon.

Remove the chicken cutlets to a warm platter (tent with foil if further reducing the sauce). If the sauce seems too thin, let it simmer for a few more minutes. (Keep an eye on it; it will thicken fast!) Add the remaining 1 tablespoon butter, the lemon juice, and half of the parsley to the sauce, stirring until the butter is melted and the sauce is silky. Season to taste with salt and pepper.

Pour the sauce over the chicken cutlets. Garnish with the remaining parsley and serve with rice, buttered noodles, or mashed potatoes.
---
Notes
*Note that classic Chicken Marsala is served in enough sauce to coat the chicken cutlets, with some to spare. This won't be an overly saucy recipe where you'd be able to use what's in the pan to, say, toss with a pound of pasta.
Nutrition Estimate
Serving:
0.3
recipe
|
Calories:
528
kcal
|
Carbohydrates:
22
g
|
Protein:
35
g
|
Fat:
26
g
|
Saturated Fat:
10
g
|
Cholesterol:
122
mg
|
Sodium:
243
mg
|
Potassium:
929
mg
|
Fiber:
2
g
|
Sugar:
8
g
|
Vitamin A:
561
IU
|
Vitamin C:
8
mg
|
Calcium:
28
mg
|
Iron:
2
mg
Keyword:
chicken marsala, chicken marsala recipe
---
About our Recipes:
Please note that our recipes have been developed using the US Customary measurement system and have not been tested for high altitude/elevation cooking and baking.
Have you made this recipe?
Don't forget to leave a comment and rate the recipe below! Take a picture? Tag @stripedspatula and #stripedspatula on Instagram!