Crisp-tender Haricots Verts (French Green Beans) tossed with a fragrant brown butter sauce with lemon and fresh herbs. A beautiful holiday side dish that's simple to make!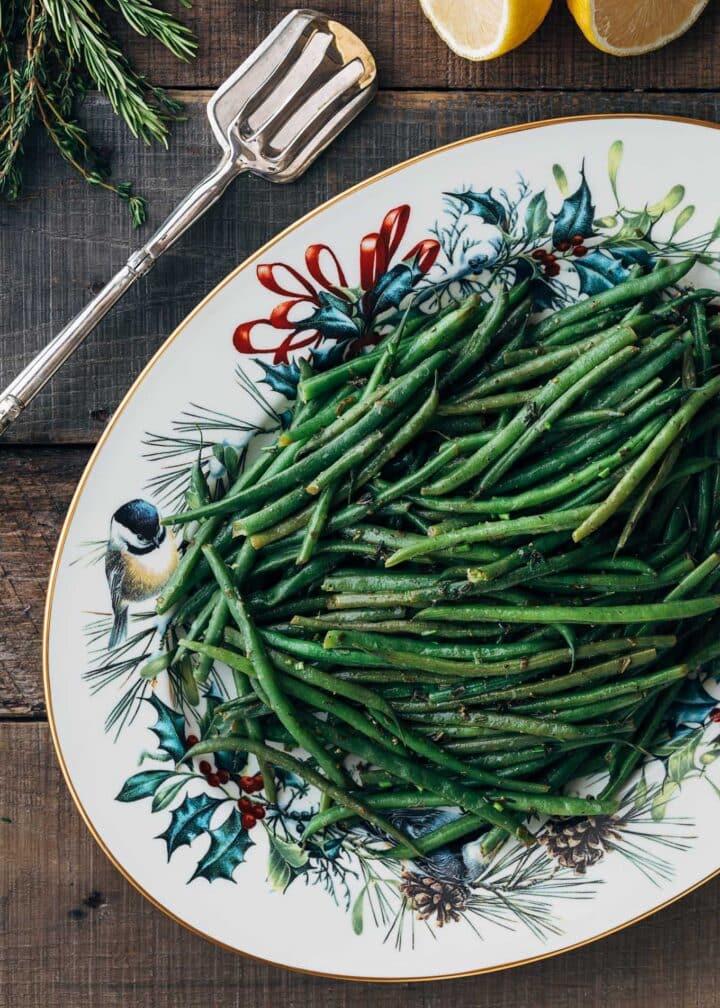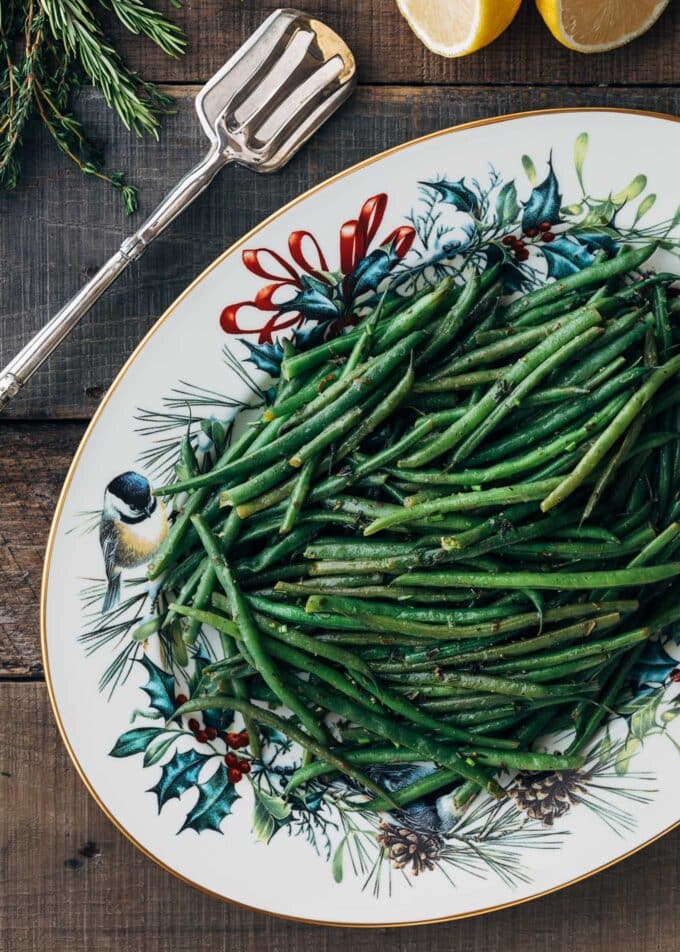 In choosing a vegetable for a holiday dinner, you can't go wrong with Haricots Verts (French green beans). Whether blanched, sautéed, glazed, or dressed, they're a simple, versatile side dish that can be enjoyed with a variety of main courses.
In this recipe, I combine the bright, fresh green beans with nutty brown butter, lemon juice and herbs. They only take about 30 minutes from start-to-finish (including the time it takes to boil the water) and are the perfect light bite to complement some of the heavier dishes on the table.
Plus, the name, "haricots verts" sounds fit for a holiday menu, doesn't it?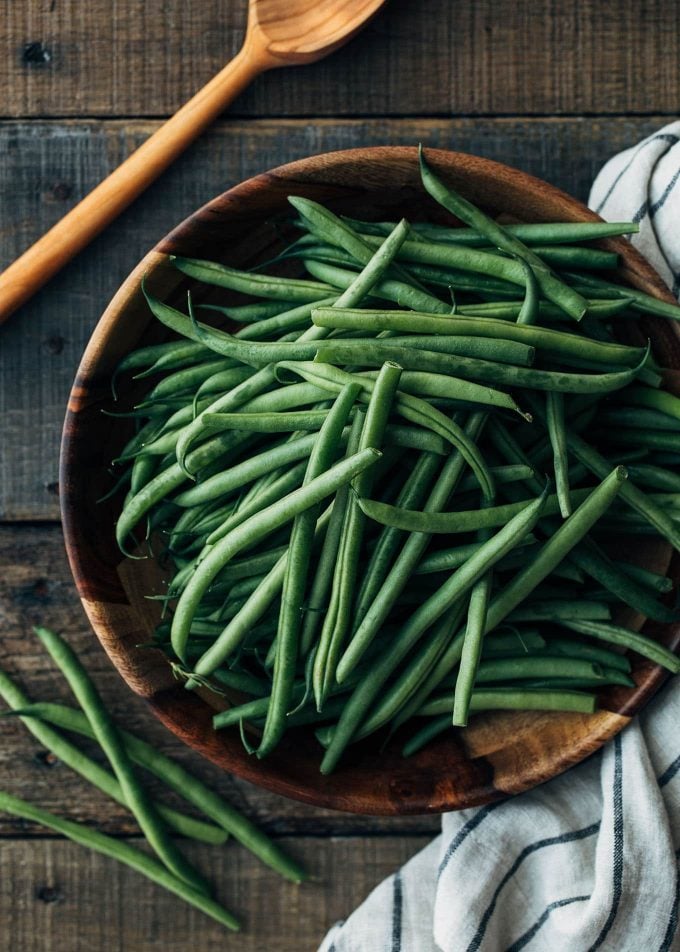 What are Haricots Verts?
As mentioned at the start of the post, Haricots Verts (pronounciation: ar-ee-ko-VER) are French green beans. They are typically younger than other green bean varieties, and longer and thinner in shape. I like that they're a bit more delicate in flavor and texture, and have always thought that they make an especially pretty presentation on a serving platter.
If your market doesn't have haricots verts, you can substitute whatever fresh green beans are in stock. Bear in mind that thicker green beans take an additional minute or two to cook to crisp-tender (more on the cooking process below).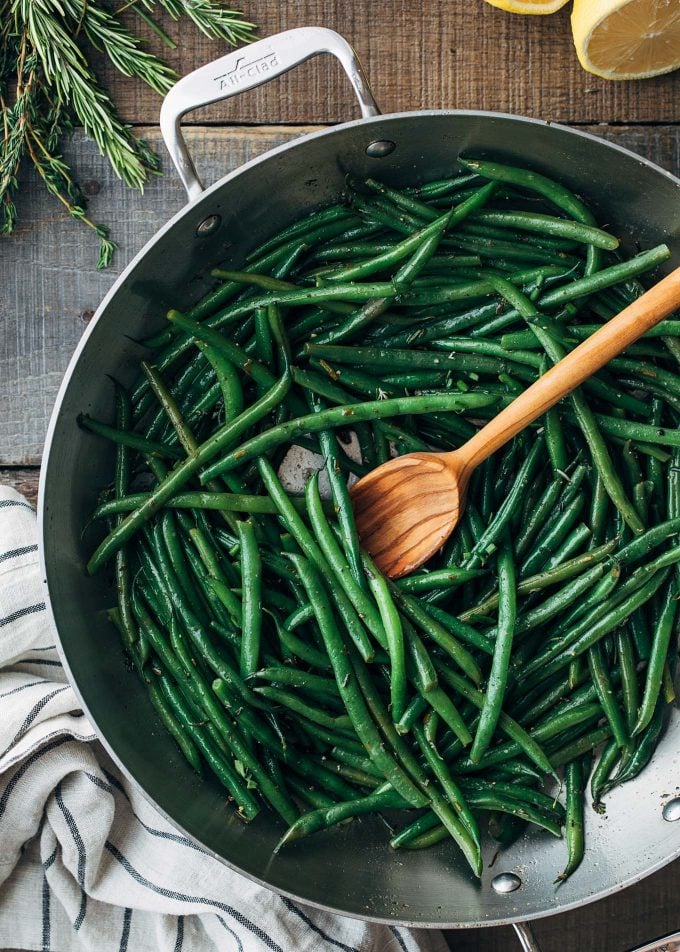 How to Prep and Cook Fresh Haricots Verts
Some haricots verts at the market come fully prepped and ready to cook (usually packaged in bags). Others, such as those displayed loose in a bin, will need to be trimmed before you cook them.
Trimming haricots verts is quick. Just gather small bundles with all of the tough stem ends facing in one direction, and cut just below the stem. You don't need to trim the second tapered end. These tips are tender enough to eat.
Haricots verts only need to be cooked for 5-7 minutes in salted, boiling water for a crisp-tender texture. Plunging them into a bowl of ice water after boiling stops the cooking process and ensures that the beans will not overcook.
For easy entertaining, the green beans can be cooked a day in advance, dried, wrapped in paper towels, and stored in plastic zip-top bags in the refrigerator. When ready to serve, just toss them in the luscious lemon-herb brown butter and heat through.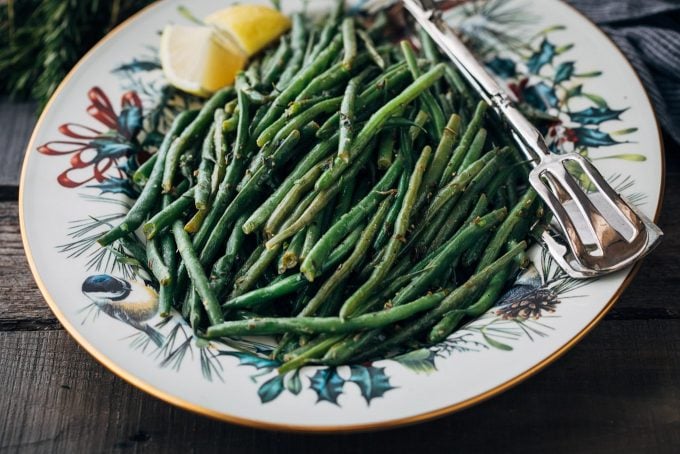 Brown Butter (Beurre Noisette): The Best Butter!
There are few ingredients I love more than brown butter. It's rich, aromatic, and has a nutty flavor (reminiscent of hazelnuts), and is the perfect addition to an array of vegetables, fish, pasta, and baked goods.
It's also incredibly easy to make, as long as you keep a watchful eye on it during the browning process.
To make brown butter, you'll need a skillet or heavy bottomed pot (preferably light in color so you can monitor the butter browning). Heat the butter over medium heat until melted. At this point, the water in the butter will begin to evaporate, causing it to foam. Soon after, the milk solids will start to turn a light golden color. Gently swirl the pan during this process to promote even browning.
Brown butter can quickly become burned butter, so it's important to keep a close eye on it. For most recipes, I remove the butter from the pan to a heat-proof bowl to slow the cooking process when it's a shade lighter than I want it to be when it's finished.
For this recipe, since I'm going to be tossing the green beans in pan, I pull the pan off of the heat when it's just starting to turn golden, and stir in the lemon and herbs. The sauce takes just about 5 minutes from start to finish.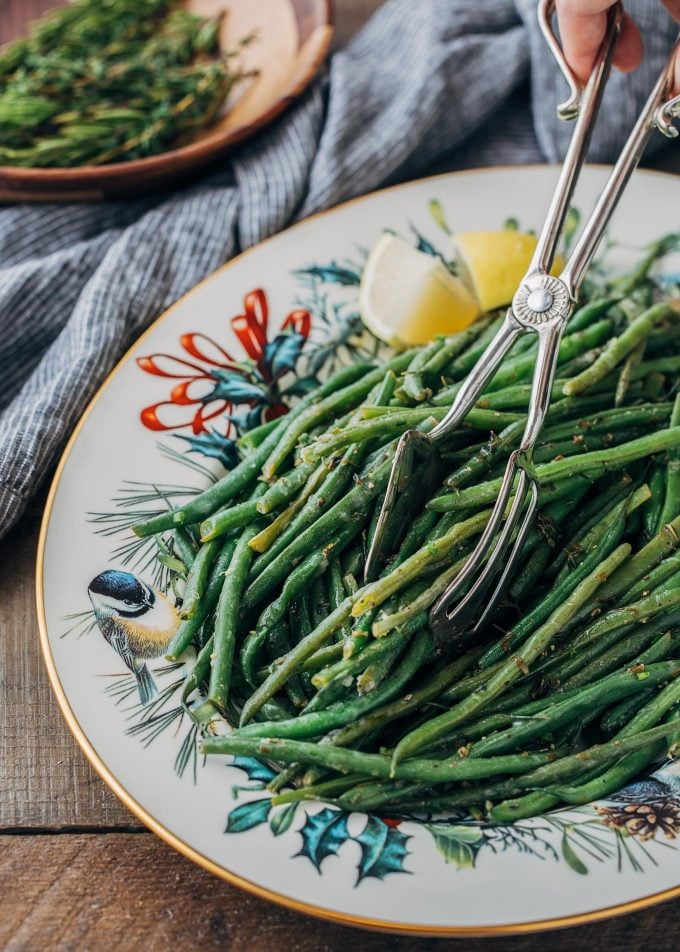 Holiday Recipes to Serve with Haricots Verts
These light and simple green beans are the perfect accompaniment to just about any main dish you're serving, from poultry to meat and seafood. Looking for additional menu inspiration? Here are some of my most popular holiday dinner recipes:
Mains:
Slow Roasted Prime Rib
Beef Tenderloin
Apple and Herb Brined Turkey
Strawberry-Chipotle Glazed Ham
Sides:
Parmesan Duchess Potatoes
Caramelized Shallot and Cheddar Mashed Potatoes
Cream Cheese Mashed Potatoes
Mulled Wine Cranberry Sauce
Cranberry-Pecan Stuffing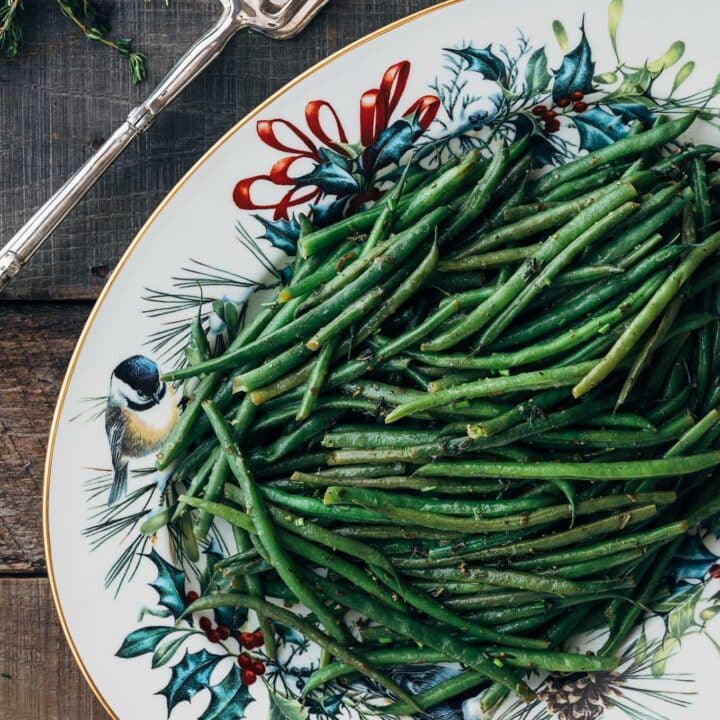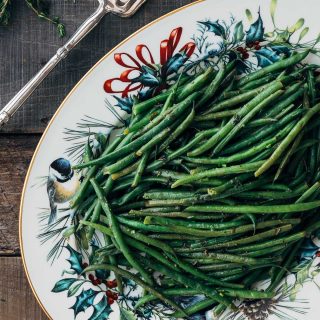 Haricots Verts with Brown Butter Herb Sauce
Crisp-tender Haricots Verts (French Green Beans) lightly tossed with brown butter, lemon juice, and herbs. Serve alongside your favorite poultry, meats, and seafood for a perfect holiday side.
Print
Pin
Rate
Save
Saved!
Estimated Calories Per Serving:
137
kcal
Ingredients
1

pound

Haricots Verts

, washed and stem ends trimmed

4

tablespoons

unsalted butter

, cut into 1 tablespoon pieces

1

tablespoon

fresh lemon juice

1

tablespoon

snipped fresh chives

2

teaspoons

chopped fresh thyme leaves

1

teaspoon

chopped fresh rosemary

kosher salt

freshly-ground black pepper
Instructions
Bring a large pot of lightly-salted water to a boil. Add haricots verts and cook until crisp-tender, about 5-7 minutes. Immediately transfer green beans to a bowl of ice water to stop the cooking process, drain, and set aside.

Melt butter over medium heat in a skillet. When butter is melted and starts foaming, continue cooking, swirling the pan frequently, until butter fats start turning a light golden brown and are fragrant.

Turn off the heat and stir in lemon juice, herbs, ½ teaspoon kosher salt, and ½ teaspoon freshly ground black pepper.

Add green beans to the pan and toss to coat with the brown butter mixture. Return pan to medium heat, and sauté just until haricots verts are heated through, about 3 minutes.

Season to taste with additional salt and pepper. Serve immediately.
---
Nutrition Estimate
Calories:
137
kcal
|
Carbohydrates:
8
g
|
Protein:
2
g
|
Fat:
11
g
|
Saturated Fat:
7
g
|
Cholesterol:
30
mg
|
Sodium:
8
mg
|
Potassium:
239
mg
|
Fiber:
3
g
|
Sugar:
3
g
|
Vitamin A:
1215
IU
|
Vitamin C:
17.3
mg
|
Calcium:
49
mg
|
Iron:
1.4
mg
---
About our Recipes:
Please note that our recipes have been developed using the US Customary measurement system and have not been tested for high altitude/elevation cooking and baking.
Have you made this recipe?
Don't forget to leave a comment and rate the recipe below! Take a picture and tag @stripedspatula and #stripedspatula on Instagram for a chance to be featured in our Insta Stories and newsletter!