Crispy, buttery Corned Beef Hash and Eggs is an easy way to turn leftover corned beef into a hearty breakfast skillet. Perfect for using St. Patrick's Day leftovers!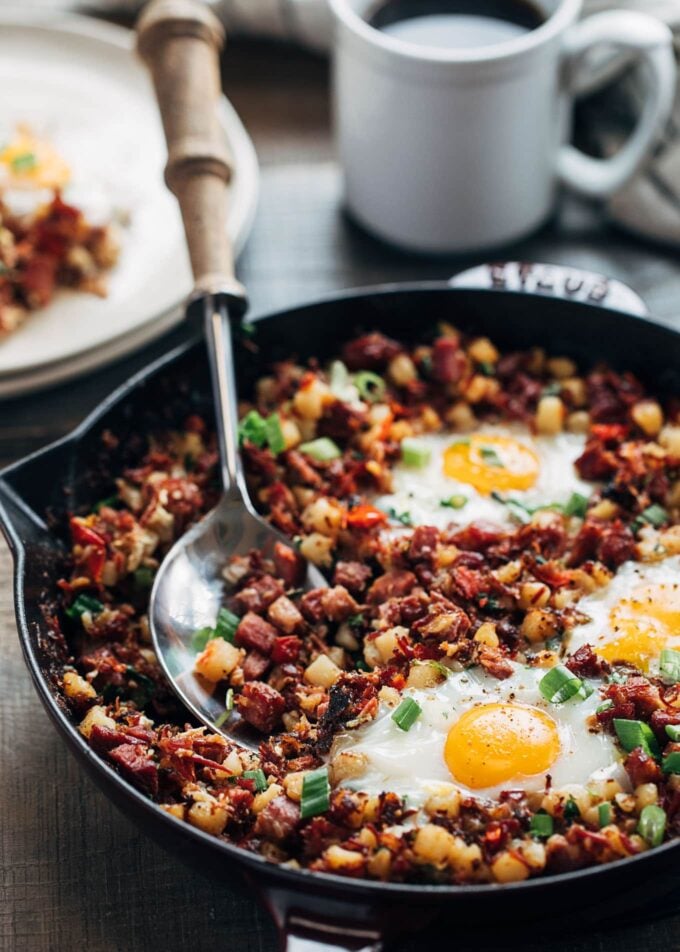 Sometimes, I love the next-day uses for a big dinner just as much, if not more so, than the actual dinner itself. Every year for St. Patrick's Day, I always make sure that I make "too much" for dinner, so that we can enjoy our favorite leftover corned beef recipes in the days that follow.
In our house, New Jersey Sloppy Joes are a given for lunch, as is a pan of Corned Beef Hash and Eggs for a cozy weekend breakfast. This crispy, buttery corned beef hash recipe is full of flavor and the perfect contrast to soft and yolk-y baked eggs. It wouldn't be post-St. Patrick's Day without it!
(Need a good corned beef recipe? Check out my Instant Pot Corned Beef and Beer-Braised Corned Beef with Whiskey-Mustard Glaze.)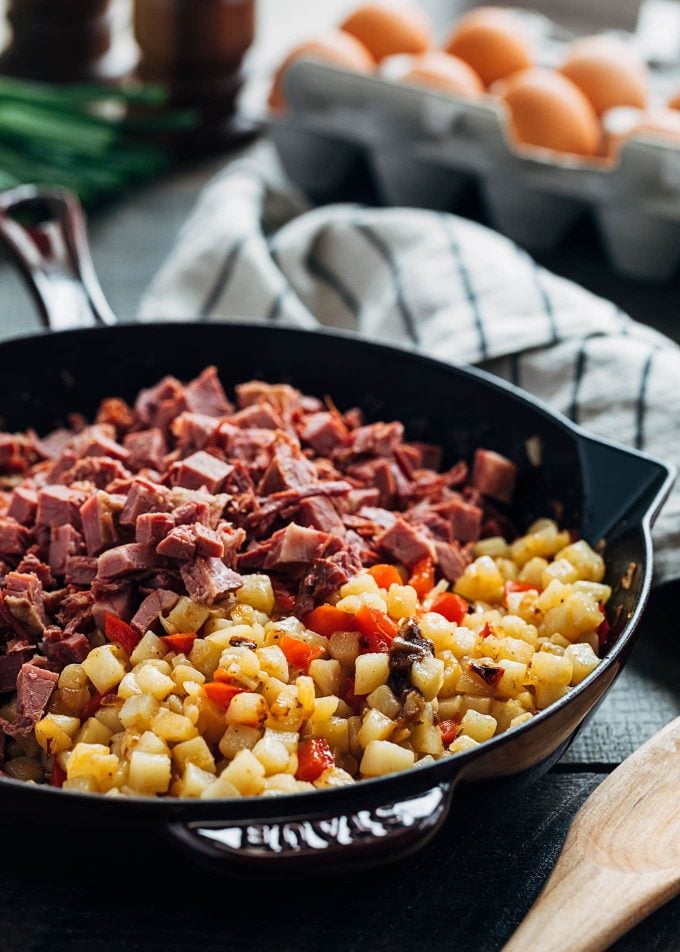 What is Corned Beef Hash?
Generally-speaking, breakfast hash is a dish that is made by frying together leftover meat with potatoes. Its name derives from the French hacher, which means "to chop."
Rooted in Britain and Europe, corned beef hash became popular in America during World War II, when fresh meat was rationed. Using canned corned beef, it was a hearty and economical meal.
In the decades since, hash has become a breakfast tradition in many areas of America, especially New England. Popular corned beef hash recipe variations include Red Flannel Hash, which adds beets (and a rosy color) to the recipe.
How is Corned Beef Hash Made?
In addition to the meat and potatoes, onions are almost always added to corned beef hash recipes. I also like to include a little chopped bell pepper, scallions, and fresh herbs to brighten the dish a bit.

To make a great corned beef hash and eggs, a few techniques are key. I use a cast iron skillet to get the crispiest edges on the meat and potatoes. For the best flavor, I always fry my corned beef hash in butter.
Read: Why the Cast Iron Skillet is the Key to Better One Pan Cooking from The Kitchn.
About those essential crispy bits: avoid the temptation to stir the hash frequently as it's cooking. I like to use a spatula to gently press and flip the ingredients in the hot pan and leave them to cook, undisturbed, as they brown in the butter.
Listen for the sizzle for the most delicious corned beef hash!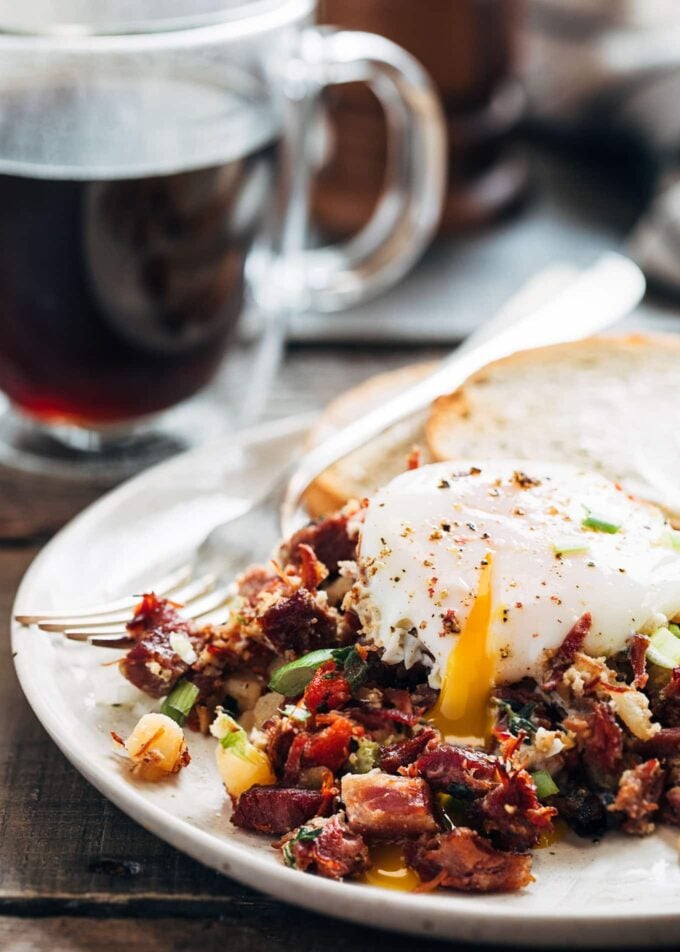 Baking a Corned Beef Hash and Eggs Breakfast Skillet
Corned Beef Hash is a great dish to turn into a convenient, one-pan breakfast skillet recipe. All you have to do is use a spoon to make shallow wells in the hash after it's cooked, crack fresh eggs into them, and bake until the eggs are set to your liking.
Making baked eggs in a breakfast skillet only takes about 14-16 minutes in a 400 degree F oven, if you like your yolks runny, like I do. I love breaking the yolk open in my plate and letting it mingle with the crispy-edged hash. Perfection.
If you prefer for your eggs to have more of a soft-cooked texture, just extend the baking time by 2-4 minutes. Bear in mind that cooking times can vary by the eggs, pan, and the size of the wells you've created. I always like to start checking the eggs at 14 minutes, and judge from there.
Baked eggs are delicious, but the only potential drawback to the cooking technique is that you won't get the thin, crispy edges of fried eggs. If that's a deal breaker (I hear you!), this corned beef hash recipe is just as well served with eggs that have been fried in butter in a separate skillet.
More Leftover Corned Beef Recipes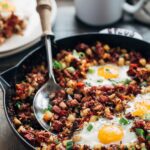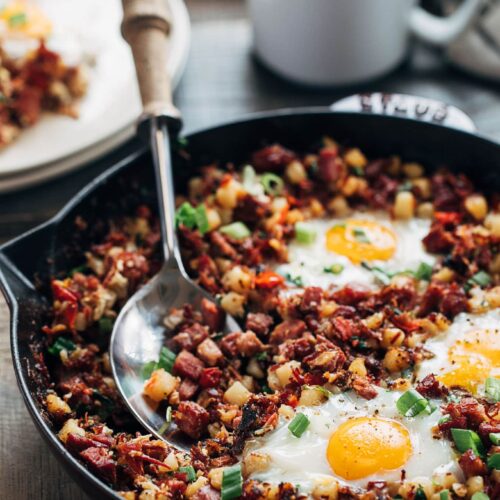 Print
Corned Beef Hash and Eggs
Have extra corned beef after a big dinner? Turn it into a hearty breakfast skillet with baked eggs. Leftovers never tasted so good!
Ingredients
3/4

pound

cooked corned beef

, cut into 1/2 inch cubes (about 2-1/2 cups)

1

pound

russet potatoes

, cut into 1/4-inch dice (about 2-3/4 cups)

1/2

cup

diced red bell pepper

3/4

cup

diced yellow onion

4

tablespoons

unsalted butter

1/4

cup

thinly-sliced scallions

1/4

cup

Italian parsley

, chopped

1

teaspoon

fresh thyme leaves

, chopped

1/4

cup

chicken stock

4-6

large

eggs

kosher salt and freshly ground black pepper
Instructions
Preheat oven to 400 degrees F.

Fill a pot large enough to hold a steamer basket with a couple of inches of water. Bring to a boil. Add diced potatoes to steamer basket, cover pot, lower heat, and steam for 5-7 minutes, until potatoes are just tender. Set aside.

Melt butter over medium-high heat in a 10-inch, nonstick, oven-safe skillet. Add onion, bell pepper, and 1/2 teaspoon each kosher salt and pepper. Sauté until vegetables are softened, about 5 minutes.

Stir in corned beef and cook until fat is released and corned beef is just starting to brown, about 3 minutes. Add potatoes and cook, occasionally (and gently) pressing the hash down and flipping the hash with a spatula, until potatoes are browned and corned beef is crisp in areas, about 6 minutes.

Stir in scallions, thyme, and parsley. Season to taste with salt and pepper.

Drizzle chicken stock over the hash. Use a spoon to make 4-6 wells in the hash (depending on how many people you're serving) and crack one egg into each well. Bake until the whites are set and the yolks are still runny (about 14 minutes), or to desired egg doneness.

Sprinkle eggs with salt and cracked pepper and serve immediately.
Recipe Notes
If you prefer crispy-edged fried eggs, simply skip preheating the oven, omit chicken stock, fry eggs to desired doneness in a separate skillet, and serve over scoops of the cooked corned beef hash.
Have leftover potatoes from your corned beef dinner? You can also use them in this breakfast hash! Skip the steaming step, dice the potatoes, and proceed with the recipe as written. 
Have you made this recipe?
Let me know by leaving a comment and rating the recipe below! Don't forget to take a picture and tag
@stripedspatula
and
#stripedspatula
on
Instagram
for a chance to be featured in my newsletter!