Juicy beer braised corned beef, glazed with an irresistible mixture of brown sugar, mustard and Irish whiskey, will take your St. Patrick's Day dinner to the next level! This recipe originally appeared on Striped Spatula on March 16, 2017, and was updated in 2021 with new photos.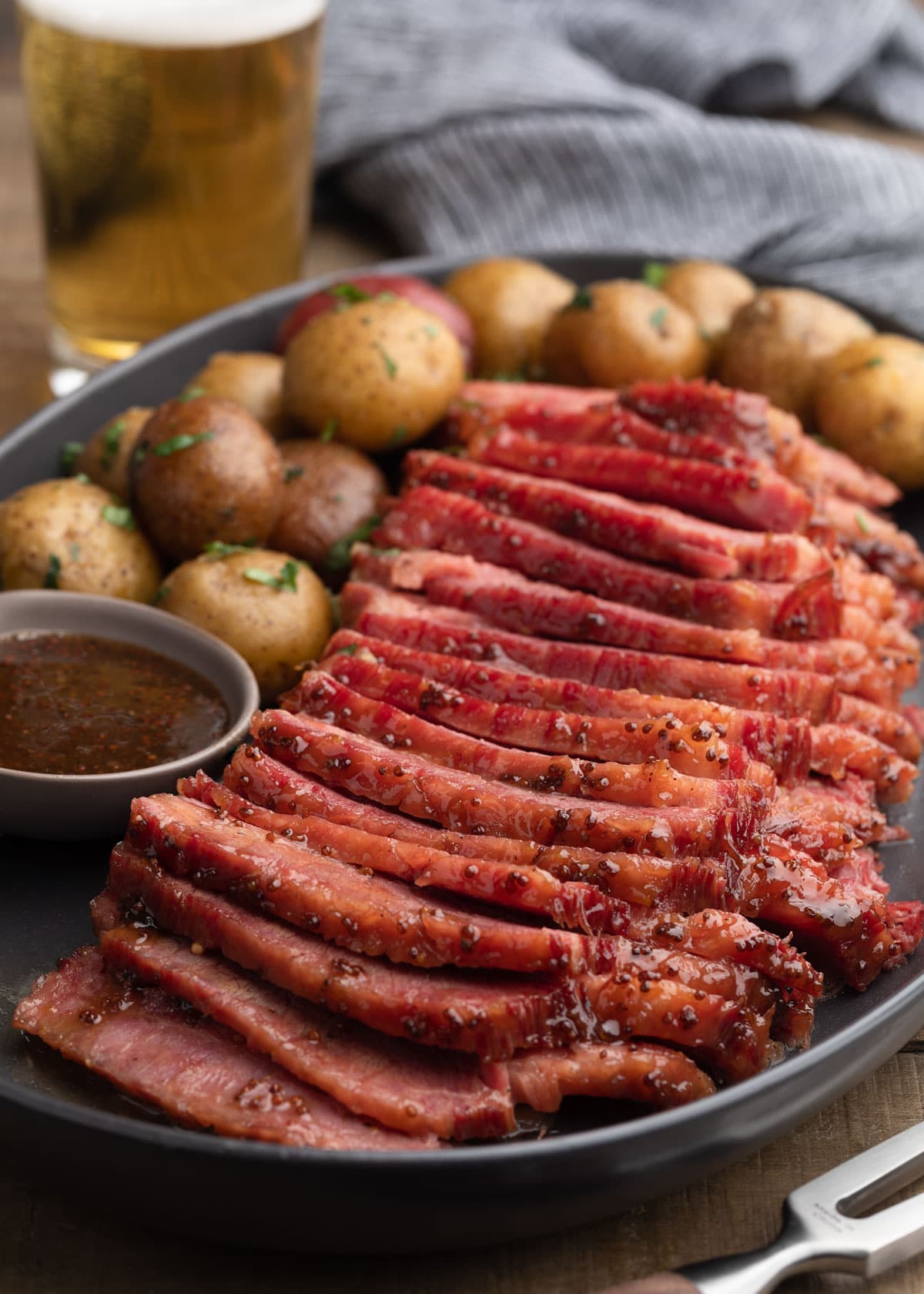 This post contains affiliate links. As an Amazon Associate, I earn a commission (at no additional cost to you) from qualifying purchases made by clicking these links. As always, all recommendations and opinions expressed are my own.
Looking through some of my recipes, I think its safe to say that I love a good braise. Whether it's Hard Cider Braised Chicken, White Wine Braised Leeks, or Stout-Braised Short Ribs, tipsy braising liquids are a sure bet for cozy, flavor-infused dishes.
I got in the habit years ago of slowly cooking my corned beef with aromatics and beer in a covered Dutch oven. The technique is a modified braise (I don't start by searing the corned beef) that yields and exceptionally tender and delicious brisket.
One year, I swooped in one year with an Irish whiskey-spiked mustard glaze after braising. Since we always serve corned beef with mustard, I figured why not put that flavor onto the brisket itself?
This braised and glazed corned beef is a twist on the traditional dinner that's become a favorite at my St. Patrick's Day get togethers.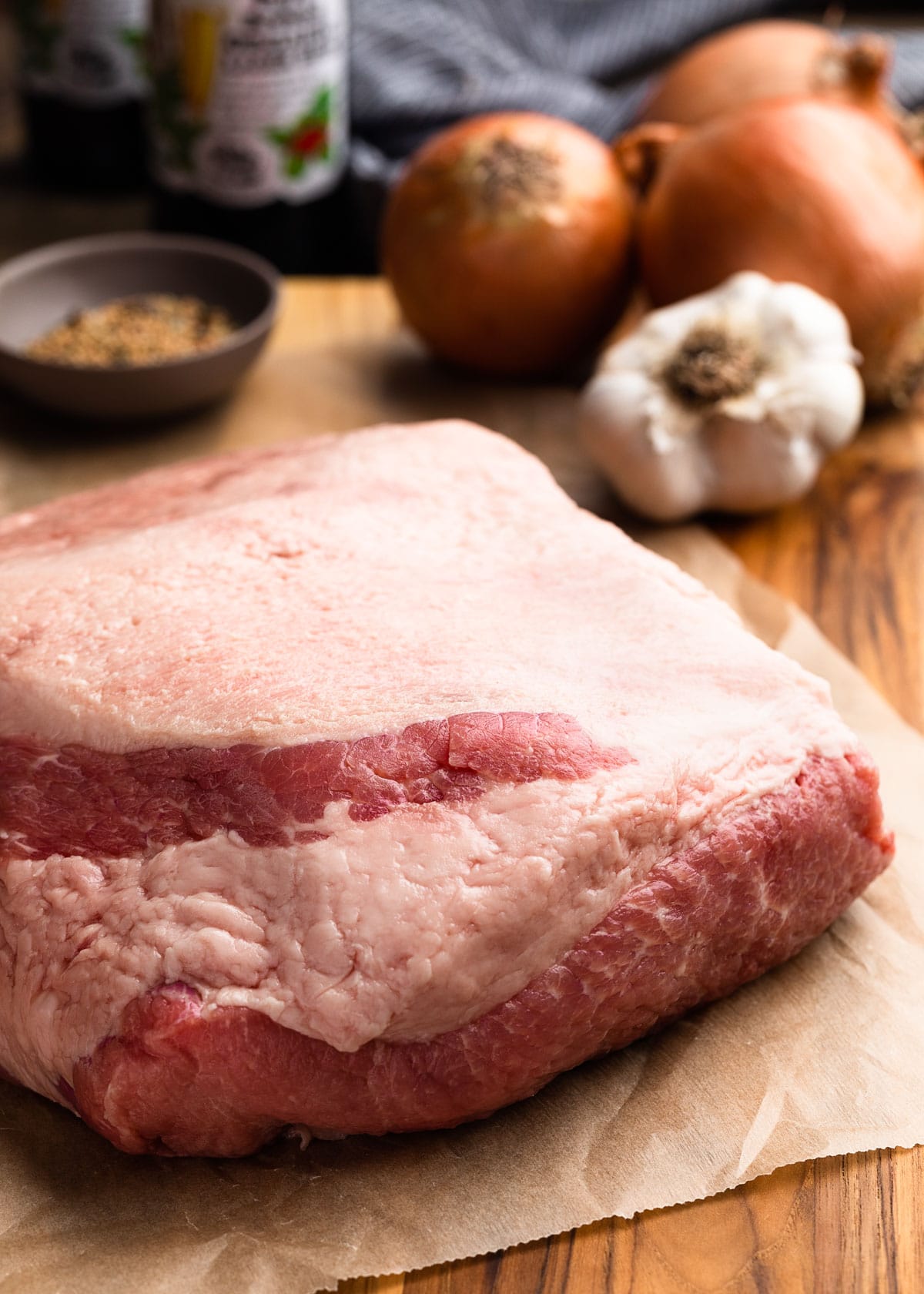 Beer Braised Corned Beef: Point Cut or Flat Cut?
When shopping for a corned beef (brine-cured beef brisket), I prefer to use the leaner "flat cut" for this recipe. While the "point cut" is thicker and has more marbling (which, of course, I love), I find that the uniformity of the flat cut is easier to glaze and slice with this preparation.
That said, you can absolutely make this with a point cut brisket if you prefer.
Most corned beef briskets will have a seasoning packet included, which you can add to the beer braising liquid. If not, pick up a jar of pickling spice, which is readily available in grocery stores or online.
Alternatively, if you've never "corned" a beef brisket yourself, I encourage you to give it a try. It's a multi-day process, but the flavor and texture of the beef are incredible.
I first discovered the process in Michael Ruhlman's book, Charcuterie: The Craft of Salting, Smoking, and Curing (unsolicited plug for one of my favorite "cooking project" books on my shelf). Ruhlman has also shared a tutorial on his website.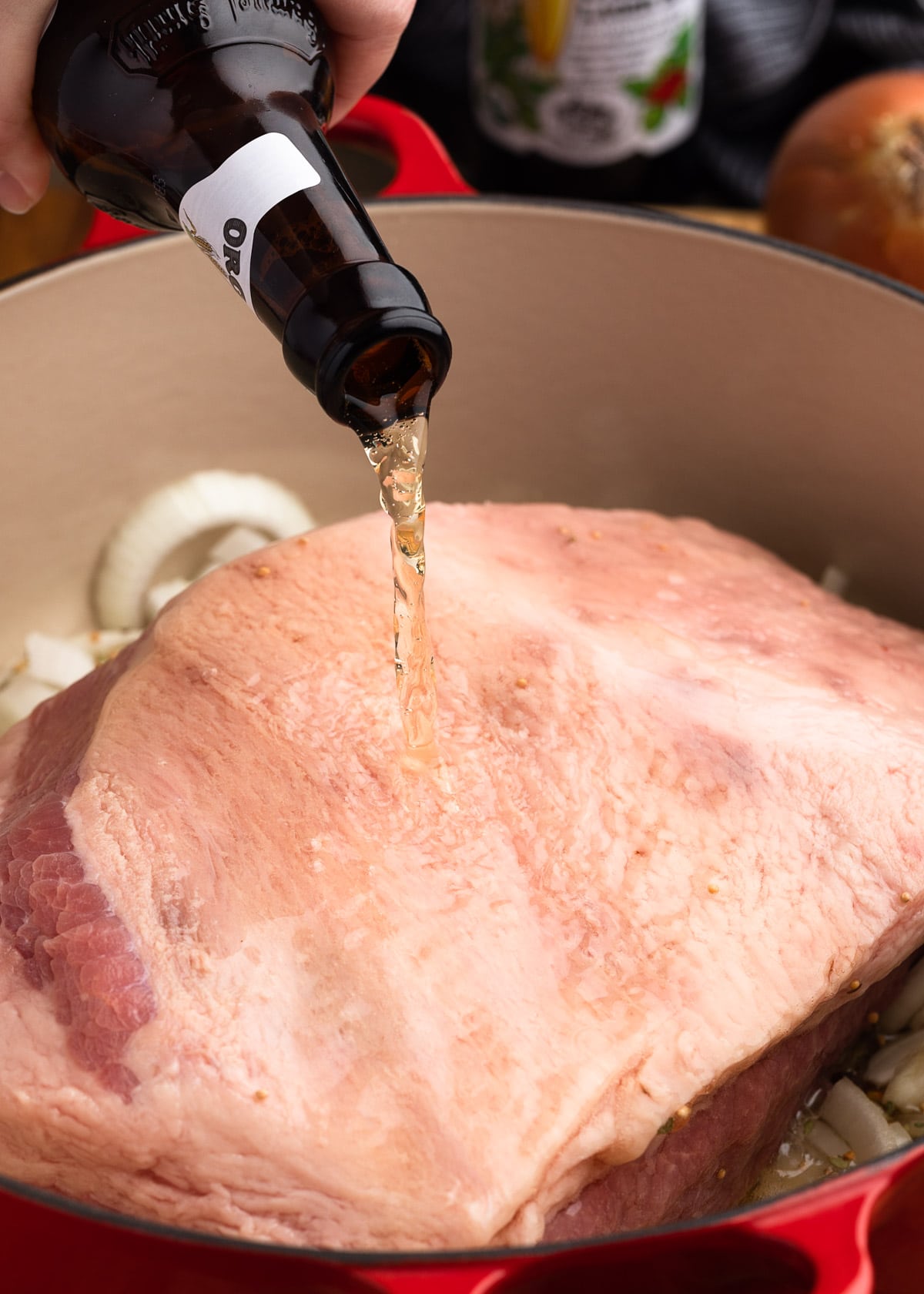 Choosing a Beer For the Braising Liquid
I typically use Samuel Smith's Old Brewery's organic lager from Tadcaster, England in this recipe. One of the sales associates at my local liquor store recommended I give it a try, and it doesn't disappoint in the glass, or in a braise. It's a fresh, crisp, and lightly floral lager that enhances the corned beef without overpowering.
In general, look for a golden lager that isn't too hops-assertive. The flavor of whatever you use will concentrate a bit during the braising process, so you'll want to choose a beer that will infuse flavor into the meat without too much bitterness.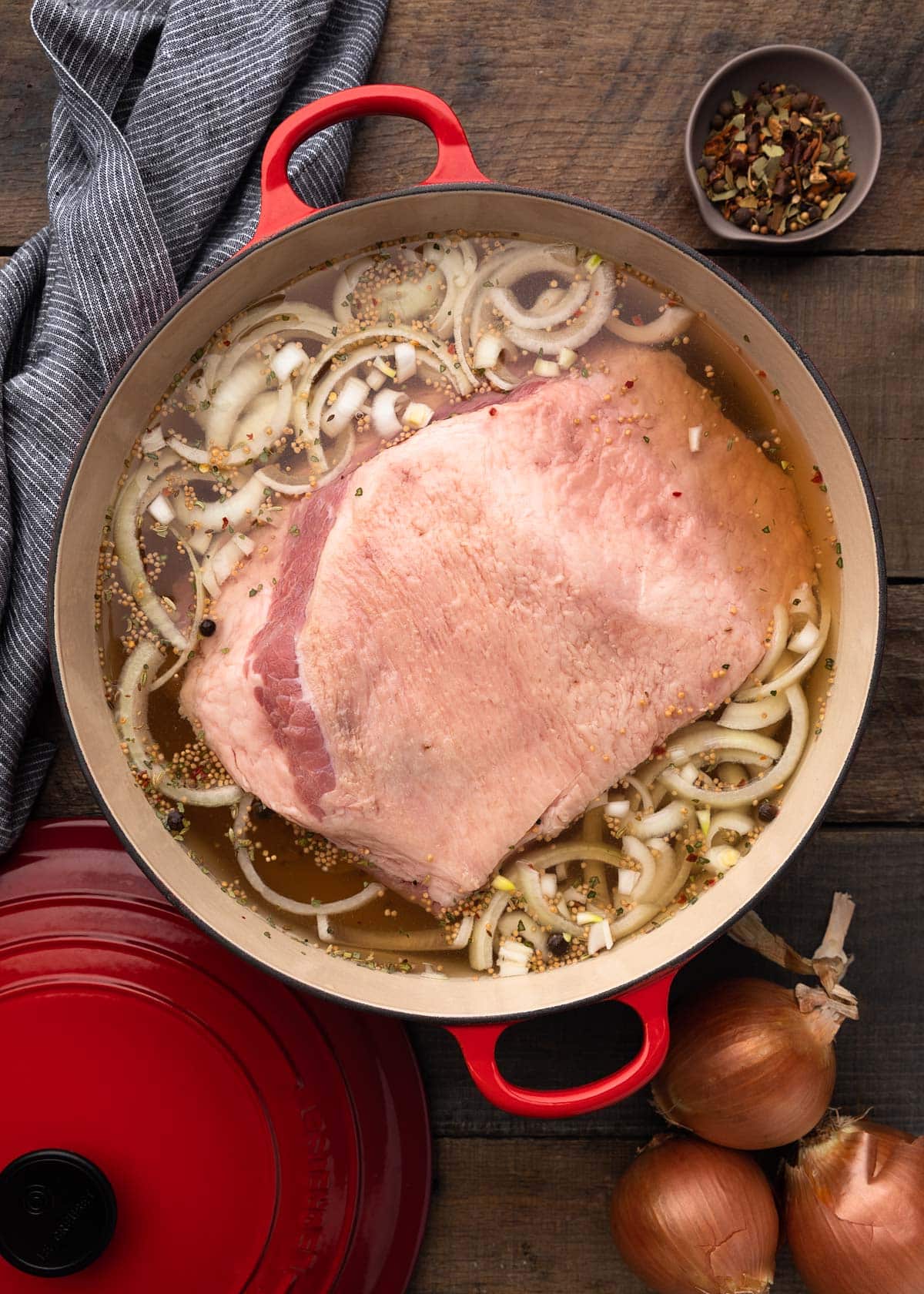 Commercially, most standard lagers work well. In a similar theme, I've used Sam Adams Boston Lager a few times to make my Instant Pot Corned Beef, with good results.
Since I love stout-braised meats, we tried using Guinness one year. Everyone at the table found the flavor to be a bit overpowering. I decided that I prefer to save the stout for a glass when I'm eating my corned beef, rather than using it for cooking this particular recipe.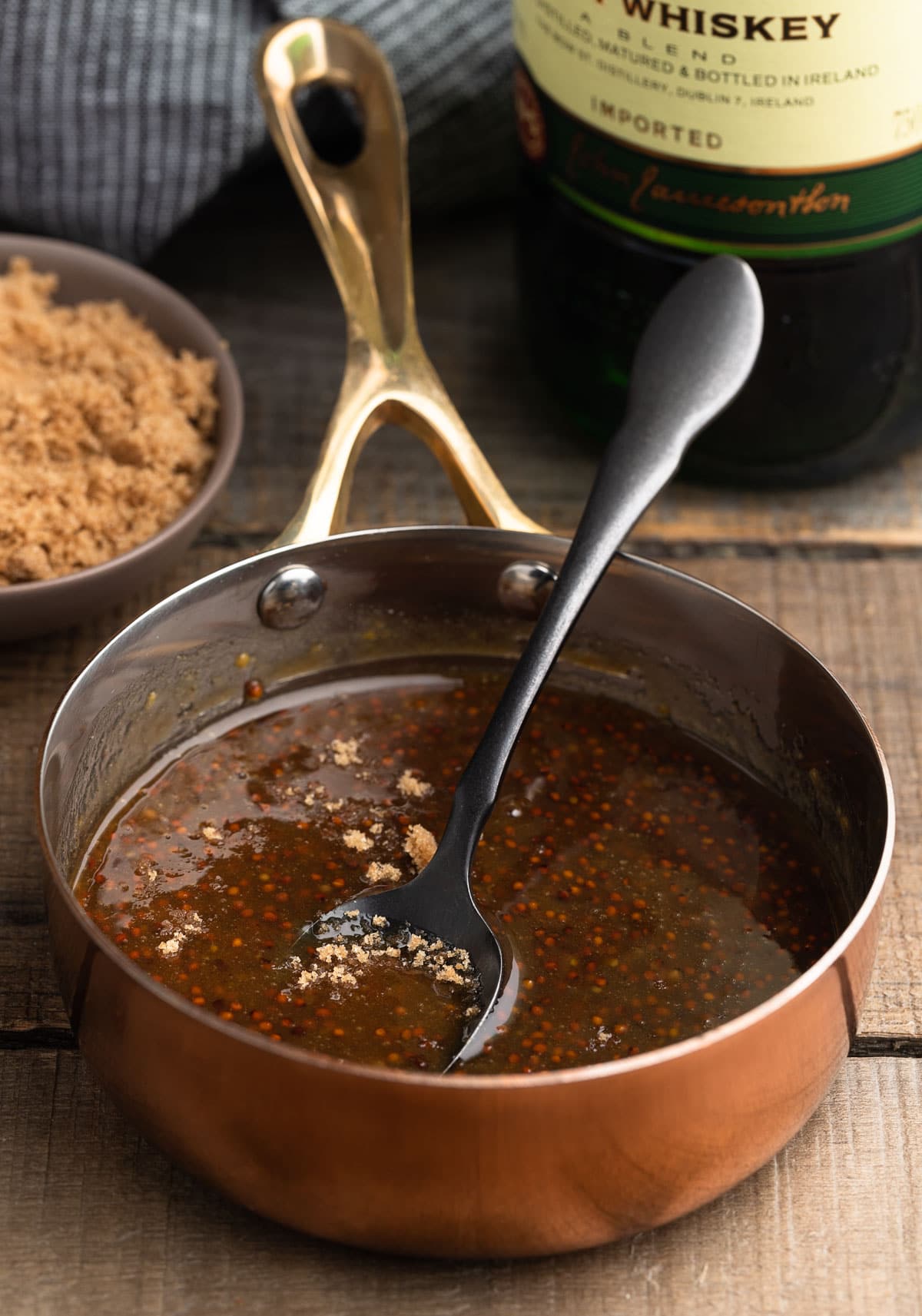 Whiskey-Mustard Glaze
If you're looking to dress up the traditional corned beef dinner a bit, a glaze is a nice finishing touch. The brown sugar brings a touch of sweetness to the salty meat, contrasting the bite of the mustard and whiskey well. I like to use a mix of smooth and whole grain Dijon mustard for a little bit of texture.
Glazing the corned beef couldn't be easier–just brush it onto the brisket after it's braised and pop it under the broiler for a few minutes, until caramelized. Watch it carefully so it doesn't burn!
If the sweet element isn't something you enjoy, or if you're making the corned beef specifically for something like a reuben sandwich, the glazing can be skipped entirely. Beer braised corned beef is thoroughly delicious on its own.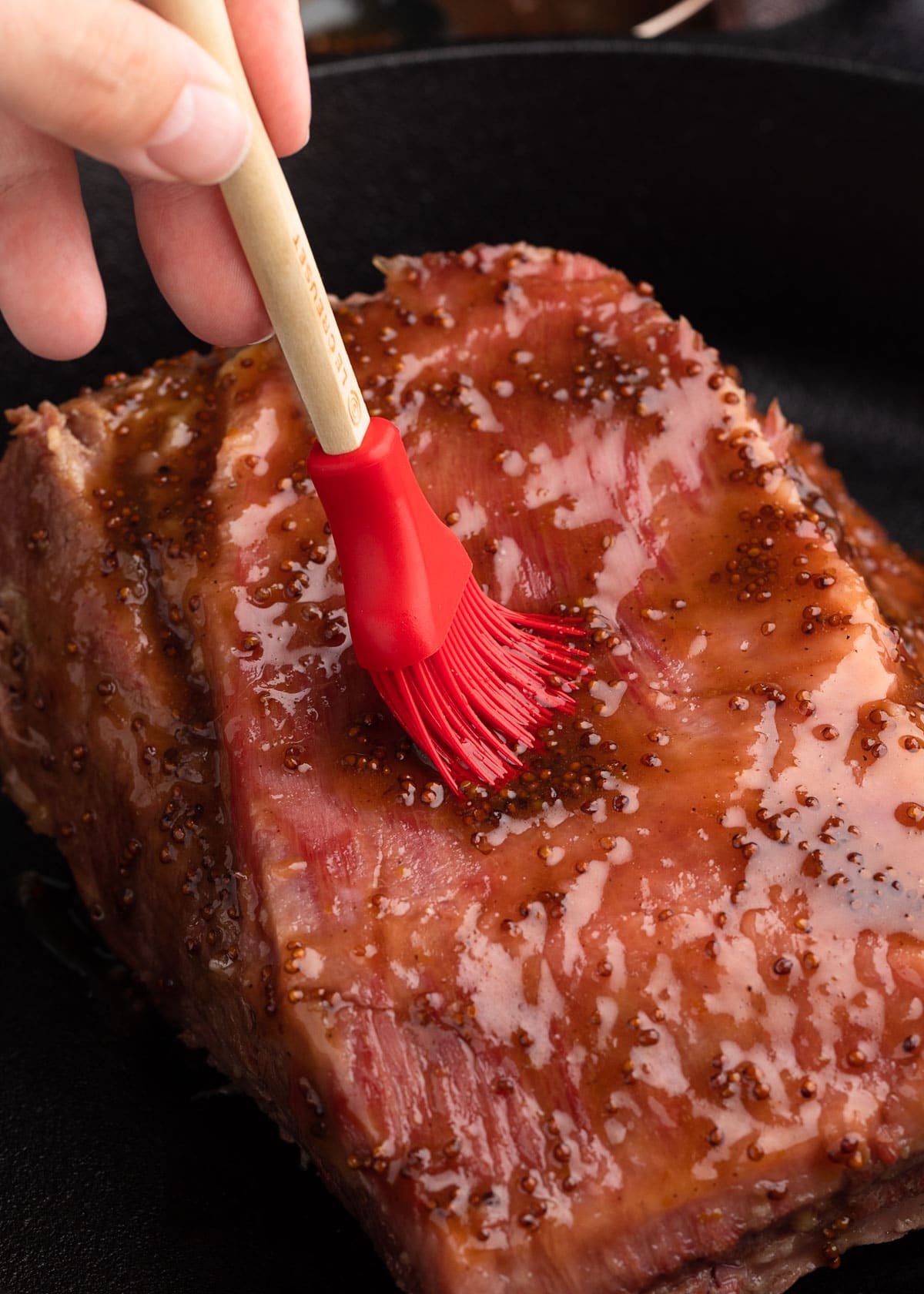 Can I Add Cabbage and Potatoes to Beer Braised Corned Beef?
Definitely! You can braise the traditional cabbage wedges and whole baby red potatoes right in the pot with the brisket.
Bear in mind that the beer braising liquid can be a bit on the salty side. When I'm cooking the vegetables with the corned beef, I'm careful to keep an eye on the clock. One hour before the corned beef is finished braising, I add the potatoes.
I like to quickly sear the cabbage wedges on the stove (using a skillet with a little bit of oil). The light caramelization brings a nice depth of flavor to the cabbage.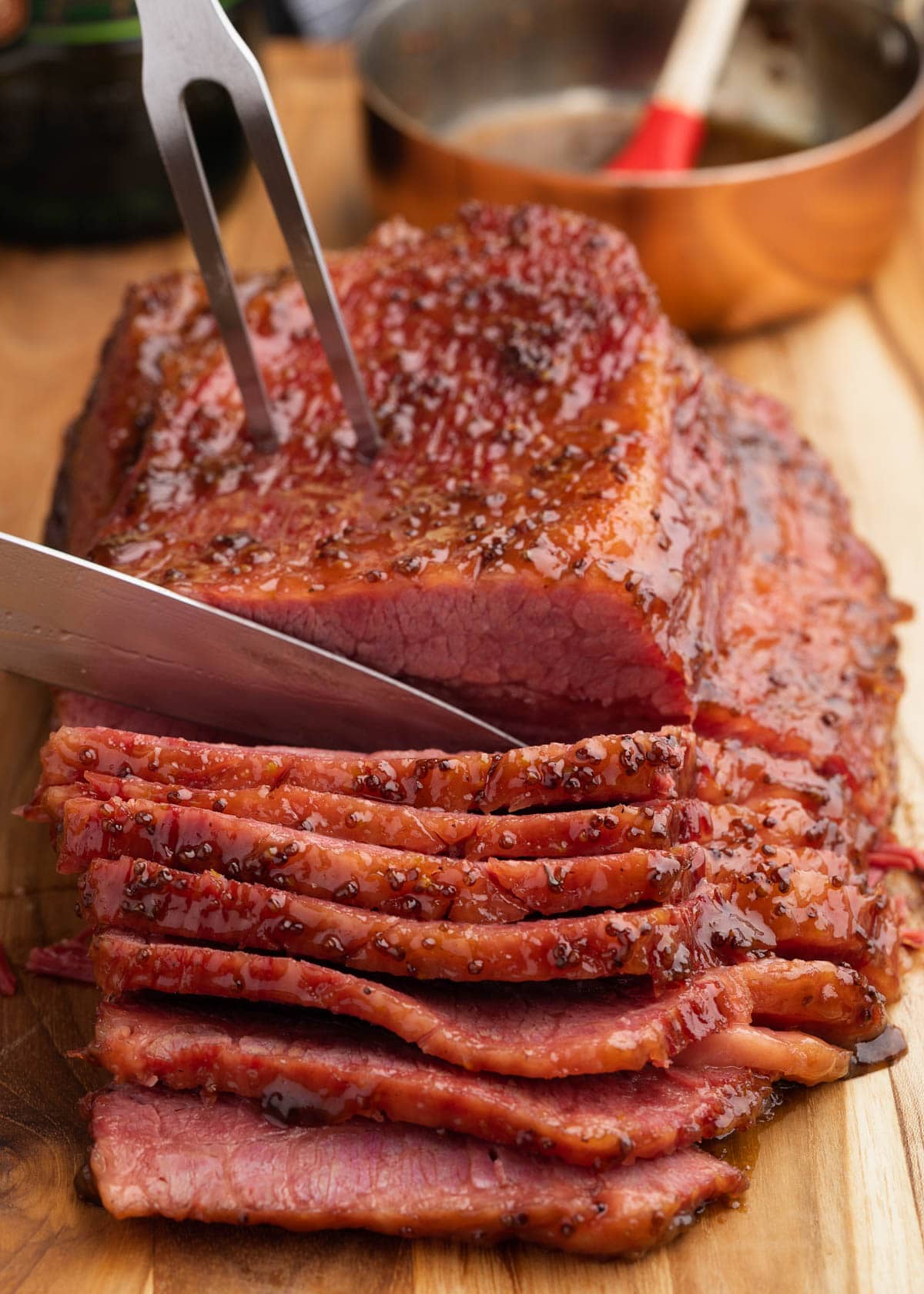 With 30 minutes remaining, I add the seared cabbage wedges to the pot. I like to be sure that I remove the veggies from the braising liquid while the corned beef is glazing. Letting them sit in the liquid sometimes makes them too salty.
When I'm ready to serve, I strain the braising liquid and spoon a little bit of it over the meat and vegetables. This both adds moisture and extra flavor to the platter. A little melted butter drizzled over the potatoes and cabbage is never a bad idea either.
Alternately, you can also serve this recipe with Roasted Cabbage Wedges or a bowl of creamy colcannon. And, don't forget to invite me over!
Reader-favorite Recipes for Corned Beef Leftovers
CRAVING MORE? Subscribe to my newsletter and join me on Facebook, Pinterest, and Instagram for the latest recipes and news.
📖 Recipe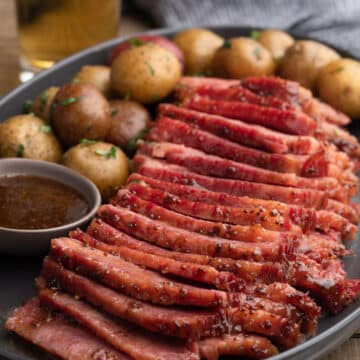 Beer Braised Corned Beef with Whiskey Mustard Glaze
This low-and-slow corned beef brisket is exceptionally tender and flavorful. Finish the dish by brollilng the corned beef with an Irish whiskey, brown sugar, and mustard glaze for a festive twist on a classic.
Print
Pin
Rate
Save
Saved!
Estimated Calories:
1312
kcal
Ingredients
Corned Beef
4

pound

to 5-½ pound flat cut corned beef brisket

, rinsed well

1

large yellow onion

, peeled, halved, and sliced

4

cloves

garlic

, peeled and lightly crushed with the back of a knife

2

pints

lager

(nothing with heavy bitter notes)

1

cup

water

, plus additional (if needed)*

1

tablespoon

pickling spice

(or use the spice packet provided with your corned beef)
GLAZE
¼

cup

dark brown sugar

, lightly packed

2

tablespoons

whole grain Dijon mustard

1

tablespoon

smooth Dijon mustard

1

tablespoon

Irish whiskey

¼

teaspoon

freshly-ground black pepper

pinch ground cloves
Instructions
Cook the Corned Beef
Preheat oven to 300 degrees F. Place sliced onion and garlic cloves in the bottom of a large Dutch oven (I use a 6-¾ quart round wide Le Creuset). Lay corned beef on top of onions, fat cap side up. Add pickling spices or spice packet.

Pour beer into pot, adding enough water to almost cover the brisket (see note below). Bring to a simmer on the stove. Cover tightly with the lid and cook for 3 hours in the oven, flipping the corned beef halfway through the cooking time and adding additional water to the pot, as needed, if evaporation occurs.
Glaze and Serve
When the corned beef is almost finished braising, combine glaze ingredients in a bowl.

Remove the corned beef from the braising liquid and pat dry with paper towels. (Reserve braising liquid in the pot.) If needed, trim the fat cap to a thickness of about ¼ inch, so that you have a fairly even glazing surface.

Lightly score fat side with a sharp knife in a criss cross pattern. Place in a broiler-safe pan or foil-lined rimmed baking sheet (for easy cleanup). Brush the top and sides of the brisket with the glaze.

Place the pan or baking sheet on the oven rack 6-8 inches from the broiling element. Broil 4-5 minutes, until the glaze is bubbling. Repeat the process 2 more times, glazing and broiling the brisket for 2-3 minutes each time, until the glaze is caramelized. Important: broilers can vary in terms of intensity. Watch the corned beef carefully so it doesn't burn!

Slice corned beef against the grain. If desired, strain braising liquid and spoon over sliced meat upon serving.
---
Notes
The amount of water you add will depend on the dimensions of your pot and the proportions of the corned beef (thicker briskets will require more liquid than longer, thinner briskets). Adjust the liquid quantity as needed.
Your corned beef might look quite large when you purchase it, but will shrink as it cooks.
Depending on its cooked size, you might have more glaze than you need.
To cook cabbage and potatoes with the meat:
One hour before the corned beef is finished braising, add 1-½ pounds whole baby red potatoes to the Dutch oven.
With 30 minutes remaining, add 1 head of cabbage, cut into 8 wedges. (Optional: first sear cabbage wedges in a skillet with a bit of vegetable oil over medium-high heat until lightly browned, for extra flavor.)
Remove cooked vegetables from braising liquid and keep warm while corned beef is being glazed. Drizzle with strained braising liquid when serving.
Nutrition Estimate
Calories:
1312
kcal
|
Carbohydrates:
18
g
|
Protein:
89
g
|
Fat:
89
g
|
Saturated Fat:
28
g
|
Cholesterol:
324
mg
|
Sodium:
7399
mg
|
Potassium:
1880
mg
|
Sugar:
9
g
|
Vitamin C:
163.8
mg
|
Calcium:
70
mg
|
Iron:
10.5
mg
Keyword:
beer braised corned beef, braised corned beef, corned beef dinner
---
About our Recipes:
Please note that our recipes have been developed using the US Customary measurement system and have not been tested for high altitude/elevation cooking and baking.
Have you made this recipe?
Don't forget to leave a comment and rate the recipe below! Take a picture? Tag @stripedspatula and #stripedspatula on Instagram!