Learn how to make one of the most popular Chinese-American appetizers at home with this Crab Rangoon recipe. Crispy wonton skins and a creamy crab filling make an irresistible bite for your takeout fakeout menu, or game day party. Classic deep fried, airfryer, and oven instructions included.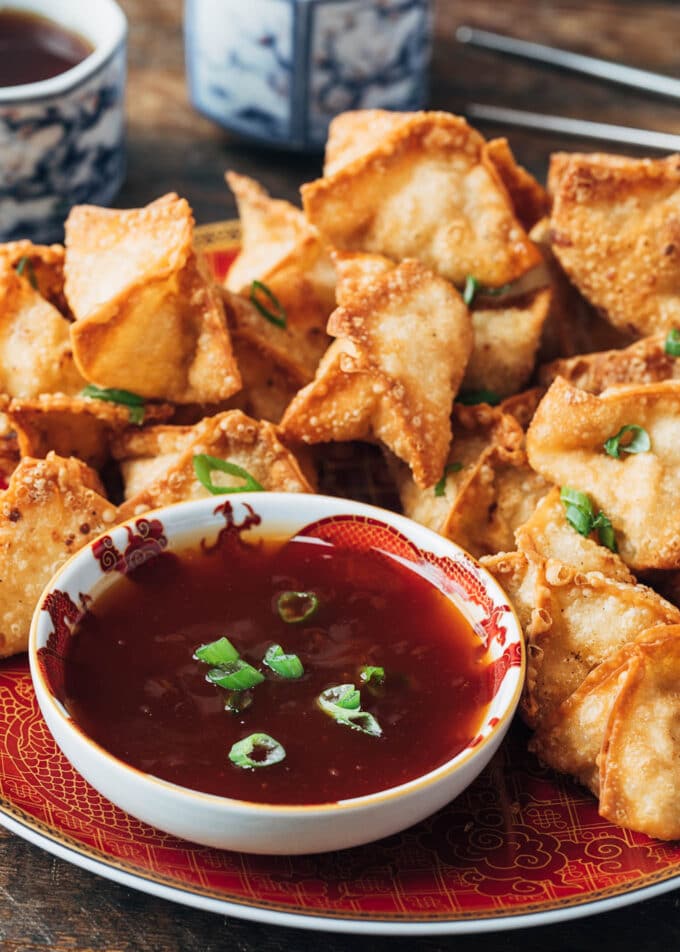 What is Crab Rangoon?
The other day, we talked about General Tso's Chicken having ranked as the most popular Chinese dish in America. Guess what ranks second? Crab Rangoon!
Crab Rangoon is a fried wonton, filled with a cream cheese and crabmeat mixture. You might also see them called "crab puffs" or "cream cheese wontons" (though, the latter can also refer to filled wontons without crabmeat).
Much like General's Chicken, Crab Rangoon is not authentic to Chinese cuisine. The recipe's origins are debated, with many tracing it to the original Trader Vic's tiki restaurant in the 1950's. Others attribute Crab Rangoon to the St. Louis World's Fair in 1904, while some credit the inspiration for the dish to British-controlled Burma in the early twentieth century.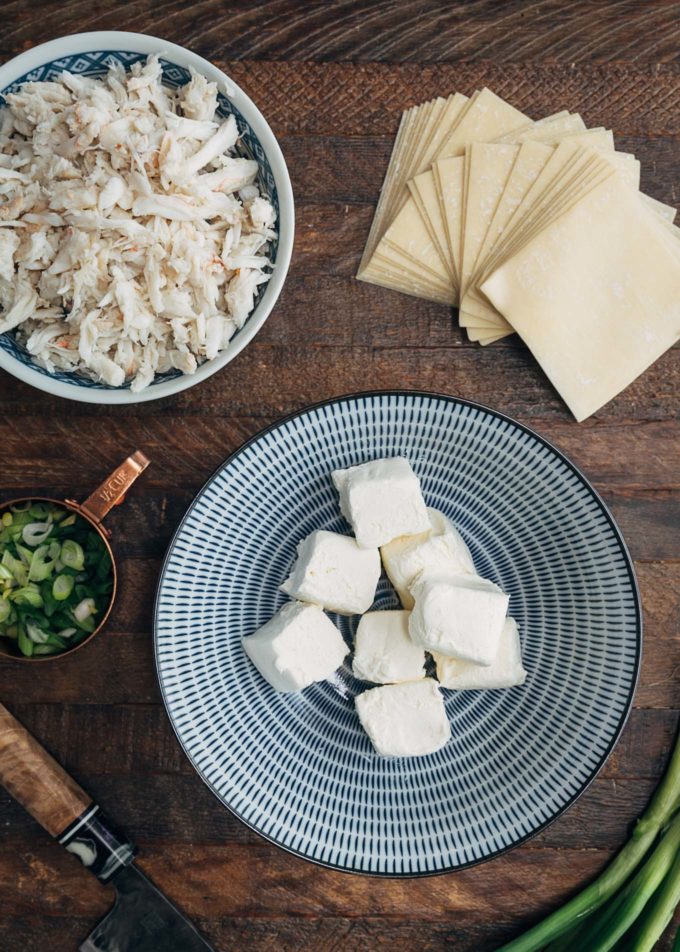 How to Make the Best Crab Rangoon
Crab Rangoon is pretty easy to prepare at home. The cream cheese and crab filling itself only takes about 5 minutes to make, with the biggest time commitment devoted to folding the wontons. Want to speed up the process and have some fun? Get the whole family involved in wonton folding!
Having ordered Crab Rangoon in many restaurants over the years, I've tasted a lot of variations on the filling. Some have been fantastic, while others were too sweet, too runny in texture, or under-seasoned.
In my Crab Rangoon recipe, I use a combination of Chinese light soy sauce, fruity, umami-rich Worcestershire sauce, sesame oil, and ground white pepper to flavor the cream cheese. It's a little bit sweet, a little bit toasty, and the seasonings balance the delicate crab, garlic, and scallions well.
Want to make a spicy filling? Try adding a little Sriracha to the cream cheese, to your personal tastes!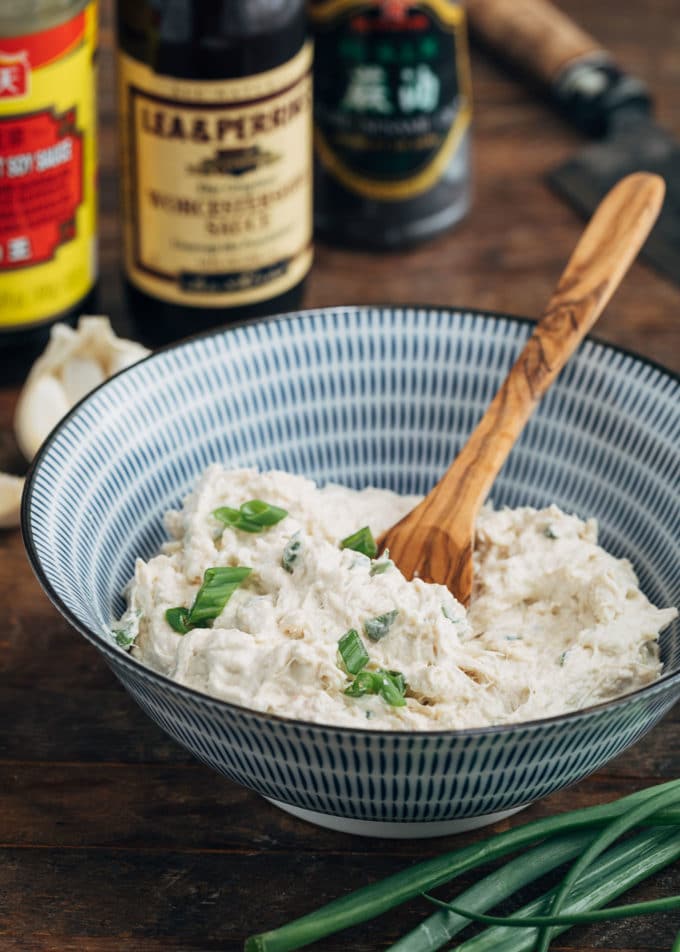 Choosing and Folding the Wonton Wrappers
You can use either eggless (Shanghai style) or egg wonton wrappers to make Crab Rangoon. The yellow-hued, egg-based wrappers tend to be a bit richer in flavor and fry up more deeply golden in color.
When folding wonton wrappers for Crab Rangoon, you can go as simple as a single-fold triangle, or try more intricate folds, like purse or star shapes. I like to fold them, as shown in the photos, so that all of the corners meet in the middle. (It's how my local Chinese restaurant always served their Crab Rangoon recipe.)
Regardless of the folding technique you use, it's important that you a.) don't overfill the wontons, b.) press out any air around the filling, and c.) make sure that you seal the edges tightly. Otherwise, the wontons are at risk for splitting during frying, which can result in dangerous splatter if the filling is released into the oil.
What Kind of Crabmeat Should I Use?
Many Chinese-American restaurants use imitation crabmeat in their Crab Rangoon. I prefer to make them with real crabmeat (fresh or pasteurized), but you can certainly substitute finely-chopped imitation crab in this recipe.
Since you're combining the crabmeat with the cream cheese for a creamy filling, there's no need to splurge on jumbo lump for this recipe. I typically use lump crabmeat, but the "backfin" or "special" grades also work.
Be sure to thoroughly drain any crabmeat you use, pressing out any excess liquid, and pick it over for cartilage. There's nothing worse than biting into cartilage in your creamy Crab Rangoon filling!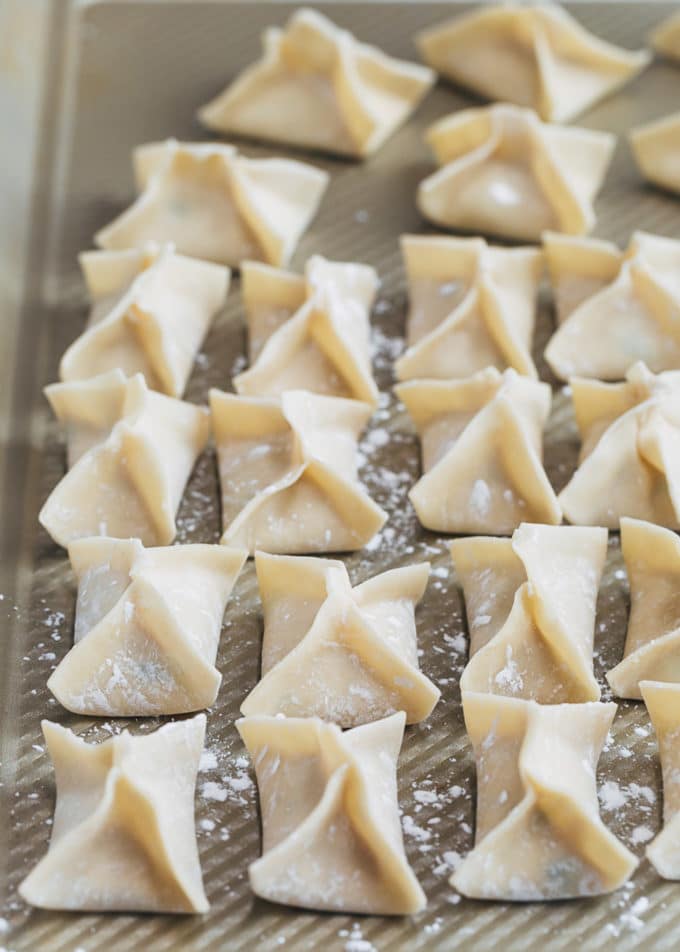 Do I have to Deep Fry Them?
To make restaurant-style Crab Rangoon, yes, you'll need to deep fry the wontons. No other cooking method will produce the same crispy, puffed wonton skin and uniformly golden wrapper.
With that in mind you can make lighter Crab Rangoon in the oven or the airfryer that are delicious. They just won't have the same texture as what you order in a Chinese-American restaurant. I've included instructions for both methods in the recipe card, below.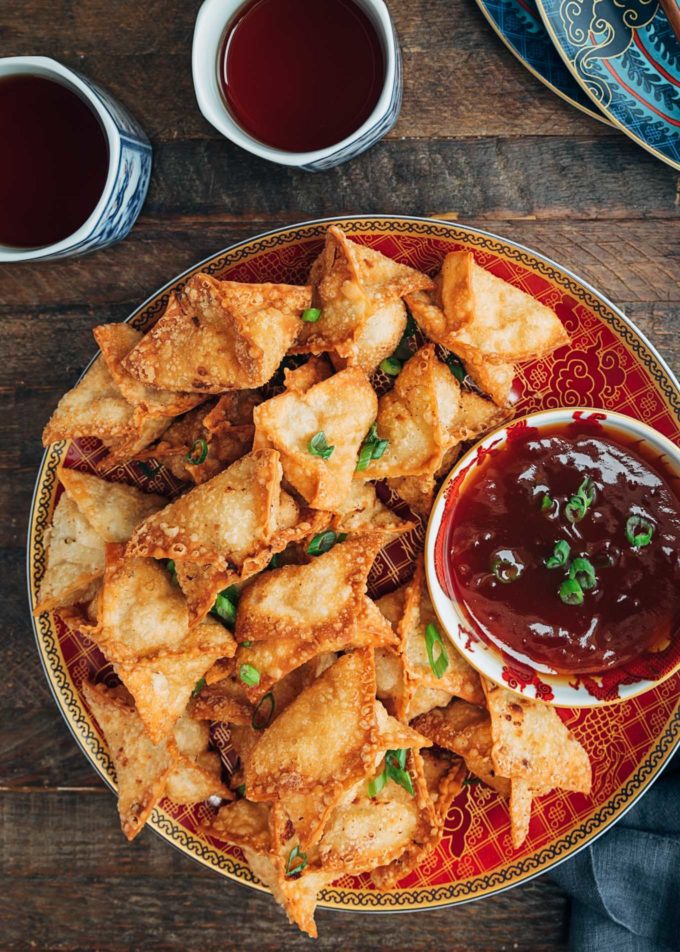 Serving Crab Rangoon
It's best to let the Crab Rangoon drain on paper towels for just a couple of minutes after frying so that the filling isn't too hot. They will loose their crispiness the longer they sit, so a 3-5 minute rest is really all they need.
Our favorite Chinese restaurant serves their Crab Rangoon with sweet and sour sauce. It's really simple to make (and make ahead) at home, and I've linked to the instructions in the recipe card.
I also love this Crab Rangoon recipe with plum sauce from the Asian market, duck sauce, or Chinese-style hot mustard, much like I would serve with my Fried Wonton Strips. It's to put out an array of sauces for guests in little dipping bowls, especially when you're entertaining for a game day party or a casual gathering.
Recipe Video: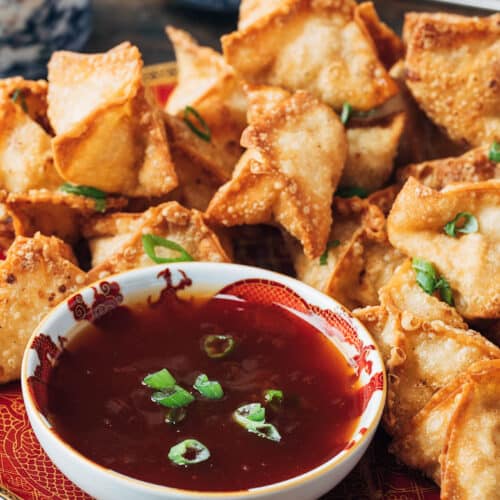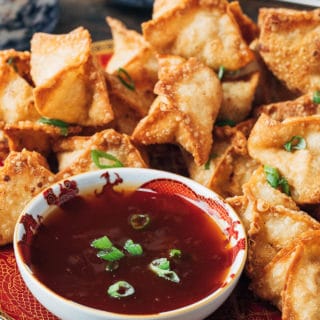 Crab Rangoon
Crispy wontons meet a creamy crab filling in this popular Chinese-American appetizer. Crab Rangoon are easy to make at home and great for entertaining!
Print
Pin
Rate
Save
Saved!
Servings:
12
servings (of 3 rangoon)
Estimated Calories Per Serving:
164
kcal
Ingredients
8

ounces

block-style cream cheese

, softened

6

ounces

crabmeat

(1 cup), picked over for cartilage and drained well

1

teaspoon

toasted sesame oil

1

teaspoon

light soy sauce

1-1/2

teaspoons

Worcestershire sauce

1

clove

garlic

, minced

1/4

cup

thinly-sliced scallions

pinch

ground white pepper

36

wonton wrappers

vegetable oil or peanut oil

, for frying**
Instructions
In a bowl, stir together cream cheese, sesame oil, soy sauce, Worcestershire sauce, and ground white pepper. Fold in garlic, scallions, and crabmeat.

Place 1-1/2 teaspoons filling in the center of a wonton wrapper. Do not overfill. Lightly dampen the perimeter of the wrapper with water or egg wash (1 egg beaten with 1 tsp water).

Fold the bottom left corner up over the filling to meet the top right corner. Fold the two remaining corners toward the center to make a little wonton purse. Be sure to press out any air surrounding the filling and press all of the edges together firmly to seal.*

Keep the stack of wonton wrappers and the folded wontons covered with a lightly-dampened towel while working.

Heat vegetable oil to 350-360 degrees F in a large, deep pot. Fry wontons in small batches (4-6 at a time), being sure not to crowd the pan. Move them around with a slotted spoon or a spider strainer and fry until golden brown, 3-4 minutes.

Remove to a paper-towel lined plate to drain. Serve with your favorite dipping sauce, like sweet and sour sauce (recipe linked above), duck sauce, plum sauce, or hot mustard.
---
Notes
*Proper sealing of the wontons and removal of air is essential--wontons that split during deep frying can cause dangerous oil splatter.
**If using peanut oil, read my allergen notes here. I always like to tell guests when I've used peanut oil.
To Bake:
Preheat oven to 400 degrees F. Place filled and folded wontons on a parchment-lined baking sheet and spray them with cooking spray. Bake for 8-12 minutes, until golden.
To Airfry:
Preheat airfryer to 350 degrees F. Lightly spray both airfryer basket and wontons with cooking spray. (You can also brush the wontons with oil.) Airfry in small batches (single layer) for 8-10 minutes, until crispy, gently shaking the basket halfway through.
(Airfryer models can vary significantly in terms of cooking times. Watch the first batch closely and adjust the time for your specific model.)
Note that baked or airfried wontons will not be as puffy and blistered or uniformly golden as those that have been deep fried. The texture is different, but they're a delicious, lighter alternative!
Nutrition Estimate
Calories:
164
kcal
|
Carbohydrates:
14
g
|
Protein:
7
g
|
Fat:
8
g
|
Saturated Fat:
6
g
|
Cholesterol:
10
mg
|
Sodium:
418
mg
|
Potassium:
115
mg
|
Sugar:
1
g
|
Vitamin A:
40
IU
|
Vitamin C:
1.7
mg
|
Calcium:
87
mg
|
Iron:
1
mg
---
About our Recipes:
Please note that our recipes have been developed using the US Customary measurement system and have not been tested for high altitude/elevation cooking and baking.
Keywords:
Chinese takeout recipes, crab puffs recipe, crab rangoon recipe
Have you made this recipe?
Don't forget to leave a comment and rate the recipe below! Take a picture and tag @stripedspatula and #stripedspatula on Instagram for a chance to be featured in our Insta Stories and newsletter!