Learn the origins of General Tso's Chicken and how to make a version of the sweet-spicy dish at home that's just as good as takeout (if not better!).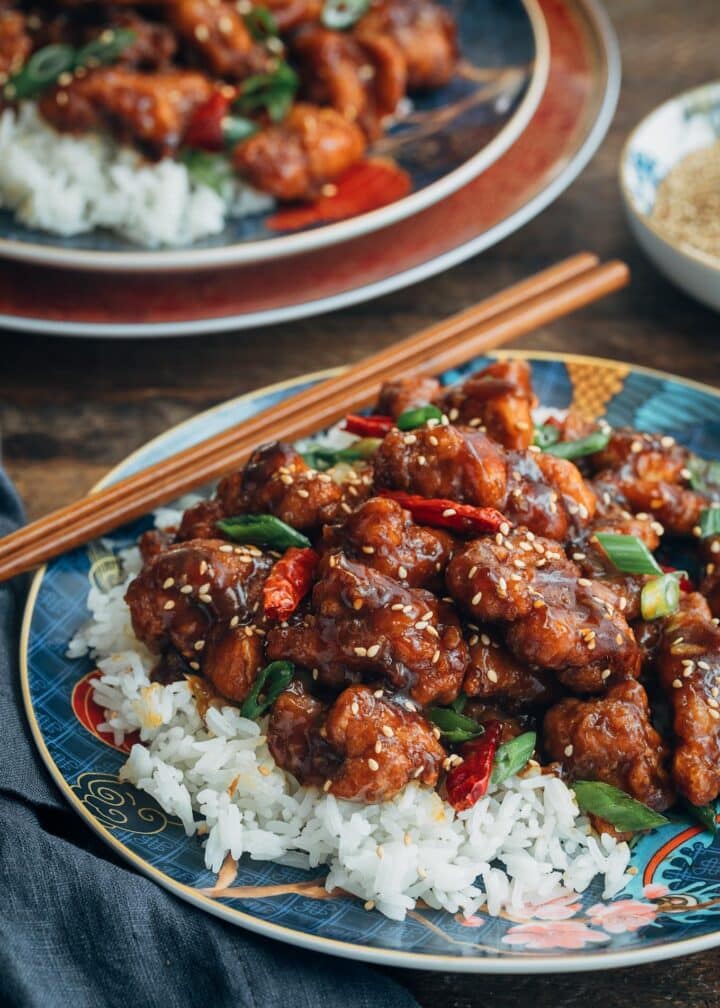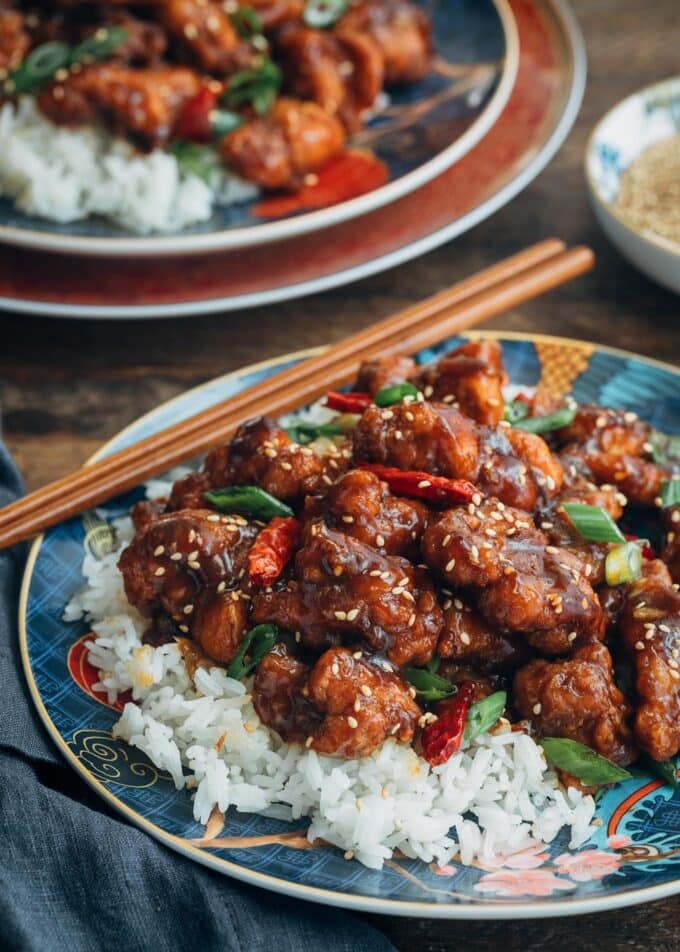 I don't know of any Chinese-American restaurant that doesn't have General Tso's Chicken on the menu (or any takeout order made from my house that hasn't included it!). In fact, GrubHub did a study back in 2015 that named General's Chicken the #1 most popular Chinese dish in America.
What's interesting about that fact is that General's Chicken isn't an authentic Chinese dish at all. In this post, we'll take a look at where this Chinese-American takeout staple originated, and tips for making it in a home kitchen. (There's an essential ingredient that you don't want to miss!)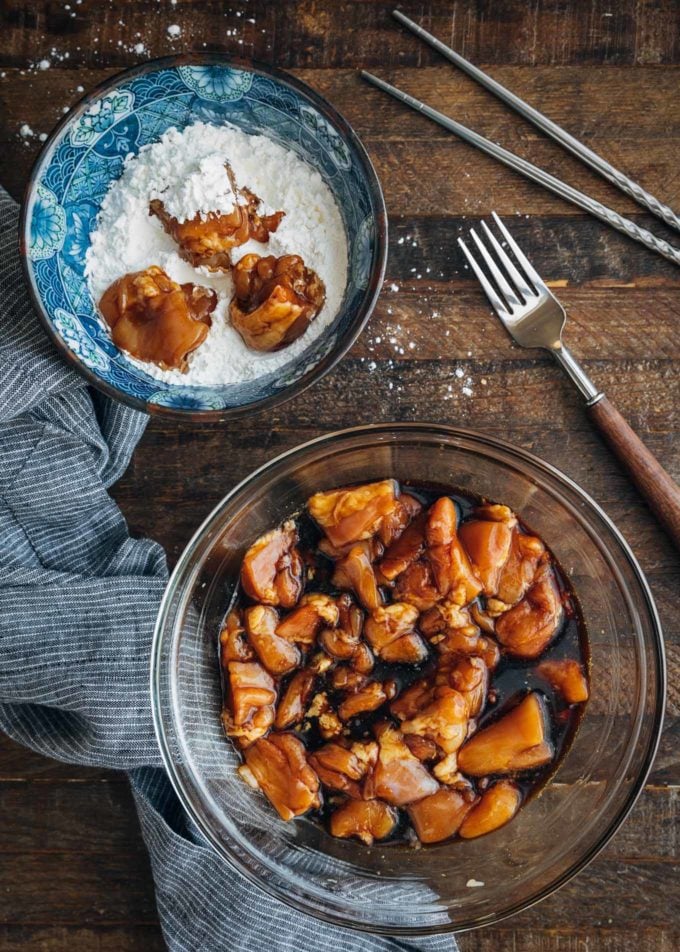 Who Was General Tso?
General Zuo Zongtang (Tso Tsungtang, with a romanized spelling) was a military leader in nineteenth century China, during the Qing Dynasty. He was influential in quelling the Taiping Rebellion, and was known for being ruthless and victorious in battle.
In his birthplace of Hunan province, General Tso is particularly honored. Remembrances include a namesake liquor, a museum in his home, and statues.
The General's Chicken dish we know in America, however, is not one of the ways Tso is honored in China, and not a dish that he ever ate. Most people living in Hunan have never even heard of it!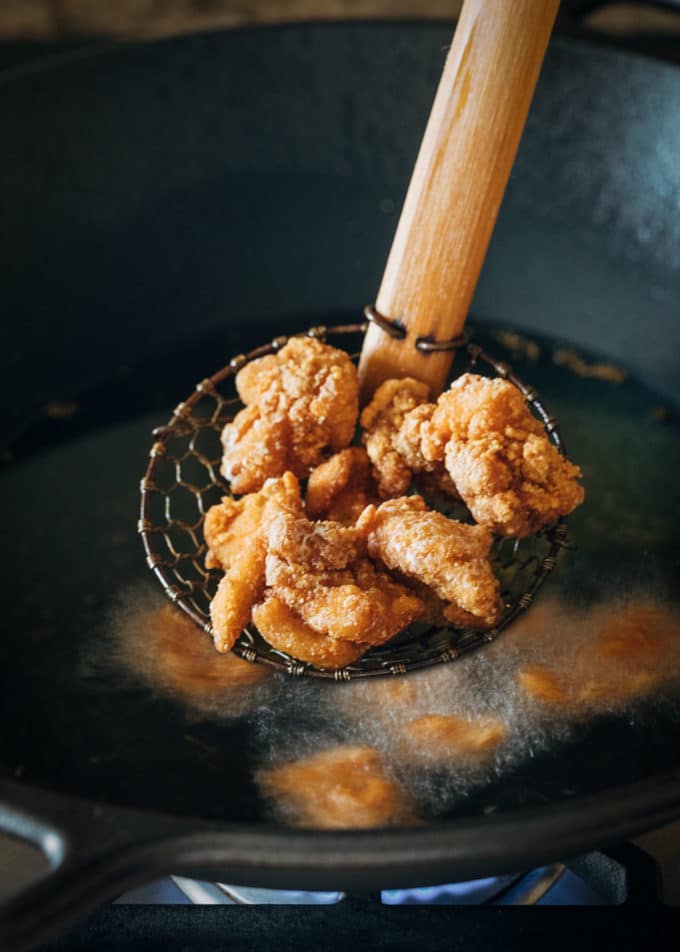 The Search For General Tso
A few years ago, I watched a really interesting documentary called The Search For General Tso. It traced not only the origins of General Tso's Chicken, but the development of Chinese-American cuisine. It's an excellent watch that received a number of accolades, from Sundance to the Tribeca Film Festival, and beyond.
General Tso's Chicken originated in Taiwan in the mid 1950's, created by a Hunanese chef named Peng Chang-kuei. The original is a spicy, tangy fried chicken dish, using the hot peppers that are so central to Hunan cuisine.
Chef Tsung Ting Wang brought the dish to New York City's Hunam restaurant in the 1970's, with variations that he felt would suit the American palate, such as the addition of sugar. Spicy-sweet is not a common flavor combination in Hunan cuisine, and the sticky, sugary sauce that we know to characterize the dish is a Chinese-American invention.
(Want to learn more? You can stream The Search For General Tso from a few services, including Amazon Prime. We really enjoyed it.)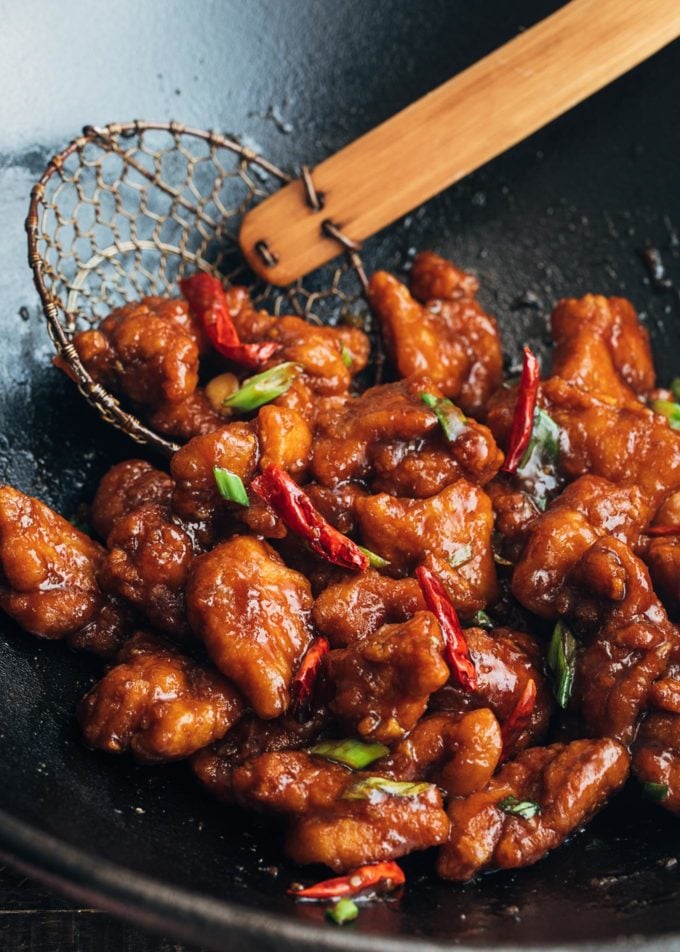 Making General Tso's Chicken at Home
General's Chicken is easy to make! For me, the best part of making my own is that I can control the amount of sugar. I do like some sweetness in the dish, but have met some General's Chicken in restaurants that were so incredibly sweet that the other nuances of the sauce were overshadowed.
Chinese American-style General's Chicken is made with dark meat chicken, marinated and coated in a starch (like cornstarch or potato starch), and deep fried. The crispy chicken is then quickly tossed in a sweet-spicy-tangy sauce made with dried hot peppers and Chinkiang vinegar.
For the best flavor, I wouldn't skip the Chinkiang vinegar in this recipe. The depth that Chinese black vinegar brings to the sauce makes the dish. I've made General's Chicken with white rice vinegar and it just wasn't the same.
Read more about Chinkiang vinegar in my Chinese Cooking: Pantry Essentials guide.
Adjusting the Spice Level
To bring the heat level down to a manageable level for my family's preferences, I use dried Arbol peppers, from which I've removed the seeds. They're fiery, but not as burn-your-socks-off hot as Chinese Tien Tsin's.
If using really intense dried peppers, I remove them from the sauce before plating, placing just one or two on the top of the serving dish for a garnish. Their heat will have infused the dish quite well during the sautéing process.
Don't want to make the dish spicy at all? No problem! Just leave out the peppers entirely. (When I was a child, we always ordered the General's Chicken "not spicy" at our local Chinese restaurant.) You'll still have a sweet, tangy sauce with a nice depth of flavor.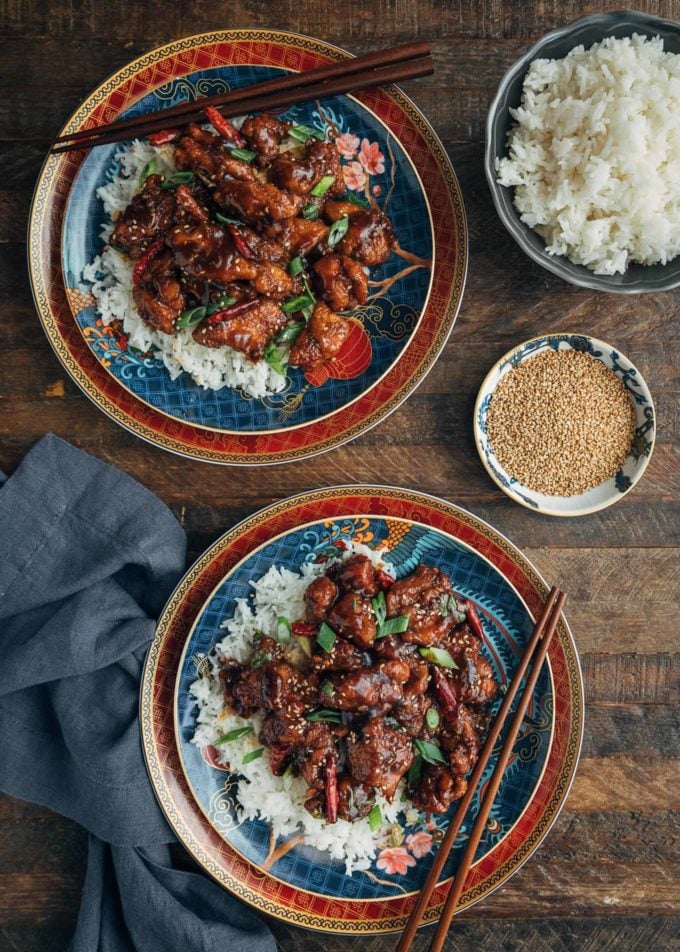 Serving General's Chicken
For the best experience, General's Chicken should be served as soon as possible after it's tossed together. The glossy sauce will soften the chicken's crispy coating as it sits. Bear in mind that this also applies to leftovers; just like takeout, anything refrigerated and reheated the next day will not be as crispy.
Many restaurants serve this dish with steamed or stir-fried broccoli. This is another area where the Chinese-American version differs from Chef Peng's original; he did not serve his chicken dish with vegetables. Today, you'll often see the chicken presented in the center of the plate, surrounded by a ring of broccoli florets.
Personally, I've never been big on broccoli with this recipe. I much prefer it in a dish like Beef and Broccoli, where it's a part of the stir-fry. I like to enjoy General's Chicken over a bed of jasmine rice, with a sprinkling of toasted sesame seeds and sliced scallions.
One of the best parts of making it at home is that you can serve it as you like! Broccoli or no broccoli, fiery or mild, the dish is yours to have fun customizing for your family and friends.
Want to make an entire takeout themed menu? Don't miss my recipes for Fried Wonton Strips, Wonton Soup, and Shrimp Lo Mein!
📖 Recipe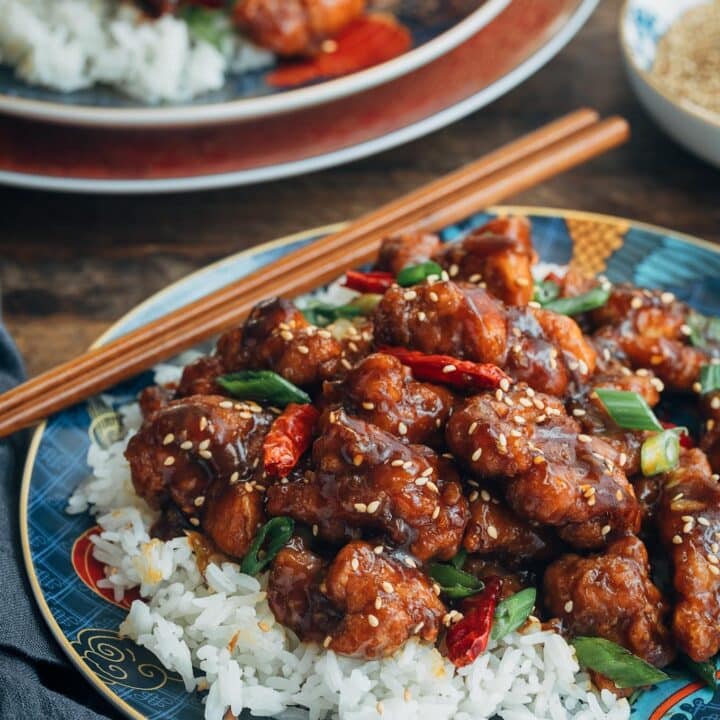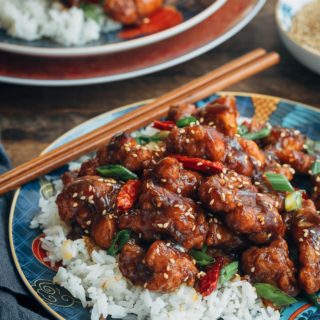 General Tso's Chicken
It's easy to make restaurant-quality General Tso's Chicken at home! You can have this takeout classic on the table in less than an hour, prep to finish.
Print
Pin
Rate
Save
Saved!
Estimated Calories:
572
kcal
Instructions
Make the Chicken
Whisk egg white in a bowl until just frothy. Stir in Shaoxing wine, light and dark soy sauces, and ground white pepper. Add cubed chicken thighs and stir to combine. Let marinate for 20 minutes.

Coat marinated chicken pieces in cornstarch on all sides.

Heat oil to 350 degrees F a large wok or a wide, deep, heavy-bottomed pot. Fry chicken in 3 batches until golden, crispy, and centers register 165 degrees F on an instant read thermometer, about 3-4 minutes. Remove chicken from oil with a spider strainer or a slotted spoon and drain on a paper towel-lined plate.
Make the Sauce
In a bowl, whisk together chicken broth, Shaoxing wine, Chinkiang vinegar, light and dark soy sauces, sesame oil, sugar, and cornstarch. Season to taste with salt and set aside.

If using the frying vessel to make the sauce, very carefully remove frying oil from the wok or pot. Otherwise, you can use a large skillet for the sauce.

Heat the clean wok or skillet and add 1 tablespoon of vegetable oil. Sauté dried chiles, ginger, and garlic until fragrant, about 1-2 minutes. Stir the sauce mixture to redistribute any settled cornstarch and pour it into the pan. Bring to a boil and simmer, stirring often, until thickened and glossy, about 2-3 minutes.

Add fried chicken and scallions to the sauce and toss to coat. Garnish with toasted sesame seeds and serve with jasmine rice and steamed broccoli, if desired.
---
Notes
*If using peanut oil, read my allergen notes here. I always like to tell guests when I've used peanut oil.
**1 tablespoon of vinegar will yield a sauce that's similar to Chinese-American restaurant versions of the dish. If you'd like to try a tangier sauce, a little closer to Chef Peng's original, increase the vinegar to 2 tablespoons.
Nutrition Estimate
Calories:
572
kcal
|
Carbohydrates:
34
g
|
Protein:
25
g
|
Fat:
36
g
|
Saturated Fat:
26
g
|
Cholesterol:
107
mg
|
Sodium:
963
mg
|
Potassium:
358
mg
|
Sugar:
9
g
|
Vitamin A:
290
IU
|
Vitamin C:
1.9
mg
|
Calcium:
17
mg
|
Iron:
1.4
mg
Keyword:
Chinese chicken dishes, Chinese takeout recipes, General Tso's Chicken
---
About our Recipes:
Please note that our recipes have been developed using the US Customary measurement system and have not been tested for high altitude/elevation cooking and baking.
Have you made this recipe?
Don't forget to leave a comment and rate the recipe below! Take a picture? Tag @stripedspatula and #stripedspatula on Instagram!